Being a GIA Graduate Gemologist, I have compiled diamond and precious gem sources from around the world that significantly lower my procurement cost. As a result, I can create Wedding Rings For Men of exceptional value and beauty, all at the highest levels of quality. Instead of purchasing a piece of jewelry that you find at dozens or thousands of locations – why not have me create a work of art and unique piece just for you.
We can create a Watchband Men's Wedding Ring based on your exact specs. Textures and special finishes are one of the many ways to make a ring yours.  We can also add diamonds or gemstones to further make it yours.   This one is shown without any stones, but they could be added to the outer rails.
Wedding Rings For Men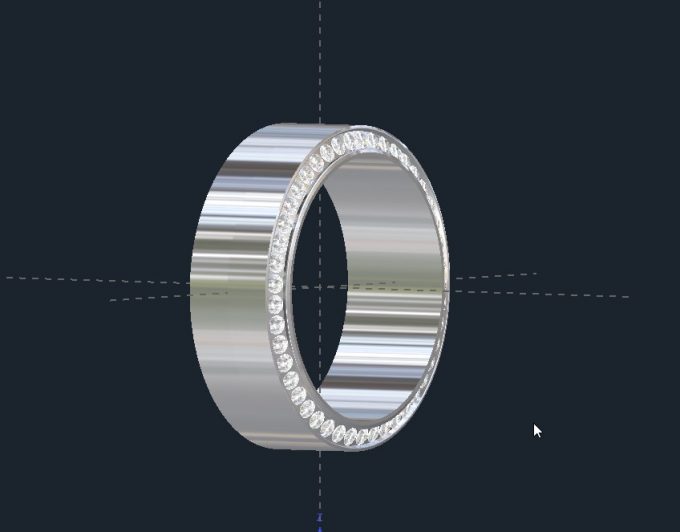 Diamonds wrap around either side of this classic ring with a high polish finish. The interior also has a rounded inside edge for increased comfort.  This one is 8mm wide, but it could be made 5mm wide up to 12mm wide.  The stones are channel set, but prongs could be added if you like.
Even if you have found something in a store, but it isn't exactly what you are wanting, send me a picture, and how you want it changed, and we can go from there.
This is one of our favorite Diamond Skull Wedding Ring designs.  It is 8mm wide and has 6 skulls and 3mm Black Diamonds alternating around it.  It can be made as narrow as 6mm and as wide as you wanted it to be.  Almost any stone can be used and in the wider width, stones could be added to the eyes.  Different skulls can also be used as well.  
At Valeria Custom Jewelry, we know you are only as good as your last piece, so we strive to make every piece perfect and exactly what the custom envisioned.  If you aren't happy for some reason, we will do whatever we can to rectify the situation.  Our goal is to become your permanent jeweler, not just a one off vendor.