Double the diamonds, double the fun. Our 2 Stone Engagement Ring designs feature 2 center stones that can be showcased in a variety of different ways.  We have a few different styles, but could always create one specially for you.  The 2 stone design lends itself to both symmetrical and asymmetrical designs, which is awesome in terms of the number of design elements that can be used.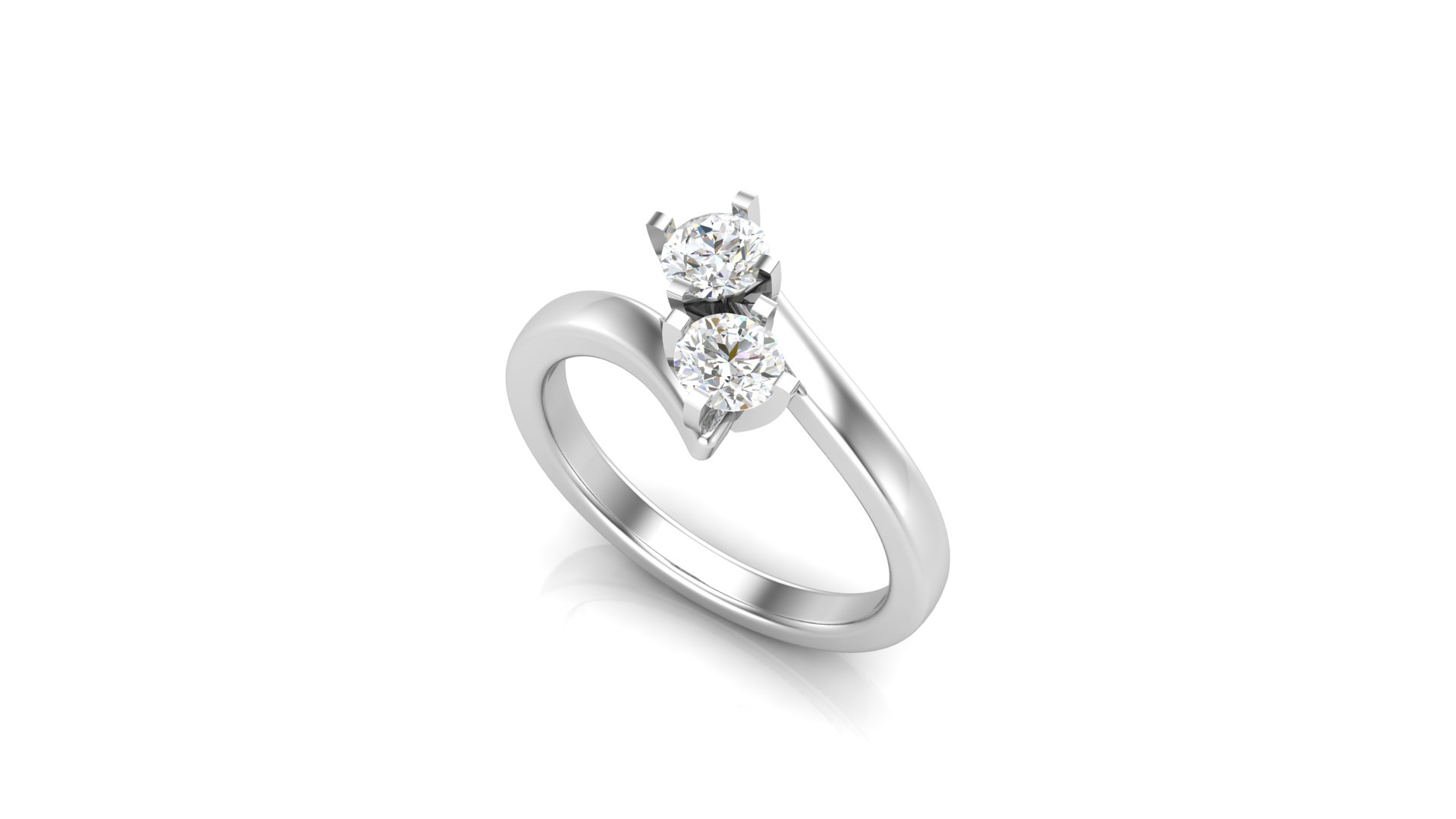 Whether you want 2 diamonds or 2 birthstones, this elegant 2 stone ring is understated to really showcase the stones.  They can be diamonds or any gemstone 4mm and up.  We also have a version of this ring with stones in the band.
Lucas Horton, owner and artisan jeweler at Valeria Custom Jewelry, came up with the contemporary design using comprehensive computer-aided design software. Any kind of diamond or colored gemstone can be set into the two center settings. The bypass band can be cast from sterling silver, 14k gold, palladium or platinum, and can be polished to a smooth shine or adorned with accent stones in diamonds, cubic zirconium, emeralds, rubies or sapphires.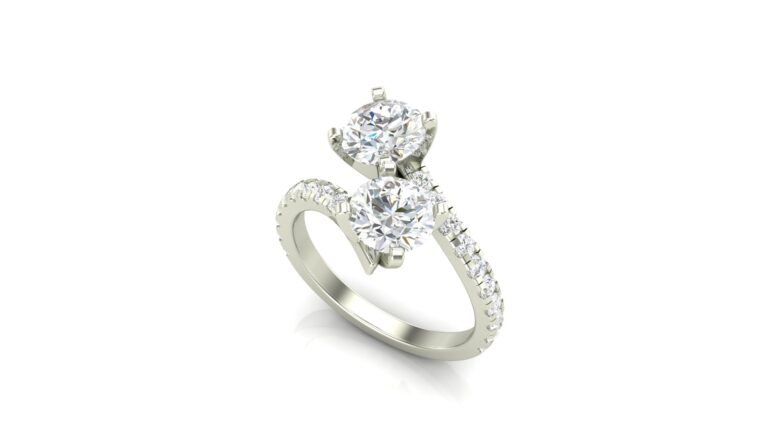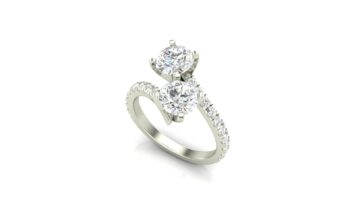 Adorned with French Pave set accents, it is a stunning ring with the amount of rock it holds!   In this one, we have 2, 6mm diamonds with 1.5mm accents.  We have also made it with 4mm stones and no accents on the band.  As long as they fit, we can make it for you!
But the customization doesn't have to stop there. Working with a custom jeweler can open up a whole new set of options when shopping for unique pieces. While most big box jewelry stores offer mass-produced matching wedding sets, Lucas can create a custom wedding band that would fit perfectly with – and even enhance – the unique shape of the accented 2 stone bypass solitaire ring.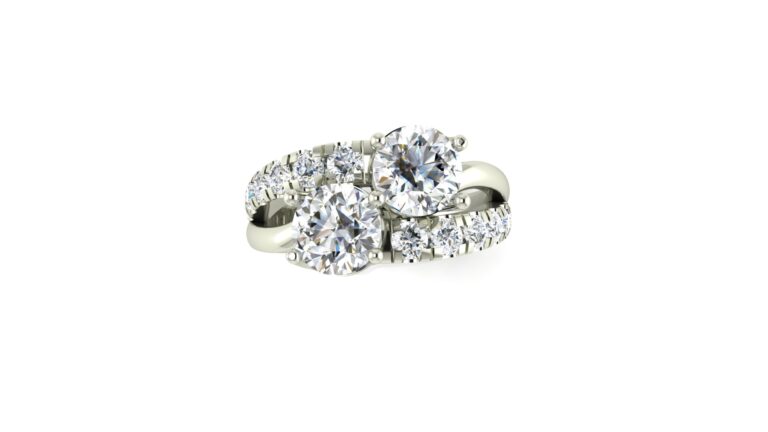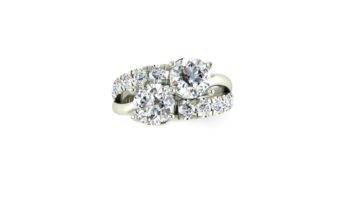 This Asymmetrical 2 Stone Engagement Ring is a large one, with it's 2, 1 carat center stones.  However, it is stunning on the finger!  We like the split shank design with asymmetrical diamond settings.  This is definitely something you won't find at the mall.
2 Stone Engagement Ring – Give Us A Shot!
With his graduate degree in gemology from the Gemological Institute of America. Lucas received a comprehensive education in the technology, and expertise in evaluating gemstones by color, cut, clarity and carat size. You can be confident in knowing that every gemstone into the 2 stone bypass solitaire ring are of the highest quality.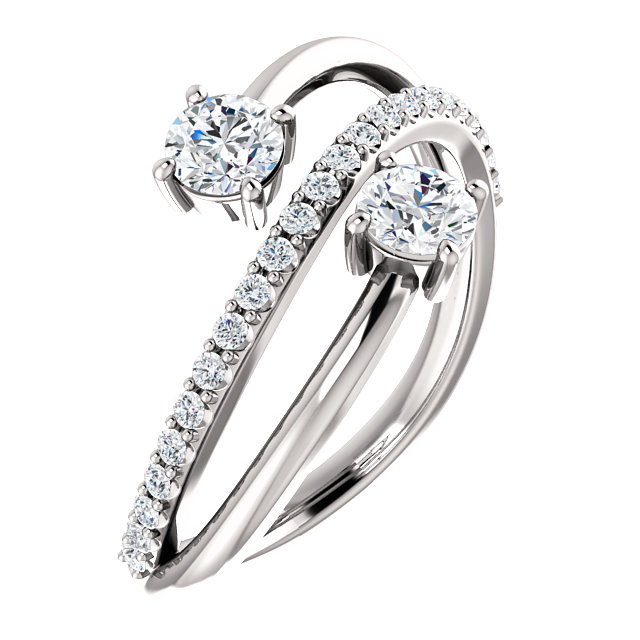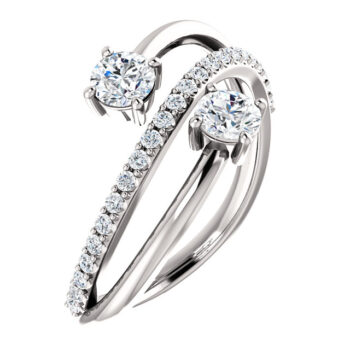 This is another bypass engagement ring design that we love. We have a diamond band in the middle offset by 2 plain band set with 5mm stones.  If you you really wanted to bling this one up, diamonds could be added to the other bands as well.
Don't waste time looking for an engagement ring that was mass-produced and sold by a commercial jeweler when you could invest in a custom piece that was handcrafted just for you. Lucas is in the business of serving lifelong clients, not one-time customers. Give him the chance to exceed your expectations.
And we know that there are tons of jewelers out there offering custom jewelry. However, changing the stone out of a mass produced ring or adding engraving is not custom jewelry.  There are also lots of jewelers who do sell custom jewelry, but they don't actually create it.  They use a CAD house.  From experience, we found that to be problematic for a few reasons.  First, things get lost in transmission when you insert an unneeded third person.  Second, small changes that take 10 minutes can take a day to be completed.  And third, when you add another chef in the kitchen, the food becomes more expensive.
At Valeria Custom Jewelry, you will directly communicate with the designer of your 2 Stone Engagement Ring.  This solves all 3 of the above issues.
Our Fire & Ice 2 stone Bypass Ring The 2, 5mm opposing stones in this ring are blue, red…the primal colors of hot and cold. The accents in the band are white, adding ice to the mix.  However, this ring can be made with any type and color stones you would like.
Click to see more of our custom engagement rings.  Click HERE to learn more about custom jewelry, view our portfolio, or to contact us about your custom 2 Stone Engagement Ring.  It can cost less than you think to have a special engagement ring made just for you.  Why settle for the lame and overpriced bridal jewelry from the chain stores when we can make something showing your style and personality?  You know what they say.  Once you go custom, you never go back.  To the mall!