Diamond Earrings For Women are a must!  Every woman should have at least 1 pair of diamond earrings in the jewelry box.  Whether studs, clusters, dangles, etc, it doesn't matter.  Diamond earrings compliment any woman's wardrobe and go with almost anything you can wear.  And they don't have to be huge rocks either.  Just a few smaller diamonds can turn any earring into a stunning ear adornment.  Earrings have always been a fashionable accessory, and diamond earrings are no exception. From celebrities to everyday people, diamond earrings are highly coveted for their timeless elegance and bold beauty. But what makes them so alluring? Let's take a look at why diamond earrings have such an appeal.
One of the main reasons why diamond earrings are so popular is their classic style. Diamond earrings can be found in many shapes, lengths, and sizes. They can be simple studs or dramatic drop styles that command attention. Regardless of the style you choose, you can be certain that your diamond earring will never go out of fashion. This timeless quality makes them a great choice if you want to invest in a piece of jewelry that will last for years to come.
Diamond Earrings For Women
Diamonds have long been associated with luxury, which makes them an ideal way to express personal style while still conveying an air of sophistication and glamour. Wearing diamond earrings gives off an aura of confidence and success that no other type of jewelry can match—which is why they remain so popular today!
Diamonds are one of the hardest materials on earth, making them both robust and durable. With proper care and maintenance, a pair of diamond earrings can easily last for decades and even pass down through generations as heirlooms. The fact that diamonds don't corrode or oxidize like other metals also means they won't lose their sparkle over time—another big factor in their enduring appeal!  Their timeless style, durability, and prestige make them the perfect choice for anyone who wants to make a statement with their jewelry collection. So if you're looking for something special that will stand out from the crowd, consider investing in a pair of beautiful diamond earrings today!
Diamond earrings are timeless, classic pieces of jewelry. Whether you're looking for a pair of delicate solitaire studs or something with a bit more sparkle and shine, diamond earrings are an excellent choice for any occasion. But how do you choose the perfect diamond earrings for your face shape? Read on to find out!
Choosing The Right Pair Of Diamond Earrings For Women
There is something special about owning a pair of diamond earrings. Whether it's for a special occasion or just to treat yourself, choosing the right pair of diamond earrings can be daunting. With so many options available, it can feel overwhelming. Don't worry! We are here to guide you through this process and help you find the perfect pair.
Research Your Options For Diamond Earrings For Women
First, do your research and familiarize yourself with all the different types of diamond earrings that are available. Do you prefer studs, hoops, drops? Which style matches your personality best? Knowing what type of earring you want is key to narrowing down your search. Once you have identified the shape and style of earring that suits your taste, it is time to determine the size and quality of diamonds that will work best for you.
Types Of Diamond Earrings For Women
Diamond earrings for women have long been a favorite type of jewelry for many. Diamond Earrings for women are timeless, sophisticated and luxurious. But with so many different types of diamond earrings out there, it can be difficult to decide which style is right for you. Let's take a look at some of the most popular types of diamond earrings available on the market today.
Stud Earrings
Stud earrings are one of the most classic styles of diamond earring. They feature a single stone set in either gold or silver and typically come in small sizes. These are great for everyday wear as they are lightweight and comfortable to wear all day long. Studs can also come in various shapes such as round, oval, marquise, pear, or princess cut diamonds.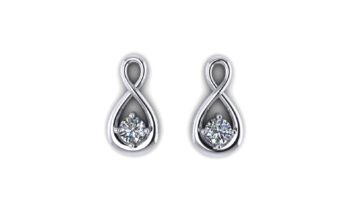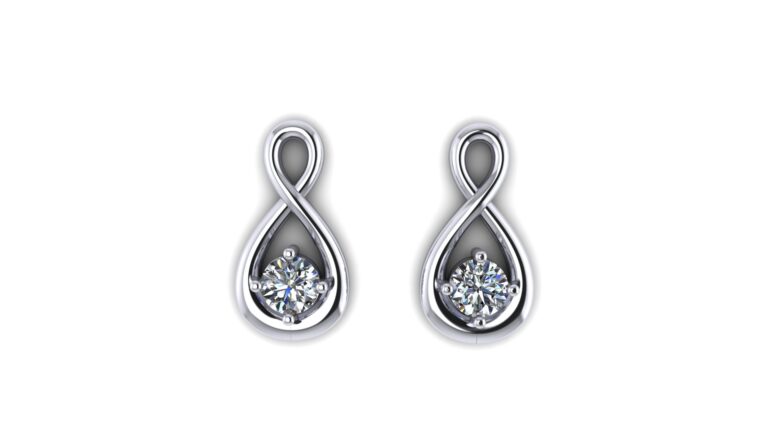 Hoop Earrings
Hoop earrings feature a metal hoop with diamonds embedded along the perimeter. These are great for adding sparkle and glamour to any outfit and can easily be dressed up or down depending on your wardrobe needs. Hoop earrings come in all different sizes and shapes, from small thin hoops to large statement pieces.
Drop Earrings
Drop earrings are another classic style that features a single diamond suspended from a metal post or chain. They can be paired with other gemstones such as sapphires or rubies for an extra bit of color and sparkle. Drop earrings come in both small and large sizes so you can find one that best fits your face shape and style preferences.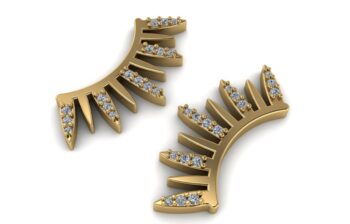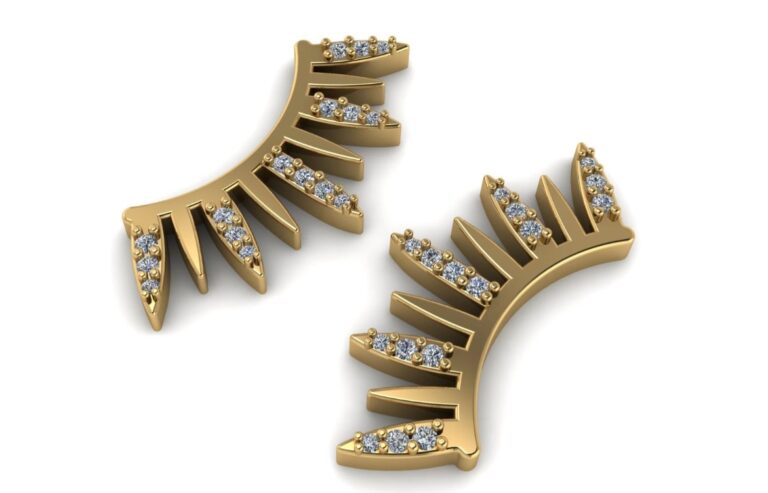 Dangle Earrings
Dangle earrings hang from metal posts or chains and usually feature multiple stones set into them for added sparkle and dimensionality. This style of earring range from simple designs featuring two stones connected by a thin chain to more intricate designs featuring cascading diamonds set into gold or silver settings. These types of diamond earring offer maximum impact when worn!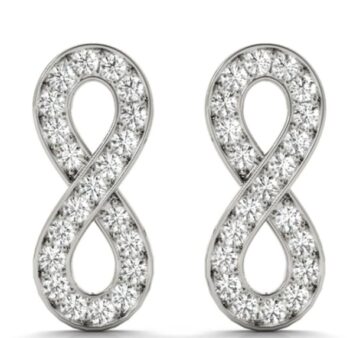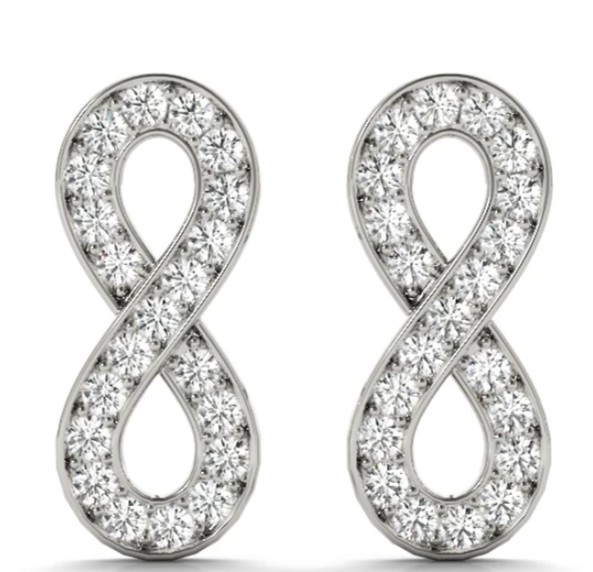 Diamonds truly make an amazing addition to any accessory collection! With so many different types available, it is easy to find something that you love even if you have a limited budget or specific taste preferences in mind. Whether you prefer studs, hoops, drops, or dangles – there is sure to be something here for everyone! So go ahead – start shopping around now! You won't regret it!
Diamond Quality & Size of Diamond Earrings For Women
The 4C's—cut, color, clarity, carat—are important factors when it comes to selecting diamonds for your earrings. Click HERE to read the standard for the 4 C's, GIA.  The size of each diamond will have a large impact on the overall cost-effectiveness of the piece.  However, don't sacrifice quality for size alone. Look out for diamonds with an excellent cut rating.  Cut, even more so that clarity affects how much sparkle and brilliance they display which in turn increases their perceived beauty and value. Also consider whether or not you would like certified diamonds in order to ensure that they meet industry standards as well as your own expectations in terms of quality.
Budget & Cost-Effectiveness of Diamond Earrings For Women
When shopping for diamond earrings, budget should always be a consideration since there are so many price points when it comes to purchasing these pieces. It is important to find a balance between quality and cost-effectiveness.  After all, there is no point spending too much if the added cost does not add any extra beauty or value to your purchase! Consider setting yourself a budget before starting your search.  This will help narrow down your choices quickly while still ensuring that you get good value for money.
No matter what type or size of diamond earring you choose – whether it's an extravagant statement piece or delicate everyday stud – picking out the perfect pair doesn't have to be hard work! With just a few simple steps such as researching shapes and styles that suit you best, knowing which qualities make up great diamonds, and figuring out what kind of budget works best for you – finding the ideal set becomes easy! So go ahead – shop around until you find the perfect pair! You deserve it!
The Perfect Diamond Earrings For Women
The key to finding the perfect diamond earrings is selecting a style that complements your face shape. Here are some things to keep in mind when choosing the right style of diamond earring for your face shape:
Round Faces: If you have a round face, you want to look for diamond earrings that will draw attention away from your cheeks and towards your eyes and cheekbones. Longer styles like drops or chandeliers will help elongate your face shape and add definition. Avoid small studs as they can make your face appear even wider.
Oval Faces: If you have an oval-shaped face, you'll want to select diamond earrings that accentuate your features without overpowering them. Studs or small hoops are great options, as they draw attention up towards your eyes and cheekbones. Be sure not to choose overly large styles, as this can throw off the balance of an oval-shaped face.
Heart Shaped Faces: Heart shaped faces tend to be widest at the forehead and narrowest at the chin.  So it's important to choose diamond earrings that will flatter this unique facial structure. Look for dangles or long drops that will draw attention down towards the chin area while creating a balanced look overall. Hoops can also be very flattering on heart shaped faces. But make sure they are oversized but not too large in proportion to your facial structure.
Square Faces:
Square faces have angular features and sharp angles along the jawline. This means it is best to opt for softer styles of diamond earring such as ovals or circles instead of harsh lines or shapes like squares or rectangles. These may make these angles appear harsher than they actually are. Large hoops can also be very flattering on square faces.  Many times, they soften the edges along the jawline while still drawing attention upwards towards the eyes and cheekbones.
Diamond Shaped Faces:  Diamond shaped faces are the widest at the cheekbone area of a face.  Whereas the chin and forehead are around the same width. Therefore, the face seems longer with the diamond shape.  Earrings that curve with the natural bends in your face rather than ones with severe angles or outlines will work best.  Examples of such earrings include mid-length teardrops or linear earrings with delicate embellishments. It is best to stay away from long teardrop or chandelier shapes as well.
No matter what type of face shape you have, there is a perfect set of diamond earrings out there just waiting for you! By taking into account factors like length and width, as well as overall proportions, you'll be able to find a pair of diamond earrings that will beautifully complement your features.  And this is no matter what type of occasion you're dressing up for! Just remember—when it comes down to it—it ultimately comes down to personal preference and style.  So don't forget to consider how much sparkle suits you best before making any final decisions!
Give Us a Shot
Click HERE to learn more about custom jewelry and to see our Diamond Earrings For Women.  Click here to see our Custom Earring page.  We don't make a lot of diamond earrings for women because it is like having 2 pendants made and you don't get any economies of scale with 2 pieces.  But when hunters do come looking for Diamond Earrings For Women, we got their numbers.  Why waste your money for mass produced earrings from the big box retail stores?  It is just as easy to have something made that matched your style and personality?  Custom jewelry is far more sentimental as it can tell a story or have a meaning. And all Diamond Earrings For Women should have a story or meaning.
How to Choose The Perfect Diamond Earrings For Your Face Shape