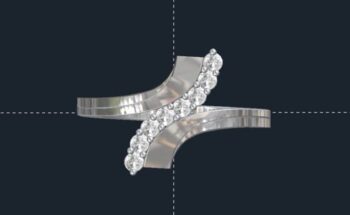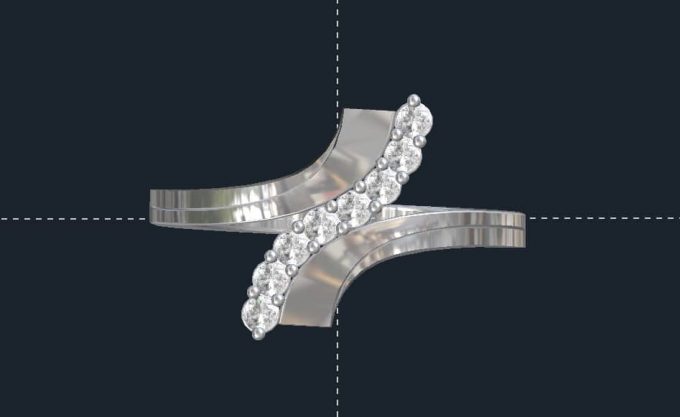 Elegant, with sexy curves and some different elevations make this 8 Stone Mother's Ring a stunner.  This Curved mother's birthstone ring is definitely a great addition to any fashion jewelry collection.  It will also work as a right hand cocktail ring if you make it with diamonds.
Mother rings with kids' names or birthstones are the ultimate expression of family pride and motherly love. Perfect both as gifts for new moms and as keepsake jewelry for yourself. This 8 Stone Mothers Ring is just one of numerous custom fashion jewelry pieces possible at Valeria Custom Jewelry.
But this can also be worn as a cocktail or right hand ring.  Set this with Diamonds and it is turned into an elegant piece of custom fashion jewelry.
What Are Mother's Rings?
Mother's rings are a special type of jewelry that hold great sentimental value. These rings are typically designed to represent the bond between a mother and her children. They often feature birthstones or initials of the children, making them a personalized and meaningful gift. Mother's rings can be worn as a symbol of love and pride, reminding mothers of the precious connection they share with their children. Whether it's a gift for a new mom or a seasoned one, a mother's ring is a beautiful and cherished piece of jewelry that celebrates the joys of motherhood.
When it comes to choosing a mother's ring, there are a few options to consider. Some rings feature a single birthstone or initial, while others can accommodate multiple stones or initials to represent each child. The design of the ring can vary, ranging from simple and elegant to more intricate and decorative styles. It's important to choose a ring that reflects the mother's personal taste and style, as well as one that will withstand the test of time.
Mother's rings can be purchased from various jewelry stores, both online and in-person. Many jewelers offer customization options, allowing you to create a unique and personalized piece. Additionally, some jewelry designers (US!) specialize in creating custom mother's rings, ensuring that each ring is one-of-a-kind. Whether you're shopping for yourself or looking for a thoughtful gift for a mother in your life, a mother's ring is a beautiful and heartfelt choice that will be treasured for years to come.
Why Mom's Love Mother's Rings So Much
Mother's rings hold a special place in a mom's heart. These sentimental pieces of jewelry are cherished by mothers all around the world. They serve as a constant reminder of the love and bond between a mother and her children. Whether it's a simple band with birthstones or an elaborate design with intricate details, mother's rings are a popular choice among moms for a variety of reasons.
One of the main reasons why moms love mother's rings is because they symbolize the unique connection between a mother and her children. Each birthstone represents a child, making the ring a personalized and meaningful piece of jewelry. It allows moms to carry a piece of their children with them wherever they go, serving as a constant reminder of the love and joy they bring into their lives.
Another reason why moms adore mother's rings is because they can be customized to reflect their personal style and preferences. From the choice of metals to the design of the setting, moms have the freedom to create a ring that is truly one-of-a-kind. This allows them to express their individuality while still embracing their role as a mother.
In addition, mother's rings are often passed down through generations, becoming family heirlooms. This adds to their sentimental value and makes them even more special. Moms love the idea of passing on their mother's ring to their own children, creating a beautiful tradition that celebrates the bond between generations.
What Type Of Stones Are Used In Mother's Rings?
Mother's rings typically feature gemstones that represent the birthstones of each child. The type of stones used in mother's rings can vary, but some popular choices include diamonds, emeralds, sapphires, and rubies. These gemstones are often set in precious metals like gold or silver to create a beautiful and meaningful piece of jewelry. When choosing the stones for a mother's ring, it is important to consider the birthstones of each child and the personal preferences of the mother.
However, mother's rings are not always solely about the children.  We have created mother's rings where each family member was represented, not just her children.  Do you want your dog or car represented on a mother's ring?  We can do that.  It is your ring!
Birthstones are gemstones that are associated with each month of the year. They hold special significance and are believed to bring good luck and positive energy to those who wear them. Each birthstone has its own unique properties and meanings, making them a popular choice for jewelry and gifts. Whether you're looking for a personal accessory or a thoughtful present, birthstones are a wonderful way to celebrate birthdays and special occasions. Here are a few of them and what they mean.
January's birthstone is garnet, a deep red gemstone that symbolizes friendship, trust, and loyalty. It is said to bring strength and protection to the wearer.
March's birthstone is aquamarine, a pale blue gemstone that is associated with calmness, courage, and good health. It is thought to bring harmony and balance to the wearer.
July's birthstone is ruby, a fiery red gemstone that represents passion, love, and vitality. It is believed to bring courage and success to the wearer. August's birthstone is peridot, a bright green gemstone that is associated with healing, protection, and abundance. It is said to bring happiness and good luck.
September's birthstone is sapphire, a deep blue gemstone that symbolizes wisdom, loyalty, and nobility. It is believed to bring peace and tranquility to the wearer.
No matter which month you were born in, birthstones offer a meaningful and beautiful way to celebrate your birth and express your unique personality. Whether you choose to wear your birthstone as a ring, necklace, or bracelet, it is sure to add a touch of elegance and significance to any outfit. So go ahead and explore the world of birthstones, and discover the gemstone that resonates with you the most.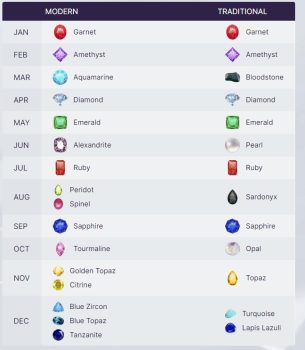 We Can Also Create Other Types Of Mother's Jewelry
When it comes to Mother's jewelry, there are plenty of options beyond rings. Necklaces are a popular choice, with pendants that can be personalized with initials, birthstones, or even engraved messages. Bracelets are another option, offering a stylish and sentimental accessory that can be adorned with charms or birthstone beads. Earrings are also a great choice, with options ranging from simple studs to dangling designs featuring birthstones or meaningful symbols. So, whether it's a necklace, bracelet, or pair of earrings, there are plenty of beautiful and meaningful options for Mother's jewelry beyond rings.
Custom Jewelry Is Where It's At For An 8 Stone Mother's Ring
But the customization doesn't have to stop there. Working with a custom jeweler can open up a whole new set of options when shopping for unique pieces.
Why waste your time looking for a mother's ring that was mass produced and sold by a commercial jeweler when you could invest in a custom piece that was handcrafted just for you? We are in the business of serving lifelong clients, not one-time customers.  We are also committed to making sure you are completely satisfied with his work. Give us the chance and we will exceed your expectations.
Click here to see more of  our birthstone rings.  Click here to learn more about custom jewelry, view our portfolio, or to contact us about an 8 Stone Mothers Ring.  Do you have an idea for an 8 Stone Mothers Ring (or any other) that you don't see on our site?  Send it over to us and we will see what we can do.  It can cost less than you think to have your very own 8 Stone Mother's Ring made.