How Custom Jewelry is Made
The Custom Jewelry Process
Many people are not familiar with the Custom Jewelry Process or how custom jewelry creations are manufactured and the steps it consists of, so I will do my best to explain how it works.
The Custom Jewelry Process begins in a CAD program.  In it, a piece of jewelry is designed and then rendered it to show how it will look like in real life.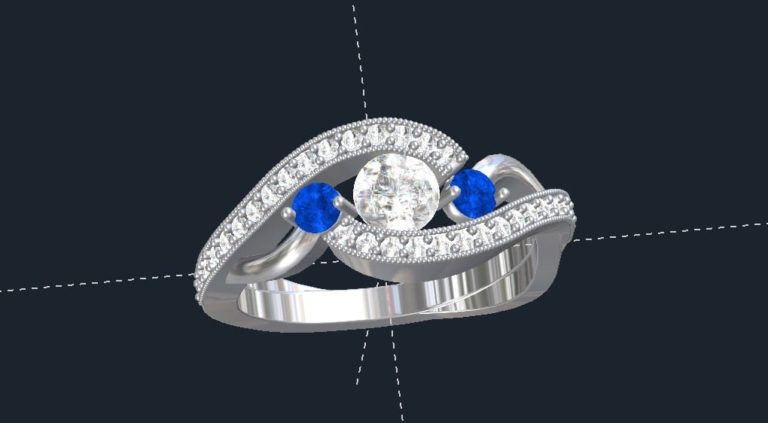 This image is a CAD rendering. Once a custom jewelry piece is finished, a file is generated from the design, which is then sent to the "wax grower" caster.  He takes that file and "grows" a wax from my file. It is accurate to within microns.  That wax is then used to make an investment mold, which is then used to cast the piece in metal.  The process is called lost wax casting because the wax is burned away when the molten metal is poured into the mold.  Here it a visual and more detailed explanation of it.
https://en.wikipedia.org/wiki/Lost-wax_casting
After casting, the piece is then polished.  If it needs stones, they are then set.  If it needs engraving or plating, those are the last steps.
If you have an idea for fashion statement jewelry, bridal jewelry, a pendant, earrings, anything….We can make it.
Click HERE to learn more about custom jewelry, to see our portfolio, or to contact us about a piece of custom jewelry.  It can cost less than you think to have your very own piece of custom jewelry made just for you. Why hassle with the retail stores for boring and overpriced engagement rings?  Valeria Custom Jewelry can easily create the something showing your style and personality.  And depending on the design and materials, many times for less than at a retail store!
How is Custom Jewelry Made?