Hidden Halo Engagement Rings
Hidden Halo Engagement Rings are benefitting from the last round of halo engagement ring mania. Halo engagement rings were so hot for awhile that a natural backlash began to form.  People loved the halo idea, but there were too many people wearing them. So, they tried to find a variation on the standard halo that made it more unique.  Enter the hidden halo engagement ring.  You might have seen them, but either didn't notice it or just thought it was something else. So..in this post, we will discuss how to get a halo engagement ring without getting what everyone else has.
What Is A Hidden Halo Engagement Ring?
A hidden halo engagement ring is a type of ring that features a hidden layer of smaller diamonds or gemstones underneath the main center stone. This layer of stones creates a halo effect, giving the illusion of a larger and more dazzling center stone. The hidden halo design adds a touch of elegance and sophistication to the ring, making it a popular choice for those who want a unique and eye-catching engagement ring. The hidden halo can be seen when the ring is viewed from the side, adding an element of surprise and intrigue. If you want to customize a halo engagement ring, adding them beneath the stone is a great idea.
Who Created The Hidden Engagement Ring?
The hidden engagement ring was created by Richard M. in 2015. Richard, a skilled jeweler with over 20 years of experience, designed the ring to be a unique and special symbol of love. He wanted to create something that would surprise and delight the recipient, while also being a meaningful representation of their relationship. Richard carefully crafted the hidden compartment within the ring, ensuring that it was both secure and easily accessible. The creation of the hidden engagement ring was a labor of love for Richard, and he takes great pride in knowing that his creation has brought joy to countless couples around the world.
Why Hidden Halo Engagement Rings Are Popular
Hidden Halo engagement rings have become increasingly popular in recent years. The allure of these rings lies in their unique design, which combines the classic elegance of a solitaire diamond with the added sparkle and glamour of a halo setting. This combination creates a stunning visual effect that is both eye-catching and timeless.
One of the main reasons why Hidden Halo engagement rings are so popular is their versatility. The hidden halo design allows for a larger center stone to be showcased, while still maintaining a delicate and feminine appearance. This makes them an ideal choice for those who want a ring that is both elegant and impactful.
Another reason for their popularity is the added sparkle that the hidden halo setting provides. The smaller diamonds that surround the center stone create a halo effect, which enhances the overall brilliance and fire of the ring. This extra sparkle not only adds to the ring's beauty, but also makes it appear larger and more luxurious.
Lastly, Hidden Halo engagement rings offer a modern twist on a traditional design. While solitaire engagement rings have long been a popular choice, the hidden halo setting adds a contemporary touch that appeals to those who want something unique and different. This combination of classic and modern elements makes Hidden Halo engagement rings a sought-after choice for those looking to make a statement with their engagement ring.
Why A Hidden Engagement Ring Makes An Excellent Choice
An engagement ring is a symbol of love and commitment, and choosing the perfect one is an important decision. One option that is gaining popularity is a hidden engagement ring. This unique choice offers several benefits that make it an excellent option for those looking to propose.
Firstly, a hidden engagement ring provides an element of surprise. By keeping the ring hidden until the perfect moment, you can create a truly memorable proposal. Whether it's a romantic getaway or a special date night, unveiling the ring adds an exciting element to the occasion. It allows you to capture the genuine reaction of your partner, making the proposal even more special and unforgettable.
Secondly, a hidden engagement ring offers practicality and convenience. Unlike traditional engagement rings, which are worn on the finger, a hidden ring can be easily concealed. This is particularly useful for those who have active lifestyles or work in professions where wearing a ring may not be practical. With a hidden ring, you can still symbolize your commitment without worrying about damaging or losing the ring.
Lastly, a hidden engagement ring allows for customization and personalization. Since the ring is not meant to be worn on the finger, you have more freedom in choosing its design. You can opt for a more intricate and elaborate ring, knowing that it will not be subjected to daily wear and tear. This opens up a world of possibilities, allowing you to create a unique and meaningful piece of jewelry that reflects your partner's personality and style.
The Benefits Of A Hidden Halo Engagement Ring
Hidden halo engagement rings have gained popularity in recent years, and for good reason. These unique rings feature a hidden layer of smaller diamonds or gemstones beneath the center stone, creating a stunning halo effect. But what are the benefits of choosing a hidden halo engagement ring?
Firstly, the hidden halo adds an extra layer of sparkle and brilliance to the ring. The smaller diamonds or gemstones surrounding the center stone create a dazzling effect, making the ring appear larger and more radiant. This can be particularly appealing for those who want a show-stopping engagement ring that truly stands out.
Secondly, the hidden halo provides additional protection for the center stone. The smaller diamonds or gemstones act as a buffer, reducing the risk of damage or chipping to the main stone. This can give peace of mind to those who lead an active lifestyle or work with their hands.
Another benefit is if you have a larger center stone.  Adding a halo to an already large center stone can make the setting unmanageable.  Placing the halo underneath it still adds the sparkle you want.  However, it will keep the face of your ring to a minimal size.  Also, if you already have a huge center stone, you don't want to overshadow it.
Having a hidden halo will also make it easier to have a matching wedding band.  Halo engagement rings make for wedding bands with funky shapes.
Lastly, hidden halo engagement rings offer a unique and modern twist on the classic halo design. The hidden layer of diamonds or gemstones adds an element of surprise and intrigue, making the ring truly one-of-a-kind. It allows for personalization and customization, as different combinations of stones can be used to create a unique look.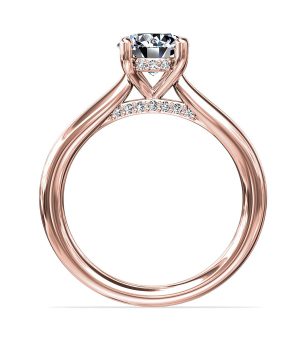 The Cons Of A Hidden Halo Engagement Ring
Hidden halo engagement rings have gained popularity in recent years, but it is important to consider the potential downsides before making a purchase. One of the main drawbacks of a hidden halo ring is the increased difficulty in cleaning and maintaining the ring. The intricate design of the hidden halo can trap dirt and debris, making it more challenging to keep the ring looking its best. Additionally, the hidden halo setting may require more frequent professional cleaning to ensure that all areas of the ring are thoroughly cleaned.
Another disadvantage of a hidden halo engagement ring is the potential for the smaller diamonds in the halo to become loose or fall out over time. The hidden halo setting typically consists of numerous small diamonds surrounding the center stone, and these smaller stones may be more prone to damage or loss compared to a traditional solitaire setting. Regular inspections and maintenance by a professional jeweler are essential to address any issues with loose or missing diamonds in a hidden halo ring.  However, it must be noted that this is a problem with any ring that has small stones in it.
Lastly, it is worth noting that the hidden halo design may not be suitable for everyone's personal style or preference. While some individuals appreciate the added sparkle and dimension that a hidden halo provides, others may prefer a simpler, more understated look. Also, hidden halo engagement rings are generally higher profile than those without.  For many, that is a dealbreaker.
It is important to choose an engagement ring that reflects your personal taste and style, rather than simply following trends. Ultimately, the decision to purchase a hidden halo engagement ring should be made after careful consideration of these potential drawbacks.
What Types Of Stones Can Be Used In A Hidden Halo?
Hidden halos are a popular choice for those looking to add extra sparkle and dimension to their engagement rings. When it comes to choosing the right stones for a hidden halo, there are several options to consider. First off, what size will the stones in your hidden halo be? If smaller than 1.5mm, you will be limited to diamond, moissanite, and a few precious gems.  But on the other side, you really can't go much larger than that unless you have a large center stone.  Or, if the halo is not at the bottom of the stone.  It is possible to put the halo in the middle of the setting.  This would allow for larger stones.  However, it isn't as "hidden" as if they are at the bottom.
The most popular choice is to use small round diamonds. They complement the center stone and create a seamless, continuous sparkle. Another popular option is to use colored gemstones, such as sapphires or emeralds.  These can a add a pop of color and personalization to the design. Especially if one of those is your birthstone.  Additionally, some people opt for a combination of diamonds and gemstones to create a unique and eye-catching hidden halo. Overall, the types of stones that can be used in a hidden halo are diverse, allowing for numerous possibilities in creating a stunning and personalized engagement ring.
Hidden halo rings have become a popular trend among celebrities. These unique rings feature a halo of smaller diamonds that surround a larger center stone, creating a dazzling and eye-catching effect. Celebrities love the hidden halo design because it adds an extra element of glamour and sophistication to their jewelry collection. Whether they are attending red carpet events or simply going about their daily lives, these rings are sure to make a statement.
One of the reasons why hidden halo rings are so popular among celebrities is their versatility. They can be worn with any outfit and for any occasion. Whether it's a casual lunch date or a formal gala, these rings add a touch of elegance to any ensemble. Celebrities also appreciate the fact that hidden halo rings can be customized to their personal style. From classic round diamonds to unique colored gemstones, there are endless options to choose from.
In addition to their stunning appearance, hidden halo rings are also a symbol of love and commitment. Many celebrities choose these rings as engagement rings or anniversary gifts. The hidden halo design represents the eternal bond between two people, making it a meaningful and sentimental choice. With their exquisite beauty and deep symbolism, it's no wonder why hidden halo rings have become a favorite among celebrities.
Let Us Create The Perfect Engagement Ring Just For You
We create custom jewelry.  So, we make everything specifically for each customer. This means we can create the exact ring you want. You will get to choose the halo location and type. The choice of gemstone used will also be up to you. That isn't possible at the chain jewelry stores.
First, consider your budget. Hidden halo engagement rings come in a range of prices, so it's important to determine how much you're willing to spend. Next, think about the style you prefer. Hidden halo rings can be classic and timeless, or modern and unique. Consider your partner's personal style and choose a ring that reflects their taste.
Finally, don't forget about the quality of the diamonds. Look for rings with high-quality, well-cut diamonds that will sparkle and shine. And don't be afraid to ask questions! Jewelers are there to help you find the perfect ring, so don't hesitate to seek their expertise.
Click here to see our portfolio of engagement rings.  We have only created a few hidden halo engagement rings, but we can make anything you want. Just send us your idea and we will see what we can do for you.  Here is one we have made.
Hidden Halo Engagement Rings