If you love to own something unique and quite different from others consumers, you are not alone. Today, modern and fashion-conscious women are increasingly looking for accessories and jewelry that complement their lifestyle and personality, instead of blindly following whatever is in the latest television show or magazine.
In this context, nothing could be better than Antique Engagement Rings from Valeria Custom Jewelry.  We are one of the few designers who can replicate the looks that were handmade 100 years ago.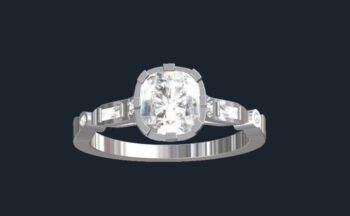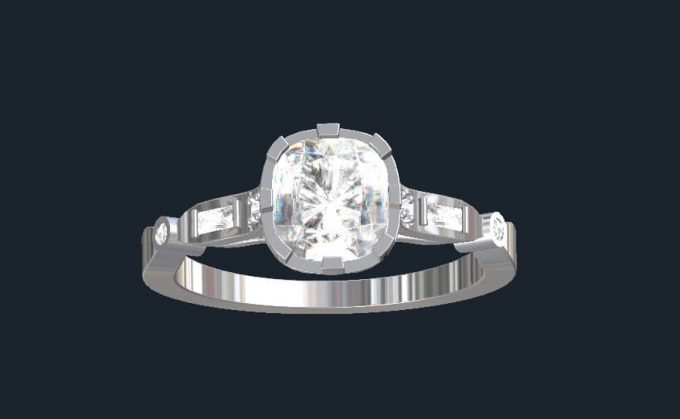 This 3 stone antique engagement ring hearkens back to the days of the early 1900's, when platinum rings like this were fabricated by hand. Thank God for CAD!
One of the most desirable things about Antique Engagement Rings is that you could be fairly certain that no one would be wearing the exact same jewelry piece as yours. Vintage jewelry pieces are surely custom-made and hand-made and generally, most of these antique pieces would rarely have a duplicate or an exact same piece. Vintage jewelry is known for uniqueness. This is primarily the reason why vintage engagement rings are becoming phenomenally popular. They are a great hit as everyone wishes to flaunt unique engagement rings. Antique or vintage jewelry is the fruit of skilled craftsmanship. Some vintage jewelry pieces look amazing with intricate designs usually made by hand.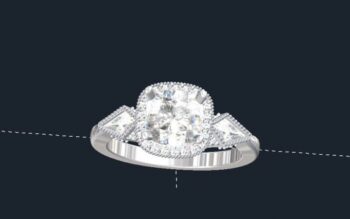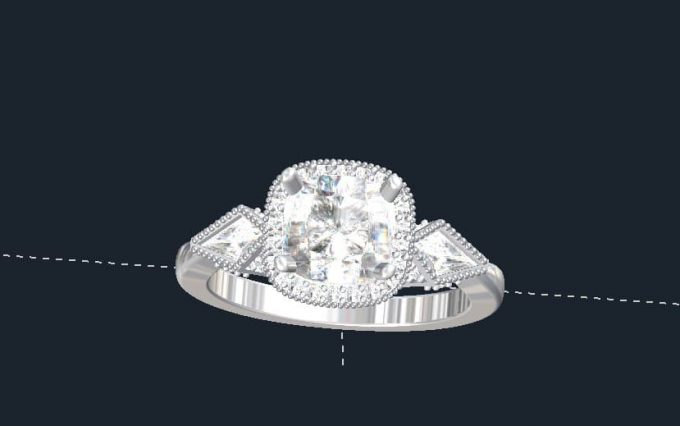 This is one of our Antique Style Engagement Rings that has both bezel and prong set accents in both baguette and round shapes. The center stone is shown with a cushion cut, but a round, square, or rectangular stone could be used. 
Antique Rings Are Timeless
While is is fun to follow and latest trends, it can be exhausting with everything changing from month to month.  These fashion trends are temporal at best and so they never last forever. Just like fashion trends, jewelry design trends keep coming and going, and if you are inattentive you may end up wearing jewelry pieces to a wedding reception that have gone clearly out of fashion last season.
But by making the investment in Antique Engagement Rings, you would be buying timeless piece that would be in vogue forever. Antique Engagement Rings just don't go out of fashion. Classic jewelry items from a specific era would be standing the actual test of time as compared to those that have been crafted and designed as per current trends.
Most Antique Engagement Rings have a story or special meaning behind them.  This is what makes them so endearing to people.
Why Antique Engagement Rings Are Popular
Antique engagement rings have gained immense popularity in recent years. These unique pieces of jewelry offer a timeless charm and elegance that cannot be replicated by modern designs. One of the main reasons for their popularity is the sense of history and nostalgia they evoke. Vintage engagement rings often carry a story with them, making them more meaningful and sentimental to the wearer. Additionally, these rings are often handcrafted with intricate details and exquisite craftsmanship, showcasing the artistry of a bygone era. The durability and quality of antique rings also contribute to their appeal, as they have stood the test of time and can be passed down through generations.
In addition to their sentimental value, vintage engagement rings also offer a wide range of styles and designs to choose from. Each era has its own distinct characteristics, allowing individuals to find a ring that aligns with their personal taste and style. From the intricate filigree work of the Edwardian era to the bold and geometric Art Deco designs. There is something for everyone when it comes to antique engagement rings. Furthermore, these rings often feature unique gemstones and settings that are not commonly seen in modern designs.
Another reason for the popularity of vintage engagement rings is their sustainability and eco-friendliness. By choosing an antique ring, individuals are opting for a sustainable and ethical option, as no new resources are being used in the creation of the ring.
In conclusion, antique engagement rings have gained popularity due to their sentimental value, unique designs, and sustainability. These rings offer a sense of history and nostalgia, making them more meaningful and sentimental to the wearer. With a wide range of styles and designs to choose from, individuals can find a ring that aligns with their personal taste and style.
Give Us A Shot!
While everyone can't be fortunate enough to possess a piece of jewelry that has been passed down in your family.  We do make it easy to get that Antique look with a custom ring from Valeria Custom Jewelry.  Our craftsman can still recreate the looks of hand fabricated rings made in the early 1900's
Click to see more of our custom engagement rings.  Click hereto learn more about custom jewelry, view our portfolio, or to contact us about Custom Engagement Rings.  It can cost less than you think to have your very own custom engagement ring made just for you. Why hassle with the retail stores for mundane and overpriced engagement rings?