Batman Promise Ring
With the almost monthly conversion of vintage comic books into movies for the big screen, superheroes are becoming a popular part of pop culture again. We are in the practice of creating jewelry that people want, but can't find in retail stores.  these superhero jewelry designs are just a few examples of how fashion retailers are incorporating these themes into their products.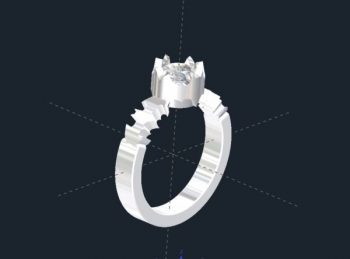 This Batman Promise Ring is ALL about the Bat.  The 6mm center stone is held by two bats forming a bezel as well as being flanked by two bats on each shoulder.  The shoulders can be customized with a stone in the middle of the bats.
Batman Promise Ring – Not Just For Nerds!
With such films as The Dark Knight and the recent release of Man of Steel gaining so much popularity and momentum among fans, there's no surprise as to why certain retailers are utilizing these superhero themes to draw in that youthful and hip consumer. From sleek cufflinks outfitted with the infamous Superman insignia on it to accessories shaped like Gotham City from the Batman series, these superhero jewelry designs will definitely have diehard comic fans flocking to add these to their collection.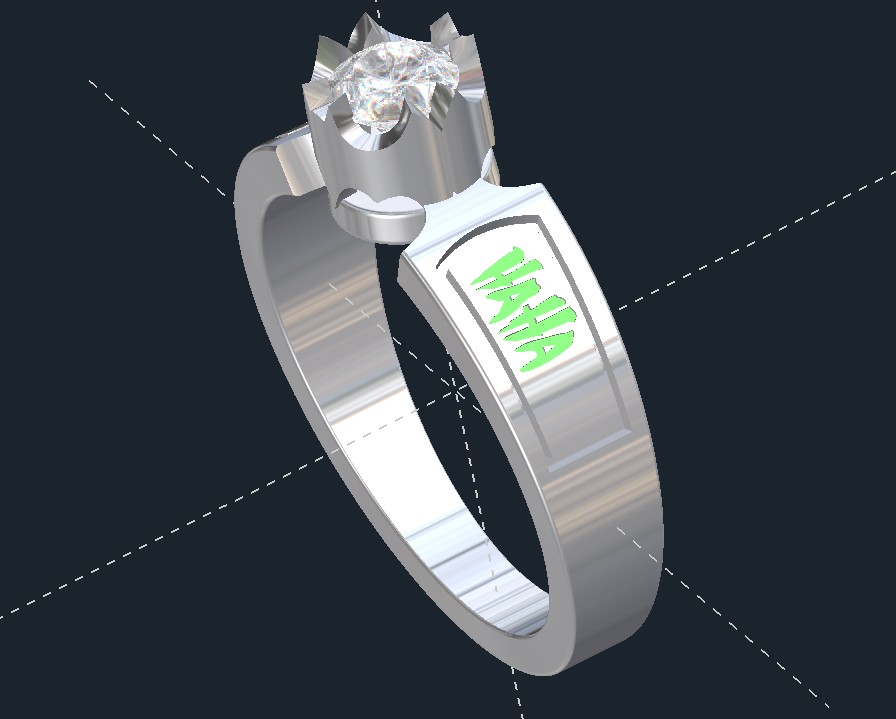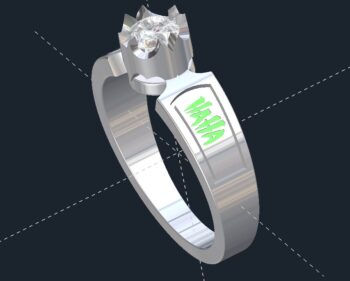 The band can on this Batman Promise Ring be blank or it can have the shapes formed by the channel at the top. Our Custom Batman Engagement Ring can also be made with the Harley Quinn symbols, the Bat, a Joker "J", or anything else you can think of as long as it fits. The shapes are filled with enamel in these, but I can also put stones on the sides.
Are you a fan of the Bat in all his forms?  We are, which is why we have created so many Batman Promise Ring designs.  If you don't see EXACTLY what you are looking for, send us your idea.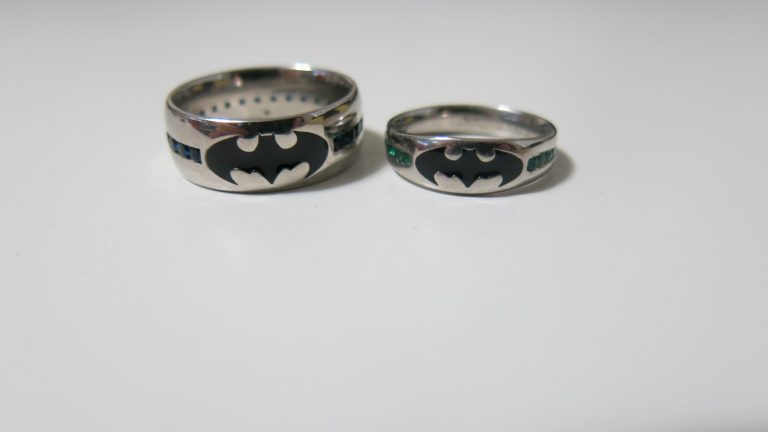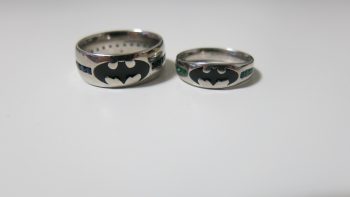 This His & Hers Batman Promise Ring set consisted of an 8mm wide mens ring and a tapered 6mm wide band for her.  Both had channel set Sapphires going all the way around the ring.
Inspired by one of the greatest DC super heroes of all time comes our collection of Custom Batman Rings from Valeria Custom Jewelry.  In addition to the Batman Promise Ring, we have created Batman wedding rings as well as Batman engagement rings!  Each Batman Promise Ring is custom printed and cast using 3D printing technology, so it will come out as expected and fit perfectly.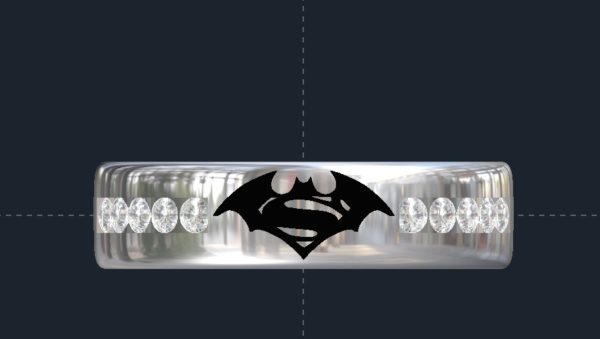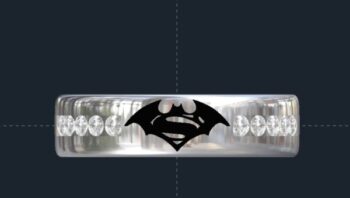 In this one, we mixed the Batman and Superman Logos to celebrate the movie featuring the top superheroes pitted against each other.
It would be difficult to find someone who hasn't seen a Batman movie, whether it be the Michael Keaton, Christian Bale, or Ben Affleck incarnations.  And for you older than 40, might remember the original Adam West TV show.  The Batman has captured imaginations for over 50 years and the theme doesn't show signs of abating. This is why Valeria Custom Jewelry created a suite of custom batman rings for every taste.
Batman Promise Ring- Even in the "Contemporary" Metals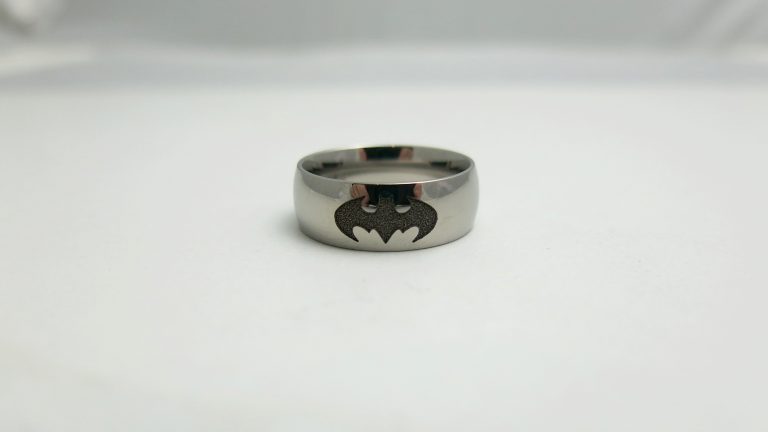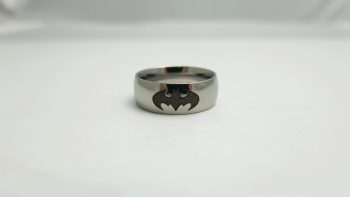 With this Titanium Batman Ring, we have taken a mass manufactured titanium ring and laser engraved the bat symbol on it.  These are a great way to get a batman ring at a lower price point vs the traditional metals that have to be cast.  For the price, nothing beats the beauty and durability of titanium.  We can also create these in Tungsten or Steel.
Available only at Valeria Custom Jewelry, our Batman Promise Rings can be cast in sterling or argentium silver, platinum, palladium, or white, yellow or rose gold. Some of the rings feature a batman symbol filled with black enamel. Accent stones can also be set into the circumference of the ring for added color or sparkle. They can be made between 5mm and 12mm wide, and come in sizes 4–15.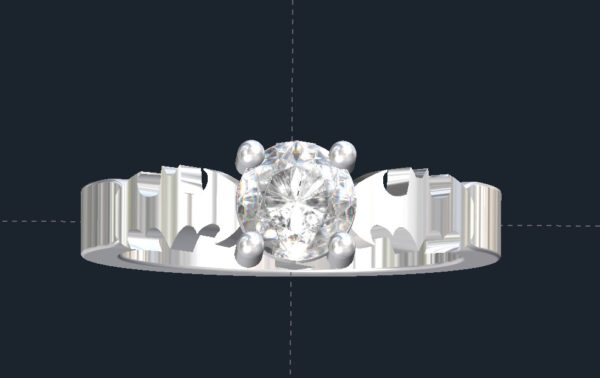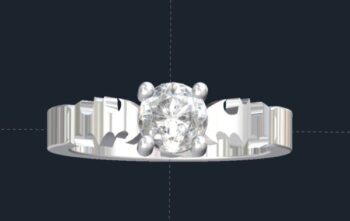 The 6mm center stone is flanked by two bats on each shoulder and has a Harley Quinn Diamond underneath it.  We can make the band a little more feminine…
Although the actual Batman may be imaginary, there's nothing fake about the materials Lucas uses when crafting his one-of-a-kind Batman Promise Ring designs. His graduate degree in gemology from GIA and his personal connections to reputable diamond and gemstone dealers both domestic and abroad secure precious stones that are of both high value and quality. He uses CAD to perfect his designs and lost wax casting to bring those designs to life.
Give Valeria Custom Jewelry a Chance!
No matter what your budget is, We will work with each client to ensure that they feel special, listened to and ultimately satisfied. We are not in the business of one-time customers; we wants to build lasting connections with each of his clients.  And judging from our repeat business and reviews, we feel we are doing pretty well!
We are committed to creating custom, high quality, and covetable Batman Promise Rings.   However, our overall and main goal of exceeding his customer's expectations is the one we take the most pride in achieving.
Often times, the brides are the recipients of extravagantly crafted and meaningful engagement and wedding rings. But one of our Batman Promise Rings gives grooms and brides a chance to customize the one piece of jewelry that will last them the rest of their lives.
Click HERE to see our bridal rings portfolio.  Click HERE to learn more about custom jewelry, to see our portfolio, or to contact us about a Batman Promise Ring.  It can cost less than you think to have your very own custom batman promise ring made just for you. Why hassle with the retail stores for boring and overpriced engagement rings?  We can make something matching your style and personality that will be comparable to what you might spend in the mall.