Custom Diamond Engagement Rings
In 1477, Archduke Maximillian of Austria presented Mary of Burgundy with a delicate gold ring accented with diamonds in the shape of her first initial – winning her hand and heart over another suitor and the idea of Custom Diamond Engagement Rings was born! He had no clue what he was doing, but with that engagement ring, he started a tradition that is expected of almost every groom in the west. The giving of Diamond Engagement Rings.   Suffice it to say that he isn't looked upon kindly by many men!  It would be 100's of years before engagement rings would become readily available to the masses, but the seed had been planted.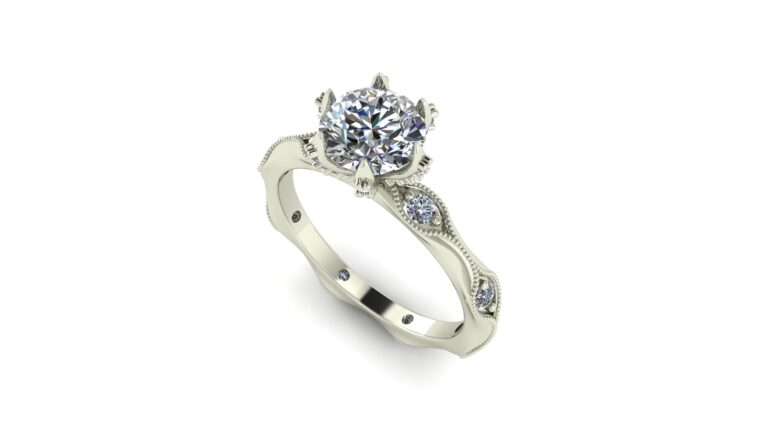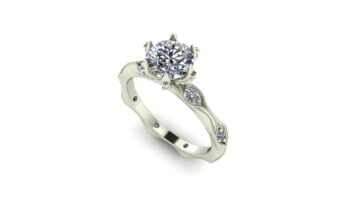 This is one of our Sculptural Engagement Ring designs that we love.  The center stone is secured by 6 prongs that are accented with 1mm stones.  If you don't like 6 prongs, or don't want the accents on the prongs, we can change that.  The shank is an alternation of diamond accents and knife edged milgrain. If you wanted more stones, we could probably add 2-4 more.  We could also remove stones.
A Short History Of Wedding & Engagement Rings
At first,  this tradition was only afforded by the aristocracy or rich merchants.  However, the practice gradually became more bourgeois in the mid 1900's as a result of the discovery of vast diamond reserves in South Africa.  This in turn led a South African diamond company that was represented in the United States to market diamonds and diamond jewelry.  As a result, the giving of diamond engagement rings practice spread faster than gossip in a salon..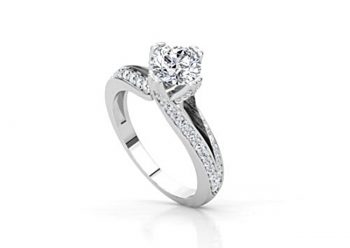 This Split Shank Modern Engagement Ring is definitely a ring that will get noticed.  2 of the prongs are formed by the shank and the other two appear out of nowhere for a dramatic effect. It accented with 56, 1.3mm stones that total a little over 1/2 carat.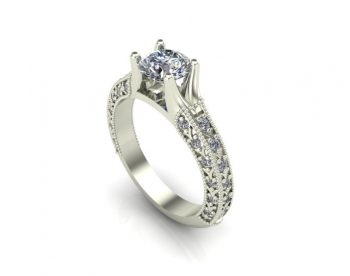 This Art Deco Engagement Ring really highlights the center stone and will definitely turn heads with its elegant design elements and minimalist setting.  The shank is adorned on all sides by "V" shapes, diamonds, and milgrain.
While the act of expressing commitment between a couple has varied throughout history and across cultures, by the 1930s, the diamond engagement ring had become the go to symbol for the eternal union between a man and a woman.  It was around this time that DeBeers began marketing diamond engagement rings in the US and the "A Diamond is Forever" slogan was born a few years later.  That was one of the most successful marketing campaigns ever undertaken and was used for almost 40 years.  It is also attributed to the almost 95% market share in terms of types of stones used in engagement rings.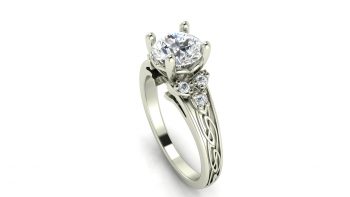 This Celtic engagement ring has triquetras adorning the band up to the shoulders, where 3, 1.5mm stones sit in Celtic symbols.  The basket holding the head also has some symbols in it.  The cathedrals are cut on the side to add an elegant design element.
Custom Diamond Engagement Rings –  The Significance of the Engagement Ring

The Romans started the tradition of betrothal rings in he 2nd century BC in lieu of giving the bride money or a valuable object. But the symbolism of the ring was more about ownership that it was a sign of love.   Even slaves were forced to wear necklaces designating them as someone's property.  For hundreds of years, these betrothal rings were gold, silver, and steel as these were the metals of the day.  But today, gold, silver and platinum are used more because steel doesn't lend itself to today's Custom Diamond Engagement Rings.  It also just isn't very pretty, nor can you set stones in it.
This Engraved Vintage Engagement Ring has both diamond accents as well as engraving on it.  Nestled in the scrollwork on the sides of the ring are 8 bezel set diamonds for some oblique sparkle.    It is stunning from all sides!  The center stone is a 6.5mm round, but it could be made for other sizes.  It would also work well with a cushion or princess cut stone.
Diamond Engagement Rings
The belief that diamonds are forever makes them the ideal stone to represent the eternal love between a couple.  We want our Custom Diamond Engagement Rings to symbolize this eternal union and so we put the same effort into our Custom Diamond Engagement Rings as if we were making them for ourselves.  Please browse this list and contact us with your idea for a custom engagement ring.  We can work with almost any budget to give you a unique, custom ring that nobody else has.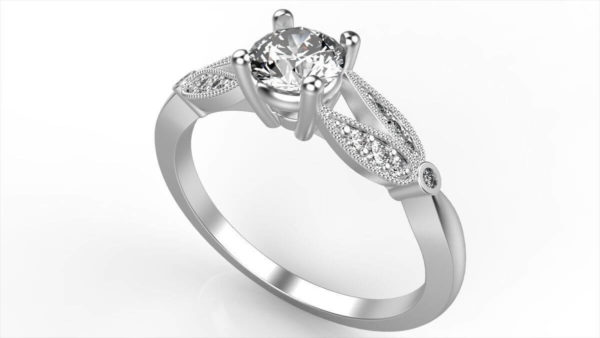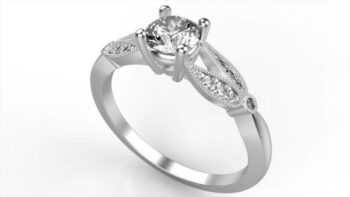 In our opinion, this Floral Split Shank Engagement Ring is one of the cooler bridal rings we have created.  In it, the shank splits from a bezel set stone at 10 & 2 O'clock.  From there, two diamond crusted flower petals arch up the center stone.  The center stone in is shown as a 6mm round, but other shapes and sizes can be used.
Custom Diamond Engagement Rings – Floral Engagement Ring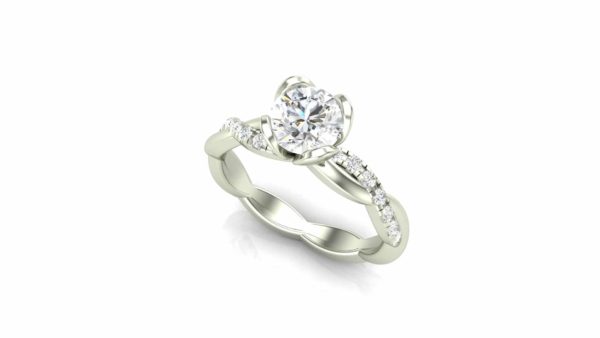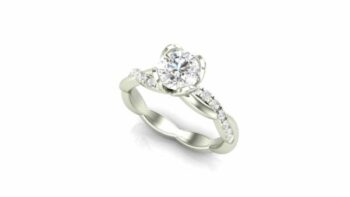 This Rose Engagement Ring is accented with 14, 1.5mm stones that total a 1/5 carat.  The center stone is shown a round 6mm, but other sizes and shapes can be used. It is also possible to make the accents larger or change the flower to one you like.  With its french pave setting, this definitely one of our Custom Engagement Rings that you won't find anywhere else.
Custom Diamond Engagement Rings – Nature Inspired Engagement Rings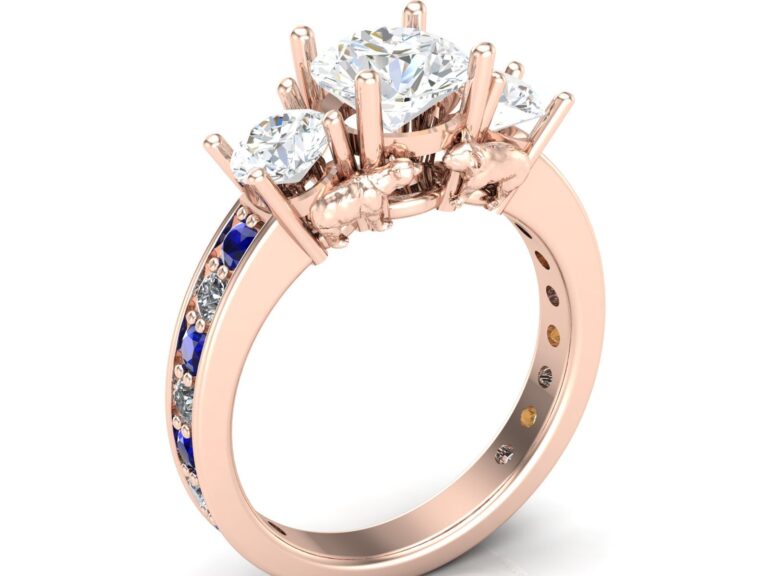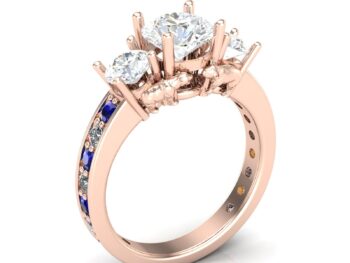 This is one of our most unusual Custom Diamond Engagement Rings.  The couple was bear fanatics, so we added polar and panda bears to each side of a 3 stone ring design with hybrid prong channel set accents.  This ring is a perfect example of how you can get almost anything you want on a ring these days.
Custom Diamond Engagement Rings – 2 Stone Engagement Ring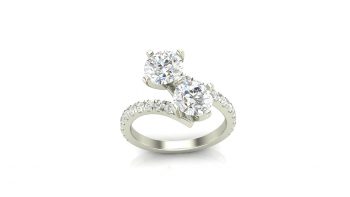 Trending upwards lately as a few celebrities have been spotted wearing them, our 2 stone Custom Diamond Engagement Rings give you double your pleasure.  This one is set with 2, 6mm diamonds and accented with 1.8mm stones in the band.  We can also make this ring without the stones in the band.
Custom Diamond Engagement Rings –  Woven Band Rings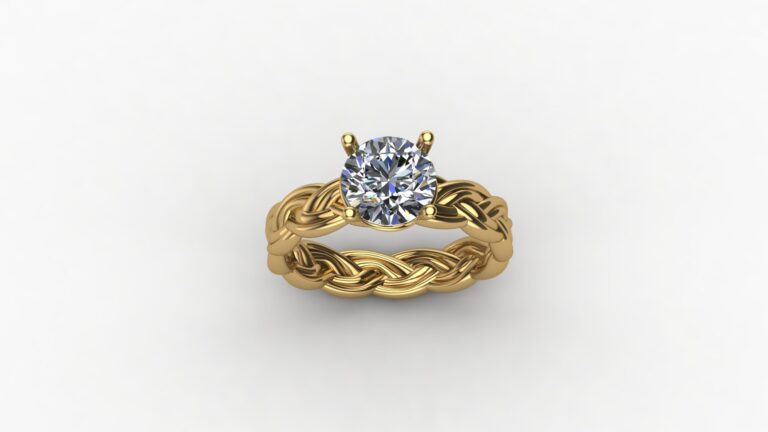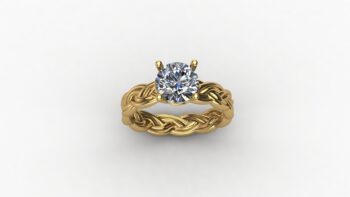 The two strands in one of our woven Custom Diamond Engagement Rings represent the unification of two people for life.  It is shown with a round stone, but any shape could be used.  The band could also be made thinner and a third strand could be added as well.
Custom Diamond Engagement Rings – Vintage Engagement Rings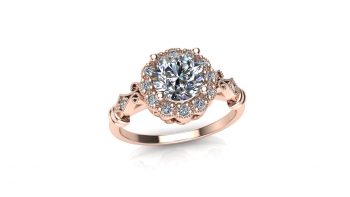 This is one of our Vintage Custom Diamond Engagement Rings that pays homage to the exquisite engagement rings created by hand in the early 1900's. Milgrain accents the stones in both the halo and band.  Meanwhile the gallery beneath the center stone is artfully cut out with ballpark squares.  There are two bands going around the shoulders for some additional decoration.
Custom Diamond Engagement Rings – Hummingbird Ring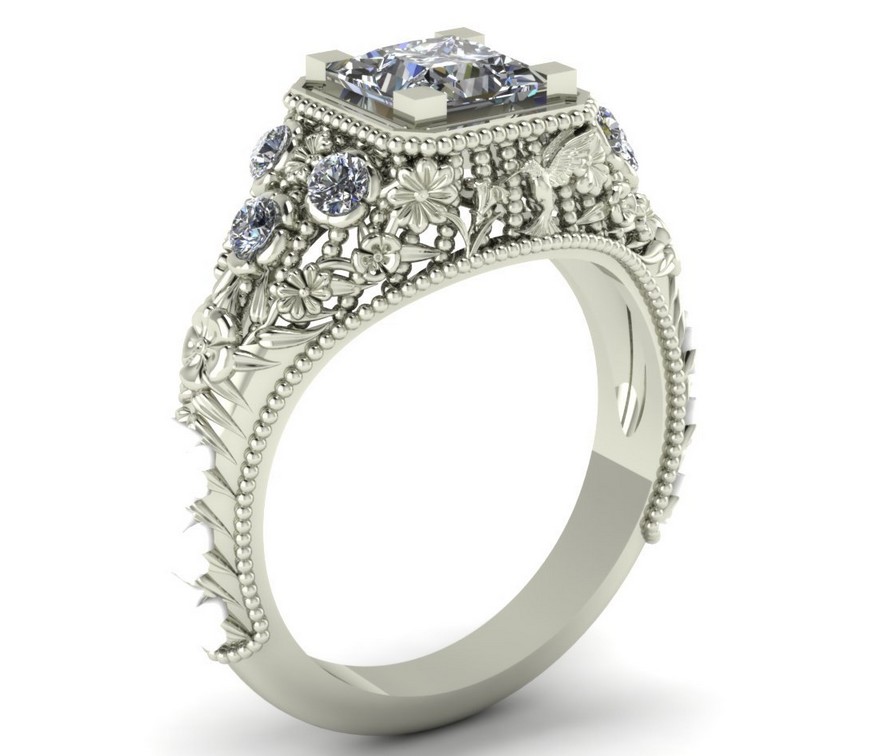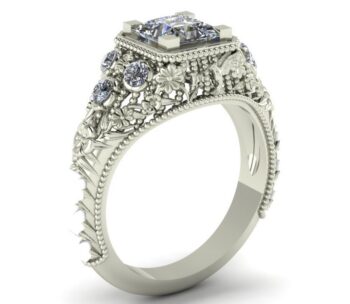 This Custom Diamond Engagement Rings is another of our nature inspired rings.  The 5-6mm square or round stone sits atop a garden of plants and flowers.  A hummingbird quietly feeds from one of these flowers.  Accenting this nature scene are 6, 2mm round diamonds.
Custom Diamond Engagement Rings – The Bottom Line
Does the traditional engagement ring you can find at the mall not quite do it for you? Do you want something different from what everybody else has?  If so, one of our Custom Diamond Engagement Rings is for you. There are so many ways to customize any of our Unique Custom Diamond Engagement Rings that you can't go wrong with having one made just for you.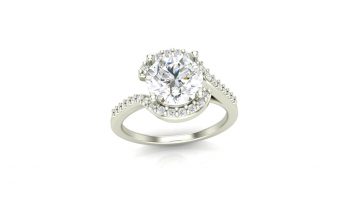 We had a client who wanted a halo ring, but didn't want a halo ring!  She wanted something different.  So we removed a few stones and created a semi-halo engagement ring.  We also made a matching band that you can see.
Truly Unique Custom Diamond Engagement Rings
We fully guarantee our work and don't manufacture the ring until you give the approval. This ensures you will get the ring you want.  Creating Custom Engagement Rings is all about the details. Consequently, we can help you traverse those details if it seems a daunting task, giving you time to worry about things other than finding stunning halo ring that no one else has.  For brides looking for a versatile, yet still traditional diamond engagement ring, halo rings make an excellent choice.  We know halo are all the rage right now, but there are ways to change a halo ring like this Semi Halo Diamond engagement Ring.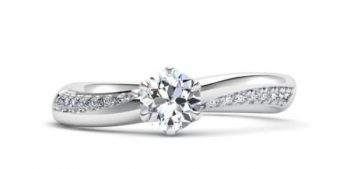 This 6 Prong Engagement Ring is a modern, elegant design that you won't find anywhere else. Although we can that about most of our custom jewelry!  The center stone is held by 6 claws for maximum security and  the graduated accents are on opposite sides of the ring for a unique effect. The accents start at 2mm and go down to 1mm stones,  totaling a around a 1/2 carat.  The center stone is shown a round 6.5mm, but other sizes can be used. It is also possible to make the accents slightly larger or smaller.
Give us a Try for Custom Diamond Engagement Rings!
As you can see from the images in this post, custom engagement ring can be far more than a plain band with the stone.  We do create the more traditional engagement ring styles all the time.  But we like to get creative on that ass!  We love to combine different style and design elements to create Custom Diamond Engagement Rings no one else has.  We are in love with the solitaire engagement style because of the countless possibilities it provides in terms of customization.  If you want to create a ring that is truly yours, these give you one of the best chances to achieve that goal.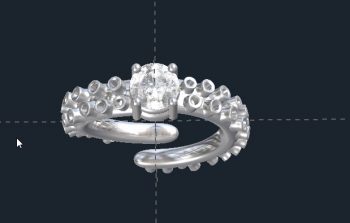 Our Octopus Engagement Ring looks as if it just spring from the sea!  It can be made with both a bezel set cabochon center stone or a prongs set, faceted stone.  Any size or type of center stone from 4-8mm can be used. The suckers are hand finished after casting to give them an organic look.  If we cast this nature inspired ring in Sterling silver, the base of the ring can be oxidized, giving it a black patina on the base.
Custom Diamond Engagement Rings
Want to begin on your own Custom Diamond Engagement Ring?  Contact us with your idea today…It can cost less than you think to have your very own ring created just for you.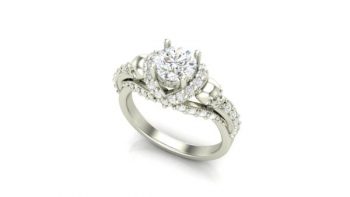 This stunning Gothic Skull Engagement Ring has a center stone flanked by two skulls.  Twisting around the skulls are ribbons of white pave stones.  Delicate milgrain adorns most of the ring for an added design element.
We know there are tons of options out there for engagement rings.  We also know that we stand a notch above most!  If given the chance, we are confident that the expertise, service, and value we provide will be evident from the start.  We also know that there might be cheaper options out there.  But know that all rings are not created equal.  What we create can't be compared to mass-produced rings created in Asian sweatshops.  Besides the cost of labor being pennies on the dollar when employing 13-year-old children.  Mass produced jewelry is lightweight and not as durable as something made in the US.  And if there are gemstones in the ring, they will be of lesser quality than advertised.  Need customer service? Forget it. We have dealt with Asian manufacturers and service is a foreign idea to them!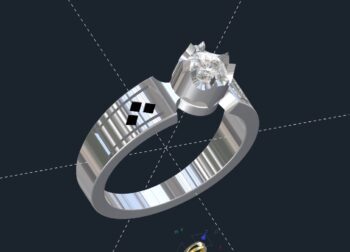 This Custom Batman Engagement Ring is crowned with two bats forming a bezel to hold the center stone.  The band can be blank or it can have the channel going around the top. This batman ring can also be made with the Harley Quinn symbols, the Bat, a Joker "J", or anything else you can think of as long as it fits.
Not All Custom Is Created Equal – Give Us A Shot!
We know you have tons of options when looking for Custom Diamond Engagement Rings.  However, we are confident that if given the chance, our skill, value, and service will put us above the rest.  Especially if you are looking for something that is a little different form what you can get at retail stores.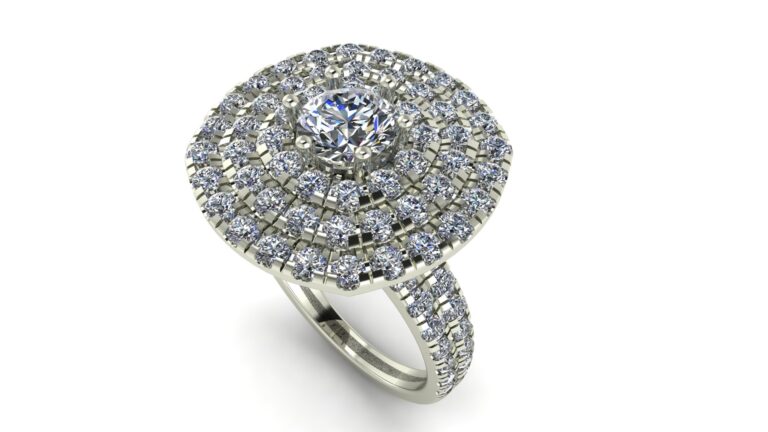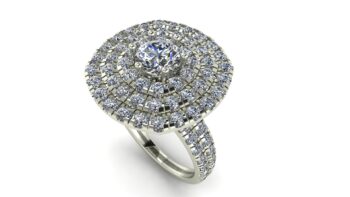 We had a customer with a bunch of old jewelry that she wanted repurposed into something new.  This is a spin on that ring.  The 2mm diamonds in the rounded square halo are french pave set, but we could make this a shared prong setting as well.  It is also possible to play with stone sizes or even remove a halo if you like.
Click HERE to see our complete portfolio of custom engagement rings.  Click HERE to lean more about custom jewelry, to view our the rest of our custom jewelry creations, or to contact us about Custom Diamond Engagement Rings.  It can cost less than you think to have your very own custom engagement ring made.  Why settle for boring, uninspiring, mass-produced bridal rings from the mall?  We can make exactly what you want.  Don't see what you are envisioning in our portfolio?  Send us the design you want and we will bring it to life.
Custom Diamond Engagement Rings