Most Big Box stores sell one or two Celtic Engagement Rings.  However, if you're looking for something a little more unique or even something totally off the hook, look no further than Valeria Custom Jewelry.  Owner and artisan jeweler Lucas Horton can create anything that can be cast.  Do you have an idea in your head for a Celtic Engagement Ring, but can't find anything like it in the retail stores?  We can create all manner of custom Celtic Engagement Ring designs.  As long as it can be cast, we can create it.  And many times, for less than something comparable from the mall.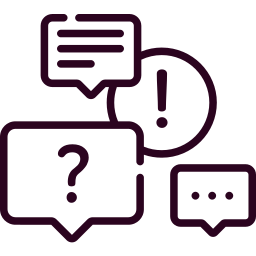 Discuss design ideas, options, budget, with your jewelry consultant – your guide to the custom experience.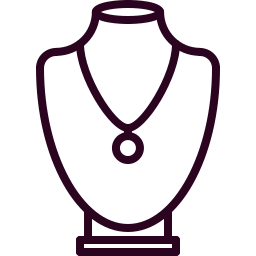 Visualize your piece with high resolution 3D renderings, and we'll adjust every detail until you tell us it's perfect.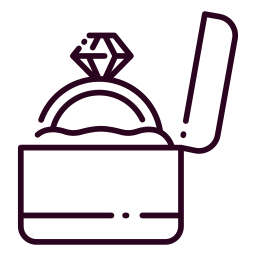 Receive your custom piece, with the assurance it's been made to wear and last a lifetime.
Celtic Engagement Rings: Meaningful and Enchanting
The enigmatic beauty of Celtic or Irish jewelry has been fascinating admirers for a long time. You may not understand the meanings of such mystic symbols, but they are certainly different from the commonality of diamond solitaires. If you are attracted to a symbolic and meaningful piece of wedding jewelry, Celtic engagement rings are the finest option. Overflowing with a rich history, the detailed and elegant Celtic engagement rings are sought-after for their incomparable appeal.
The uniquely symbolic artwork combined with historic lore makes Celtic Engagement Rings even more intriguing and earnest. You don't need an Irish heritage to flaunt this captivating engagement ring, adopted eagerly by both designers and connoisseurs.
This is one of our favorite Celtic Engagement Rings.  It has Celtic symbols adorning the band up to the shoulders, where 3, 1.5mm stones sit in Triquetras symbols.  The basket holding the head also has some symbols in it.  The cathedrals are cut on the side to allow you to see through the ring and add an elegant design element.  This one is shown with a 6.5mm round, but almost any size or shape stone could be used.  We could also change the pattern on the band if you had something else in mind.
Having Trouble Fiinding Celtic Engagement rings made your way??
There are 2 principal patterns of Celtic Engagement Rings. The Claddagh ring can be unfailingly recognized by enthusiasts even if they are familiar with the exact terminology. This ring is meant and built to be passed down generations as an eloquent family heirloom. The second variety or Celtic Engagement Rings features riveting geometric Celtic knots. These symbolic knots are intertwined and infinite. These interlaced lines represent the journey of never-ending love, life, and unity. These Irish designs are cherished as engagement rings owing to their mesmerizing design and idealistic significance.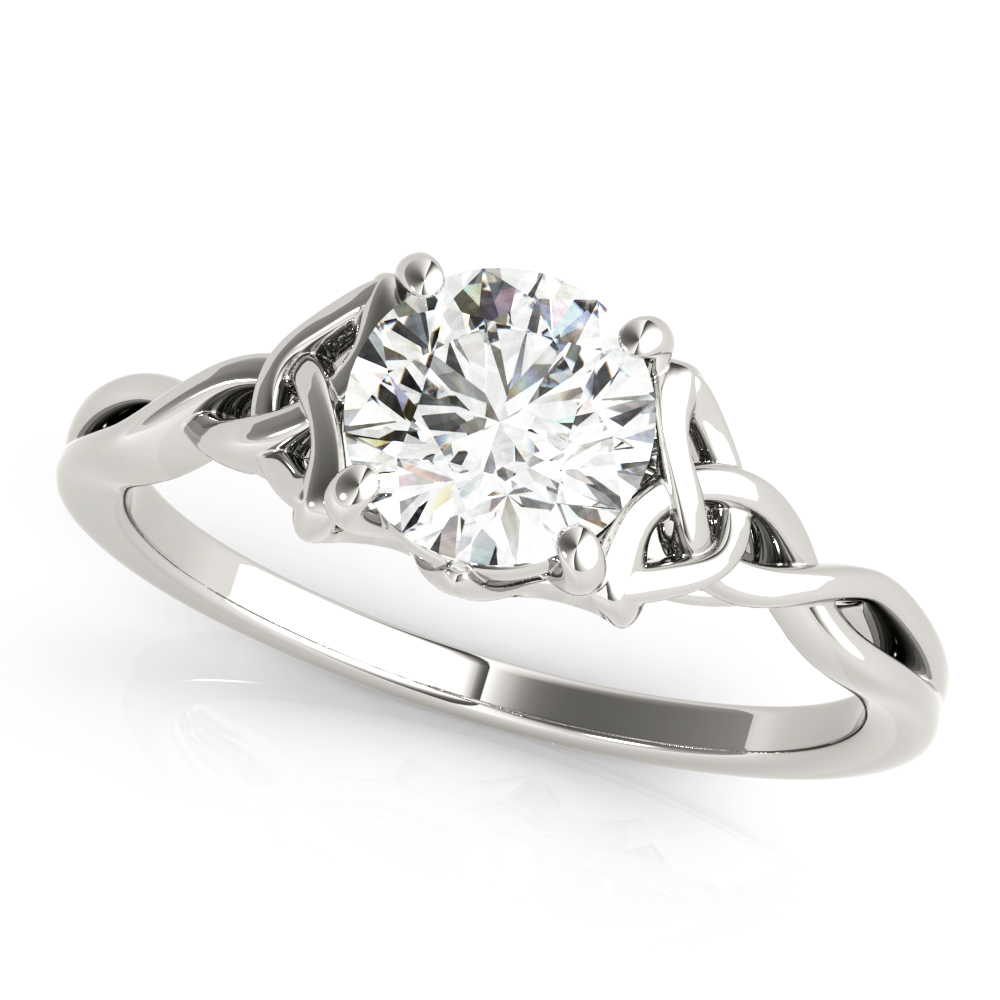 Triquetra Solitaire engagement ring
If you love Celtic symbols and are looking for a solitaire ring, our Triquetra Engagement Ring might be the ring for you.  This is one of our most subdued celtic engagement rings, but that is part of the charm.  The center stone is a round 6.5mm, but we could make this with any size or shape stone, as long as it was over 4mm.  On either side of the center tone is a triquetra symbol that crosses over itself at the bottom to form a split shank.  It is very elegant and  sleeker than having the symbol just dead end into the ring shank.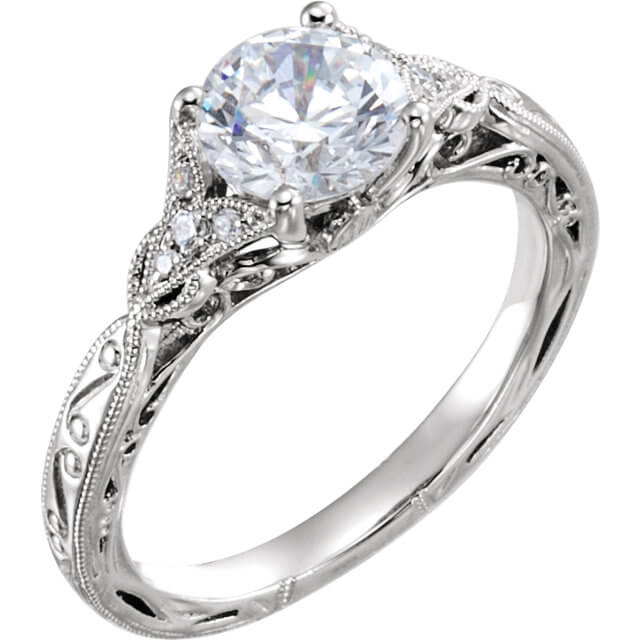 Cathedral celtic engagement ring
This is one of our Cathedral Celtic Engagement Rings that is a little busy.  There is almost no empty place on this ring that isn't adorned with some sort of Celtic symbol.  If you don't mind busy, then this ring is perfect.  Beautiful scrollwork, milgrain, and Celtic symbols are on the top and sides of this unique Ring.  The center stone is a 6.5mm round and is accented with 8 stones.  However, this design would work well with a cushion or princess cut stone as well.  If you like the idea of this Celtic Cathedral Engagement Ring, but don't like the patterns.  We could make it with whatever pattern you wanted as long as it fit.  We could also leave the sides of the ring empty.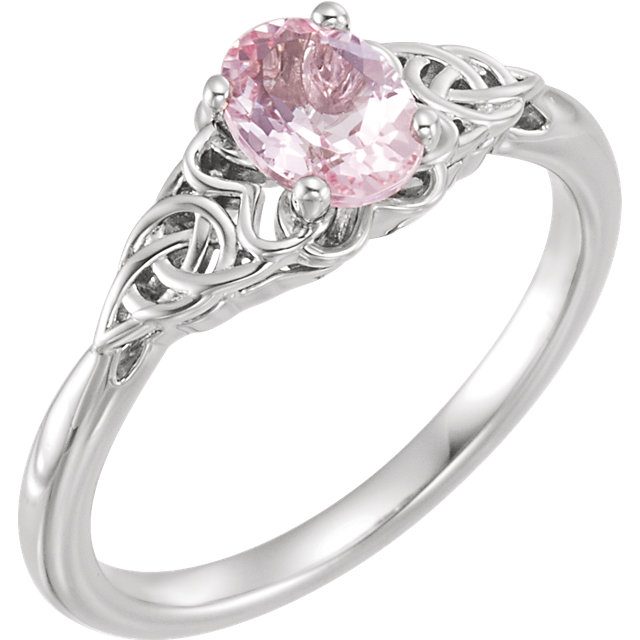 Celtic Solitaire engagment ring
This Celtic Solitaire Engagement Ring is just one of many custom jewelry creations from Valeria Custom Jewelry.  In this one, we have an 8x6mm oval Morganite that is flanked by a Celtic motif.  However, if you have another Celtic symbol that you like more, we could probably make it with that.  Send us your idea and we will go from there.  The center stone can be almost any shape, size, or type of stone.
Claddagh style engagement rings
It is believed that the Claddagh rings existed for thousands of years and were the first type of Celtic Engagement Rings.  However, though the earliest specimen dates back to the 1700s. The jewelry experts regularly contend on the origins and legends of Claddagh rings. With its true origin remaining a mystery, Claddagh rings have become even more coveted by admirers.
The Claddagh ring is also known as the "hands and heart" ring referring to the dainty carving of a heart held by two hands. Often these rings carry the traditional Celtic message of "let love and friendship reign". A powerful and poignant message of lifelong union and companionship. The hand and heart are sometimes accompanied by a crown with each of these symbolizing a specific meaning. The crown represents honor and fidelity. The hands signify trust and friendship. The heart symbolizes love. Aren't these all one possibly looks for in a relationship and pledged for eternity?
A basic Claddagh ring usually incorporates milgrain detailing on and around the crown. It tends to be made of precious metals and a certain amount of sparkle can be added with different gemstones. A Claddagh can be transformed into Celtic Engagement Rings by alternating the heart with a heart-shaped diamond. For that matter, any gemstone can take this glorious place.
Your Claddagh ring speaks volumes about your relationship status! It carries different meanings depending on how you wear it. Those who know how it works can easily interpret based on the positioning of Claddagh ring on your ring finger. When worn on right hand, a Claddagh with its crown pointing inwards signals that you're single. Claddagh with a crown pointing away from you, in your right hand, indicates that you are in a relationship. On left hand, a Claddagh with its crown facing outward means the person is married and pointing inward means the wearer is engaged.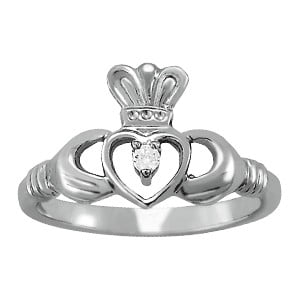 The Claddagh ring is a traditional Irish ring given in which the hands represent friendship, the heart represents love, and the crown represents loyalty.  The design and customs associated with it originated in the Irish fishing village of Claddagh, located just outside the old city walls of Galway.  The ring, as currently known, was first produced in the 17th century.
triquetra solitaire engagement rings
Do you love Celtic Solitaire Engagement Rings?  We do too.  This solitaire is a simple one. The single stone sits atop 2 Triquetras and that is it.  The center stone in this one was 6mm, but we could make this with any size or shape stone, as long as it was over 4mm. If you have another Celtic symbol you would like used, send it over and we will see what we can do.  As long as it fits, we could probably do it.
Halo celtic engagement rings
We created this Celtic Halo Engagement Ring for a customer who wants a halo with some Celtic symbols on the shoulders. We chose the Triquetra as they are easily accented with stones.  They are also the most recognizable Celtic symbol.  The 6.5mm round center stone is surrounded by a halo of 1.3mm stones.  Adorning the shoulders are we have the 2 Triquetra symbols that are accented with 1.5mm stones.  We also added some milgrain on the edges for some added flair.
Celtic knot engagement rings
The iconic Celtic Trinity knot, also referred in Celtic as Triquetra or "three-cornered", has both historic and religious connotations. It symbolizes eternal love and union of two souls. This ancient knot with a looping design has been imagined in varied structures and formations. These three or more entwined knots can be crafted with precious metals and integrate gemstones resulting in vibrant Celtic Engagement Rings.
Braided knots are also equally complex and majestic. Representing infinity, it makes an ideal design for your Celtic inspired band. Braided knots take your regular eternity ring to a whole new level of symbolism. The Celtic knots are ideal options if you want to bring in an antique, old-world charm to it.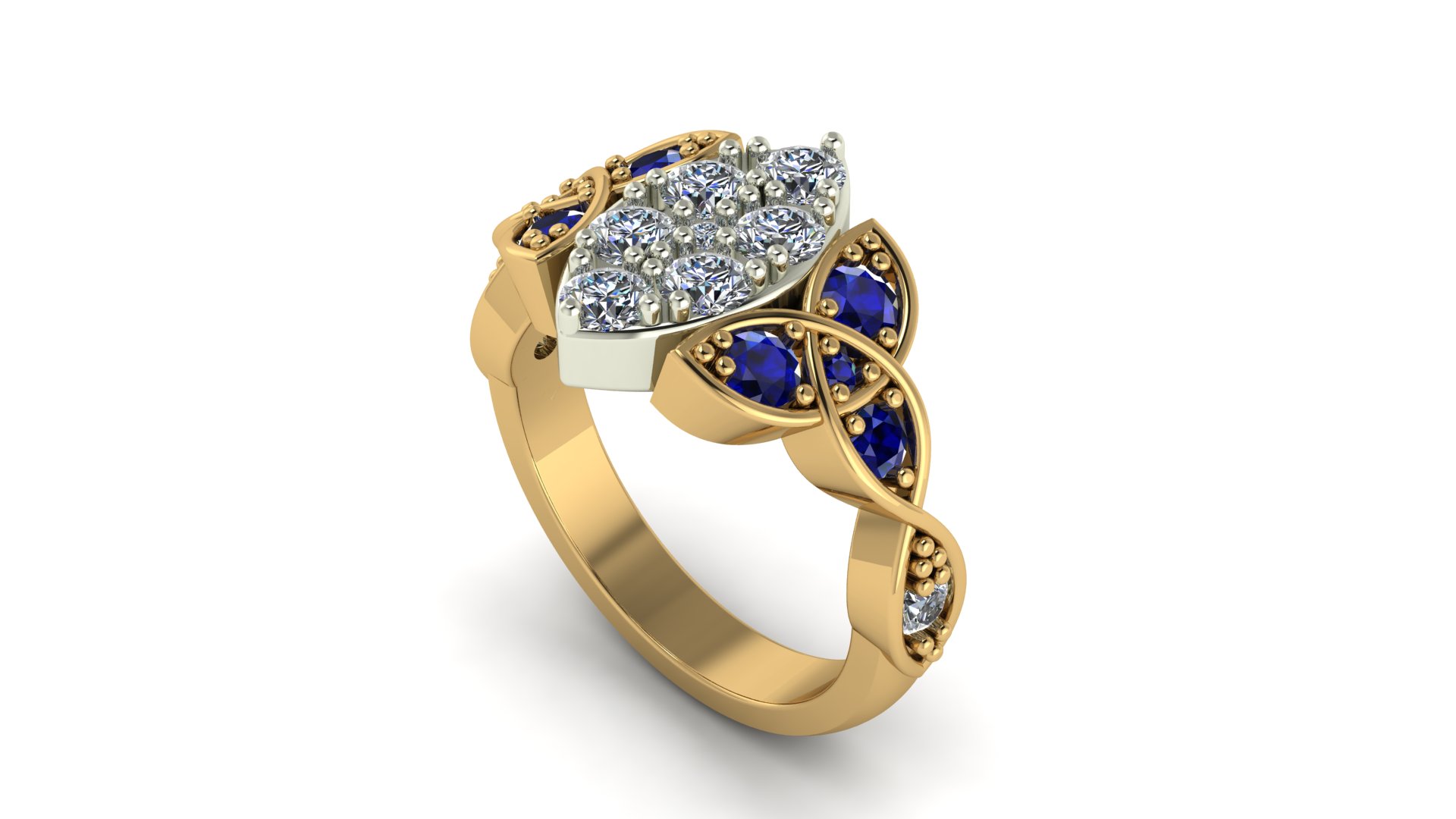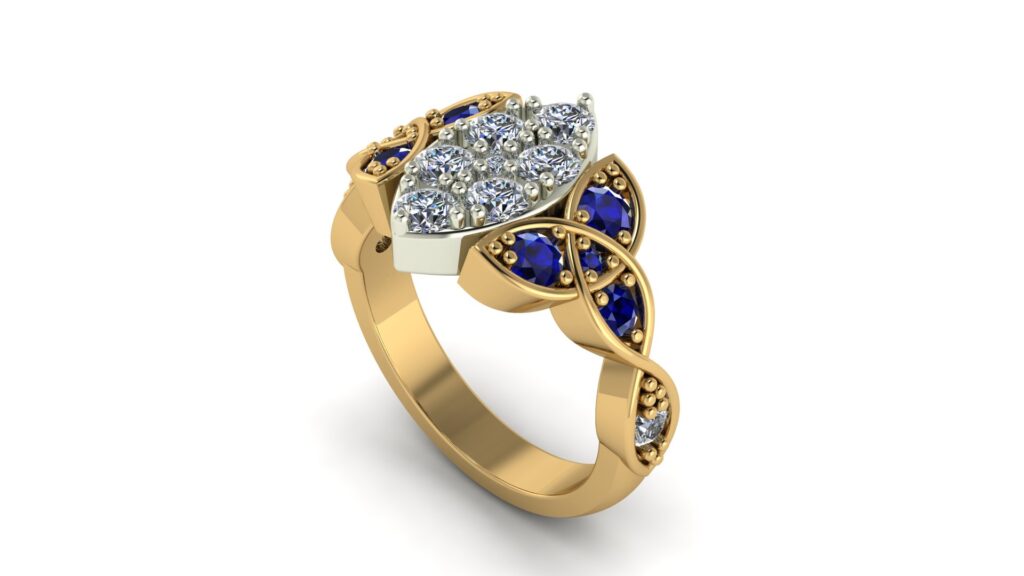 2 tone celtic engagement ring
This stunning 2 Tone Celtic Cluster Ring was created from stones and gold that were given to my customer by her mother.  Until now, they had been sitting in a box doing no one any good.  Now, they have been transformed into a stunning Recycled 2 Tone Celtic Cluster Ring. Do you have unwanted or broken lying around?  Gather it up and let's make something new and beautiful out of it!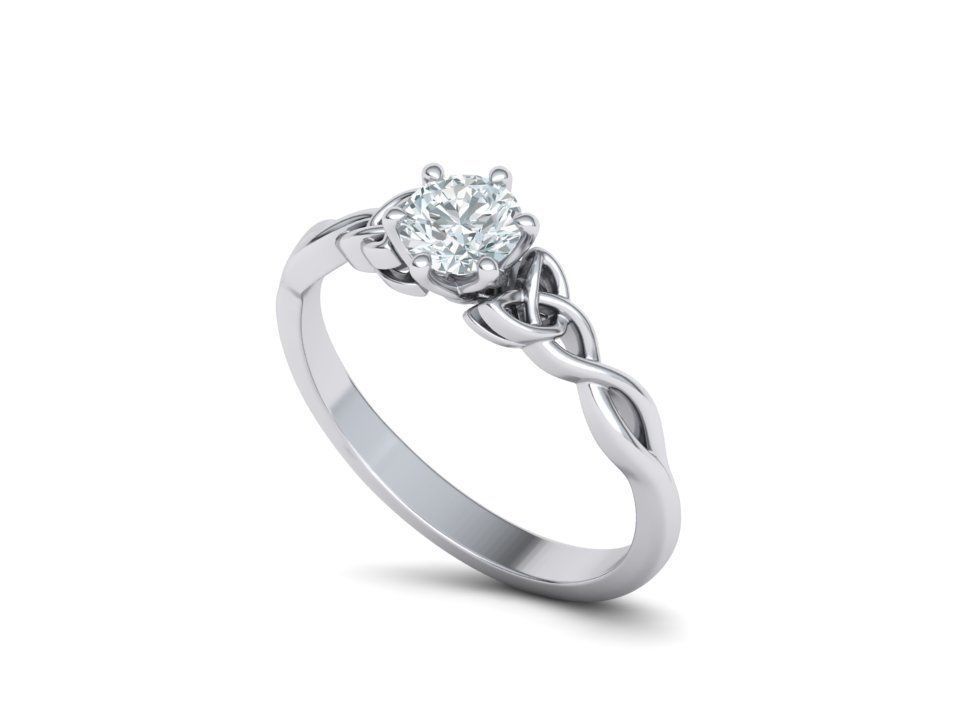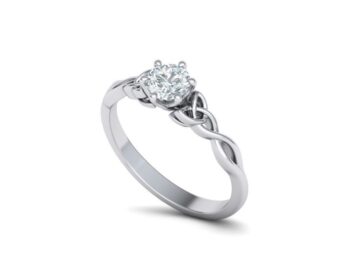 Triquetra solitaire engagement ring
This Triquetra Solitaire Engagement Ring is elegant and dainty.  It is a very low key Celtic design too, so it doesn't scream "I LOVE CELTIC JEWELRY"!   The center stone in this was 4mm, but larger would actually look better.  A 6 prong head was a request, but we prefer 4 prongs for stones under 7.5mm and could easily change it.  We can use almost any type or shape of stone on this one.  Coming off of the center stone are the top parts of a triquetra.  They flow into the bottom, crossover and split again for an effect we love.
If you have an ethereal and exceptional vision of your ideal Celtic engagement ring, customizing your very own is a great idea. A bespoke engagement ring is a perfect choice if you want to add finer design specifications of gemstones and pattern intricacies. Intricate design elements can be merged with the primary artwork in order to produce an extravagant and elaborate look. After all, customizing is an excellent option to make your design dream a reality.
Even if you can find something similar to what you want online or at the mall, it will be mass produced in Asian sweatshops. It will also be of far lower quality that you would receive from us. But the majority of Celtic Engagement Ring designs people are looking for will have to be custom made in the US. They just don't have the universal appeal that would prod a mass producer to create.  They go more for the lowest common denominator.
Customize your own Celtic engagement ring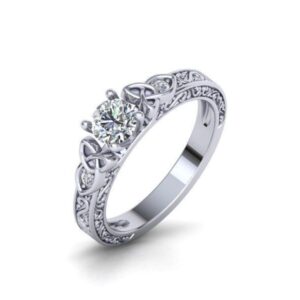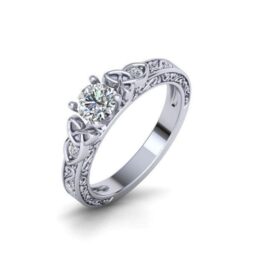 This Scrolled Celtic Engagement Ring might be too busy for some, but we love the scrollwork with the triquetras.  The 5mm center stone, that can be any shape or size over 4mm sits nestled between 2 Celtic symbols that are accented with a 1.5mm stone.  Going down from the bottom of the symbols and on the sides of the shank is a a beautiful scrollwork. If it too much for you, we can remove all of it or just the parts on the sides of the ring.
ONCE YOU GO CUSTOM, YOU NEVER GO BACK (TO THE MALL)
Many people think that Custom Jewelry is going to cost far more than something bought at the mall.  While this can be true sometimes, often it isn't. Especially if you want a large diamond that retail stores love to make up 200%!  We are here to kill that stereotype.  We have created tons of custom jewelry pieces that cost less than something comparable at a retail store.  Give us a try.  Most who have are left wondering why they never tried custom jewelry in the first place.  And with that feeling comes the revelation that you are wearing something made just for you.  And boy is that a cool feeling!
At Valeria Custom Jewelry, our aim is to take your idea or work with you to come up with an idea and turn it into a stunning piece of custom jewelry.  Our custom  jewelry is created using using comprehensive computer-aided design (CAD) technology and lost wax casting. This type of design opens up a whole world of possibilities, as we can take your ideas and sketches and turn them into reality. Mix metals, add diamonds or colored gemstones and turn your custom logo pendant into a statement piece. With our expertise in gemstones, we compiled a number of reputable diamond and gemstone dealers around the globe, so you can expect the highest quality materials in your pieces.  However, we can do it all at prices usually far less than retail
If you give Valeria Custom Jewelry a chance to show you what we can do for you. We are confident that our design skill, value, quality, and knowledge will be evident from the start. It will also be evident that we are the best choice to turn your vision and dreams into reality. Nobody creates Custom Celtic Engagement Rings better than Valeria Custom Jewelry!  Having a custom engagement ring made by us is a much more personal experience than buying jewelry from a big box chain store. We go above and beyond to make sure each customer feels special and that his or her needs are all that matter. Consequently, Valeria Custom Jewelry will do whatever is required to make sure you're so satisfied with your purchase that you keep coming back for more.
From staple pendants in your everyday collection to specialty religious symbols to hip hop necklaces, we create unique custom jewelry perfectly crafted for the true connoisseur. We also know that there are a wide variety of choices when looking for custom engagement rings. Most are not created as equal as others. And many don't even really create custom jewelry. They send the job to someone else and then just charge a percentage for doing very little.
Browse Valeria Custom Jewelry's online gallery of rings, custom logo pendant designs, bracelets, and earrings. You see for yourself the precision, detailed intricacy and artisan craftsmanship that goes into each of Lucas' designs. If your expectations haven't been exceeded on your custom engagement ring, then we hasn't done our job.
Click to see more of our custom engagement rings.  Click HERE to learn more about custom jewelry, view our portfolio, or to contact us about Custom Celtic Engagement Rings.  It can cost less than you think to have a special engagement ring made just for you.  Why settle for the lame and overpriced bridal jewelry from the chain stores? Forget them!  We can make custom Celtic Engagement Rings showing your style and personality?  Follow us ON PINTEREST for our latest designs.
FREQUENTLY ASKED QUESTIONS ​
I found Valeria custom jewelry online and when I saw their awesome work on their website I knew this was the best place for custom jewelry. I live in New York and distance was no problem, I contacted Valeria jewelry by email with pictures of a ring that I wanted rubies mounted in and the price was very competitive so I doubled the order last minute and I sent two rings for custom work done, which they said was no problem. So I mailed the two rings and a few weeks later I have the rings and they look great! Job well done to Valeria for the custom jewelry and I can't thank them enough they surpassed my expectations for the rings. Getting custom jewelry done through the mail was easy safe and secure by insured usps. I look forward to having more jewelry done in the future at Valeria and am completely happy with my rings. Their website has good examples of their work so I am sure no matter the distance or need they will get it done quickly and with a good price. Thanks again Valeria !
I found Lucas via a google search, and his reviews honestly seemed too good to be true. I reached out to inquire about setting an antique diamond from a pendant into an engagement solitaire ring, and enlarging an antique wedding band. He responded to my initial email within minutes, and very quickly gave me design choices and an estimate for each. After dropping off the items, the rings were ready within 5 days - and they look better than I was even hoping for. His prices are exceptionally reasonable, and he gave full market value for the scrap gold my diamond was originally set in. I highly, highly recommend working with Lucas for the ease, responsiveness, and exceptional results he provides.
Lucas was absolutely amazing with his level of attention and detail to not only what I was looking for in the creative and concept stage, but throughout the process as a whole. We went back and forth for weeks about setting design and material, and specific gem selection and he was communicative and patient the entire time. Absolutely recommend he and his teams services.
My fiancé had my engagement ring custom designed through Valeria. Absolutely Beautiful, from the diamond setting to the finish. Thank you Lucas and his team for accomplishing this stunning ring in such a timely manner, which led to a beautiful and amazing experience.
Start design with us now!