At Valeria Custom Jewelry, we offer a wide selection of silver and gold chains, from the classic Dainty Cable Chain to the bold and modern Curb Chain. There is truly something for every individual taste and chains will complete the look of your custom pendant. However, we have found that many don't know about Chain Styles and Lengths
But chain selection doesn't stop there. You still have to decide what length of chain you'd like and the length can depend on things like the style of neckline you're wearing to the size of your neck. Ultimately, though, it's really a matter of personal taste.
You can opt for no chain and put your personalized charms on your own existing chain.  However, if you're buying a chain on the internet, it can be difficult to determine what length would look best on you.  Here is our guide to Chain Styles and Lengths:
What Length Do I Want?
Before you shop for a chain, it's a good idea to measure your neck and where you want your necklace to lay. Sounds kind of funny, but it's very important in getting the right size chain. The best way to do this is to use a cloth measuring tape used for sewing or a rope or string. Put it on like it's a necklace and place it just where you'd want it. Then measure the string. This will tell you about what length chain you like! Easy, right?
For example, if you have a thin neck and are tall, and you like to wear your necklaces long? We would go with a 20″ or 24″ chain. If you have a thicker neck but like to wear necklaces closer to your face, we would go with an 18″ chain (or 16″ if you have a regular-sized neck
Here is an image of the most common styles of chain.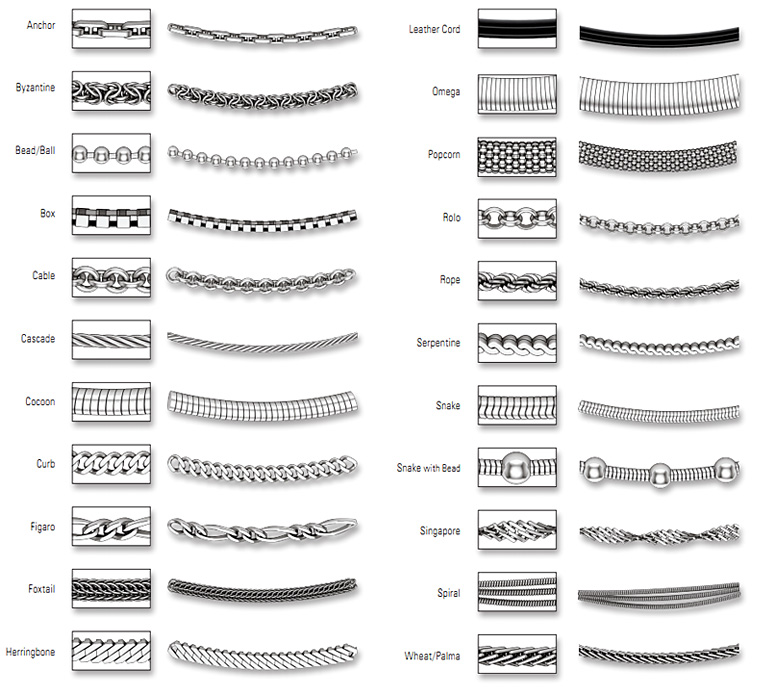 What Does Diamond Cut Mean?
A diamond cut chain is a type of jewelry chain that has been specially designed to reflect light and create a sparkling effect. It is characterized by its intricate pattern of angled cuts, which give the chain a diamond-like appearance. The cuts are made using precision tools, such as lasers or diamond-tipped blades, to ensure that each link is perfectly shaped and polished. This attention to detail results in a chain that is not only visually stunning, but also durable and long-lasting. Diamond cut chains are popular for both men and women. They can be worn on their own or paired with a pendant or charm. Whether you're looking to add some extra sparkle to your everyday look or searching for the perfect accessory for a special occasion.  A diamond cut chain is a stylish and versatile choice.
Click here to see all of our custom pendants, or contact with your idea..  It can cost less than you think to have your very own custom necklace or pendant made just for you. Why hassle with the retail stores for boring and overpriced neckwear?