Are you in the market for a Titanium Men's Wedding Ring?  Have you done your due diligence and shopped around?  Have you browsed all of the styles and materials that are offered?  Are you interested in materials that are durable, lightweight, and come in cool colors?  If you answered yes to one or more of those questions, then you have probable come across the Contemporary Metal Wedding Ring.  These are a new breed of men's wedding ring that have become very prevalent in the last few years. The Contemporary Metal Wedding Ring includes titanium, tungsten, cobalt, and stainless steel.
Titanium Men's Wedding Ring
We love this ring.  In fact, we mean to design it for ourselves so we can make it in the traditional metals for those who still aren't ready for the contemporary metal mania.  It is sleek and has a cool look.  But even if this were made in gold, it would be very difficult to resize.
Contemporary Metal Wedding Ring
This titanium mesh wedding ring has a black stainless steel mesh ring in between the White Titanium outer bands.  This Titanium Wedding Ring comes in an 8mm width and in sizes 9 -14.  As with most of these cool designs, we think they would work better with a more traditional metal.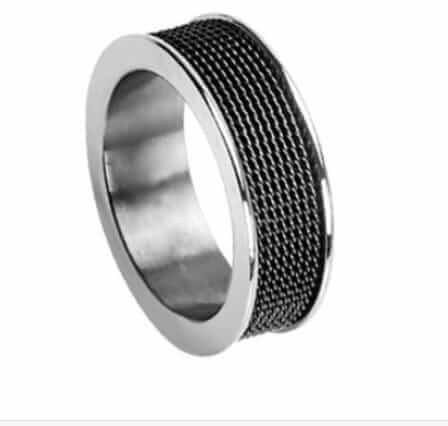 My name is Lucas Horton and I own and operate Valeria Custom Jewelry in Dallas, Texas. Custom Wedding Rings have been a passion of mine for 20 years now and I wake up every morning feeling blessed that I get to create it. Whether it's an engagement ring, a simple wedding band, a complete bridal set a pair of earrings, a pin or a pendant, we can create Custom Wedding Rings not commercially available anywhere else and usually at a better price.  And if it is something not custom made?  We will still probably have a better price than a retail store.
Click here to see all of our custom men's rings, or contact with your idea for a Titanium Men's Wedding Ring.   We are also happy to find you a Titanium Men's Wedding Ring from any of our vendors who sell them.  But One thing we ask is to buy America. Don't make the mistake of buying a wedding ring on Amazon or Ebay.  They will come from Asia and you will probably end up replacing it sooner rather than later.
The Truth About The "Contemporary" Metals in Jewelry