The act of gifting wedding rings to each other is a tradition going back to pre-historic times.  Neanderthals are thought to have to wrapped twigs, grass and rushes around their bride to be's wrists or ankles.   This was believed to be a sign of loyalty and friendship.  The first depictions of modern wedding rings were found in Egyptian drawings dating back more than 3000 years.  Ancient hierogylphs depict scenes of the bride and groom are offering each other braided rings.  It was also believed that by doing so the wife's soul would remain intact and that she would live longer.  At that time, a woven ring made of reed or hemp served as a wedding ring.  How things have changed!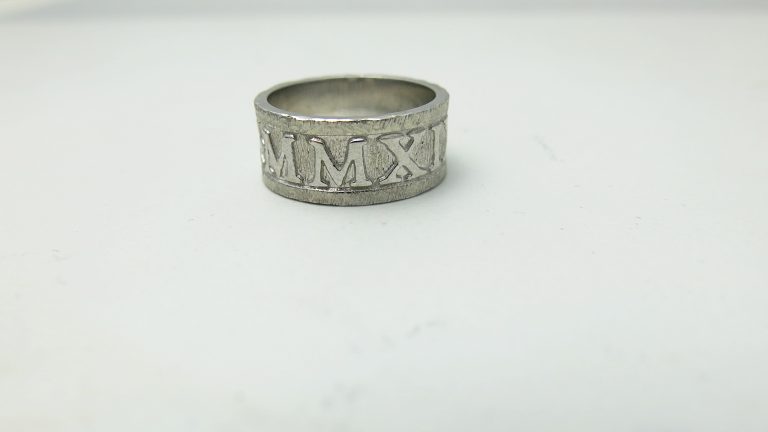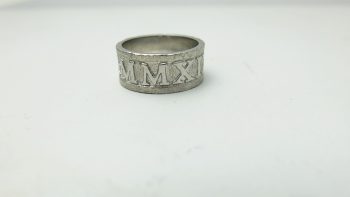 This custom wedding ring freatured the customer's wedding date that was capped off by two Celtic crosses.  We used an "ancient" font  for the roman numerals and gave the ring a stone finish to look like an artifact.  Ready for something cooler than an off the rack wedding ring???  Send us your idea and let's see what kind of cool wedding ring we can make you!
Step Out Of the Box
When searching Google for things like 'Cool Wedding Rings'  and you will no doubt find all of the big box jewelry stores and the usual suspects at the top of the list.  Then, there are the shops with sponsored ads, people who pay top dollar have their site at the top of a  desired keyword search.  These types of jewelry stores all have ridiculous overhead that eventually finds it's way into the price.  You are paying for their employees to sit in a nice store doing nothing all day except try to sell people  jewelry higher than their budget.  Additionally, most of the jewelry found in these locations are not one-of-a-kind pieces.  They are mass produced in Asia and are usually of poorer quality in all phases of manufacturing, yet they still charge an arm and a leg for it.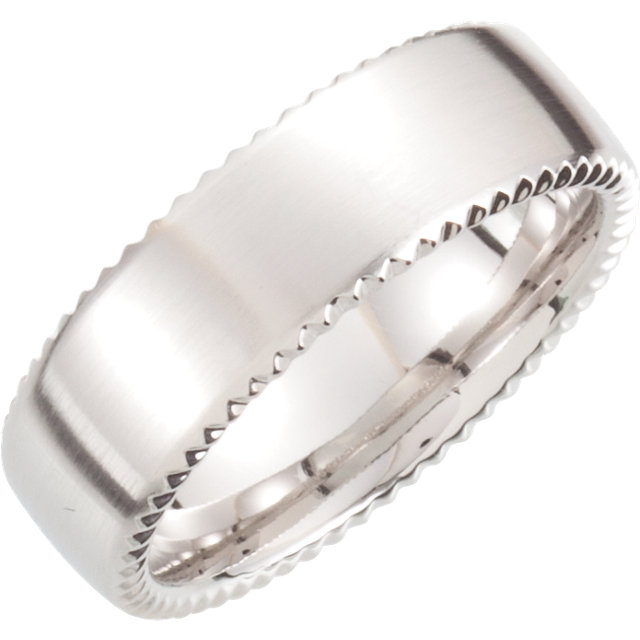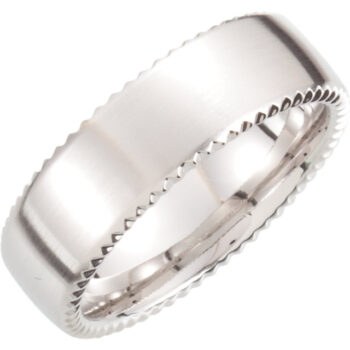 This Scalloped Men's Wedding Ring is plain except for the scalloped edges going around both sides of the ring.  This one is 7.5mm wide, but it could be made wider or narrower as well.  If you wanted to add some sparkle or color, gemstones or diamond could be used, as well as enamel.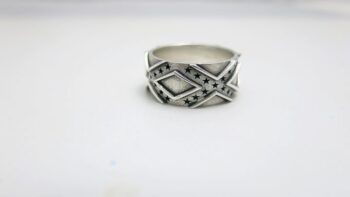 Our confederate flag wedding ring don't have enough mass appeal to be sold at the mall.  And in today's political climate, many custom designers would stay away from this theme, but not us!  If you want it, we will create it!  
Let Us Worry About The Hardware!
If you are beginning your next chapter in life as man and wife, engagement & wedding rings are on your mind. We wish you the best of luck in your new endeavor and want to remove one of the sources of stress during a wedding: the rings!  Let us remove the stress picking out the rings can cause a couple.  We will handle everything and make the process as painless as possible.  All we need is a little direction to begin.  Unfortunately, men have always had it worse than women as the market is far under served.  Cool Wedding Rings are an afterthought for men most of the time.  Don't be that guy?  Have something created especially for you.

This was the men's version of a his & hers biker wedding ring set.   Both have bezel set accents in the tires. 8mm wide is an narrow as we can make them, but wider is possible. The finished one is shown with a stone finish, but other finishes are possible for these biker wedding rings as well.
Cool Wedding Rings – Any Topic Is Fair Game
As long as it fits on a ring and will cast we will make it!  We have created custom wedding rings with superheroes, gaming characters, animals, etc.  If you have some idea that is too original to be sold at the mall, send it over top u s and let us see what we can do for you.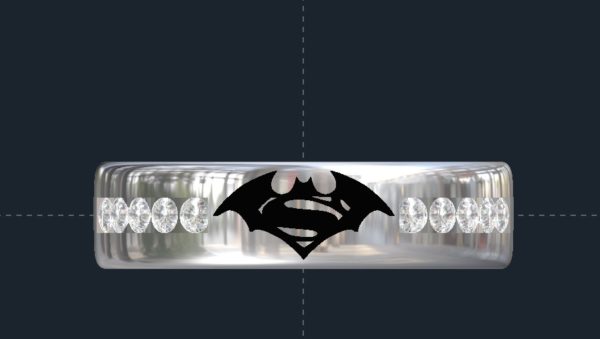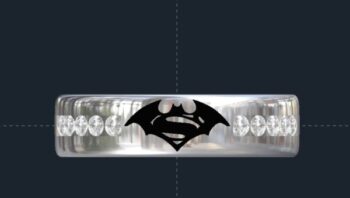 We have created our Superman Batman Wedding Ring  for those fans who can't choose between the Bat or the Man of Steel.  Our custom wedding rings can be cast in sterling Or argentium silver, gold, platinum, or palladium.  We can also take titanium or tungsten bands and laser engrave the symbol onto the ring. 
Valeria Custom Jewelry does sell the mass manufactured pieces, but thrives in creating new, unique, one of a kind Cool Wedding Rings.  Custom pendants, custom hip hop jewelry, custom engagement rings, custom wedding bands, custom pins. custom hip hop pendants. I also have a small office and both of these things find there way into the price.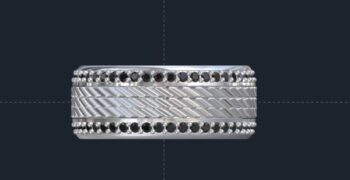 Our Talladega Diamond Tire Tread Wedding Ring is prefect for your man wanting a tire tread wedding ring.  This one has two rows of 1.5-stones on each rail outside of the tread. However, 1.3mm stones and up to 2mm stones could be used.  We could always change the tread if you had one you wanted.
Give Us A Shot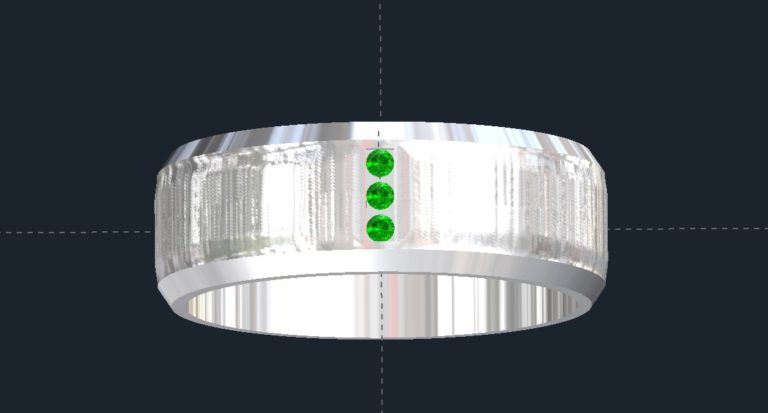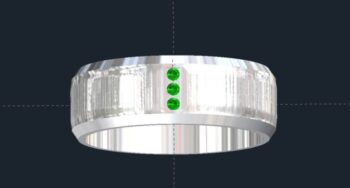 This Channel Set Men's Wedding Ring is a simple beveled band with 3 vertically channel set stones.  It has a brushed finish, but it could be given any type of polish that you wanted.   This one was 8mm wide, but it can be made as narrow as 4mm wide and up to 12mm wide.
Regardless of your style, Valeria Custom Jewelry understands the thinking behind Cool Wedding Rings better than most.  Click HERE to see our portfolio of  Cool Men's Custom Wedding Rings.  Click HERE to learn more about custom jewelry, to see our portfolio, or to contact us about a custom wedding ring created just for you.  It can cost less than you think to have your very own custom wedding band made just for you. Why hassle with the retail stores for boring and overpriced wedding rings?