Custom Stackable Mothers Rings
According to jewelry lore, the first mother's ring was created about 60 years ago when a jeweler was searching for the perfect Mother's Day gift for his wife.  The clever jeweler took two wedding bands and joined them together with the birthstones of their three children, ultimately starting this trend. Since that first mother's ring was created, the popularity of mothers rings and other keepsake birthstone jewelry has blossomed. Moms everywhere treasure these precious pieces that represent the bond shared between a mother and her children.
Modern mother's rings come in all shapes and styles – from classic to contemporary. What's more, keepsake birthstone jewelry for moms isn't limited to rings. Pendants, bracelets, and charms are also popular. They make thoughtful, meaningful gifts—perfect for celebrating moms of all ages and moms of all personalities.
Custom Stackable Mothers Rings are a trend that has exploded in popularity lately – for many reasons. This fun and individual trend combines 2 or more thin rings together on one finger to magnify the result of the jewelry. Custom Custom Stackable Mothers Rings can be combined in countless ways to match an occasion, mood, or outfit. Done well, stackable rings are an eye catching, conversation starter.
Custom Stackable Mothers Rings – Almost Any Style Can Be Turned Into A Mother's Ring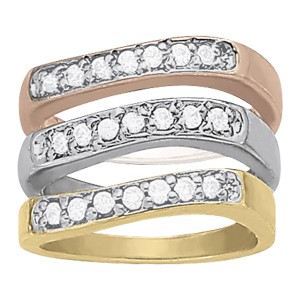 These take stacking rings to a new level of elegance with the contour and accents set in a hybrid channel-prong setting. Mix and match color or stone types; make it your ring.  Or, create something extra meaningful for your mother based on your own idea! 
You would think the history of the mothers ring goes back centuries, but really only since 1959 by the John C Nordt jewelry company. Back then, it was two wedding bands put together by the sons of a couple…as a gift to your own mother or spouse. It has changed quite a bit over the years though. The rings we have sold on our site are what the popular look is now. Still given by the children or the husband or significant other. It used to be that only the most traditional would give mothers rings. Not any longer though. With the new styles and unique looks they now have, they are becoming more and more popular each year.  Custom Stackable Mothers Rings have gained popularity especially as brides and mothers look for bands that not only compliment their engagement ring, but can be worn on their own.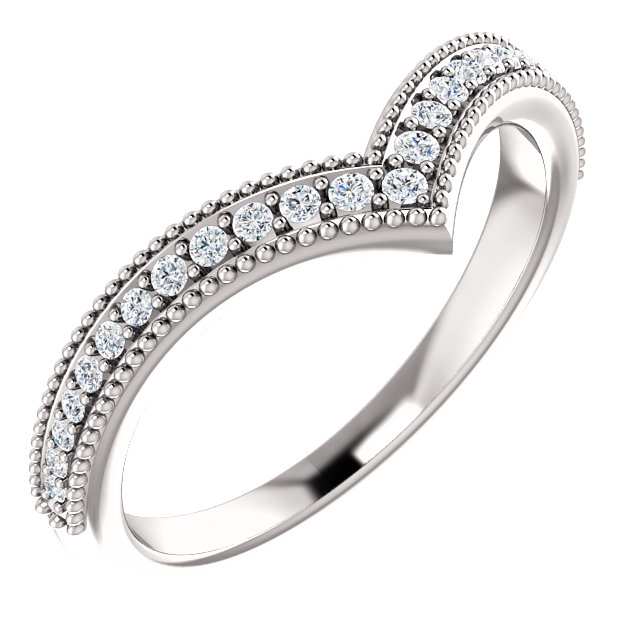 The Stackable ring is all the rage at the moment and this one takes them to a new level with the elegant curve of the "V" and the milgrain.  Mix and match metal or stone types and colors to make it your set!
Custom Stackable Mothers Rings – Rules??
Are there rules for stacking fashion rings? How can you make the most of this cool trend?
There are no rules! Stacking rings is a reflection of your individual taste and personal style. While often worn on the right hand, these custom ensembles should reflect your personality and taste. Even a small touch of creativity will open a fabulous list of possibilities. Stack your rings to your heart's content and be creative with it.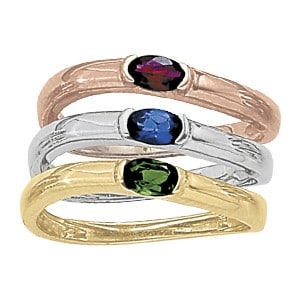 Contoured Stackable Rings are high fashion at the moment and these take them to a new level of elegance with the contour and semi-bezel setting. Shown with 5×3 oval stones, other sizes can be used as well as a round stone. 
The options for the stackable ring look are endless. If you prefer a more uniform look, select streamlined bands with continuity among the metals and gemstones used. For instance, you can choose all gold rings with diamond channel set bands.
Make Your Custom Stackable Fashion Rings POP!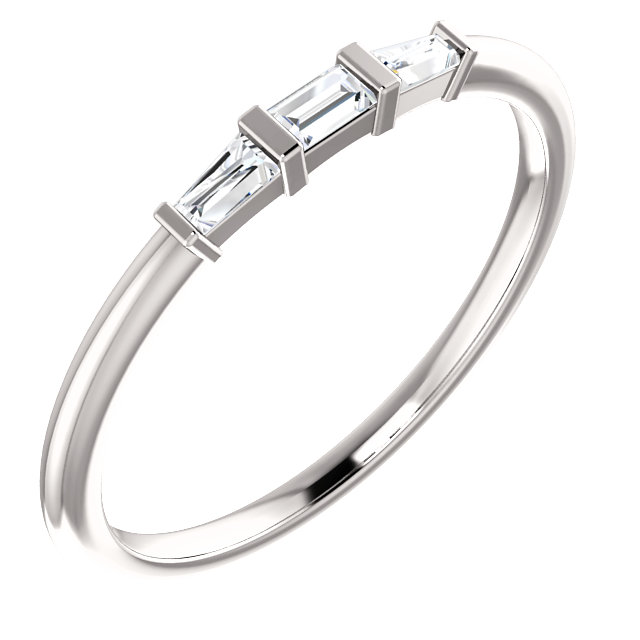 We like this one because you don't often see both tapered and straight baguettes in this 3 Stone Stackable Ring.  Mix and match metal or stone types and colors to make it your set!
To add variety, introduce colored stones or different metals to your stack. The splash of color works because the contrast draws the eye. In this case, having similar finishes works well to ensure a cohesive look across the set.  However, cohesiveness isn't mandatory.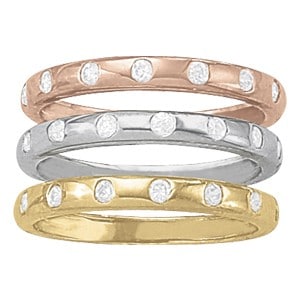 Mix and match color or stone types to make it your ring!  These are 2.5mm wide, but they could be made wider or as narrow as 2mm.  The stone size can also be played with at different widths.
A wider band can be surrounded by more delicate rings to give the stack an elaborate focal point. For a more playful look, offset similar sized bands with gemstones of varying color, size, and type. Introduce an element of nostalgia by adding in a family heirloom or antique ring.  Consequently, stacking is only limited by your imagination.
Not All Custom Jewelry Is Created Equal
We know there are tons of options out there for Custom Stackable Mothers Rings.  However, many "custom" jewelers farm their work out and have no idea how real jewelry is created.  Let us put our expertise to work for you!
Click HERE to see our portfolio of fashion rings.  Click HERE to learn more about custom jewelry, view our portfolio, or to contact us about your custom engagement ring.  It can cost less than you think to have a special engagement ring made just for you.  Why settle for the lame and overpriced bridal jewelry from the chain stores when we can make something showing your style and personality?