Engagement Rings for Women
So finally, you have met your dream girl and going to embark on a life as a team. Congratulations! We wish you a very prosperous future and want to do whatever we can to make this exciting time as easy for you as possible.  Almost all women dream of their engagement.  And the engagement ring is the most plays a key role in making an engagement an exciting or memorable event. For about 3000 years now, the engagement ring has been a symbol of union, love, and commitment among couples.  We want to continue to honor that tradition.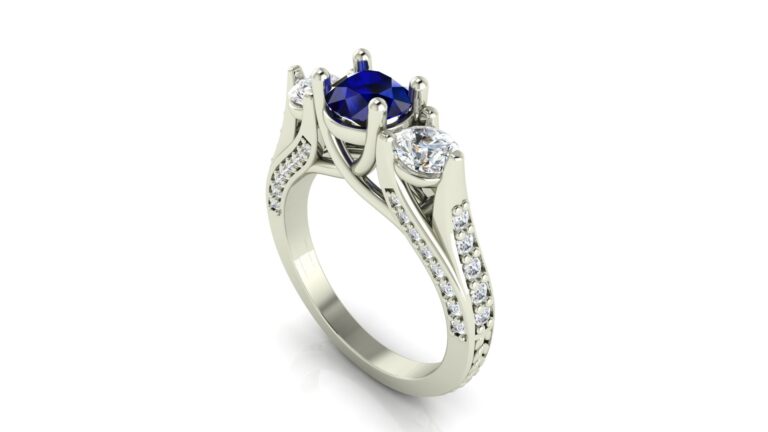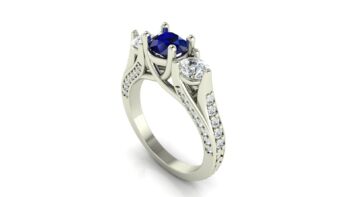 This Sapphire 3 Stone Engagement Ring is a stunning take on an old classic.  There  are diamond accents on both the sides and top of the ring.  What we like about this one is how the prongs are formed and they you can see through the ring.
If you have decided on a custom engagement ring, you are in the right spot!   At Valeria Custom Jewelry, we can make that perfect ring that will wow her every time she sees it.  Whatever your budget may be, we believe in providing you an engagement ring as splendid as your other half.
Engagement Rings for Women
In this age of the internet, there are hundreds of jewelry makers to choose from.  However, finding unique Engagement Rings for Women out of the thousands of designs and styles is a tiresome process. With the huge variety of available styles, it can be quite daunting to choose the right one. You may like style of a ring but its stone shape is not what you like.  Or, are you impressed by the the design of the top half of the ring, but don't like the bottom half. We can help!  And what is the solution to all this confusion? The answer lies in having a custom engagement ring created just for you.  We will help you to create from scratch if that is what it takes to make your dream a reality.  Instead of going for mass produced pieces, we can help you transform your own idea into reality.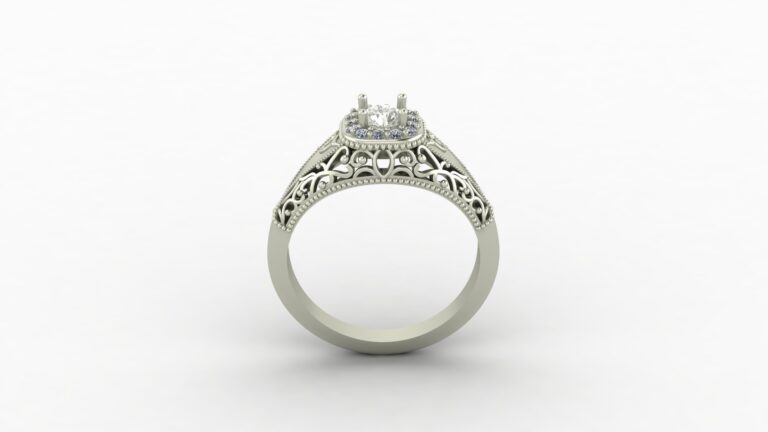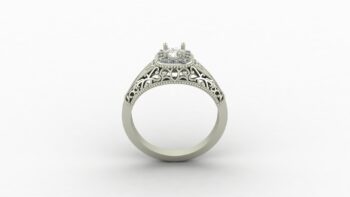 This ring is a great example of how we can still transform a ring after it is cast.  This one was cast as shown in the rendering above and then hand engraved to give it an antique, beautiful look.  Click the image to see!
 How To Craft A Custom Engagement Ring For Women
Your engagement ring should stand for the commitment and loyalty of spending the rest of your life together with your better half.   It might take a little effort, but the dividends of giving your bride to be a custom engagement ring are worth it!  Just knowing you put a little of yourself will go far longer making her proposal everything she dreamed of.
We'll walk you through the process from beginning to end so you know exactly what to expect when you build your ring.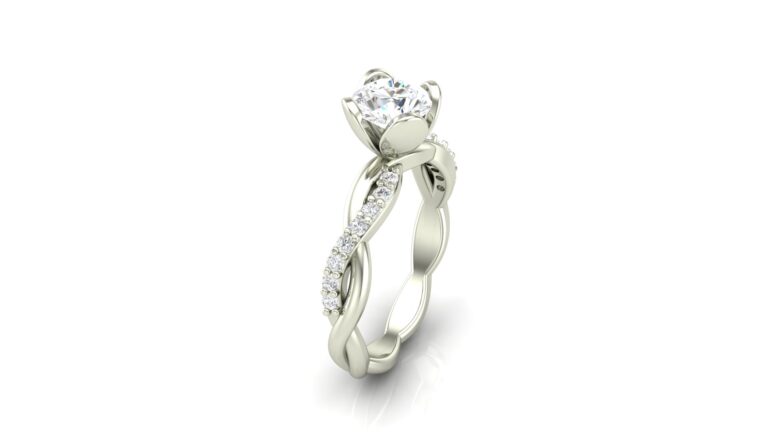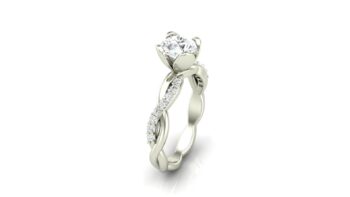 This Tulip Engagement Ring is perfect for flower lovers.  The center stone, which is set by 4 tulip petals, is accented with 14, 1.5mm stones that total a 1/4 carat.  The split shank intertwines its way up the ring, but with only one of the shanks being accented.  This provides an excellent contrast, but we could also make it with both shanks accented.
Opt For The Right Designer
It is no secret that engagement rings can pricey.  Therefore it's imperative to figure a designer who can provide a good value.  At Valeria Custom Jewelry, we have a team of experienced designers and bench jewelers that can help you craft the perfect ring for your perfect spouse.  Even if you have a smaller budget than you would like, we are bale to give you a good band for your buck.  You can find our hundreds of 5 star reviews all over the internet and we pride ourselves in being the "right" designer.
Get Some Insights Into What Your Partner Likes
Prior to beginning the process, get some clues about the likes and dislikes of your partner. You may ask these questions to yourself to get a clear answer.
What is her style and fashion sense?
What kind of jewelry does she like or wears daily?
Which metal does she prefer?
What is her preferred stone type and shape?
Finally, what is your budget?
If this is going to be a surprise, you can can always talk to her family and friends about her preferences.  Pay attention to her comments about fashion or style.  She might be leaving clues all over the place!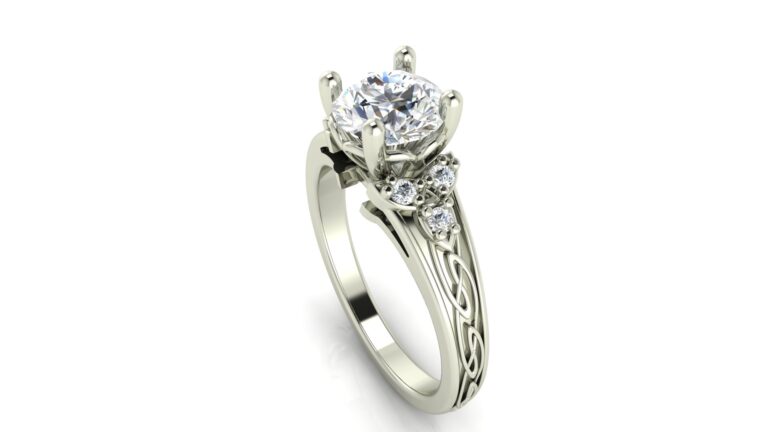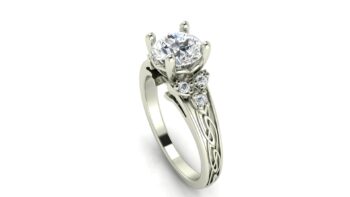 This stunner has Celtic symbols adorning the band up to the shoulders, where 3, 1.5mm stones sit in Triquetras symbols.  The basket holding the head also has some symbols in it.  The cathedrals are cut on the side to add an elegant design element. 
Create your own design: The next step is choosing the shape, size, type of center stone you want.  Once you have that,  the rest of the design can flow from there. With your ideas and our expertise, we'll nail down all the details of your ring before we begin designing it.  once a draft is designed, we will submit it for revisions.  Once we have approval on your design, we will then finish the ring out.
Frequently Asked Questions
Valeria Custom Jewelry has been in business for more than 10 years. In that time, we have made hundreds of couples very happy with our services. Here are some most frequently asked questions about custom engagement rings.
How Much Does It cost To Create A Custom Engagement Ring?
It depends on the design, materials, and amount of labor in finishing it.  It really depends.   However, we do have a number of ways that can help you design a custom engagement ring on budget.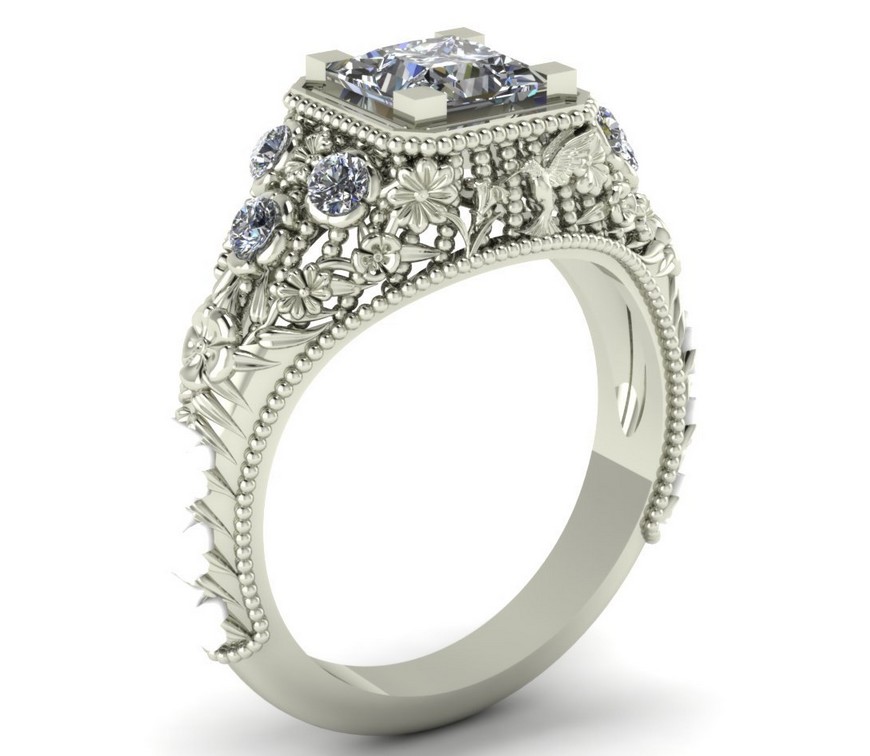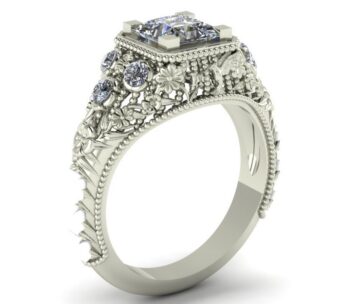 This Art Deco Floral Hummingbird Ring was inspired by an antique art deco ring from the early 1900's, but was requested with a hummingbird on it. This one has a 1/2 carat Asscher cut center stone and is accented by 6, 2mm stones. 
I Don't Know Anything About Jewelry; Can I Still Design A Custom Engagement Ring?
Yes! Valeria Custom Jewelry has the most experienced team and we can help you at every single step. All you need to bring is the inspiration and we'll take care of the rest.
How Do I Maintain A Custom Engagement Ring?
Maintaining your ring is very important, whether custom or not. If you want to last, clean it regularly and have it serviced at least once a year. Moreover, don't wear it if you are doing things where your hands are being used a lot. We also recommend you get insurance for your engagement ring in case of any loss or damage.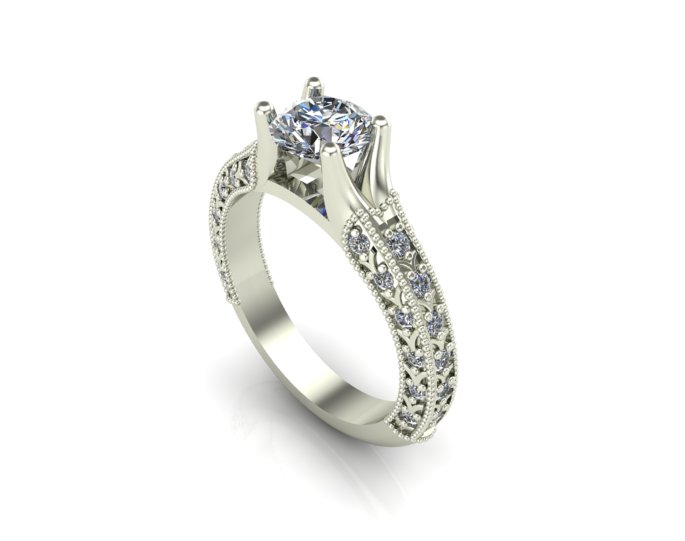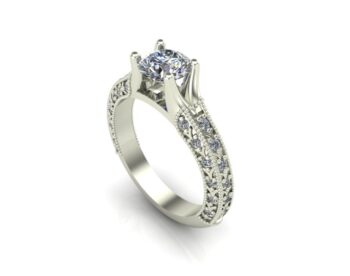 This beautifully Milgrained Art Deco Engagement Ring will definitely turn heads with its elegant design elements and minimalist setting. This stone is 6.5mm, but larger or smaller could be used.
What Kind Of  Stones And Metals Can I Choose From?
Typically, diamonds and gold have been the stone and metal of choice of Engagement Rings for Women.  However colored gemstones land even moissanite have made massive inroads against the popularity of diamonds.  You cal always go with the old standby, CZ as well.  As far as metals,  we can work in Sterling Silver, Argentium Silver, Gold, Platinum, and Palladium. We can also create some pieces in gold plated brass.
Why Choose A Custom Engagement Ring?
Did you know, according to an estimate in 2017, 45% of the engagement rings were custom crafted rings. This trend has been increasing for the decade with the growth of CAD design. Couples prefer creating their own designs instead of purchasing the traditional engagement rings available at adornment stores. What is the reason behind emerging fashion?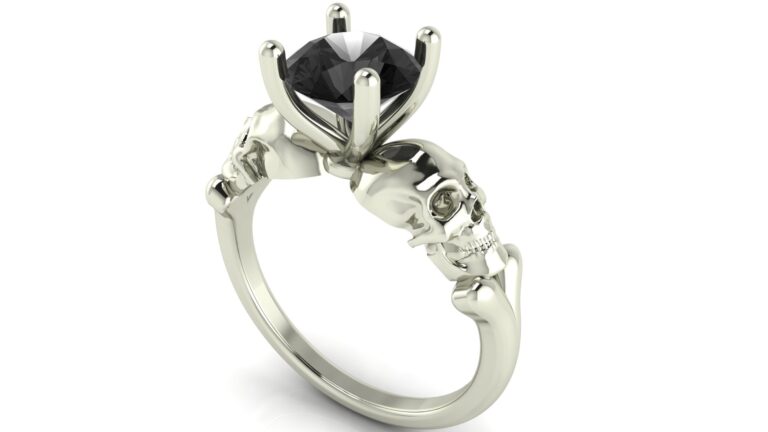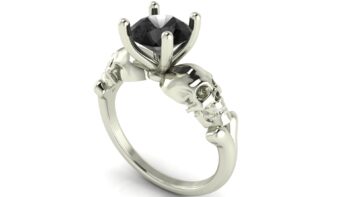 This Black Diamond Skull Engagement Ring is a great one for lovers of skull rings.  Each shoulder has a skull accented with diamond in its eyes.  The skulls are held in place by some bone knobs! 
Well, there are plenty of reasons for this ongoing swing in interest, but one of the chief reasons is that a custom engagement ring is often higher in quality and less expensive at the same time. Let us uncover some of the major reasons that may persuade you to get inclined towards a custom engagement band.
Personal touch:  Even though a traditional proposal band available at any jewelry shop might look enchanting but it is not especially made for her. It always lacks the personal touch. However, working with a private jewelry firm provides you an opportunity to craft something that's entirely exclusive for your partner. A custom engagement ring is a special design just for her. No wonder, she'll definitely be glad about the extra effort that went into it. She will connect with ring on a deeper emotional level.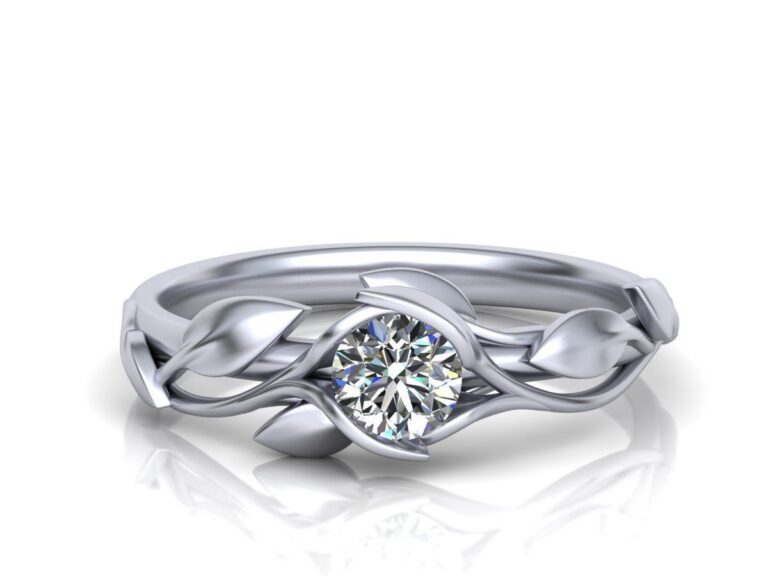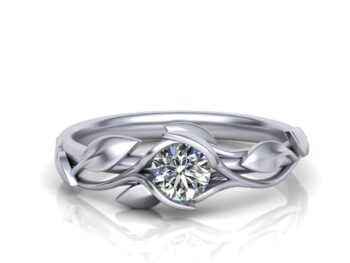 We have created a quite a few Flower Engagement Rings, and with the floral tension setting, this one has become our most successful style of Flower Engagement Rings.  This one has a 5mm center stone, but smaller or larger could be used.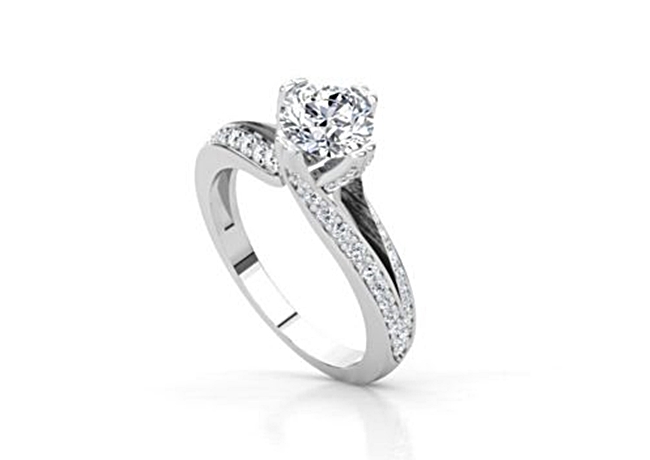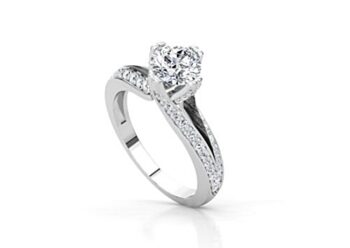 This Split Shank Modern Engagement Ring is an elegant design you won't find anywhere else.  2 of the prongs are formed by the shank and the other two appear out of nowhere for a dramatic effect. 
Engagement Rings for Women
Better Stone Selection: What if diamonds and white gold isn't your taste? Let say if you want to go for a black diamond or green gold. One of the most persuasive arguments for designing a custom engagement ring is you can add the gemstone of your own choice.   If you're not satisfied with the diamonds rings you're seeing, we can help you find the right choice. This includes ethically sourced diamonds, as well as lab-grown diamonds, which are a better choice in terms of sustainability.  And know how TERRIBLE the colored gemstone selection is a retail store. Unless it has mass appeal, you won't find it.  But something like morganite or even opal and you have little or no options.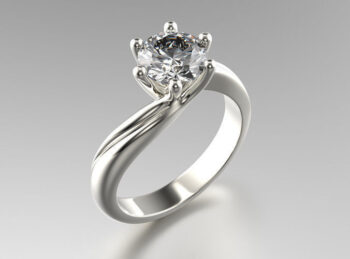 This Sculptural Solitaire Engagement Ring is a type of bypass ring that we just love.  The shank is a wave of motion is it travels from one end of the ring to the opposite end.  The 6 prong basket securely holds even the largest stone intact. 
Quick delivery:  Usually people think creating a custom engagement ring is a lengthy process. But that is not the fact. In reality, it typically takes only 3-4 weeks to create most custom pieces.   Some can be done in less than 2 weeks.  Nevertheless, if your design is very complex and requires many revisions, it may take a bit longer.  However, once a design is decided upon, the turnaround time is often very quick. The majority of time involved in custom ring creation is the actual design.
Once the design is approved, the wax can be printed within 2-3 days, and crafting the ring can be done in as little as 5-6 days. If you're looking for a simple solitaire engagement ring, the design can be finished quickly.  However, if you want a triple stone, multi-banded ring with accents, it could take a little more time. Because we don't cast a ring until we have approval, the process can take a little longer while we strive to get it right.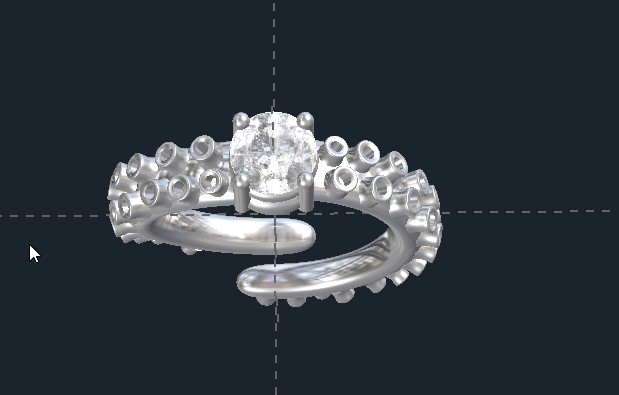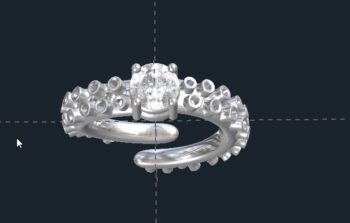 This Octopus Engagement Ring looks as if it just sprang from the sea!  It can be made with both a bezel set cabochon center stone or a prongs set, faceted stone.  Any size or type of center stone from 4-8mm can be used. The suckers are hand finished after casting to give them an organic look.  
Interesting Facts About Engagement Rings for Women
To pique your interest, we have assembled a number of interesting facts regarding engagement rings:
The custom of giving Engagement Rings for Women started during the ancient Egyptian civilization.  These rings were typically worn on the fourth finger of the left hand in light of the fact that the Ancient Egyptian individuals believed that it contained a vein which prompted the heart.
In old times, Engagement Rings for Women were given as an indication of financial responsibility – men offered rings to ladies to imply that they could support them financially. Sometimes, even gifts of money were exchanged as well.
Tradition says that must spend around three months' salary on Engagement Rings for Women. However, research has shows that the vast majority only spend around three weeks' salary.
Unexpectedly, the  average man spends at least 4 months looking for the ideal ring!
December is the most prominent month for purchasing wedding bands, with around 15% of couples getting engaged during the holidays.  Aside from Christmas and Valentine's Day, Thanksgiving and New Years are famously popular days for the proposal.
The most popular style of engagement ring is the round brilliant cut tiffany style solitaire.  This is followed by a princess cut. White gold and platinum are the most popular metals.
Modern couples frequently pick engagement rings together.  More than 60% of women are involved with the choice of the ring.  Around 3% supposedly pick it themselves!
The most expensive diamond ring on our planet is the Blue Jewel Ring, sold in 2013 for $9.49 million.
An ongoing study uncovered that 28% of ladies would turn down a proposal if they didn't like the ring! While this may appear to be outrageous, remember that the ring is supopsed to be worn for a lifetime.
Individuals from the USA, Canada, UK, and France wear bridal rings on the left hand. Those from Russia or India wear it on the right hand.
Around half of ladies report being unhappy with the current engagement ring.
An ever-increasing number of men are starting to wear engagement rings.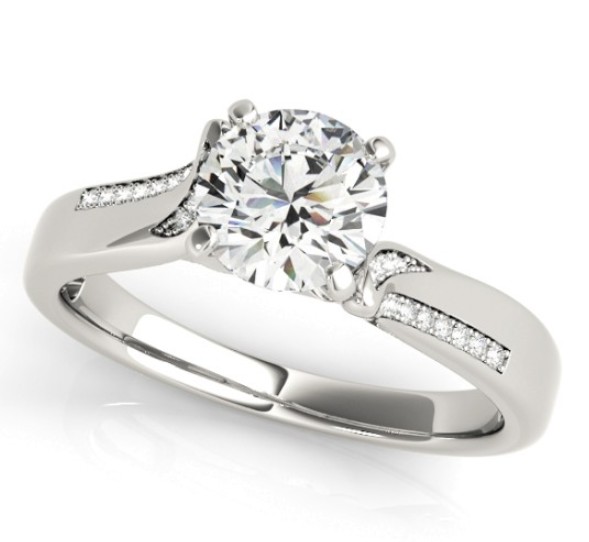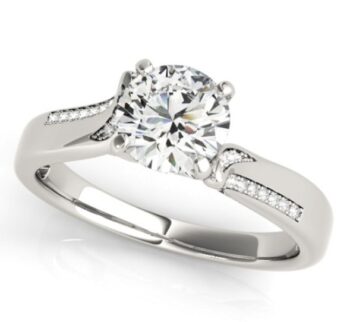 This Modern Cathedral Engagement Ring is a new twist on the cathedral engagement ring.  There are 2 rows of diamonds on the opposite sides of the band, which is a little cool, but then those rows are interrupted by swooping lines of stones that go up the sides of the cathedral. It is a very dramatic effect. 
Valeria Custom Jewelry – Where Dreams Come True
With the assistance of Valeria Custom Jewelry, almost nothing is impossible. Browse our portfolio for inspiration.  Or on the other hand, if you already have something in mind, send it over to us. We are able to create Engagement Rings for Women that many aren't able to. From the hummingbirds to batman, to bears, our portfolio is loaded with custom Engagement Rings for Women you won't find anywhere else.  And they are just a small sample of what we CAN make for you.  We make it very easy for you to make the ideal engagement ring for you and your spouse.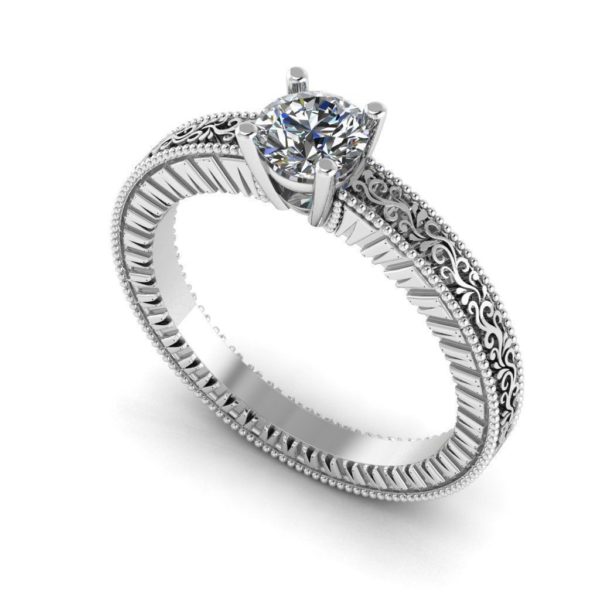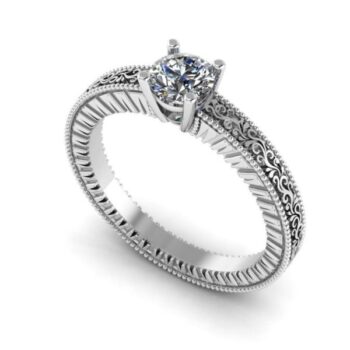 This Scrolled Solitaire Engagement Ring is a perfect for those that want a solitaire, but not with the ubiquitous plain band. The top of the Scrolled Solitaire Engagement Ring is decorated with beautiful scrollwork that goes all the way around the ring.  On the side of the ring is a rectangular scalloped design that adds another design element.  
Following more than 10 years in the jewelry business, we have served a lot of both US and worldwide customers. We pride ourselves on making quality custom jewelry at low prices regardless of where you are. We are likewise very certain, that if given the opportunity, you will see our design skill, service, and value are second to none.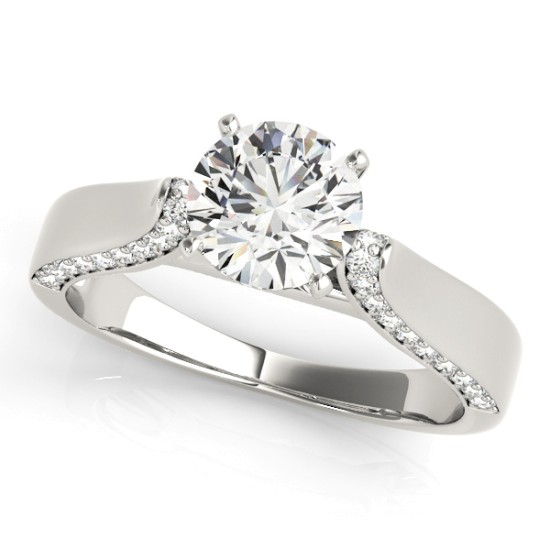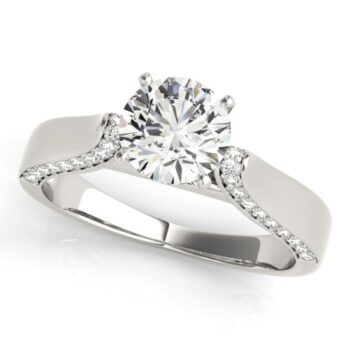 This elegant Custom Cathedral Engagement Ring boasts more than meets the eye with the accents on the sides of the ring.  It is shown with a 1 carat round diamonds, but almost any shape, size, or type of stone can be used. 
While Engagement Rings for Women are one of our specialties, we don't limit ourselves to that!  Regardless of whether it is a wedding band, pendant, or bracelet, we can make anything.
Click HERE to learn about the custom jewelry process.  Click HERE to learn more about custom jewelry, to see more of our portfolio, or to contact us about looking for Engagement Rings for Women.  It can cost less than you think to have your very own custom engagement ring made just for you. Why hassle with the retail stores for boring and overpriced bridal rings?
Engagement Rings for Women