Diamond Cathedral Engagement Ring
Pave settings are talked about so often in the jewelry industry, but most people don't really know what they are. A pave setting is made up of lots of small gemstones, often diamonds, set closely together and with at least three shared prongs between stones.  Many retail jewelry stores will call single rows of stones that share 2 prongs a pave setting, but that is incorrect.  That is just a shared prong setting.
In a true pave set ring, the gems are separated and held in place by little beads of the setting's metal. The beads are either pulled from the existing metal in the setting, or they are soldered on. The beads almost disappear into the background, and the result is what looks like a continuous surface of diamonds or other gems.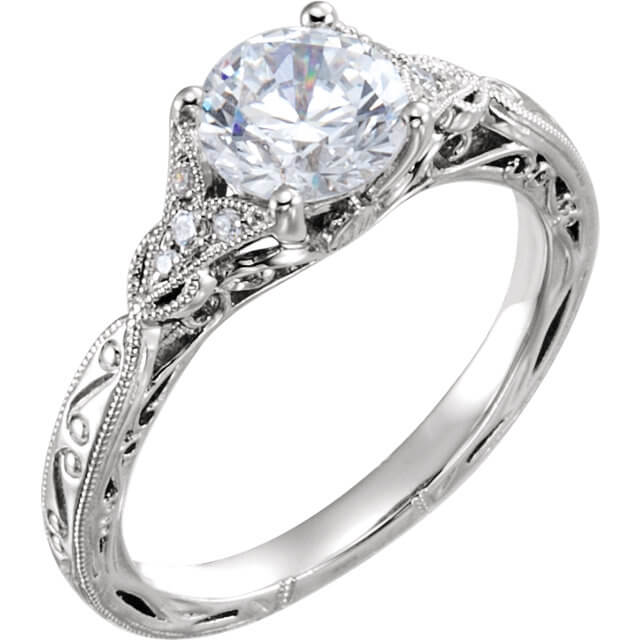 A subtle filigree flows beneath the diamond in his Diamond Cathedral Engagement Ring design. Diamonds, cubic zirconium, emeralds, rubies or sapphires can be set into the paveed band, making this piece a real show stopper.
Lucas has also designed other Cathedral Engagement Ring styles. Stone sizes can vary, and the band can be cast  from silver, gold, palladium or platinum. Sometimes there are stones in the band, but they can also be solitaires.
The Diamond Cathedral Engagement Ring symbolizes Lucas' ability to imagine and create intricate and beautiful designs inspired by the fashion and modernism of the last century. An educated gemologist, he also knows what qualities he's looking for in a stone, and has made his own contacts with trusted diamond and precious gem dealers all over the world. All his unique Diamond Cathedral Engagement Ring designs are made with the highest quality materials available, making his custom pieces likely to become lifelong family heirlooms.
Click HERE to see more of our Cathedral Engagement Ring designs.  Click HERE to learn more about custom jewelry, to see our portfolio, or to contact us about a Diamond Cathedral Engagement Ring.  It can cost less than you think to have your very own custom engagement ring made just for you. Why hassle with the retail stores for boring and overpriced engagement rings?