Diamond & Gemstone Hoop Earrings
A hoop earring never goes out of style, but it can experience a major resurgence, which is exactly what is happening now.
Hoop earrings are so on trend now because they are so easy to wear and complement a host of style and looks. We do especially well with micro-hoops as well as inside out huggies.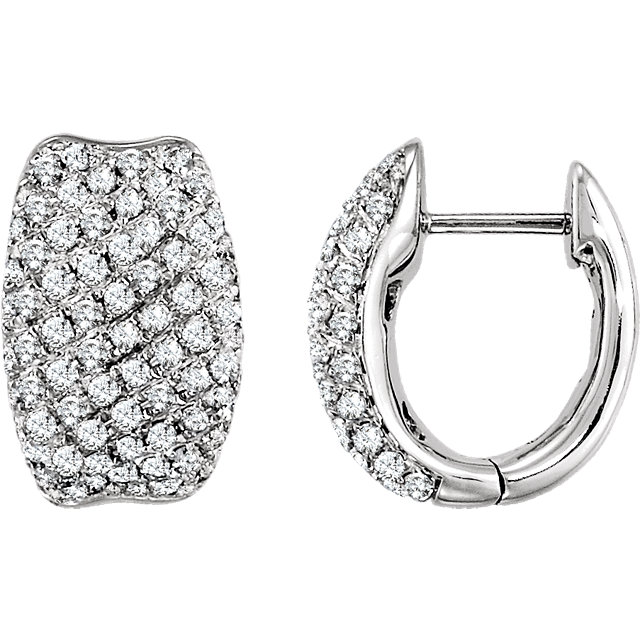 These Pave Hinged Diamond Hoop Earrings are simply gorgeous.  Set in 14K Gold with 1 carat worth of sparkly diamonds, these will definitely be seen from across the room.  Hoop earrings are definitely in style, so get your pair today.  If this isn't the style you want, contact us with your idea.
The micro-hoop or huggie, named for its close fit to the earlobe, has been the flagship style of the hoop's renewed popularity over the past few years, coinciding with the rise in upscale multiple piercings by the younger generation.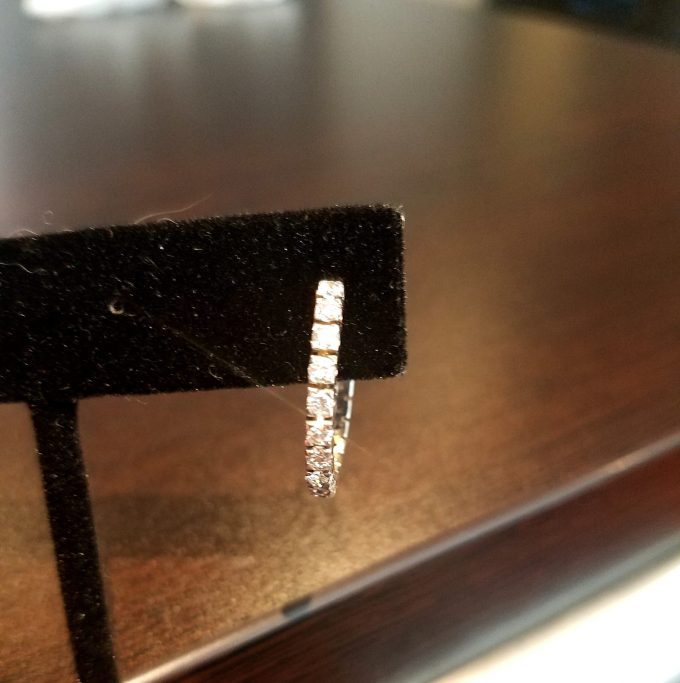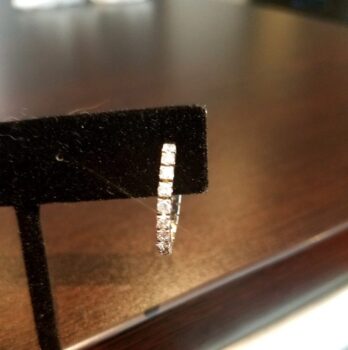 Here is a side view of a pair of 3/4 Hoop earrings.  Why pay for diamonds that won;t really be seen?
Don't waste your money going to those stores in the mall or any "galleria" of jewelry for Diamond & Gemstone Hoop Earrings.  Valeria Custom Jewelry can customize the setting you want with the size and type of stone desired.  All at prices far lower than at the mall.
And don't waste your money on online shops selling cheaply made Asian garbage that boast thin settings with poor quality stones.  They might seem like a good deal, but they aren't for what you spend.  You can't go wrong with Diamond & Gemstone Hoop Earrings from Valeria Custom Jewelry… where you will get the rare combo of both value and quality.
Are you concerned about your diamonds and gemstones being "ethically sourced"?  Don't worry.  Any diamond sold in the US is vetted using the Kimberley Process, which keeps conflict diamonds out of the mainstream jewelry business.  It's stated mission is "The Kimberley Process (KP) unites administrations, civil societies, and industry in reducing the flow of conflict diamonds – 'rough diamonds used to finance wars against governments' – around the world."
All gemstones used in custom jewelry piece by Valeria Custom Jewelry are bought from reputable sources; either the cutters themselves in Asia or trusted domestic importers.
A customer brought lost one of these Gold Hoop Earrings and needed a copy to complete the pair, but wanted White Gold instead of Silver.  So we took his earring, removed the earwire, and made a mold of it.  We then recast 2 of them in White Gold.  
If Diamonds aren't your thing, we can always use your favorite gemstone or birthstone or a combination of stones.  Hoop earrings don't always have to be Diamonds!
Whether you're spending $500 or $500K, we will to exceed your expectations.  We make sure every one of my clients feels special and I will do whatever it takes to make you happy. Our goal is that your experience is such that you will refer all of your friends, family and anyone you know to me for any of their jewelry needs.  We are looking for lifetime relationships, not one time customers.
We are confident that if you give Valeria Custom Jewelry an opportunity, you will never go to a big box or chain store again.  The experience and value provided by an independent jeweler, combined with lower prices, will leave you wondering why you ever went to a chain in the first place.
Click HERE to see another style of tear drop earrings. Click HERE to learn more about custom jewelry, view our portfolio, or to contact us about a pair of earrings.  It can cost less than you think to have a special  pair made just for you.  Why settle for the lame and overpriced earwear from the chain stores when we can make something showing your style and personality?