At Valeria Custom Jewelry, we have shown thousands of customers how they can have a custom piece of jewelry created with superior diamonds or gemstones and craftsmanship at a better value than buying it at a jewelry store, if it is even commercially available.
My name is Lucas Horton and I own and operate Valeria Custom Jewelry in Dallas, Texas.  Diamond Rings have been a passion of ours for years now and I wake up every morning feeling blessed that I get to create it.  Whether it's a ring, a bracelet, a pair of earrings, a pair of cufflinks, a pin or a pendant, I can create jewelry not commercially available anywhere else and usually at a better price.
This assymetrical split shank engagement ring is a new twist on the split shank engagement ring with an eternity band that basically has another half of a ring branching off of it.  It looks like a tension setting, but there are prongs to hold the center stone. It is a very dramatic effect.  The accents total are 1.3mm in diameter, but they could be made larger.
Specializing in custom jewelry, Valeria Custom Jewelry is becoming widely renown for its distinctive & unique designs with an emphasis on personalized service & second to none craftsmanship. Our experienced designer will lead you through the process of selecting the perfect fine diamond or gemstone for you and creating a design that reflects your unique style.
Your personal love story is an in tangible of rare beauty. Precious, powerful and eternal. Begin the next stage of your life's journey together with a symbol that's equally unforgettable & breathtaking. At Valeria Custom Jewelry, our master jewelers work with you to craft the just-right ring—a thing of rare beauty that takes your breath away now, just as it will in 40 years.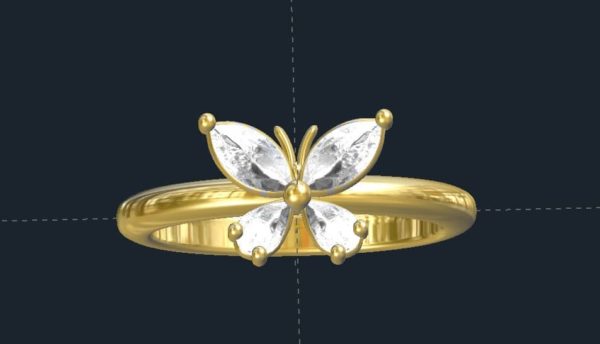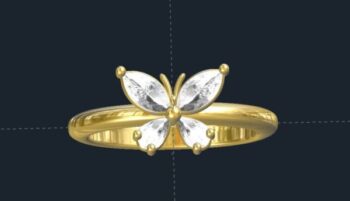 This gorgeous Diamond Butterfly Ring is comprised of 4 stones that give it a butterfly look. 6×3 Marquise and 4x3mm Pear shaped stones.  It is shown with diamonds, but any type of stone could be used if you wanted some color.  It was also quite a small butterfly, so we could easily make it larger.
We are confident that if you give Valeria Custom Jewelry an opportunity, you will see that my design skill, value, quality, and knowledge make me the best choice to turn your vision and dreams for diamond rings into reality.
Don't know where to start? It is far easier than you think and can be done from the comfort of your own home!
Click HERE to see more of our portfolio of custom rings.  Click HERE to learn more about custom jewelry, view our portfolio, or to contact us about custom diamond rings.  It can cost less than you think to have your very own custom wedding ring made just for you.  Why settle for the lame and overpriced wedding bands from the chain stores when we can make something showing your style and personality?