Three Stone Engagement Rings
So finally you have met your dream partner and are searching for the perfect Three Stone Engagement Ring. We totally understand that it can be overwhelming and we want to help! Someone once said, "Couples are made in heaven" Although, it may take some time to find your perfect match on earth, it is worth it. Engagement is, after all, a commitment binding you with your partner in all aspects. Why not have the perfect ring created to commemorate that?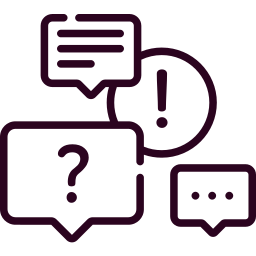 Discuss design ideas, options, budget, with your jewelry consultant – your guide to the custom experience.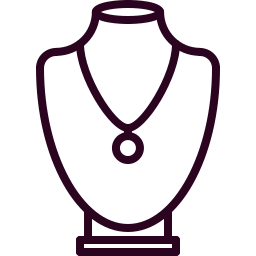 Visualize your piece with high resolution 3D renderings, and we'll adjust every detail until you tell us it's perfect.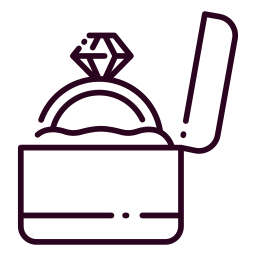 Receive your custom piece, with the assurance it's been made to wear and last a lifetime.
The act of giving a diamond engagement ring to your spouse has been around for hundreds of years. However, it has become far more important than it used to be. Social media has really placed on emphasis on the engagement ring and there is a lot of pressure surrounding them. Consequently, it is more important now than ever to get the ring right.
WE CAN MAKE A CUSTOM ENGAGEMENT RING SHE WILL LOVE
According to one study, nearly 60% of the proposals get a "no" just because the rings are not what the bride expected. So how do you know what is the perfect engagement ring??? What kinds of rings are popular these days? Or what type of ring will make my fiancee happiest? These are some of the questions we are going to answer in this article. So if you are the one looking for some worthy suggestions for a perfect engagement ring to be presented to your future bride, read on. If not, just browse the images for inspiration of contact us with your idea for 3 stone engagement rings.
East West Three Stone Engagement Ring
This the East West version of one of our 3 Stone Oval Engagement Rings; and it is definitely simple and refined. Its uniqueness is that the stones are set horizontally rather than the typical vertical style. This one had an 8x6mm Sapphire and 2, 6x4mm diamonds. Other sizes and stone combos are possible.
Three STONE ENGAGEMENT RINGS ARE HOT!
Ever since Meghan and Harry's royal wedding, the trend for 3 stone engagement rings has been growing like wildfire. Coming in different shapes, sizes, and styles, 3 stone engagement rings are getting extraordinary attention from couples looking for rings. Why would any girl would stick to just one stone when she can get three instead! In addition, A center stone, along with the other two other jewels of your choice leave a lot of room for personalization. Here are some of our favorite 3 stone engagement rings…enjoy!
3 stone engagement rings are marvelous in terms of the hidden meaning they illustrate. Also known as a trinity or trilogy rings, they are the perfect choice for the couples who incline poetic metaphors or romantic symbolism. These engagement bands are not only distinguished in their outlook but are also appreciated to convey a sole message of commitment, love, and family values. Apart from the usually depicted meanings, they can also be exploited to signify new things depending upon a couple's thoughts and tastes. Before explaining the metaphoric meaning of each stone, let's just take a look at the origin of a trinity ring.
MEANING OF THREE STONE ENGAGEMENT RINGS
In the modern world's commercial market, we first saw 3 stone engagement rings at the beginning of the 2000's. There had been plenty of 3 stone rings sold up until then. However, they were more religious in nature as they represent the holy trinity. They were also gifted on anniversaries as "past present & future rings". Someone had the idea to use 3 stone rings as an engagement ring and the symbolism gradually shifted from religious to marital. Today, whenever people talk about a 3 stone ring, they are talking about an engagement ring.
Ornate Three Stone Engagement Ring
We don't recall the significance of this piece, but we used tapered sapphire baguettes to represent something in this nature inspired necklace. We don't come up with this stuff: that is where you come in! Send us your idea for a custom necklace, no matter how odd. We will turn that vision into a stunning piece of custom jewelry.
Mixed Cut Three Stone Engagement Ring
This custom engagement ring is unique for using pear shapes on the shoulders. You don't see many three stone engagement rings with pears on them. We also like the elegant trellis setting. This one had a 3/4 carat center stone and 4.5×3.5mm pears, but those numbers cal ways be played with.
Another meaning we have seen is that each stone represents the mother, the father, and the child in a family. A child is the unifying bond of a perfect family. So while presenting a 3 stone ring at engagement, it may be related to the future expectation of a child completing the groom and the bride into a complete family.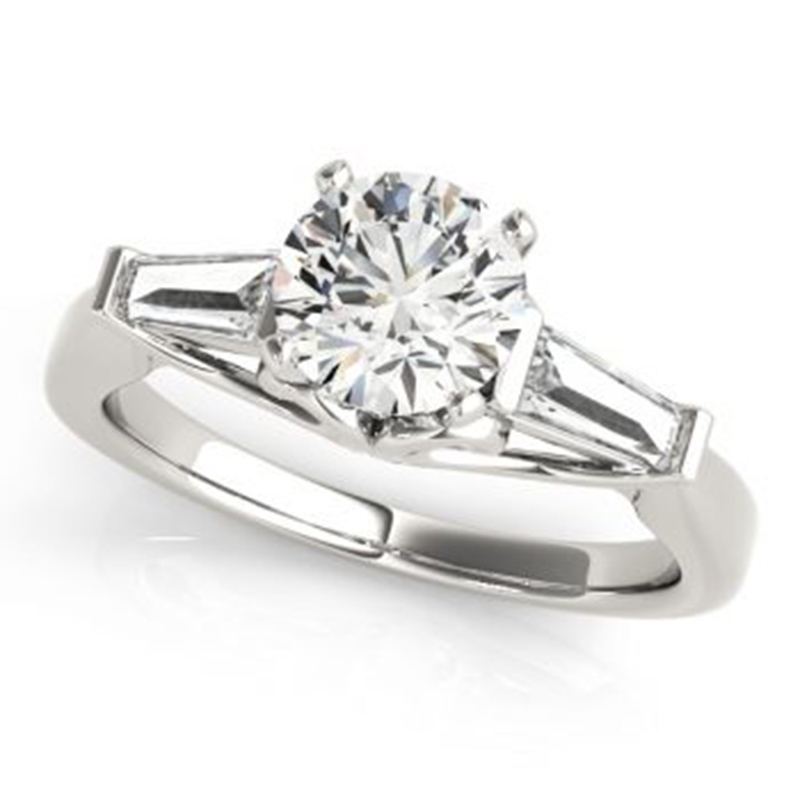 Vintage Three Stone Engagement Ring
This is a very simple, yet elegant Vintage 3 Stone Engagement Ring design. It is 3 stones and a little metal. That is it. We like the tapered baguettes. And their dimension could be played with too. These measured 5.5 ×2.5 x 2mm.
The three stones, sometimes, can also signify three people. It may reflect a friendship between the newlywed couple and the person presenting the ring as a gift. It has also been used to represent the bonding of 3 families. The bride's family, the groom's family, and the united family formed by their marriage. There really is no limit to the symbolism of 3 stone engagement rings. You are free to add meaning to suit your personality and style.
THREE STONE ENGAGEMENT RINGS – MULTIPLE STYLES
At the moment, 3 stone engagement rings are more popular than the typical tiffany style solitaire engagement rings. One of the reasons behind their newfound popularity is the availability of various designs and styles. OK, your typical solitaire engagement rings have a wide variety in shapes and styles as well. However, the design possibilities are greater with 3 stone engagement rings. Depending upon the sizes, the shapes, the weights, the cuts, and the types of stones, countless looks are possible.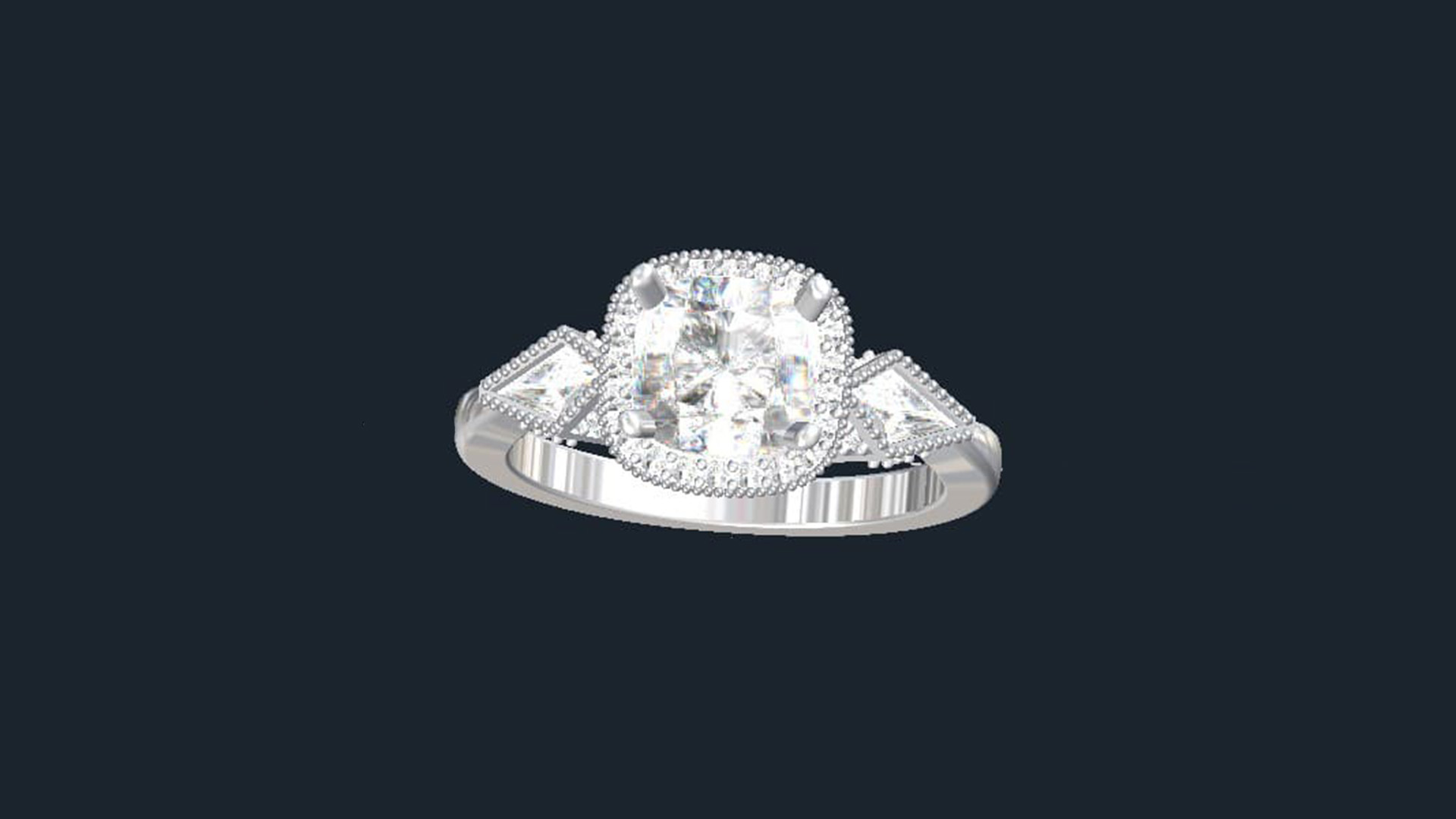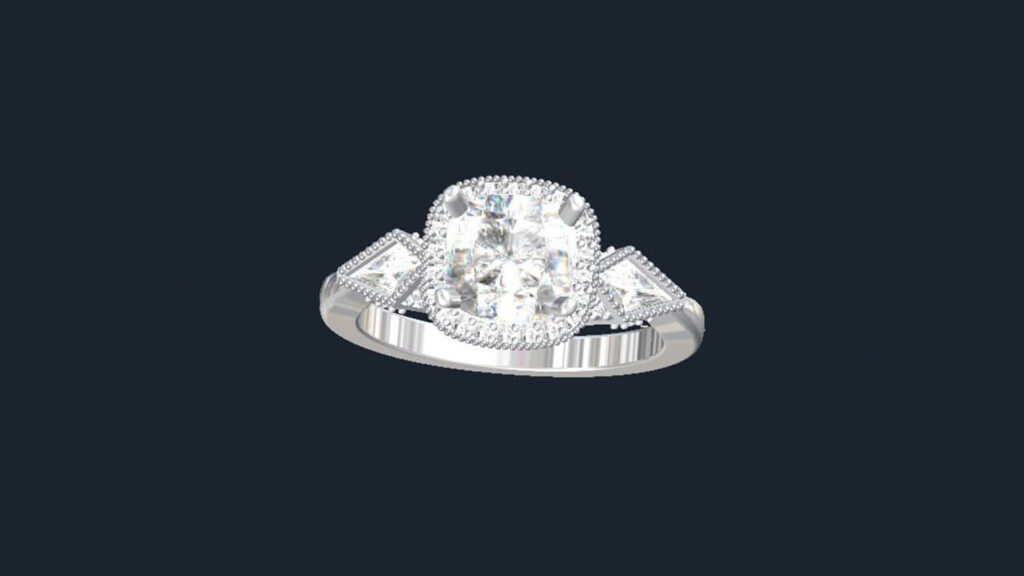 Antique Three Stone Engagement Ring
This 3 stone antique engagement ring hearkens back to the days of the early 1900's, when platinum rings like this were fabricated by hand. Thank God for CAD! The center stone in our 3 stone antique engagement ring is a 7mm Cushion cut accented by Kite, Round, and Square shape stones. We also added some milgrain for an added design element.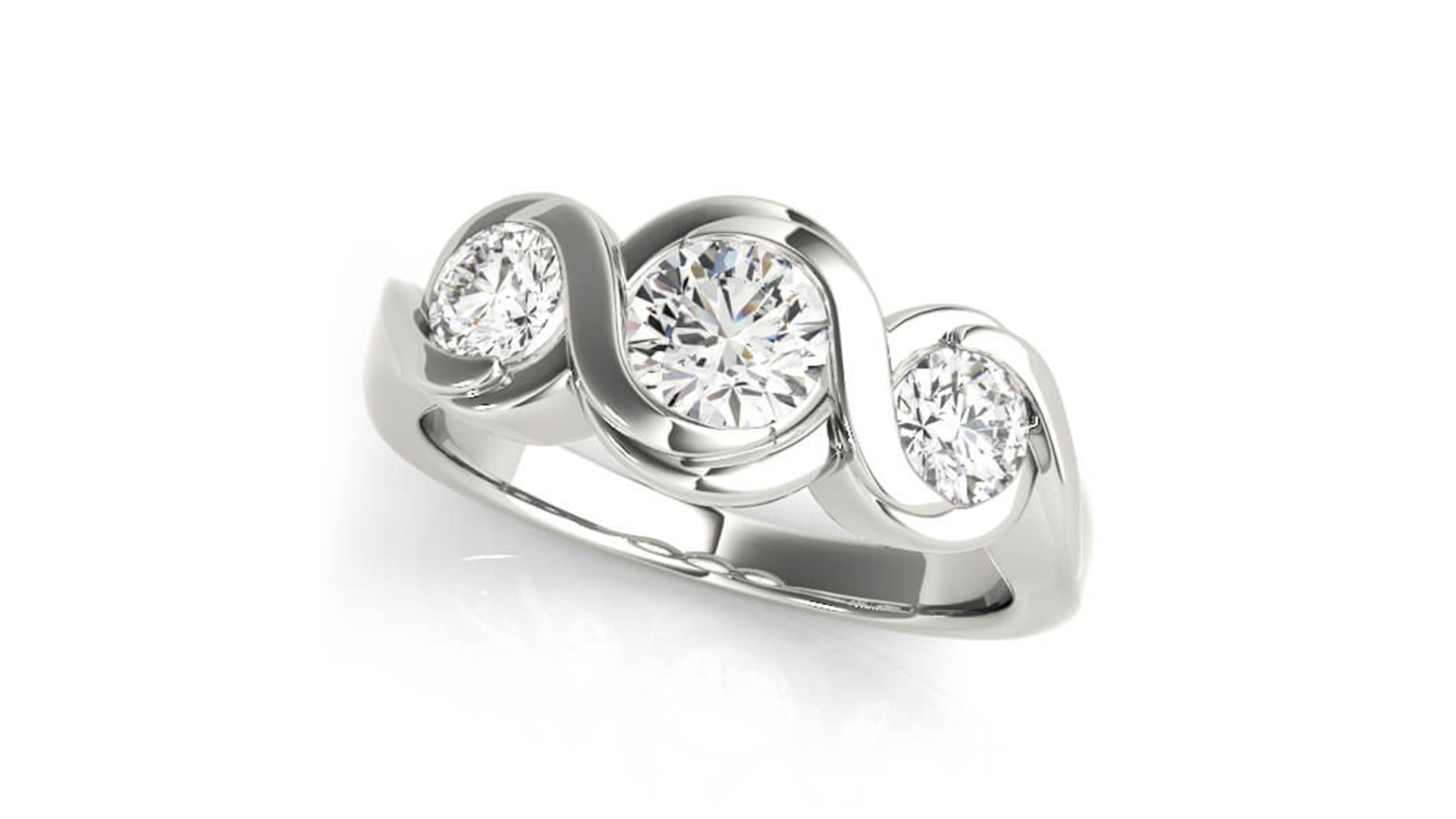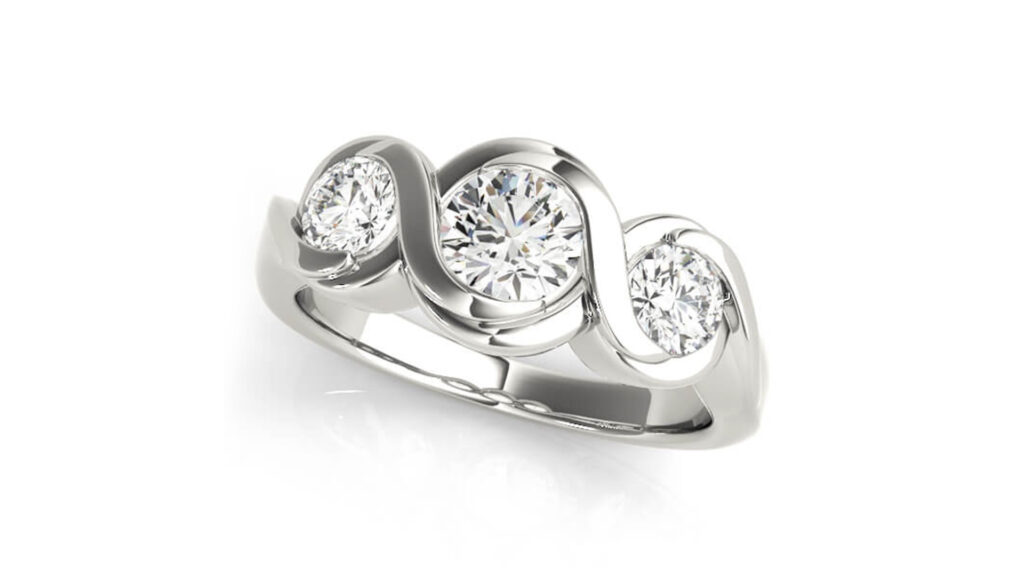 Bezel Set Three Stone Engagement Ring
This Three Stone Bezel Set Engagement Ring is definitely a unique take on the traditional 3 stone settings. The stones are bezel set by two strips of metal going around the top of one stone and then to bottom of the next, linking all 3 stones. This is definitely a modern look with its sleek lines.
Round Diamonds were typically used in 3 stone engagement rings, with the center stone being larger than the others. However, couples are increasingly breaking the rules with their 3 stone engagement rings. You are seeing diamond mixed with colored gemstones, as well as all gemstone rings. We just created a ring with round and pears shapes. So, the traditional all round stone ring has taken a back seat to more personal configurations.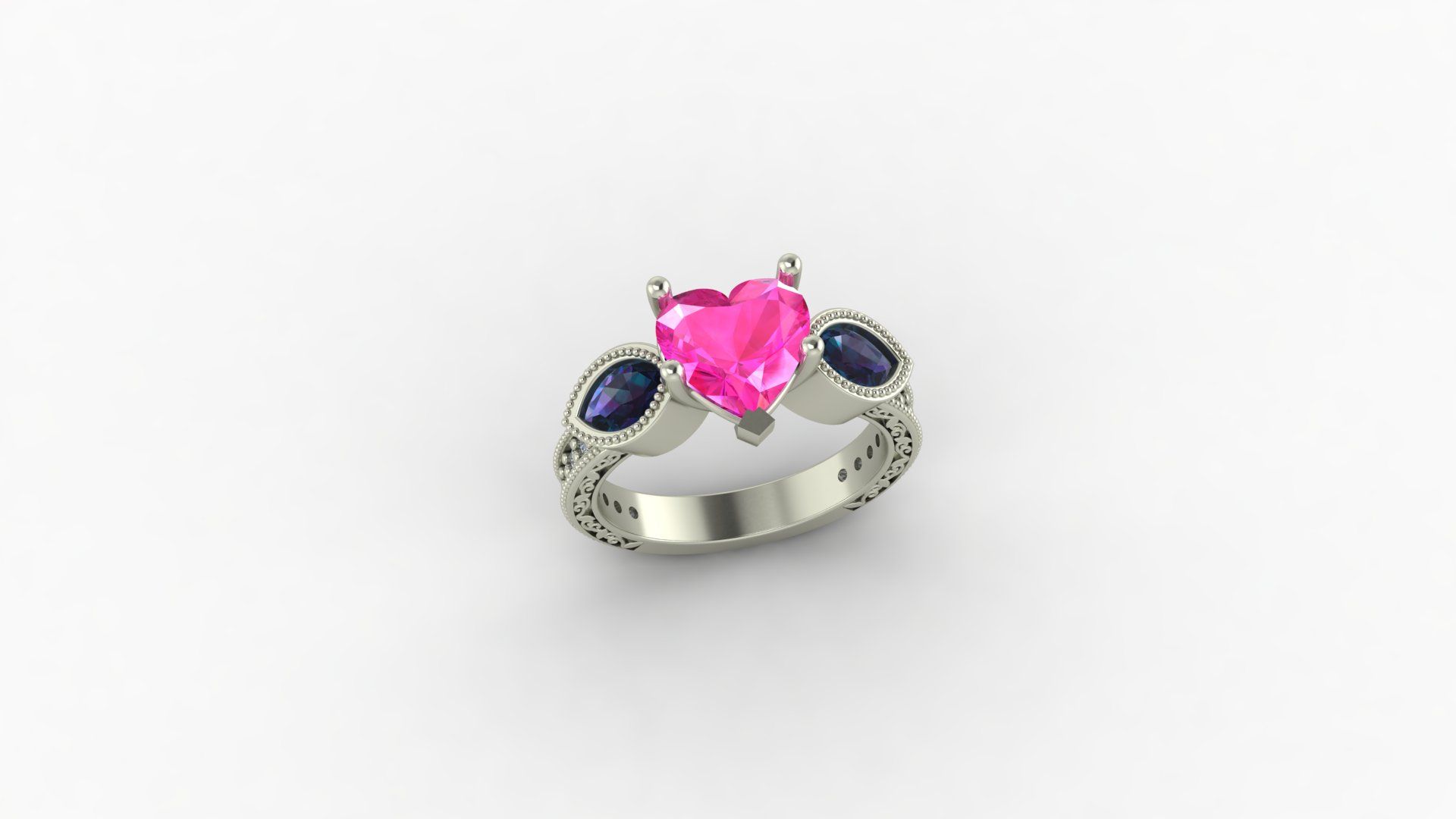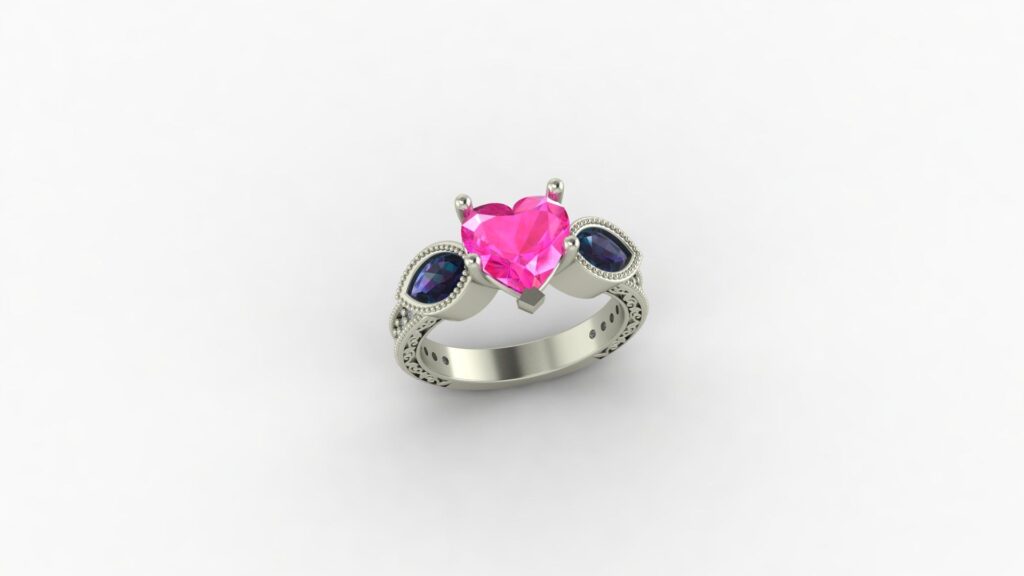 Mixed Cut Three Stone Engagement Ring
This Scrolled 3 stone engagement ring is definitely a head turner with it's two uncommon cuts. The center stone in this Scrolled 3 stone engagement ring is a 8mm Heart cut accented by 4x6mm Marquise stones. There are 4, 1.5mm stones on the band, which has a scrolled design cut out of it. However, any of this could be changed to suit your needs.
3 stone engagement rings have three styles that account for the majority of rings made.
Equal sized – In this style, all the three stones are the same size. A little plain for us!
Traditionally graduated – This typically has a larger center stone, with the weight of the center stone typically being double that of the sided stones. For example, a 5mm center stone weighs a half carat, so the side stones would be 1/4 carat, or 4mm in diameter.
Slightly graduated – This style renders the center stone slightly bigger or far larger. This variation in size has no mathematical basis as with traditional graduated rings. It is more of a custom style as you can choose any size stones you want without any rhyme or reason.
The styles of 3 stone engagement rings are not limited only to the size of stones. Some people may like only one type of stone to be fitted in all three spots. However, others may like to explore the mixing of of stone types. For example, an emerald with side diamonds in the traditional graduation is always stunning. Mixing colored gemstones with diamonds makes for attractive 3 stone engagement rings. Sapphire, aquamarine, and tourmaline all make excellent choices if you want a blue tone. For red, there is ruby, tourmaline, or garnet. You can find a stone for almost any color!
Nature Inspired Three Stone Engagement Ring
This is one of our Nature Engagement Rings that was made for bear lovers. There are 3 center stones that can be a wide variety of sizes and types. But the star of this ring is the bears. We put koala and panda bears on each side of the ring at the request of our customer.
Typically, 3 stone engagement rings come with round stones. We like to mix it up though. Just as a solitaire engagement rings can be set with round, princess, oval, cushion, etc. 3 stone engagement rings can also be set with multiple shapes. You can opt for the same three stones cut or even can explore mixed cut 3 stone engagement rings. Here is one with pears and a round.
This is one of our most elegant 3 stone bypass engagement ring designs as it exudes style while the ring and accents curves around the two larger accents. The center stone on this one was 5mm, but it could be made with a 4mm stone or up to 7mm. We also have it without the un-accented shanks if you feel it is a bit busy.
We know what you're thinking: my jewelry has to be on trend and in style, right, too? Technically, no. Custom Jewelry never goes out of style because it is personal and meaningful to the wearer. This makes it even more worthwhile to have custom pendants made.
THREE STONE ENGAGEMENT RING CARE
A so-called disadvantage of 3 stone engagement rings is the extra care supposedly needed. Are three stones more difficult to handle than a single one? Obviously, the odds of losing a stone are greater. In addition, the multiple nooks and crannies offer wonderful places for dirt particles to party. But don't worry. Cleaning the ring with a toothbrush brush with soft bristles will work just fine to keep your ring clean. And as long as you keep the prongs tight as you would on a solitaire engagement ring, you should have nothing to worry about.
We know! This 3 Stone Princess Cut Engagement Ring is HUGE! The center stone was 14 x 13mm. And the side stones were large enough to be featured in their own rings at 8x7x6.7mm! But it is just an example of the custom jewelry creations we make all the time. This ring would be beautiful with more normal size stones.
THREE STONE ENGAGEMENT RINGS – A FEW TIPS
3 Stone Engagement Rings are a great choice for your custom engagement ring. Here are some things to think about when looking for a three stone engagement ring or any type of engagement ring.
INTERESTING FACTS ABOUT THREE STONE ENGAGEMENT RINGS
To get you intrigued, we have collected several facts related to 3 Stone Engagement Rings. These interesting facts should strengthen your decision to get a three stone engagement ring.
CUSTOM ENGAGEMENT RINGS – THE PERFECT CHOICE FOR CUSTOM JEWELRY LOVERS
With that much design space and no hard & fast combination rules, 3 stone engagement rings are indeed the perfect choice for all custom jewelry lovers. For couples who like to "do it themselves", starting with an idea and turning it into a finished bridal set is especially appealing. The reasons are obvious. Custom jewelry means that you will get the exact engagement ring you are thining of in your head.
Unfortunately, there are many jewelers who say they create custom jewelry. But all custom is not equal. Many consider offering engraving to be custom jewelry! And many might offer custom jewelry, but the is farmed out to people like us who specialize in it. This both adds tot he length of time it takes to design something, and many times causes problems. Remember the "telephone operator" game growing up? It kind of works the same way. When adding another person between you and the designer, things can get lost or distorted. At Valeria Custom Jewelry, you will deal directly with our designer.
GIVE US A SHOT – ONCE YOU GO CUSTOM, YOU NEVER GO BACK!
If you have a specific design in mind, choosing a custom designed three stone ring is definitely the way to go. Send us your unique vision and we will bring your one-of-a-kind engagement ring to life. Another option when shopping for the perfect three stone engagement ring is to look through our selection of vintage engagement rings. Originating from romantic eras of the past, these rings are embedded with a history of their own. Consequently, the symbolic meaning of three stone rings is all the richer. The distinctive beauty of vintage rings adds to their appeal.
Click HERE to see more of our custom bridal rings. Click HERE to learn more about custom jewelry, to see our portfolio, or to contact us about a custom engagement ring. It can cost less than you think to have your very own Custom Rings made just for you. Why hassle with the retail stores for boring and overpriced rings that don't suit your taste and style? Click HERE to follow us on Pinterest.
FREQUENTLY ASKED QUESTIONS ​
I found Valeria custom jewelry online and when I saw their awesome work on their website I knew this was the best place for custom jewelry. I live in New York and distance was no problem, I contacted Valeria jewelry by email with pictures of a ring that I wanted rubies mounted in and the price was very competitive so I doubled the order last minute and I sent two rings for custom work done, which they said was no problem. So I mailed the two rings and a few weeks later I have the rings and they look great! Job well done to Valeria for the custom jewelry and I can't thank them enough they surpassed my expectations for the rings. Getting custom jewelry done through the mail was easy safe and secure by insured usps. I look forward to having more jewelry done in the future at Valeria and am completely happy with my rings. Their website has good examples of their work so I am sure no matter the distance or need they will get it done quickly and with a good price. Thanks again Valeria !
I found Lucas via a google search, and his reviews honestly seemed too good to be true. I reached out to inquire about setting an antique diamond from a pendant into an engagement solitaire ring, and enlarging an antique wedding band. He responded to my initial email within minutes, and very quickly gave me design choices and an estimate for each. After dropping off the items, the rings were ready within 5 days - and they look better than I was even hoping for. His prices are exceptionally reasonable, and he gave full market value for the scrap gold my diamond was originally set in. I highly, highly recommend working with Lucas for the ease, responsiveness, and exceptional results he provides.
Lucas was absolutely amazing with his level of attention and detail to not only what I was looking for in the creative and concept stage, but throughout the process as a whole. We went back and forth for weeks about setting design and material, and specific gem selection and he was communicative and patient the entire time. Absolutely recommend he and his teams services.
My fiancé had my engagement ring custom designed through Valeria. Absolutely Beautiful, from the diamond setting to the finish. Thank you Lucas and his team for accomplishing this stunning ring in such a timely manner, which led to a beautiful and amazing experience.
Start design with us now!
Three Stone Engagement Rings