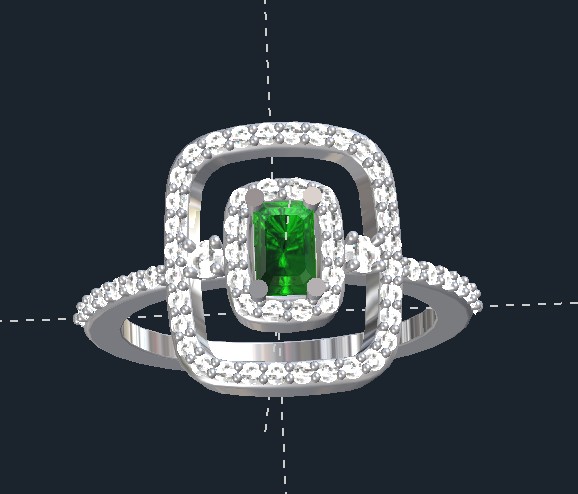 This Double Emerald Halo Ring has two halos of 1.3mm accents surrounding a 4x6mm Emerald cut Emerald.  The accents as well as center stone could both be made larger.  Different shapes and sizes could be used for the center stone in our Double Halo Engagement Rings as well.  We think a cushion cut would look awesome in this design.
Are you looking for a Emerald Double Halo Ring? Don't settle for the highly overpriced, mass produced, and boring designs you find in the mall. We can do far better in every way!
Don't let yourself get caught with the same ring as someone else in the room It will cost less than you think to have a Emerald Double Halo Ring made just for you that no one else will have.
Be inspired by recent custom fashion ring designs from Valeria Custom Jewelry and come up with your own idea for a Emerald Double Halo Ring. Our custom design process makes it easy to create a ring like no other and includes your input and approval as part of the process.
My name is Lucas Horton and I own and operate Valeria Custom Jewelry in Dallas, Texas. After 10 years in the corporate world and finding myself dreading every single day, I eventually found myself combining the art of jewelry fabrication, my skills as a gemologist and my unique talent of bring CAD (computer aided design) into creating rings like our Emerald Double Halo Ring. This opened up a whole new realm of possibilities. Whether it's a ring, a bracelet, a pair of earrings, a pair of cufflinks, a pin or a pendant, I can create jewelry not commercially available anywhere else at prices that will surprise you.
We have compiled diamond and precious gem sources from around the world that significantly lower my procurement cost. As a result, I can create pieces like our Emerald Double Halo Ring with exceptional value and beauty, all at the highest levels of quality. Instead of purchasing a piece of jewelry that you find at dozens or thousands of locations – why not have me create a work of art and unique piece just for you.  The process of creating something like our Emerald Double Halo Ring is easier and less expensive than you think…
Even if you have found something in a store, but it isn't exactly what you are wanting, send me a picture, and how you want it changed, and we can go from there. I have made existing designs better and more personalized for hundreds of customers.
Whether you're spending $500 or $500K, my goal is to exceed your expectations when creating rings like our custom halo engagement rings. I make sure every one of my clients feels special and I will do whatever it takes to make you happy. My goal is that your experience is such that you will refer all of your friends, family and anyone you know to me for any of their jewelry needs. I am looking for lifetime relationships, not one time customers.
I am confident that if you give Valeria Custom Jewelry an opportunity, you will see that my design skill, value, quality, and knowledge make me the best choice to turn your vision and dreams into reality and probably at a price that is less than you are thinking.  And if you aren't referring Valeria Custom Jewelry afterwards, then we haven't done our job properly.
Click HERE to see more of our halo engagement rings. Click HERE to learn more about custom jewelry, to see our portfolio, or to contact us about a custom halo engagement ring.  It can cost less than you think to have your very own custom engagement ring made just for you. Why hassle with the retail stores for boring and overpriced engagement rings?