Engagement Ring Styles
Are you confused about the Types Of Engagement Ring Styles?  We are here to help with this.  After all, at one time, we knew nothing about jewelry as well and understand your confusion. Are you looking for the perfect engagement ring style? With so many stunning styles out there, it can be hard to narrow down your options. Whether you're into classic solitaires or something more modern and unique, we'll help you find the right look for your special someone. Read on to learn about all the different engagement ring styles available today!
Shopping for an engagement ring can be daunting. However, finding the perfect style doesn't have to be difficult. There are so many creative, fresh and inspiring engagement ring styles available today that you might find it hard to decide which one is right for your special someone. To help you start off on the right foot, we have created a guide to the most common engagement ring styles.
Where To Look For Engagement Ring Styles
Start by finding inspiration. Look through magazines, Pinterest or even Instagram for ideas. This will help narrow down the type of ring that best suits your style. Once you find something you like, note the details like metal, diamond shape, setting and any special features that may offer hidden sparkle.
Another good idea is to go to see what the retail stores have. Pushy salesmen can be annoying, but tell them you want to see the different styles.  They should at least do that without making you feel like you have ot buy something right then.
And don't forget about your friends and family!  They can be en excellent resource for ideas and advice.  But don't let yourself fall into the trap of caring too much about what others think. This is your ring and no one else will be wearing it.  So keep that in mind.
Parts of An Engagement Ring
Although a ring (the shank) appears as a loop of metal, the shank has multiple parts:
Profile – This is how the ring  cross-section of the ring.
Head –  The top of the ring.
Prongs – These hold the stones on to the ring.
Shoulders – These are on each side of the center stone or stones. They help support the stone from the sides, especially on a cathedral engagement ring.
The shank functions as the foundation of a ring. While more look at what is in the ring rather than the shank itself, the shank is what adds stability and a framework for those stones.  If your shank is too thin, it can bend or break.  Engagement Ring Band Styles matter though.  If it is too heavy and thick, it will look and feel clunky on the finger weight also needs to be proportional to the amount of stones to evenly place the weight all over the finger. This serves to keep the ring and stones in place while also adding to the comfort.
Engagement Ring Band Styles are generally made using a precious metal such as gold or silver. However, industrial metals like steel and titanium are also popular for their durability.  But not that the metals like that are not able to have stones set in them.  Whether you're shopping for an engagement ring or wedding band, it pays to learn more about ring band design and types.  This will help to minimize or stop any issues down the road with comfort or durability.
Engagement Ring Styles
Straight Shank – It is just what is sounds like. A plain, usually rectangle or round, shank with no tapering and a distinctive straight edge.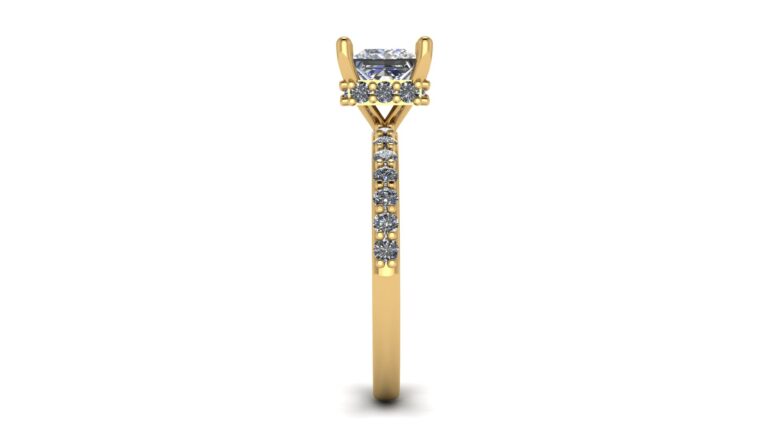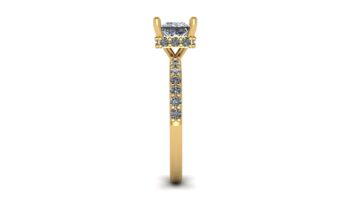 You can see how the shank is the same width all the way around in this hidden halo engagement ring.
Tapered Shank – If you look at the ring from the side view (not looking through the ring), you can see that  the ring is thicker or wider at the top than it is at the bottom.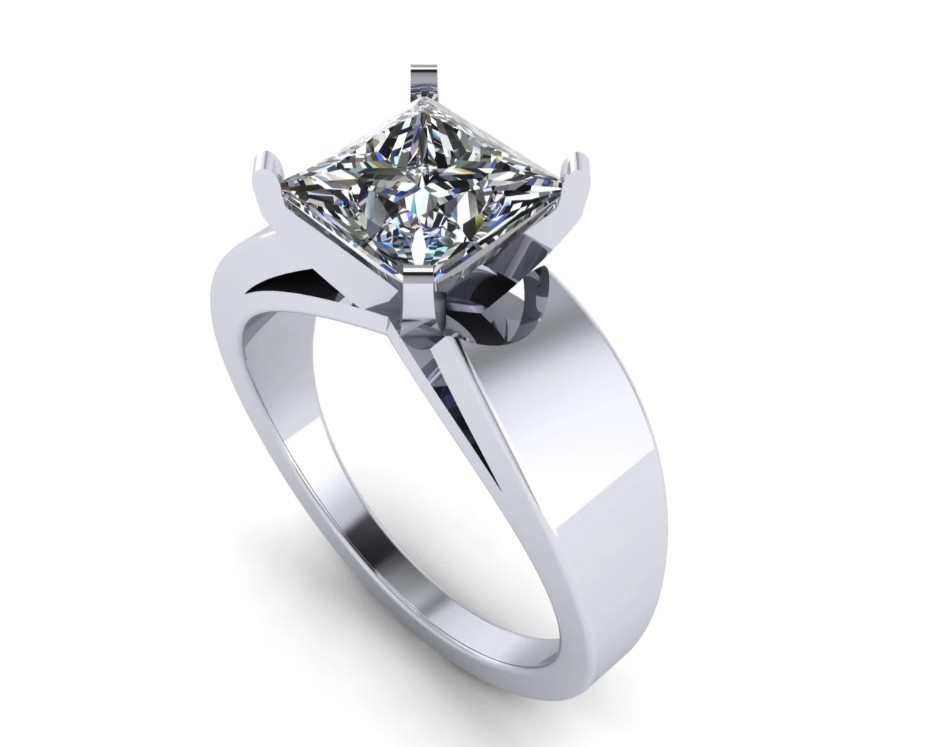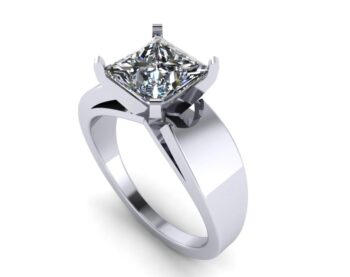 This shank is over 6mm wide at the top.  However, it gradually gets narrower until that the bottom it is 3mm wide.
Split Shank
The shank is split into two or more portions coming up from the bottom. This can create a multi-band or a more delicate effect if you are wanting something like a floral inspired engagement ring.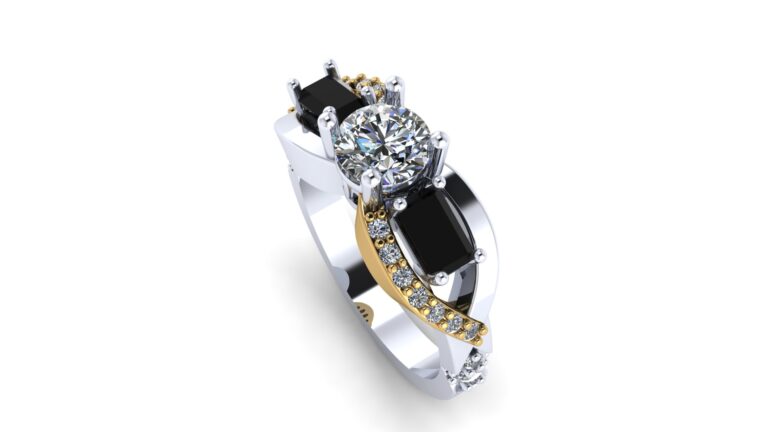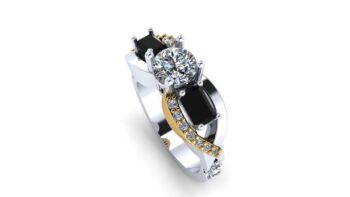 At about 2 and 10 O'clock, the shank splits into 2 pieces and bows out to make room for the emerald cut stones.  However, not all split shank engagement rings have to be 3 stone engagement rings.  Typically, the gaps formed are much smaller.
Bypass Rings – This ring type creates an overlapping effect with the two opposing pieces of the shank. Usually, each end is pulled past each other the center stone.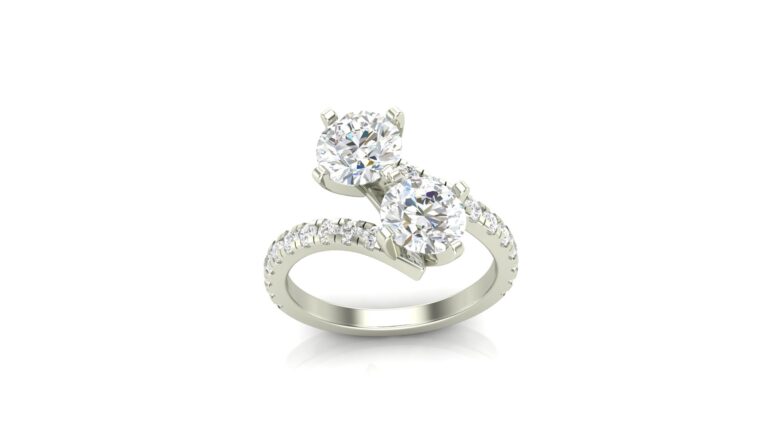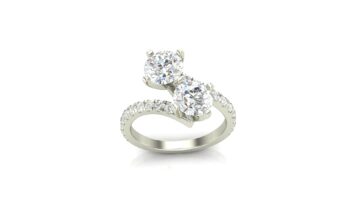 In this 2 Stone Engagement Ring, the center stones bypass each other to the place they are set. That is where the name comes from.  However, bypass ring designs do not require 2 stones.
Interlocking Rings
This is basically an engagement ring that fits into a wedding or anniversary band. Interlocking rings complement each other through size and design and can also be called a ring enhancer or ring guard.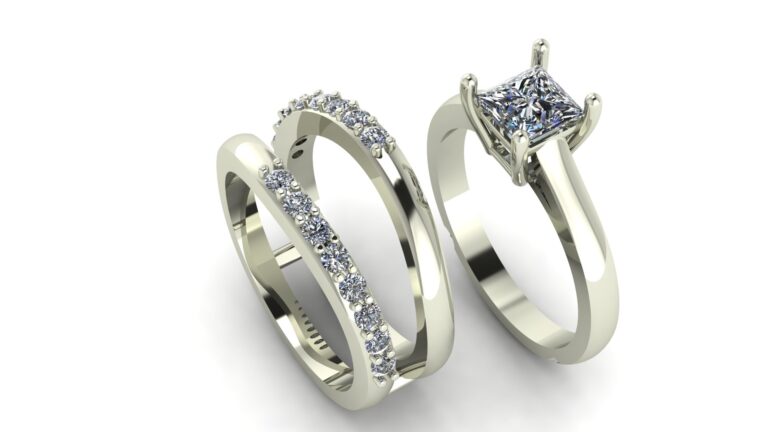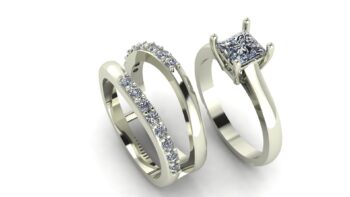 Here is a Solitaire Engagement Ring with the accompanying enhancer. The solitaire sits inside the enhancer for the look of a single, larger ring.
Solitaire Setting
This is the most common of the engagement ring styles.  A solitaire engagement ring features a simple, slim metal band with a single stone at the center.
WE WILL ASSUME YOU HAVE SEEN A SOLITAIRE ENGAGEMENT RING
Halo Setting
This is probably the 2nd most popular of the engagement ring styles after the solitaire.  Especially in the last a few decades. The shank features a larger stone in the center, surrounded by a halo of smaller stones. This setting can make the size of the center stone look larger  or it create contrast with colored gemstones. Alternatively,  a double halo adds two rows of accent stones to create an even larger look.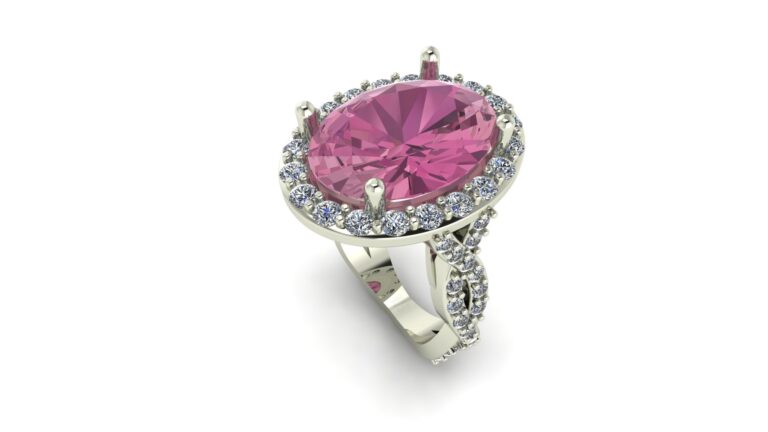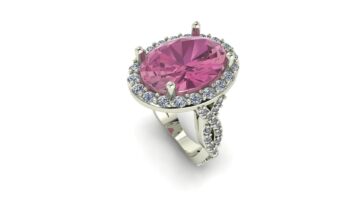 This is one of our infinity inspired halo engagement rings. This one was a pink tourmaline in the center that was surrounded by diamonds.  Halo styles make wonderful choices if you want to do a 2 tone color scheme.
Three-Stone Ring AKA Past, Present, Future – These Engagement Ring Styles have three stones in equal or varying sizes at the top of the ring.  There may or may not be smaller stones on the band.  This setting is supposed to represent the past, present and future of a couple and is one of the more popular Engagement Ring Styles.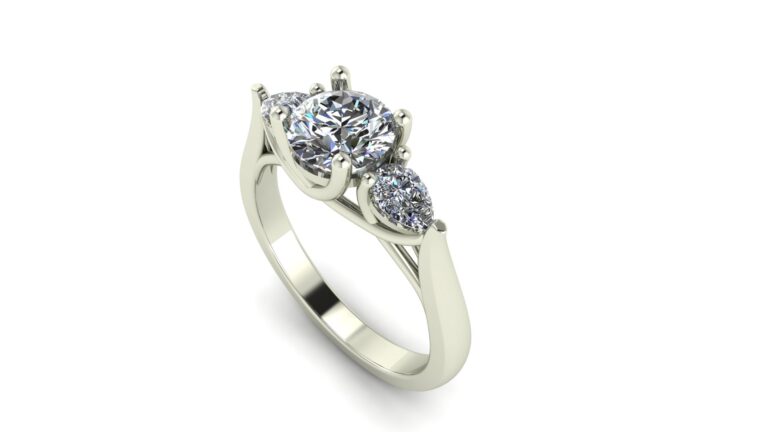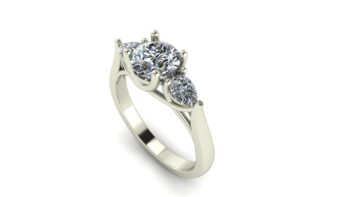 This is a mixed cut 3 stone engagement ring. We have a round center stone and east west set pear shapes on the shoulder. You will see all round stones more often.  However, since we make custom jewelry, we get the ones that can't find a mixed cut ring at the chain or mall stores.
Eternity – An eternity band is one where the stones go all the way around the ring. While not uncommon, it is not the best idea as it make resizing the ring more difficult and sometimes, impossible.
WE WILL ASSUME YOU HAVE SEEN AN ETERNITY SETTING
Bezel Setting – A bezel is a strip or "cup" of metal that a stone can be set ito. This design offers an alternative to traditional prong settings, but it is not as sexy.  However, it is the most durable setting. A stone set in a bezel is not going to be lost nearly (or at all) compared to prongs.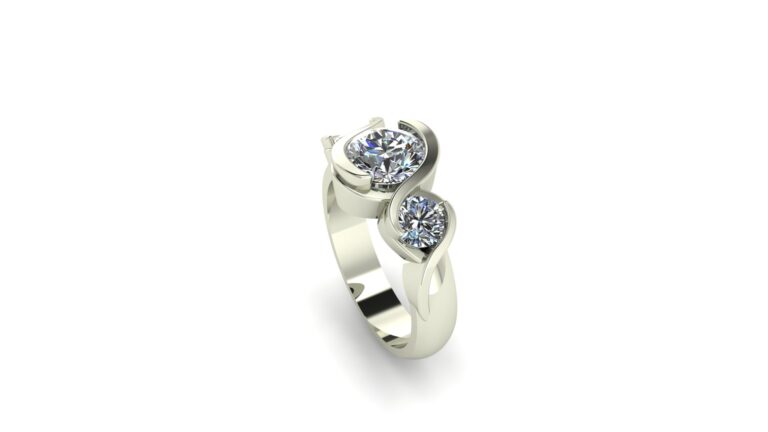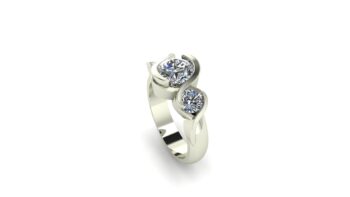 These are semi-bezel engagement ring. Here, we have 2 pieces going partially round the stones to hold them to the ring. If the design allows it, we prefer this type of bezel.  It is still more secure than a prong setting, yet more elegant than a full bezel.
Channel Setting
A channel setting has a full or partial row or rows of stones set in a channel going around the circumference of the ring. Prongs can be used to set the stone, or the edge of the channel can be hammered over the stones. A small amount of the stones is covered to keep the stones intact. However,this is almost a durable as a bezel in terms of keeping the stones secure.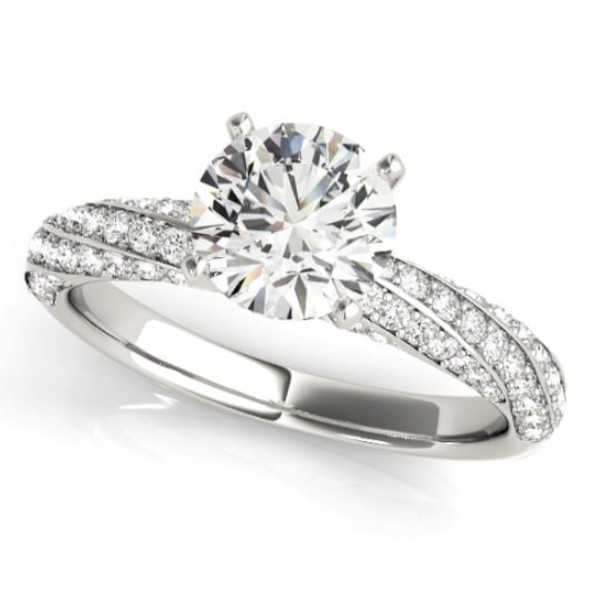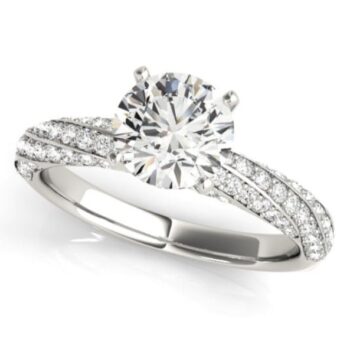 This channel set engagement ring has 3 rows of stones curving around the shank. This is one of the cool things about channel setting. You can put stones places where prongs settings won't work.
Tension Setting
Two opposing parts of the ring are squeezed together to hold the stone in place.   These require a bypass style.  This is the least durable of the Engagement Ring Styles in terms of keeping a stone secure.  A bar or belt for the stone can be placed underneath the center stone that attaches to each piece of the shank to stabilize the ring.  However, the stone is still not nearly as secure as proings or bezels.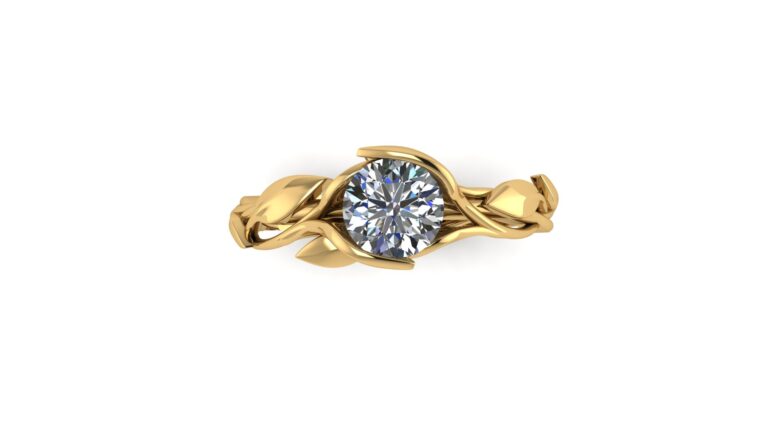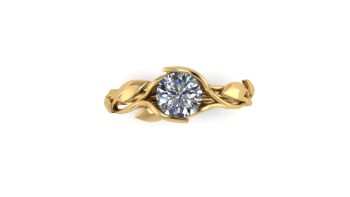 Floral themed engagement rings work well with tension settings. Here, we have two leaves holding the stone it.  This could be considered a semi-halo as well.
Cathedral Setting
The profile of these Engagement Ring Styles is that of a tear drop. Cathedral Engagement rings usually have dome-like crown at the top, that is filigreed or somehow decorated.  Above it, the center stone sits higher than it would in a ring that was perfectly round.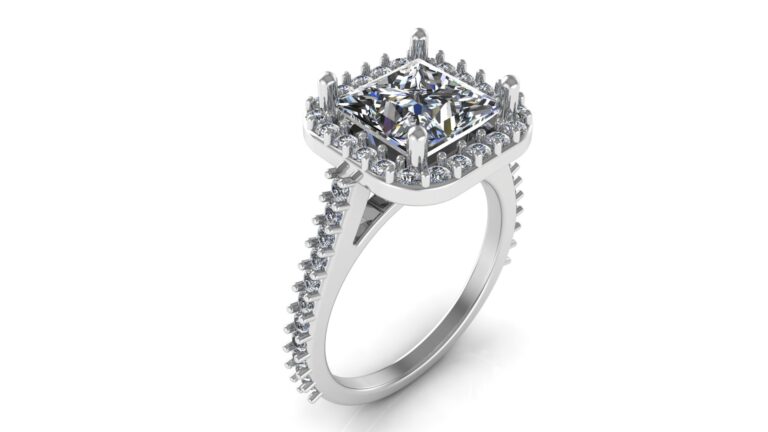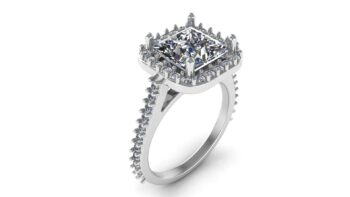 The cathedral is formed when the shank raises off the round shape of the ring. It forms a small V shaped space in the profile of the ring.  These were very popular in the 80's and 90's, but have fallen out of fashion.  They will be back though.  
Cluster Setting – This is one of the Engagement Ring Styles that comes in and out of style as an engagement ring trend. A cluster engagement ring has clusters of stones in the center.  It can also mean a cluster of stones on the shoulders.  This style often features the use of both diamonds and colored gemstones.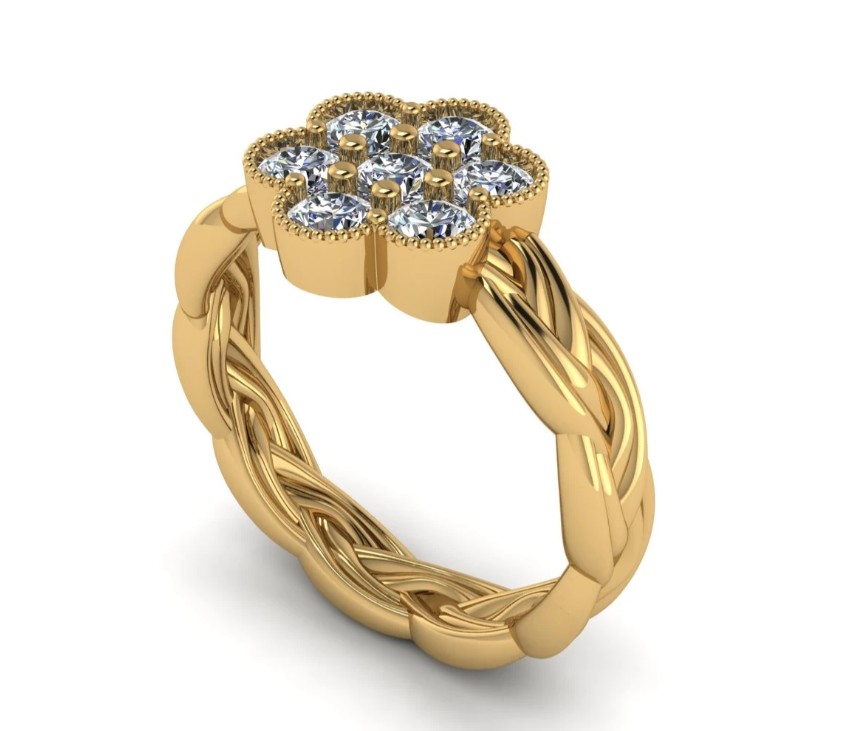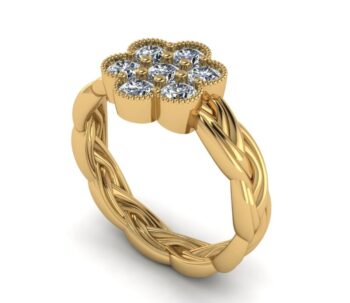 The 6 stones surrounding the center stone form what they call a cluster.  Although, clusters do not have to be symmetrical at all. We have done cluster rings where the stones were randomly placed.  We have also done them with mixed cut stones.
GIVE US A CHANCE!
We know that having a piece of custom jewelry created just for you might be an intimidating idea.  Don't let it scare you.  We have created stunning pieces over the internet for numerous jewelry amateurs and they were so pleased that they gave custom jewelry a chance.  We have the process down to make sure it is as painless and easy as possible.  Even if you aren't even sure what it is that you want.  We know the right questions to ask that will help you pinpoint the Engagement Ring Styles you are most interested in.  Then, we will drill down even more to the specifics.  It is easy though!
Click HERE to see more of our bridal jewelry. Click HERE to learn more about custom jewelry, to see our portfolio, or to contact us about the Engagement Ring Styles. It can cost less than you think to have your very own custom engagement ring made just for you. Why hassle with the retail stores for bland and overpriced rings that don't suit your taste and style?  You know what they say.  Once you go custom, you never go back, to the mall!
We can create something that matches your style and personality.  And many times, it can cost less than a comparable, mass produced Engagement Ring Styles from a retail store.
Guide To Engagement Ring Styles