White Sapphire Engagement Rings
It is hard to believe that the ugly and unassuming stone in the main image can be turned into a stunning gemstone that makes for Stunning White Sapphire Engagement Rings!  There are only a few diamond simulants when it comes to engagement rings.  They are moissanite, white Sapphire, cz, and zircon.  Any of the renderings you see on our website that have a white stone in them, can be any of these stones.  So, don't assume everything is diamond. Now if you are talking about alternate center stone options, that is a whole other post.  In this one, we will focus on white (colorless) sapphire.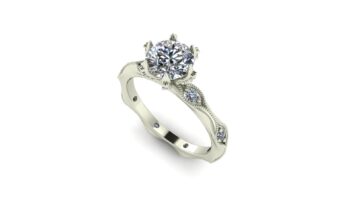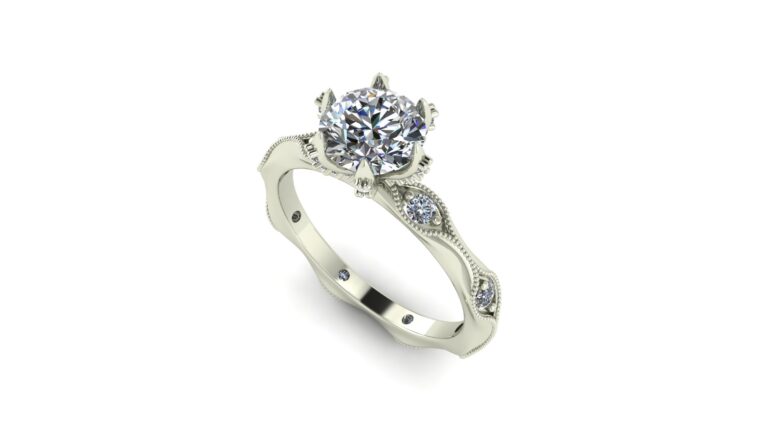 This is one of our Sculptural Engagement Ring designs that we love.  The center stone is secured by 6 prongs that are accented with 1mm stones.  If you don't like 6 prongs, or don't want the accents on the prongs, we can change that.  The shank is an alternation of diamond accents and knife edged milgrain. If you wanted more stones, we could probably add 2-4 more.  We could also remove stones.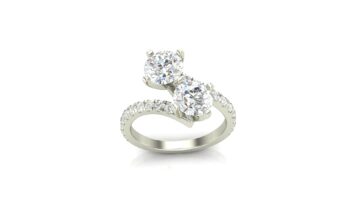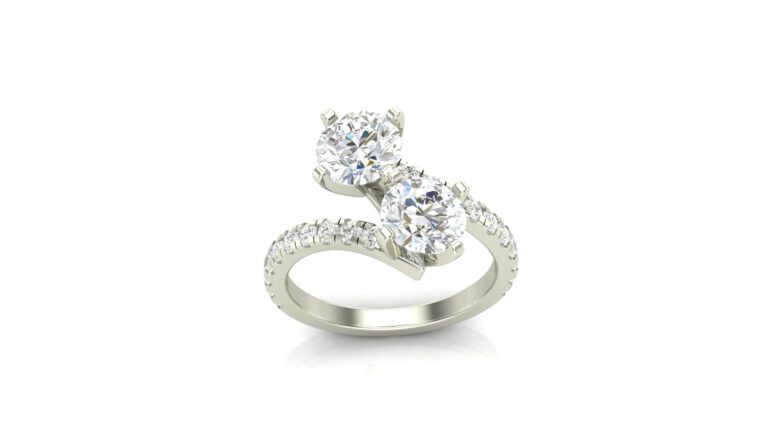 Double the beauty with 2 center stones in this accented 2 stone engagement ring.  Adorned with French Pave set accents, it is a stunning ring with the amount of rock it holds!   In this one, we have 2, 6mm diamonds with 1.5mm accents.
What Color IS A Sapphire?
Ask 100 people what color a sapphire is and 99 of them, maybe 100, will say blue.  However, brown is by far the most common color of sapphire.  They also come many other colors such as green, pink, yellow, and even green.  Sapphires are a type of corundum.  So are rubies.  If a corundum is red, it is a ruby.  Everything else is a sapphire.  Corundum is an exceptionally hard and tough material. It is the third-hardest mineral, after diamond and moissanite, scoring a nine on the mohs hardness scale.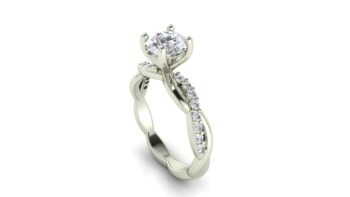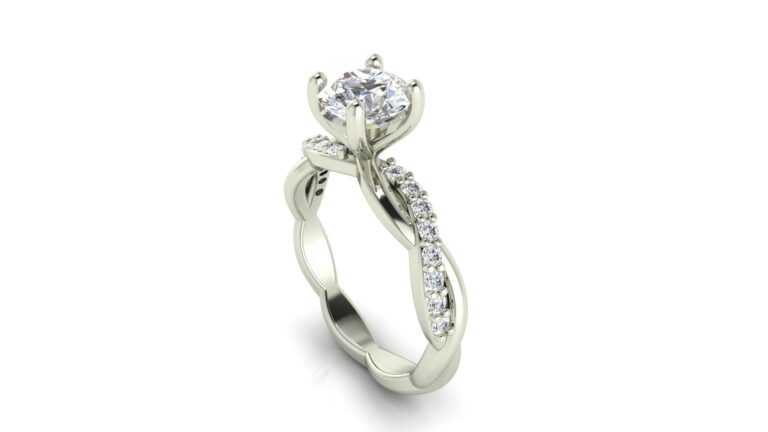 This Split Shank Engagement Ring is a prong version of  one that had tulip leaves for prongs.  This one is a little less bulky and less floral!  One of each of the split shank is accented with 1.3mm stones.  If you prefer, we could always add stones to both sides.  It is shown with a 6.5mm round, but almost any size or shape stone could be used.
Why White Sapphire Engagement Rings Are Popular
White sapphire engagement rings have gained immense popularity in recent years. And it's not hard to see why. These stunning gemstones offer a unique and affordable alternative to traditional diamond rings. With their dazzling brilliance and durability, white sapphires are the perfect choice for couples looking to make a statement without breaking the bank.
One of the main reasons why white sapphire engagement rings are so popular is their affordability. Compared to diamonds, white sapphires are significantly less expensive, making them an attractive option for budget-conscious couples. But don't let the lower price tag fool you – white sapphires are just as beautiful and sparkly as their diamond counterparts. In fact, their brilliance and clarity can rival that of a diamond, giving them a truly luxurious look.
White Sapphires Are Versatile
Another reason behind the popularity of white sapphire engagement rings is their versatility. These gemstones come in a variety of shapes and sizes, allowing couples to find the perfect ring that suits their personal style and preferences. Whether you prefer a classic solitaire setting or a more intricate design with side stones, white sapphires can be easily incorporated into any ring style. Plus, their neutral white color complements any metal, whether it's platinum, white gold, or yellow gold.
In our opinion, white sapphire engagement rings are not only a smart financial choice, but also a symbol of individuality and style. By choosing a white sapphire over a traditional diamond, couples can express their unique taste and stand out from the crowd. And with their affordability and versatility, white sapphires offer endless possibilities for creating a one-of-a-kind engagement ring that truly reflects the couple's love and commitment.
White Is The Rarest Sapphire Color
Corundum receives its color from the trace elements present where the crystal is forming. White sapphires are quite rare.  They are completely untouched by trace elements. White sapphires make excellent alternatives to diamonds for engagement rings as they are less expensive and very durable.  They also don't show the fire and dispersion that a diamond or moissanite will.  They must be very well cut to get the maximum amount of sparkle out of them.  However, to many, sparkle isn't the goal when decide they want White Sapphire Engagement Rings.  It is usually a personal reason that
White Sapphires Vs. Diamonds
With its close physical appearance to diamonds and and costing a fraction of the price, the white sapphire seems like the perfect alternative to a stunning yet expensive diamond. But let's put the status aspect of diamond aside for a moment.  Since one can't help but admit that diamonds go hand in hand with from status and renown, there are still many large differences between a colorless sapphire and a diamond. To begin with, a white sapphire does not show the brilliance or fire that a diamond does. This shouldn't really come as a surprise.  This is basically what diamonds are known for and one of the things that makes them so desirable.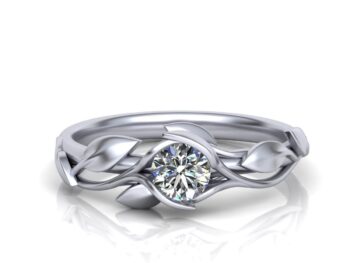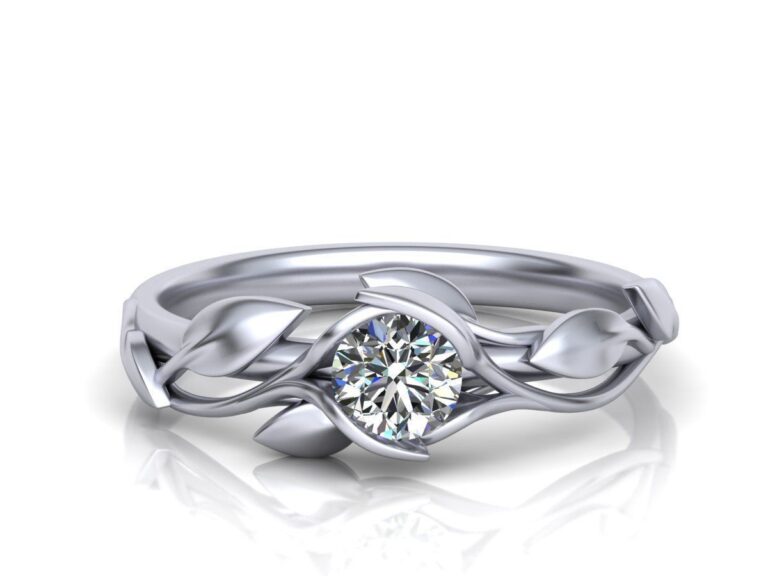 We have created a quite a few Flower Engagement Rings, and with the floral tension setting, this one has become our most successful style of Flower Engagement Rings.  This one has a 5mm center stone, but smaller or larger could be used.  Almost any type of gemstone can be used.
White Sapphire Engagement Rings – It Is All About What You Are Wanting From Your Center Stone
Still, when looking at the two stones side by side, the difference between the brilliance and scintillation of the two is quite striking.  At the moment, the shiny white sapphire looks dull next to the fiery diamond. Aside from the brilliance, diamonds and sapphires can look quite remarkably similar to the untrained eye. If you care less about the fire and more about the size and price of the stone, White Sapphire Engagement Rings might be for you. Having a non-traditional stone, whether it's for an engagement ring or any other piece of jewelry, has its own special charm and appeal as it is.  And many times, there are other reasons why sapphire is chosen.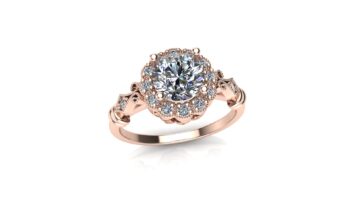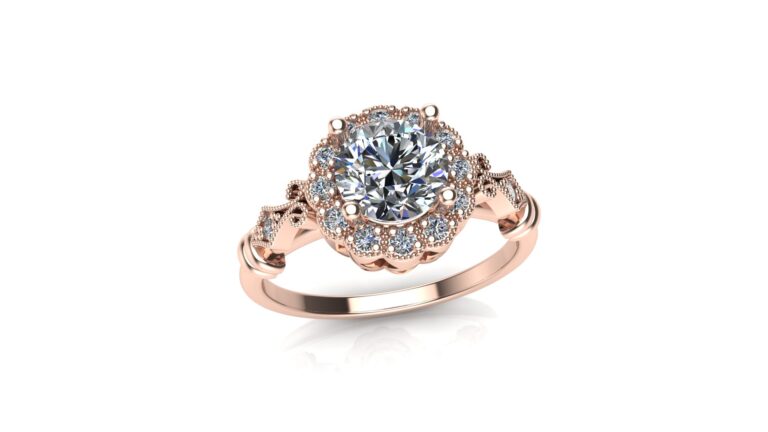 This Vintage Halo Engagement Ring pays homage to the exquisite engagement rings created solely by hand in the early 1900's. The stones in both the halo and band are accented with milgrain while the gallery beneath the center stone is artfully cut out with ballpark squares.  There are two bands going around the shoulders for some additional decoration. It is shown with a 6.5mm center stone, but other sizes could be used.  We have also created our this ring with an oval center stone.
White Sapphire Engagement Rings – Let's Get (Meta) Physical
Colorless sapphire is thought to bring wisdom and strength of inner self.  It carries an extremely pure energy for clarity of thought and excels at opening the powers of the mind. Colorless sapphire strengthens communication with the Higher Self level of consciousness in seeking spiritual guidance for this lifetime, and brings the resolve needed to overcome obstacles to one's spiritual path. It is beneficial in revealing one's talents and potential, and inspires living with integrity and keeping true to one's ideals when faced with difficult choices or circumstances.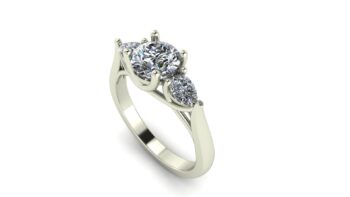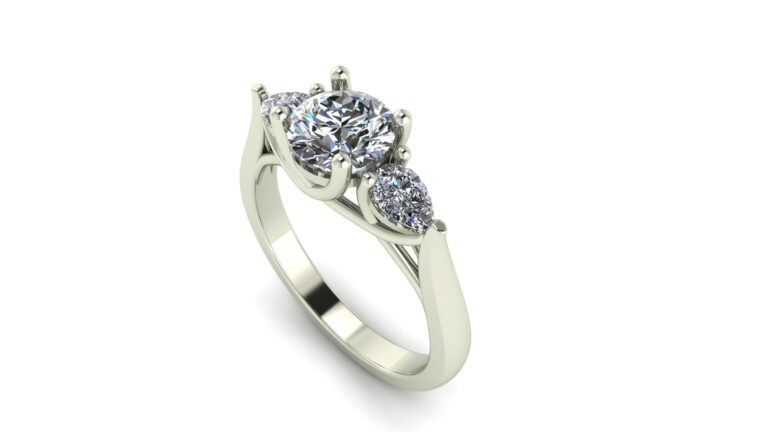 This Pear 3 Stone Engagement Ring is unique for using pear shapes on the shoulders.  You don't see many three stone engagement rings with pears on them.  We also like the elegant trellis setting.  This one had a 3/4 carat center stone and 4.5×3.5mm pears.  Those sizes can easily be changed to suit your needs.  We would have used a longer pear as these were on the fat side…but we make what is asked of us!  
White Sapphire Has Many Benefits
Wearing White Sapphire enhances the qualities of fairness, objectivity, morality, and freedom from greed. It also assists in breaking self-defeating habits or behaviors that impedes spiritual progress. White sapphire also bestows the people who wear it, particularly in marriage, and gives the people abundant happiness, carries pure energy to balance your soul and mind. White sapphire is associated with the 45th wedding anniversary.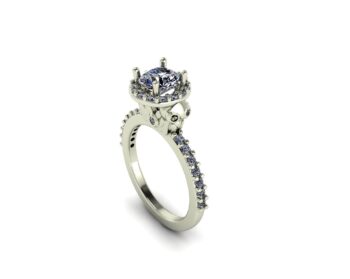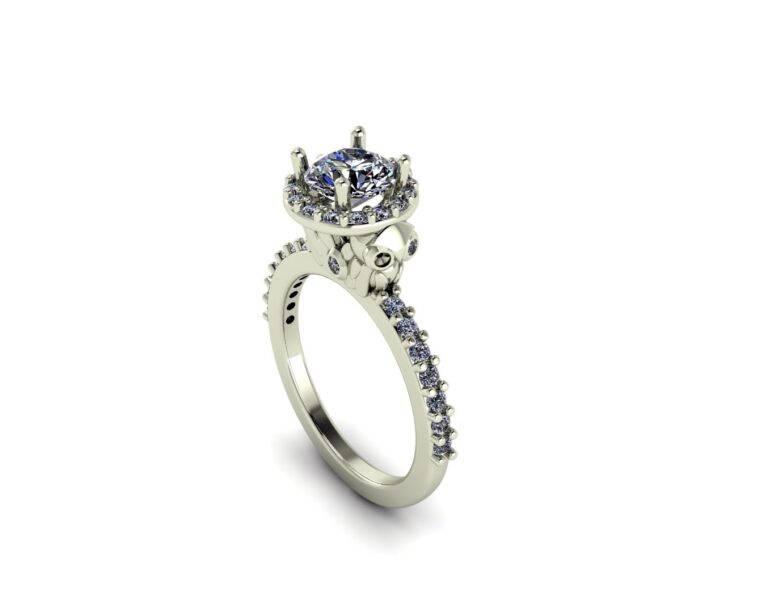 This harry potter inspired owl ring was inspired by a film I am not supposed to name….but oh well, do you do everything you are told??  I just love owls too much.  However, even if you aren't a fan of the film, you can still wear this owl ring without anyone know what inspired me to make it.  This can be made with a center stone as small as 4mm and as large as 8mm.  The stones in the halo are 1.3mm and can only be precious stone or CZ.  The stones in the band are 1.5mm.  If you click the image, you can see a finished ring where we hand engraved the owls to give them some detail.
Advantages of a White Sapphire
While we have talked about the differences between diamonds and the colorless stones used in White Sapphire Engagement Rings.  We haven't really mentioned the beautiful and durable stone's many advantages. The glaring elephant in the room is price. The prices for white sapphires are a fraction than those of diamonds. Even the premium white sapphires are still far less expensive then even lower quality diamonds.  This means you can get a much larger stone for less.
Another advantage of these colorless stones is that they can be used as accent stones in all types of jewelry when you don't want to fork over the cash for diamonds.  They can also be used to replace diamonds that have fallen out instead of buying the real thing again or settling for cz. Finally, never forget that sapphires, even white sapphires, are one of the four precious gemstones, which include diamonds, rubies, emeralds, and sapphires. This means that while they may not be diamonds, they are certainly rare and special.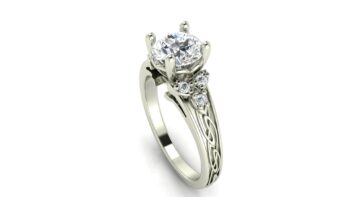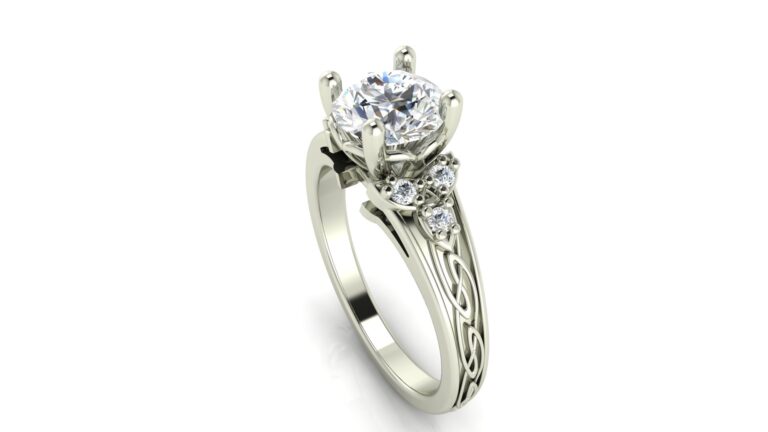 This stunning Celtic Engagement Ring has Celtic symbols adorning the band up to the shoulders, where 3, 1.5mm stones sit in Triquetras symbols.  The basket holding the head also has some symbols in it.  The cathedrals are cut on the side to add an elegant design element.  This one is shown with a 6.5mm round, but almost any size or shape stone could be used.  We could also change the pattern on the band if you had something else in mind.  
Bottom Line Recommendation on White Sapphire Engagement Rings
White sapphires are very desirable to many, but if you are looking for fire and sparkle, we recommend considering a diamond or moissanite. No gemstone with any durability can match the fire and dispersion of diamond and moissanite.  Add in the fact that both are even more durable than sapphire and you have a hard  case to beat.  However, we know that sapphire itself has an allure and that some don't necessarily care about sparkle.  We get that. And that isn't to say that white sapphire doesn't sparkle if cut well.  It just doesn't compare to the other two.  The bottom line is go for what you want and don't worry about what others think!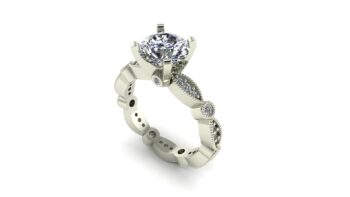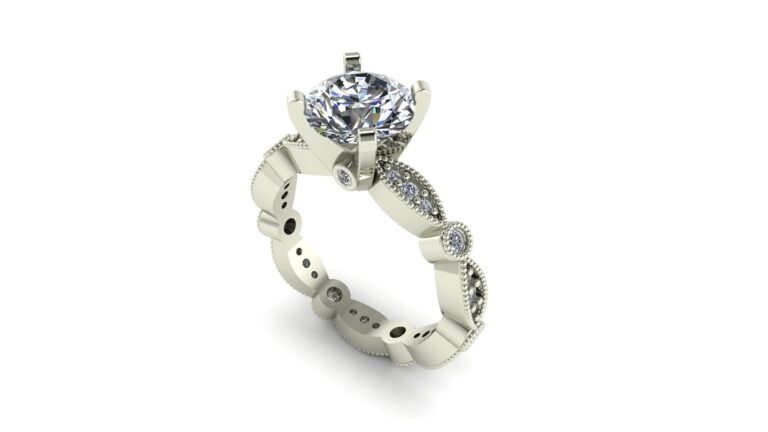 We love this Art Deco Engagement Ring for various reasons.  We have both prong and bezel set stones accenting the 6.5mm center stone.  It is shown as a round, but any size or shape could be used.  Adorning the accents is milgrain, giving the ring an elegant flare.  And sitting beneath the center stone is a small, bezel set peek a boo stone.
Give Us a Shot For White Sapphire Engagement Rings!  You Will Be Glad You Did
You can view our portfolio of custom engagement rings or custom pendants to look for ideas.  Or you can contact us with your own idea about White Sapphire Engagement Rings.
It can cost less than you think to have your very custom White Sapphire Engagement Rings made just for you.  Why settle for the lame and overpriced wedding bands from the retail stores when we can make something showing your style and personality?  You know what they say.  Once you go custom, you never go back….to the mall! Do you have ideas for a unique engagement ring, but can't find it in retail stores?  We know that you will be hard pressed to find White Sapphire Engagement Rings at the mall.  They just aren't in high enough demand for them to carry White Sapphire Engagement Rings.  Send it to us and let us see what we can do for you.  You know what they say.  Once you go custom.  You never go back.  To the mall!
Follow us on PINTEREST to see our latest designs!