Thinking of Jewelry As A Gift?  You are not alone.  Jewelry is a top 3 category of gifts given by people. Jewelry can be so many things and makes for a versatile gift idea.  We like to think of jewelry as a language of love. Jewelry can be used to communicate a message when it is gifted.  It can be used for a decoration, something to commemorate a milestone, or a something to act as  reminder of memory or person. We find it easy to give jewelry for almost any occasion though!
Giving jewelry as a gift is a timeless tradition that has been around for centuries. From engagement rings to anniversary necklaces, jewelry has always been a symbol of love, commitment, and appreciation. But with so many options available, it can be overwhelming to choose the perfect piece for your loved one. In this blog post, we'll explore some tips on giving jewelry as a gift and how to make it a meaningful and memorable experience.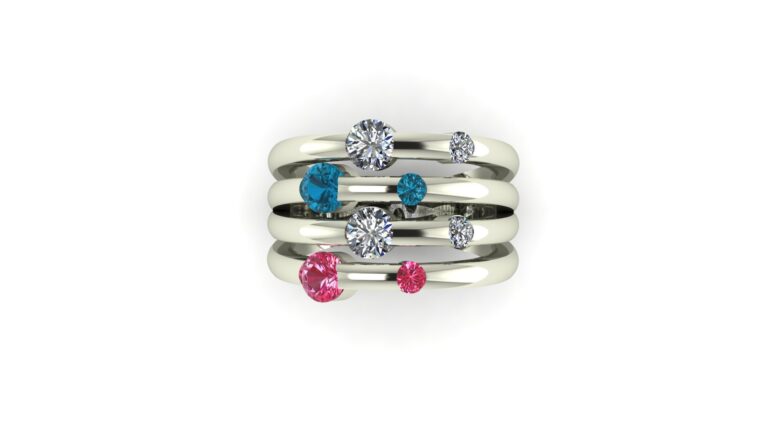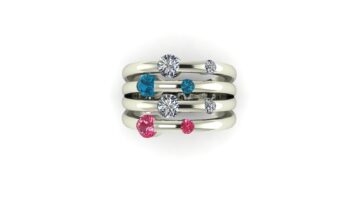 Mother's rings and pendants are one of the most popular pieces of jewelry for women.  They love these. We have made tons of them and can make anything you can come up with as well.  Here, we have 2 birthstones for each of her kids.  One small stone for when they were a baby an done large one for the adult versions.  It was a surprise for the mom and she LOVED it.
Know their style
The best way to know what kind of jewelry your friend or family member would like is by taking note of the pieces they already wear. If they have a favorite necklace, bracelet or ring, try to find something similar that reflects their personal taste and style.
If you're buying a piece for someone who has never worn any jewelry before (or if it's been awhile since they've had anything new), consider selecting something simple and classic–like a diamond stud earring–that can be worn every day without being out of place at work or school.
Consider The Occasion
The occasion can influence the type of jewelry you choose. Consider the significance of the occasion and choose a piece that fits the occasion appropriately. For example, if you're buying a gift for someone's birthday, look for something that matches their personality or interests. If they love animals and nature, consider getting them an animal-themed pendant or bracelet!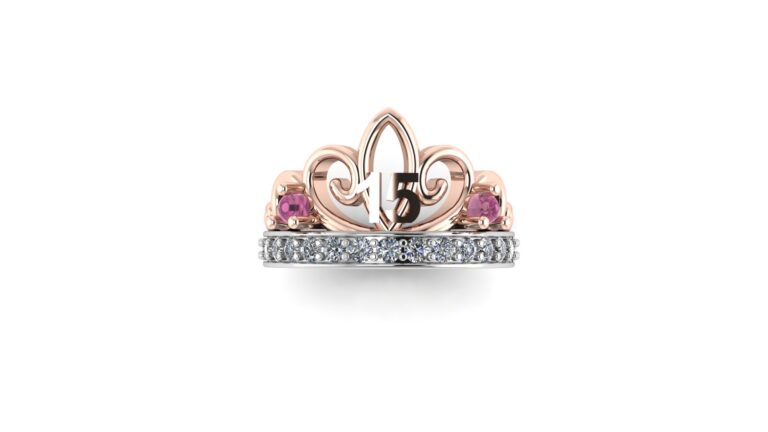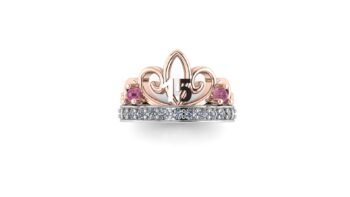 Almost any occasion is a good one to mark with a piece of custom jewelry.  Milestone birthdays especially. This was a princess ring we created for a customer's daughter's quinceanera.  We have created rings for anniversaries, graduations, even being in the olympics.  When the moment is a special one you want to remember and mark with a special gift, custom jewelry should be a go to thing.
Personalize It
Personalizing the jewelry can make it even more special. Consider engraving a message or adding a birthstone to the piece. This is an especially good idea if you're buying for someone who has everything, because there's nothing quite like something with sentimental value that they can keep forever and pass down through generations of their family.
Choose Quality Over Quantity
When it comes to jewelry, it's important to choose quality over quantity. When you're looking for a piece of jewelry that will last a lifetime and be passed down through generations, it's important to choose a piece that is made with high-quality materials and craftsmanship. The right gift can be cherished for years to come!
Presentation Is Key
Presentation is key. The way you present the jewelry can make all the difference. Consider wrapping it in a beautiful box or adding a personal note to the gift. If you're going to give someone jewelry, make sure that they know how much thought went into choosing their gift!  If you need help with any of this, let us know and we will fogure out a stunning way to package your gift.
Sentimental Value – Giving Jewelry As A Gift, Especially Custom Jewelry, Makes The Piece Special
Sentimental value is one of the most important aspects of jewelry. Jewelry can be passed down through generations, and it will always hold its original meaning. The price or size of the piece doesn't matter; what matters is that you have something to cherish for years to come.
When you give someone a piece of jewelry as a gift, it shows that you care about them enough to spend time and money on something special for them. This can be especially meaningful if there are sentimental reasons behind why you chose that particular piece in particular (for example: "This necklace reminds me of our first date").
Symbol of Appreciation
Jewelry is a timeless symbol of appreciation. It's a thoughtful and meaningful gesture that can be cherished for years to come.
Jewelry is also an excellent gift because it has so many different meanings and uses, depending on the person who receives it. For example:
A ring can represent love, commitment or friendship (like when you give your best friend a friendship ring).
A necklace can signify birthdays or anniversaries (like when you give your mom an anniversary necklace).
Earrings are perfect for celebrating special occasions like graduations and birthdays!
Practicality
Jewelry is also a practical gift that can be worn on a daily basis. It's a great way to show someone you care and appreciate them, without having to worry about whether or not they'll like it or use it.
Jewelry isn't just for women, either! Men can wear bracelets, necklaces and rings too!
Memorable Experience – Giving Jewelry As A Gift Creates A Memory They Will Never Forget
Gifting jewelry is a memorable experience for both the giver and the recipient. It's an opportunity to show someone you care in a special and meaningful way.
As you're shopping for your friend or loved one, it's important to consider what kind of experience they'd like their gift to create. If they're an active person who loves being outdoors, consider buying them some new hiking boots or even tickets to an outdoor concert nearby! If they're more on the quiet side, maybe buy them something like a cozy blanket that they can use while reading at home with their favorite book (or maybe even just sitting there thinking).
Why Giving Custom Jewelry As A Gift Is Perfect
Jewelry has been a popular gift for centuries, and for good reason. It's a timeless and thoughtful way to show someone you care about them. Here are some reasons why jewelry makes a great gift.
Sentimental Value
Jewelry is often given as a symbol of love, friendship, or commitment. It can be passed down from generation to generation, becoming a family heirloom. When you give someone jewelry, it's a meaningful gesture that they can cherish for years to come.
Personalization
Jewelry can be personalized to make it even more special. You can engrave a message, add a birthstone, or choose a piece that reflects the recipient's personality or interests. This shows that you put thought and effort into the gift, making it unique and one-of-a-kind.
Timeless Appeal
Jewelry is a classic and timeless gift that never goes out of style. It can be worn for years to come and will always remind the recipient of the special occasion or person who gave it to them.  Many times, jewelry is passed down from generation to generation.  So, you aren't just making something for an individual when you give custom jewelry as a gift makes so much sense.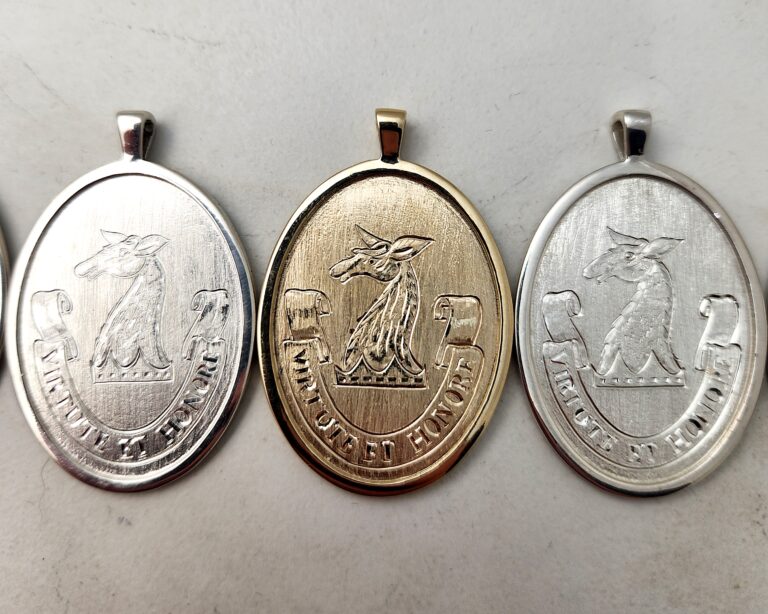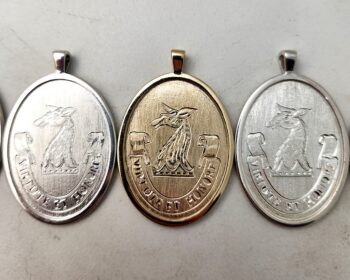 Family crests and coats of arms are also popular gift items for jewelry.  Not only are you giving a timeless gift, but it has the added meaning of the family crest.  We have one of the few hand engravers local to us and we are lucky.  We can take any piece of jewelry and kick it up a few notches with hand engraving.
Practicality
Jewelry is a practical gift that can be worn every day. It's a great way to show someone you care about them and want them to have something special that they can use and enjoy on a daily basis.
Versatility – One Of The Top Reasons Giving Jewelry As A Gift Makes Sense
Jewelry comes in a variety of styles and designs, making it a versatile gift that can suit any occasion or personality. From delicate necklaces to bold statement pieces, there's something for everyone.
Luxury – Giving Jewelry As A Gift Is Special Gift
Jewelry is often associated with luxury and elegance, making it a gift that can make someone feel special and pampered. It's a way to indulge and treat someone to something they might not splurge on for themselves.
Jewelry As A Gift is the easy answer for many reasons. It's sentimental, personalized, timeless, practical, versatile, memorable, and luxurious. When you give someone jewelry, you're giving them something that will last a lifetime and remind them of your love and appreciation.
Pendants with names or nicknames are also very popular.  We don't have to add stones to them either.  This is about as personalized of a gift as you can get too.
Click HERE to see learn more about custom jewelry or to see our portfolio.  Do you have a gift idea for a family member?  Contact us and we will see what we can do for you.  Why go to the mall for a mass produced piece with no sentimental value when you can have something special made just for you.  And many times, our work can cost less than a comparable piece of jewelry from the mall and big box shops.