Lotus Flower Engagement Ring
The lotus flower is prominent in both Buddhist and Egyptian culture, and often represents revival, purity, and beauty. Consequently, Valeria Custom Jewelry has crafted an intricate lotus flower engagement ring that captures the essence of this popular blossom in forged metal and stone. The ring features milgrain throughout, which is a beading detail that was common on jewelry made in the first half of the twentieth century. Contemporary jewelers use milgrain to give new pieces a vintage feel.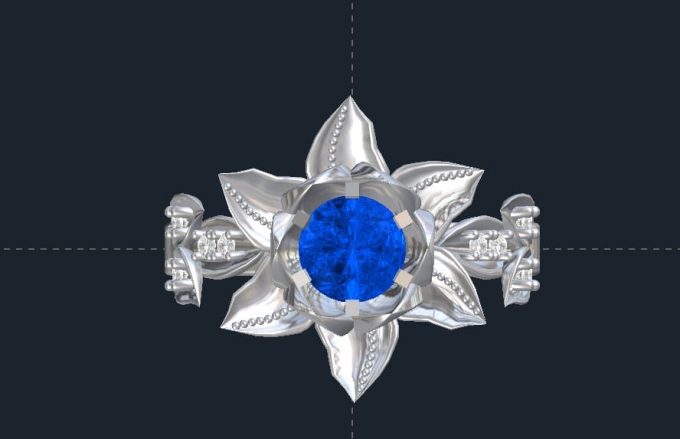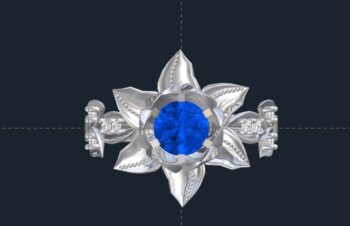 This milgrained Floral Engagement Ring has three accented petals on the band. It holds a 7.5mm round stone and has 1.5 mm accents in the petals, but other size stones could be used.
The lotus flower engagement ring also features a smooth band, which can be made from silver, palladium, platinum or rose, yellow or white gold. Located on both sides of the band are small clusters of three accent petals, each set with accent stones. The center stone is enveloped in twelve lotus petals, all expertly placed and soldered to look as if they were caught in mid-blossom.
Any kind of diamond or gemstone can be placed in this ring, which is where customization can be used to bring different meanings to your ring. According to Buddhist symbolism, a blue lotus flower is associated with wisdom, intelligence, and knowledge. A deep blue sapphire can be used to represent these qualities. If you choose a ruby as the center stone, it can symbolize the same qualities as the red lotus flower, which is known for love and compassion. Even a simple diamond can be representative of a white lotus, which symbolizes a state of mental purity and spiritual perfection. Because Lucas can customize the center stone to your preferences, your lotus flower engagement ring can symbolize whatever you want it to. You can even add colored gemstones as an accent in the lotus flower engagement ring if you want your ring to hold more than one meaning.
Click HERE to see more of our custom engagement rings.  Click HERE to learn more about custom jewelry, to see our portfolio, or to contact us about a Custom Engagement Ring.  It can cost less than you think to have your very own custom engagement ring made just for you. Why hassle with the retail stores for boring and overpriced engagement rings?