Men's Skull Ring
Although skull rings have been in the market for decades, only recently have they made a comeback. They were much more difficult to create before CAD, so you are seeing much more of them.  In fact, skull rings have found a newfound popularity among men who would not have accessorized with jewelry before. Men are now able to accessorize with masculine jewelry due to the growing trend of wearing trendy skull rings.  Skull Rings are no longer only for bikers or goths.  They have made their way into mainstream culture.  And due to that demand, we have created a few skull wedding rings as well as engagement rings.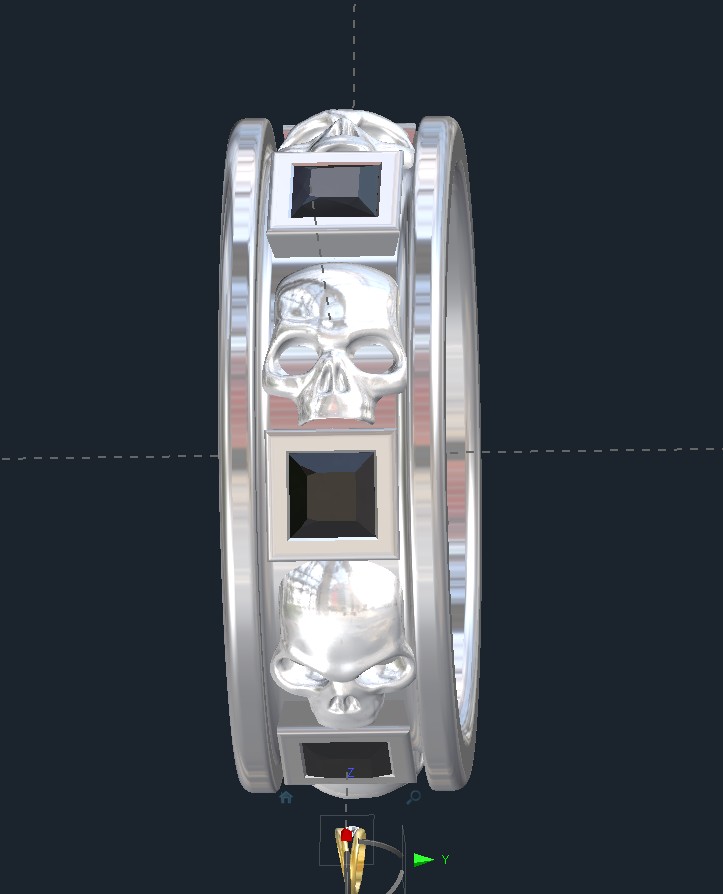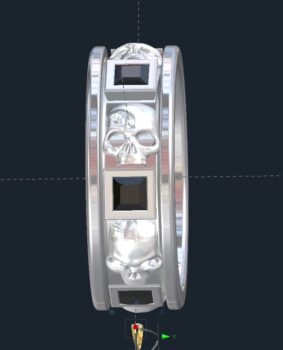 This Men's Skull Ring has alternating skulls and black diamonds going around the ring.  Don't want black diamonds? We can use something else.  Want a different skull? We can do that as well. Do you want to really bling it out and add diamonds on the rails? We can also do that.  We can make any ring however you want it made.
Men's Skull Rings
Bold and daring, Men's Skull Ring are not for the shy or understated. At Valeria Custom Jewelry, we have created a wide array of skull jewelry for those who don't care about conventional style!  Cast in the highest quality Silver, Gold, Platinum, or Palladium, our rings can feature diamonds, CZ, and a multitude of colored stones.  The Men's Skull Ring we create are among the coolest that can be bought in today's crowded custom jewelry marketplace. Whether you want to display your biker persona, want to make people think, or create your own type of style statement, a Men's Skull Ring definitely the way to do so! Wearing a Men's Skull Ring is one successful way to assert your inner power, independence and strength and is perfect for men who walk to the beat of their own huge and scary drum!
Diamond Eyed Men's Skull Ring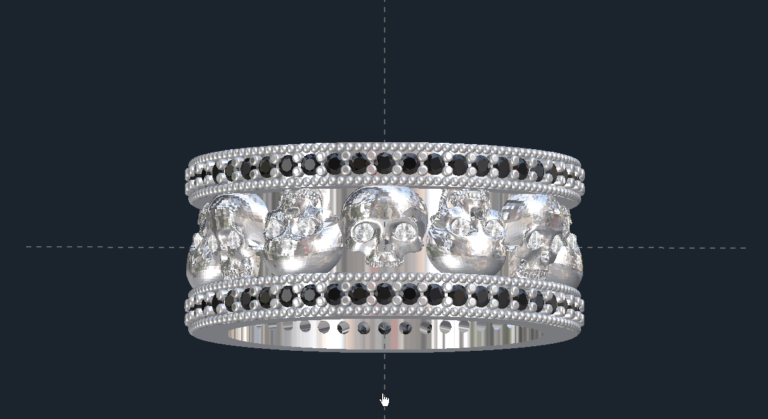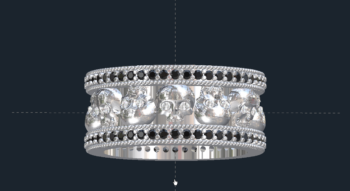 This Men's Skull Ring has diamond accented skulls going around the ring.  They are nestled into a channel with 2mm outer rails.  We can also make this ring without the skulls in the eyes or we can add stones to the rails as well.  If you want a different skull?  No problem.  We make our rings to order, so you will get one created how you want it made.
For Women Too! 
At Valeria Custom Jewelry, we understand that women are also attracted towards the skull themed jewelry as well. There are several stylish women out there sporting one of our skull engagement rings… Our skull jewelry is aimed at both men and women and the Men's Skull Ring designs that we offer appeal to both sexes or can be modified to fit a certain sex. Many of our skull rings boast red or black or any color eyes using gemstones that add a touch of color to your Men's Skull Ring. For women, our colorful but bold and daring designs easily fit the personality of a women who has her own sense of style.
Skull Jewelry is an Attitude 
Valeria Custom Jewelry comprehends that the idea behind skull jewelry is not only the look, but the attitude it conveys. Our Men's Skull Ring collection will provide you the complete look toughness you could be going for. This jewelry genre is a great way to incorporate a bit of attitude to your otherwise dull and drab collection of elegant and normal jewelry. These stylish, bold designs can be seen on almost every rock star, biker and even on a lot of celebrities today which just goes to show how popular these skull designs have become in the last few years. If you are looking for something a little edgier and want to add a touch of color, then one of our skull rings is the perfect way to go.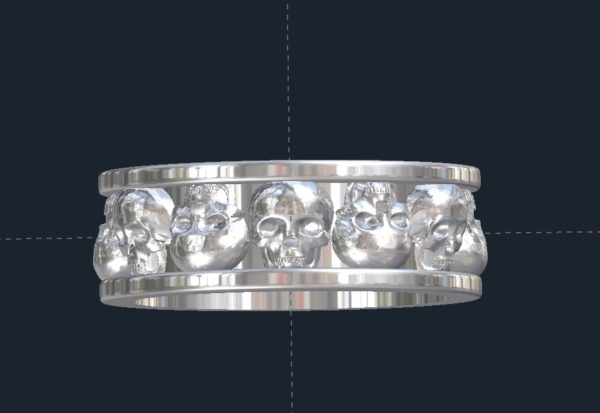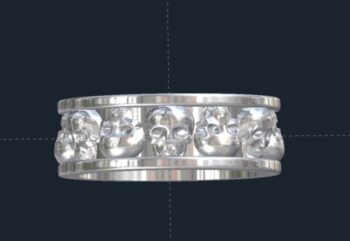 This is a simpler version of the ring above.  If you don't like the skull, we could use another.  We also might widen the outer rails a little.
Men's Skull Rings – Buy US made
The rise in demand for skull wedding and engagement rings has increased their availability.  However, don't be fooled by a cheap Asian Skull Engagement Rings.  Get a quality one from Valeria Custom Jewelry!  We have created some of the most impressive Men's Skull Ring designs around. Our custom jewelry creations are durable and made of the highest quality materials. We also give you the satisfaction of knowing you have a truly unique custom jewelry creation.   Whether you had a hands on approach to the ring or let us do all of it, our designs are unique.  There's no better place for a Men's Skull Ring than Valeria Custom Jewelry!
Give Us a Try for your Men's Skull Ring!
Our Men's Skull Ring designs show a wide expertise and working knowledge of jewelry design.   Unfortunately, many in the world of custom jewelry do not possess and just pretend.  We are the real deal.  Because every ring is made to order, no two are totally alike. Be secure in the fact that that your rings are made with your uniqueness in mind. We have procured diamond and gem contacts that span the globe.  This allows Valeria Custom Jewelry is able to ensure that the stones and metals used to create your Men's Skull Ring are of the highest quality and ethically sourced. Why buy a cheaply made, mega-mass produced Men's Skull Ring from Asia that anyone can own?  Valeria Custom Jewelry can create a skull ring right here in the US showing your personality and with the specs you want.  Why would you go anywhere else?
We do know that there are plenty of other skull rings available from site like etsy, amazon, or ebay.  However, we must warn you that the quality of these rings is sub par.  They are usually thin and lightweight if they are made of a precious metal.  And if they have gemstones in them, they are always of lower quality that advertised.  You will even find lab stones sold as natural.
Click HERE to learn more about custom jewelry , browse our portfolio of custom jewelry, or contact us about a Men's Skull Ring for yourself.  We can make anything you can find online or dram up on your own.  Why settle for overpriced garbage from the mall when you can have the exact wedding ring you want?