Years ago, we created a motocross number plate necklace for someone and didn't think anything of it.  We create tons of one off designs and most are never made again.  We actually prefer it that way so we know everyone it getting a truly unique custom jewelry creation.  It also keeps it fresh for us, getting to create new things all the time.  However, we weren't prepared for the response it received once people could view it on the website. We totally underestimated the demand there would be for these.   There must be a lot more motocross riders than one would think!  And there isn't much to fill the demand either.  However, we are here to make whatever it is that you want and can fill that void!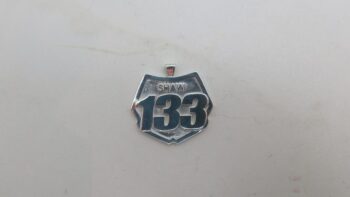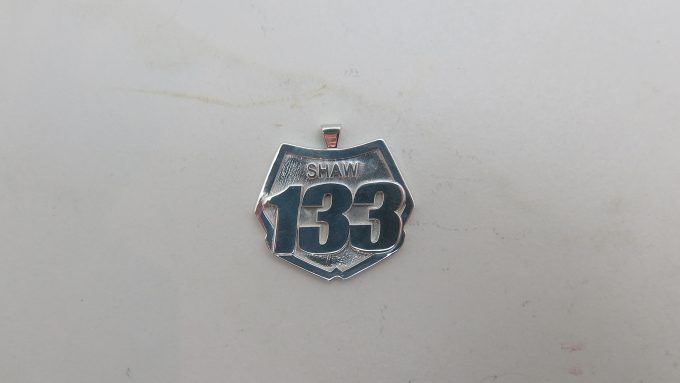 Using CAD, lost wax casting, and even hand engraving, Valeria Custom Jewelry can create almost anything you can come up with. It might cost less than you might think to have your own Dirt Bike Number Plate Necklace created.  Send us your idea and let's get started.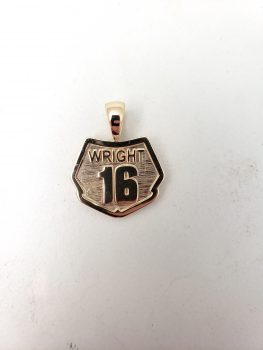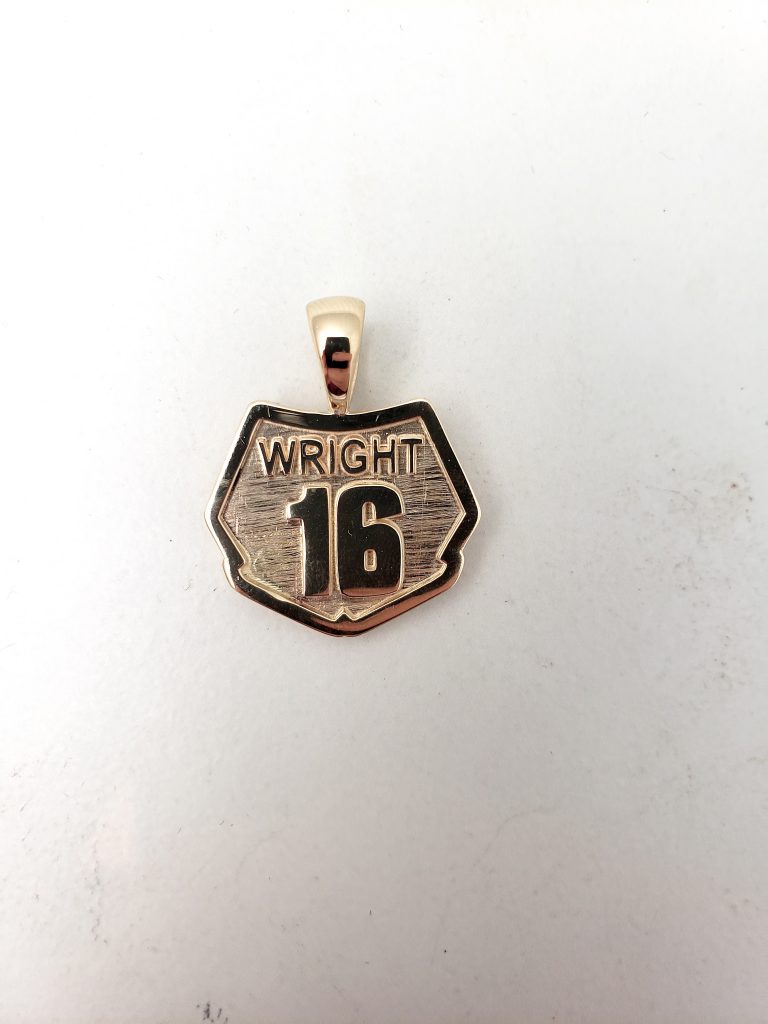 We can create these custom motocross necklaces in almost any shape and size that you want.  Please keep in mind that when there is a border around the pendant, the base cannot be given a high polish.  Unpolished Gold is ugly, so we have to give it some kind of brushed finish to over come this.  However, we like the contrast the base gives to the high polish numbers, name and border.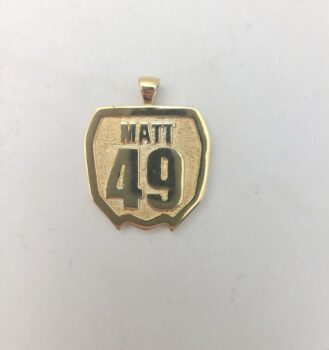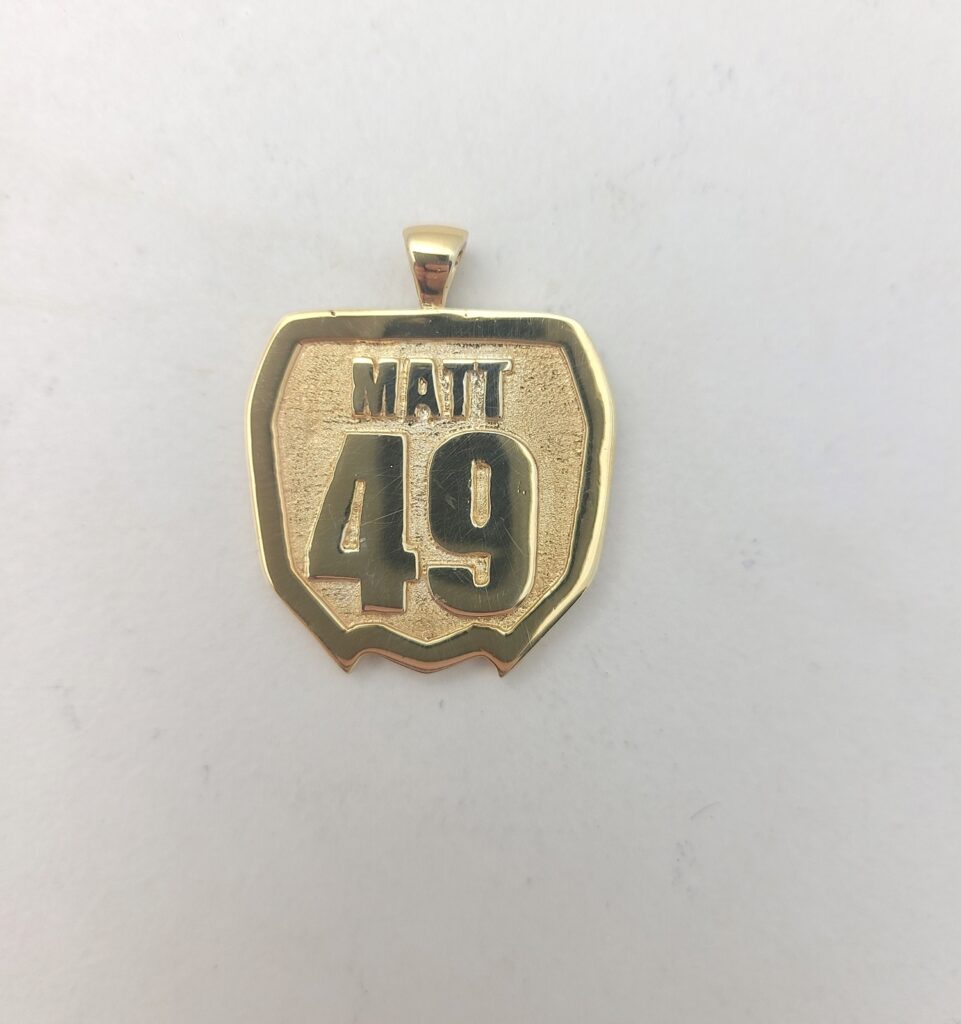 There must be lots of shapes for these jerseys to come in.  We have done 4 and there are probably many more.  It doesn't matter though.  If it can be cast, we can create it for you.

Why Are Motocross Number Plate Necklace So Popular
Motocross number plate necklaces have gained immense popularity in recent years. These unique accessories have become a must-have for motocross enthusiasts and fans alike. But what makes them so popular?
Firstly, motocross number plate necklaces allow riders to showcase their passion for the sport in a stylish and personalized way. The necklaces feature a miniature replica of a motocross number plate, complete with the rider's chosen number. This not only adds a touch of individuality, but also serves as a symbol of their dedication to motocross.
Secondly, these necklaces are not just for riders. They have also become a popular fashion statement among motocross fans and supporters. By wearing a motocross number plate necklace, fans can show their support for their favorite riders and teams. It's a way to feel connected to the sport and be part of the motocross community.
Lastly, motocross number plate necklaces make for great gifts. Whether it's for a birthday, holiday, or special occasion, these necklaces are a thoughtful and unique present for motocross enthusiasts. They are a tangible reminder of their love for the sport and a way to keep motocross close to their hearts.
Why Motocross Number Plate Necklaces Make Such Great Gifts
Custom Motocross Number Plate Necklaces are the perfect gift for motocross enthusiasts. These unique accessories not only showcase their love for the sport, but also add a personal touch. The customizability of these necklaces allows individuals to choose their own number and color combination, making it a truly one-of-a-kind gift. Whether it's for a birthday, holiday, or special occasion, these necklaces are sure to impress any motocross lover.
One of the reasons why custom Motocross Number Plate Necklaces make great gifts is their versatility. They can be worn on any occasion, whether it's a casual day out or a motocross event. The durable materials used in their construction ensure that they can withstand the rigors of the sport, making them a practical gift for motocross riders. Additionally, the adjustable chain length allows for a comfortable fit for anyone.
Another reason why these necklaces are a popular choice for gifts is their sentimental value. Motocross enthusiasts often have a deep connection to their chosen number, as it represents their identity on the track. By personalizing the necklace with their own number, you are showing that you understand and appreciate their passion for the sport. This thoughtful gesture is sure to make the recipient feel special and cherished.
In a nutshell, custom Motocross Number Plate Necklaces are an excellent choice for gifts due to their versatility and sentimental value. These accessories allow motocross enthusiasts to proudly display their love for the sport while adding a personal touch. Whether it's for a birthday, holiday, or special occasion, these necklaces are sure to be a hit with any motocross lover.
That said.  We want you to know that we can create custom motocross number plate pendants in any shape you want.  Additionally, we can put any name, or word on it. Or, just the number.  It is up to you.  We can create custom pendants in single pieces up to 2.75 inches wide or tall.. Anything larger has to be cast in 2 pieces and then soldered together.  Good luck finding someone to do this for you at the mall.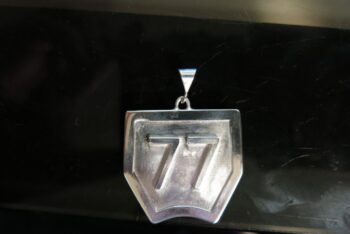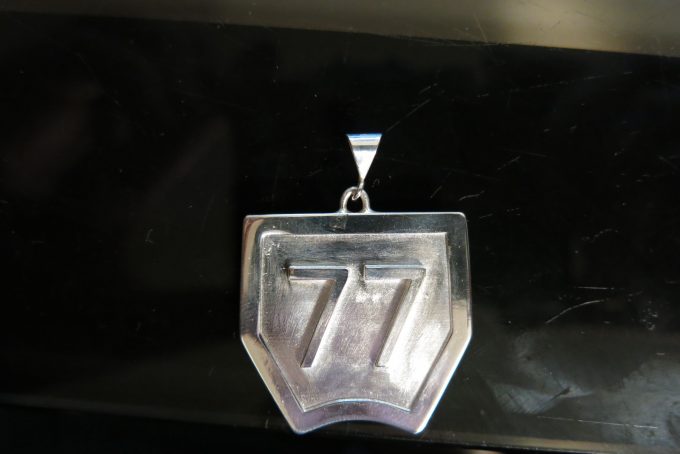 This was the first motocross number plate necklace that we created.  It is probably the most basic one out there, but this is what was requested of us.  As always, everything about our custom pendants is up to you. We don't make it until you approve the design!  So you will get the necklace you want.
Are you wanting some color or sparkle on your motocross number plate necklace?  Using enamel, diamonds, or colored gemstones, we have many ways to further customize your Number Plate Necklace.  And they don't have to be expensive accent stones either.  There are cz in almost every color that cost less about $1 each of bought in bulk.  We can also use a variety of textures to make your custom pendant stand out or give parts of it contrast with another.

This is another riff on a style we have replicated a few times.  Give us something new!  We will make these however you want them  made.  Any shape is fine.  Name, no name?  It doesn't matter.  We could also add stones or enamel to them if you wanted some color or sparkle.
Motocross Number Plate Necklace – Give Us A Shot!
We know there are a tons of jewelers claiming to create custom jewelry.  We also know they aren't really custom jewelers.  Allowing someone to choose a stone, have a ring engraved, or change the finish on a mass produced pendant isn't custom jewelry.  There are also quite a few who DO actually  create custom jewelry.  However, not all custom is created equal.  The majority of people making custom jewelry farm out almost the entire process.  The only thing they actually do is deal with the customer and take their money!  We operate in a better manner.
From experience, we know this isn't a good way to create custom jewelry.  It is why we made the investment in a CAD program and spent 2 weeks in a class just learning how to use it.  Things get lost in translation going from customer to the jeweler and from them to the actual designer.  It also makes small revisions that should take minutes take hours or days.  It also adds to the cost with another had in the pie.  At Valeria Custom Jewelry, you will get to speak with the actual person designing your custom pendant.  We think anyone would agree this is the way to go.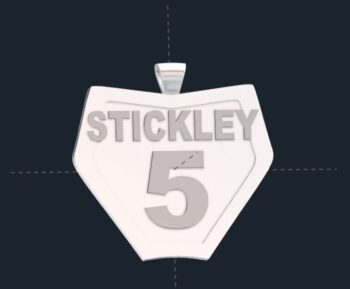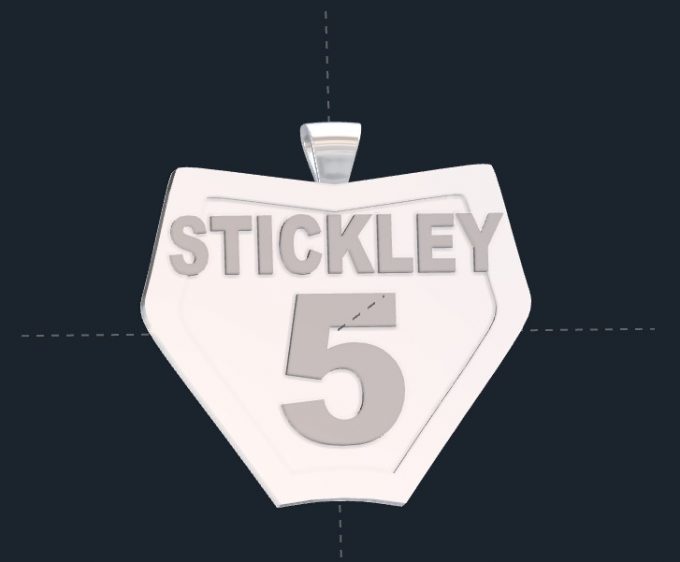 We never cast this one, but thought we would put it on here for fun as an example.  As we said, we can creates these in any shape that you want.  We can also create these with stones in them if you wanted to add some sparkle or color.
A Truly Unique Custom Motocross Number Plate Necklace
And then there are always the Asian manufacturers selling on Etsy, Ebay, and Amazon.  If you have a common name like "Smith" or "Jones", then you might be able to find a mass produced motocross number plate necklace.  But we doubt you will be happy with it.   However, if you did find one that worked, Asian manufacturers are notorious for skimping on materials.  Most likely, the piece would be  paper thin and maybe not even the full carat weigh on the metal.
Something like this probably has to be custom made if you want it to last and be unique.  If you look at our google reviews, we even have a review left for a motocross number plate necklace, that said it was sturdy and not too thin.  This won't be the case with an Asian pendant. They are all about charging low prices, so they cut corners everywhere they can.  It is almost as is putting out low quality pieces is ingrained into their beings.
Click to see another more of our Custom Pendants.  Click HERE to learn more about custom jewelry, view our portfolio, or to contact us about a motocross number plate necklace.  It can cost less than you think to have your very own custom necklace.  Why settle for the lame and overpriced neckwear from the retail stores when we can make something showing your style and personality?  Give Us A Try!  You know what say.  Once you go custom, you never go back….to the mall!
Motocross Number Plate Necklaces