Truly Unique Custom Name Necklaces
The changes the custom jewelry industry have undergone in the past years are nothing short of amazing. Valeria Custom Jewelry has not only followed these trends, we are proud to have set a lot of the current trends you are seeing today! Our success is based on our simple tenets of customer service.  Tenets like offering only the highest quality merchandise at fair prices have helped us grow into what we are today. With that in mind, we are proud to show you some of our favorite Name Necklaces.
Name necklaces are personalized jewelry pieces that feature the wearer's name or initials. These necklaces are typically made from precious metals such as gold or silver and can be customized with different fonts and styles. They are a popular choice for both men and women, and make for thoughtful and meaningful gifts. Name necklaces can be worn on any occasion, from casual outings to formal events, and are a stylish way to showcase one's individuality and personal style. Whether you prefer a delicate and dainty design or a bold and statement-making piece, name necklaces offer endless options for self-expression and personalization.
Make Them Personal
Do you have a nickname, catchphrase, or trademark logo?  We can take any of those things and turn them into custom Name Necklaces than you can't find anywhere else.  And usually at a lower or equivalent cost for better quality.  Name Necklaces are a specialty of ours and it definitely shows.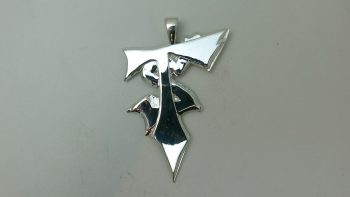 Are you looking for a Gold Initial Necklace but either can't find one with your initials, or it is a lame design?  We can create almost anything you can dream up!  We know that it can be difficult to find something other than the mass produced necklaces coming from Asia.  Unfortunately, names and initials with low demand are just left out.  We are here to stop that.  
History Of Name Necklaces
Name necklaces have a rich history that dates back centuries. The first recorded instance of someone wearing a name necklace can be traced back to ancient Egypt. The Egyptians believed that wearing jewelry with their names or the names of their loved ones would bring them good luck and protect them from harm. These early name necklaces were often made from precious metals like gold and silver, and were adorned with gemstones and other decorative elements.
Over time, the popularity of name necklaces spread to other cultures and civilizations. In ancient Rome, for example, name necklaces were worn as a symbol of status and wealth. The Romans would often inscribe their names or the names of their family members onto necklaces made from materials like bronze or marble.
Why Name Necklaces Are Popular
Name necklaces have become increasingly popular in recent years. These personalized pieces of jewelry allow individuals to showcase their unique identity and express their personal style. With a wide range of designs and materials to choose from, name necklaces have become a go-to accessory for many people.
One reason why name necklaces are popular is their ability to serve as a meaningful and sentimental gift. Whether it's a birthday, anniversary, or special occasion, a name necklace can be customized with the recipient's name or initials, making it a thoughtful and personalized present. It's a way to show someone that you care about them and have taken the time to select a gift that is truly special.
In addition to being a heartfelt gift, name necklaces also offer a fashionable and trendy accessory option. They can be worn with any outfit, from casual to formal, and instantly add a touch of personal style. From delicate gold chains to bold statement pieces, there is a name necklace to suit every taste and preference. It's no wonder that fashion-forward individuals have embraced this accessory as a must-have item.
Name Necklaces – Whatever You Want Them To Be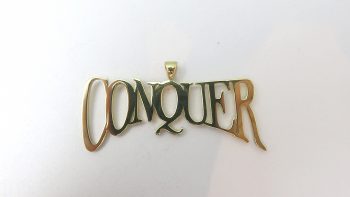 Our team is highly skilled in manufacturing jewelry and we are ready to start creating your custom name necklaces today! At Valeria Custom Jewelry, we will make the creation of your custom name necklaces as easy as possible. We'll turn any image or concept into a stunning piece of custom jewelry and usually for less than you might think. Custom rings, bracelets, and pendants are all started with your contacting us with your idea and end with you loving your decision to do so.  We guarantee you will be happy with the final piece because you will have the final approval on the design before your Name Necklaces are cast.  Try getting that kind of service from an Asian manufacturer on Ebay, much less a sooth and hassle free return!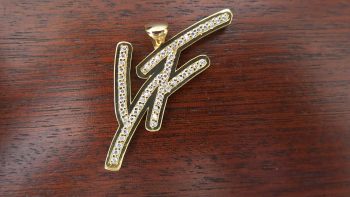 This YF pendant had a row of channel set diamonds along the brush stokes of the letters.  We drew this by hand and is a great example of the custom words or letters we can create.
Stones Can Add Sparkle Or Color To Your Name Necklaces
You will never be unhappy with the quality of Name Necklaces from Valeria Custom Jewelry. Every team member who works on your piece — designers, artists, bench jewelers, casters — will all handle your treasure with the maximum skill, care, and mastery.   Valeria Custom Jewelry is the apex of high-quality custom jewelry, exemplary service and fair prices you will not find anywhere else.  We pride ourselves on the service, quality, and value we provide everyone, no matter what their budget.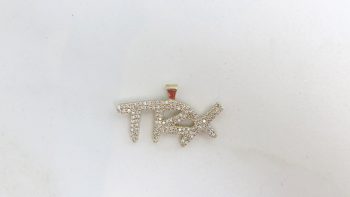 This iced out TRX pendant was made for an English Band of the same name.  They wanted bling and that is what we gave them.  This hip hop style style of Name Necklaces gets noticed from across the room with the pave style diamonds and yellow gold.  It is definitely a conversation started, with everyone asking, "What is TRX?"
This custom Name Necklace is an example of a customer's intensely personal idea produced at a reasonable price. Our secret is the appropriate use of gold; it is thick where it needs to be and thinner where it can be.  The diamond in this pendant are bead set and bright cut, adding sparkle to the diamonds.
Why Name Necklaces Are So Popular Right Now
Name necklaces have become incredibly popular in recent times. These personalized pieces of jewelry allow individuals to showcase their own unique identity and style. Whether it's a name, initials, or a meaningful word, name necklaces offer a personal touch that resonates with people. They are not only fashionable but also sentimental, making them a popular choice for gifting loved ones. With their versatility and ability to be customized, it's no wonder name necklaces are currently in high demand.
One of the reasons why name necklaces are so popular right now is because they allow individuals to express themselves in a meaningful way. By wearing a necklace with their name or initials, people can proudly display their identity and individuality. This personal touch adds a sense of uniqueness to their style and helps them stand out from the crowd.
Versatility
Another factor contributing to the popularity of name necklaces is their versatility. These necklaces can be customized in various ways, allowing individuals to choose the font, metal, and chain length that best suits their preferences. Whether it's a dainty gold necklace or a bold silver statement piece, there is a name necklace for every style and occasion.
In addition to being fashionable and versatile, name necklaces also hold sentimental value. They make for meaningful gifts that can be cherished for a lifetime. Whether it's a name necklace with the name of a loved one or a word that holds special meaning, these personalized pieces of jewelry show thoughtfulness and care. It's no wonder that people are gravitating towards name necklaces as a way to express their love and appreciation for others.
A  Few Ways To Rock Name Necklaces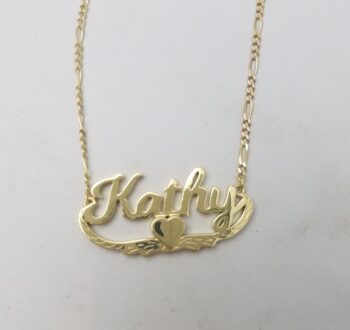 Here is another custom name pendant that we added a heart and some wings to.  Send us your idea and we will make it happen!
Many times, these custom Name Pendants can be material intensive due to the size of them, especially if you want stones in them.  Not only do out expert designers do an excellent job of using the correct amount of metal in our custom Name Necklace, but they maximize the stone size for the available space to insure a good look, but also the lowest carat weight possible.  We can also provide more economical stone options than diamonds for your Name Necklaces like moissanite, white sapphire, and CZ.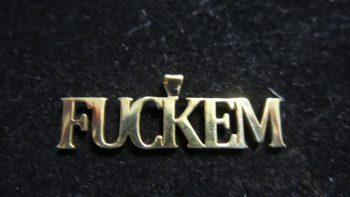 Although not something you want to give your mother it doesn't bother us!  We will make anything you want that is possible.  And legal. Start the production on your custom name necklaces with us, with only the limitations of casting and durability.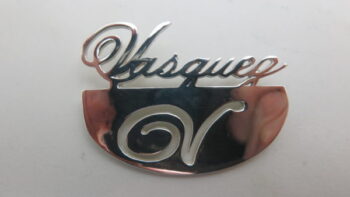 Looking for a way to memorialize your family name?  There tons of way we can help you do so.  Just contact us to get this started!  There are tons of nameplate necklace designs we can use with your family name.  Contact us with your idea!
Celebrities Who Rock Name Pendants
Name pendants have become a popular fashion accessory, and celebrities are no exception to this trend. Many famous individuals have been spotted rocking name pendants, adding a personal touch to their style. Let's take a closer look at some of the celebrities who have embraced this trend.
One celebrity known for her love of name pendants is Jennifer Lopez. She has been seen wearing a gold pendant with her name "JLO" on multiple occasions. This personalized piece adds a touch of glamour to her outfits and showcases her unique sense of style.
Another celebrity who is often seen wearing name pendants is Beyoncé. She has been spotted with a pendant featuring her name "Beyoncé" in a stylish font. This accessory adds a personalized touch to her already fierce and fashionable looks.
Lastly, we can't forget about Rihanna, who is known for her bold fashion choices. She has been seen wearing a name pendant with her initials "R" and "F" intertwined. Indeed, this statement piece adds a touch of edginess to her outfits and reflects her confident and individualistic style.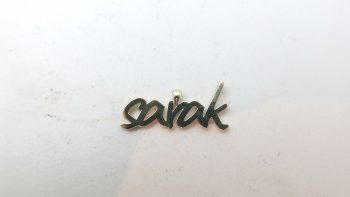 What Do Name Necklaces Cost?
Stone choice can significantly reduce the cost of Name Necklaces without sacrificing any sparkle.  And in most cases, no one will ever know the difference. We specialize in Name Necklaces. From custom rings to custom pendants to bracelets and more. This shorty smooth pendant was started with a customer's idea and was brought to life by our master in-house designer.  This pendant was actually cast in 2 pieces and then soldered together because it is larger than our casting flask. As you can see from the variety of the images on this page, Valeria Custom Jewelry has the skill and expertise to turn any idea into a stunning custom gold pendant you will be more than proud to wear.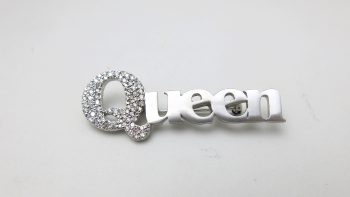 Yeah , this is a pendant page, but a pin is basically a pendant on a stick!

We know that you can find Name Pendants online for less.  But these will come from Asian sweatshops and hardly have the quality you would expect.  You will also be limited to a few fonts.  Asian Name Pendants are thin, flimsy, and won't last. If you want something durable, go with Name pendants made in the US.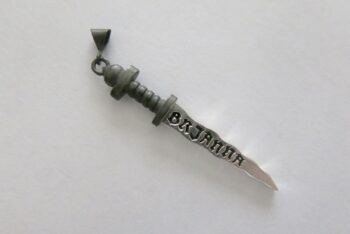 Here, we made a his and her name necklace set on some dagger from a video game they play together. 
At Valeria Custom Jewelry you will directly communicate with the person designing your custom necklace.  From experience, we find this to be the best approach for various reasons. Not only will it cost less without an extra hand in the pie, but it will take less time.  Your wishes will also be more clearly understood without an intermediary.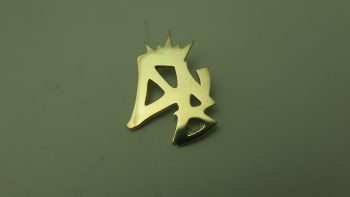 Here is another custom jewelry creation you won't find anywhere else.  We had a customer who wanted his log made in gold and that is what we did.  As long as it can be cast, we can create it for you.
You will never be disappointed by the quality of a custom Name Necklace from Valeria Custom Jewelry. You deserve only the best and the chance to be at the center of attention because of your custom name necklace. We are the epitome of high-quality jewelry, outstanding customer service and prices you will not find anywhere else.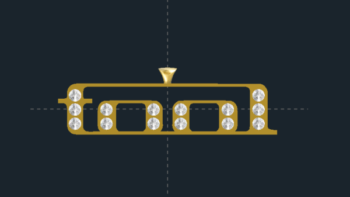 Give Us A Shot!
Click to see more of our custom pendants.  Click HERE to learn more about custom jewelry, browse our portfolio, or contact us about Name Necklaces. Let us design your dream!!  It can cost less than you think to have your own Name Necklaces design just for you.  Indeed, you know what they say about custom jewelry.  Once you go custom, you never go back.  To the mall!
Name & Monogram Necklaces