Custom Star Wars Engagement Ring
At Valeria Custom Jewelry, we love Star Wars!  This is why we have created a few Star Wars Engagement Ring designs.  We also have a few star wars wedding rings as well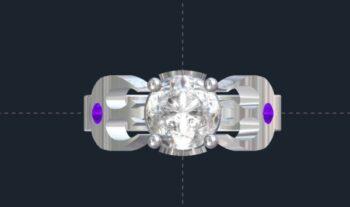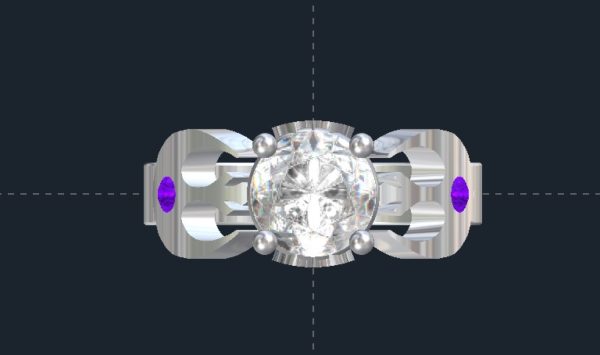 Our Rebel Alliance Star Wars Engagement Rings proudly display your allegiance to the Rebel Cause! The center stone has the Jedi Order Emblem underneath it on both sides of the ring and the Rebel Alliance logo on the shoulders.  
Are you a Star Wars Fanatic? Can you not get enough if it in all media?  Why not show your fandom with a custom Star Wars Engagement Ring.  This star was engagement ring has the rebel alliance symbol on the shoulders and the jedi order logo on underneath the center stone, but we have a few Custom Star Wars Engagement Ring designs and can always create something totally new.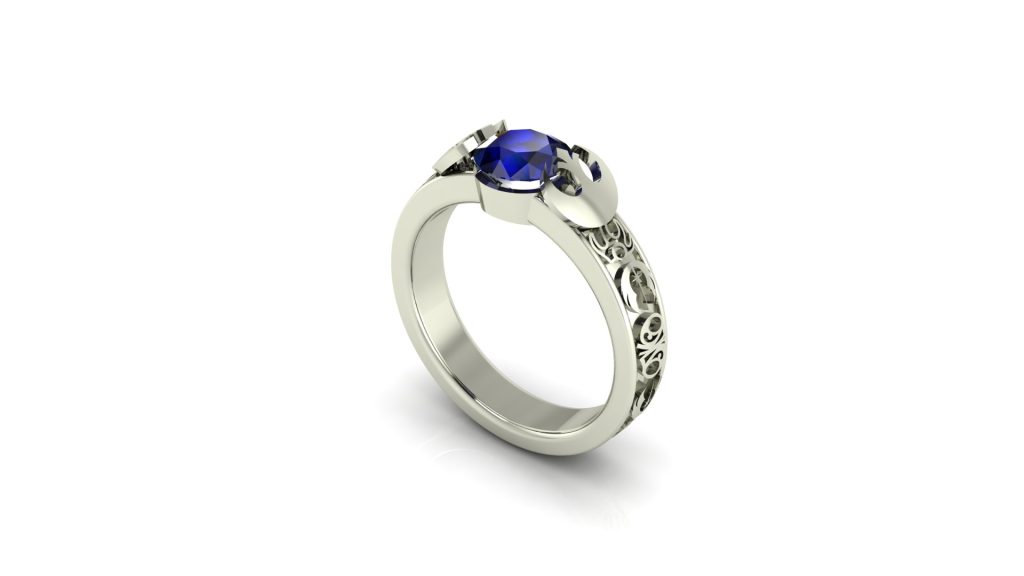 This Rebel Alliance Engagement Ring is for true fans of that galaxy far, far, away.  The 6mm center stone is held in by rebel alliance logos that are soldered on after the stone is set.  The designs on the bands are the Rebel Alliance logo and shapes taken from princess Leia's outfit in Return of The Jedi.  As long as it fits, we can use other symbols in the band if you already had something else in mind.
Why Star Wars Engagement Ring Designs Are So Hot
Star Wars engagement ring designs have gained immense popularity in recent years. The iconic franchise has captivated the hearts of millions, and what better way to express one's love for Star Wars than through a unique engagement ring? These designs offer a perfect blend of elegance and fandom, making them a favorite choice among couples.
One of the reasons behind the popularity of Star Wars engagement ring designs is the emotional connection they create. Fans of the franchise often have a deep attachment to its characters and storylines. By incorporating elements from Star Wars into their engagement rings, couples can symbolize their shared love for this beloved saga. It allows them to showcase their passion and create a lasting memory that is truly one-of-a-kind.
Additionally, Star Wars engagement rings offer a wide range of design options. From subtle nods to the franchise with intricate engravings, to more overt designs featuring iconic symbols like lightsabers or the Millennium Falcon, there is something for every fan. This versatility allows couples to personalize their rings and create a design that reflects their unique connection to Star Wars.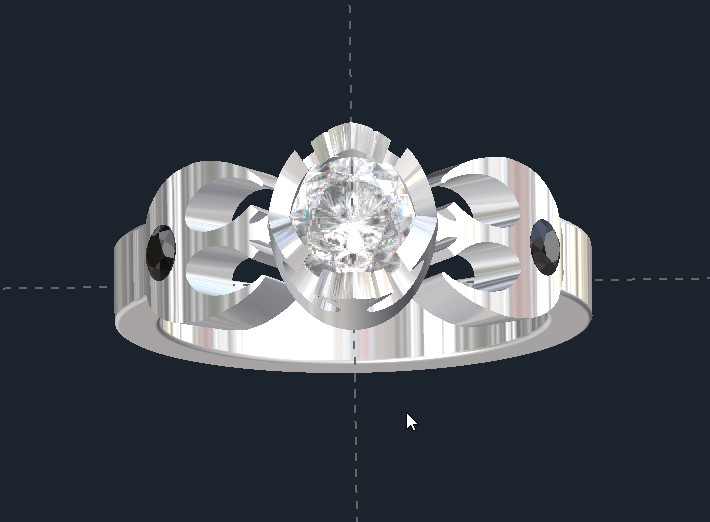 This unique Star Wars Ring proudly displays your allegiance to the Rebel Cause! The center stone is surrounded by two Rebel Alliance Logos that form a bezel to hold it.  On the shoulders are two more rebel alliance symbols with a 2.5mm stone in them.  
What If My Spouse Isn't Cool With The Idea Of Star Wars Rings?
If your spouse isn't cool with the idea of a Star Wars Engagement Ring, it's important to have an open and honest conversation about it. Understand that everyone has different preferences and interests. Find out the specific reasons behind their hesitation and try to address any concerns they may have. Perhaps they have a different vision for their wedding rings or they simply don't share the same enthusiasm for Star Wars.
It's important to respect their feelings and find a compromise that both of you are comfortable with. Remember, the most important thing is to have a ring that symbolizes your love and commitment to each other, regardless of the design or theme.  And also push the idea that your bridal rings are yours. Not anyone else's.  So who cares what other people think.  It is also possible to create a Star Wars Engagement Ring that those in the know will know.  However, regular people will have no idea.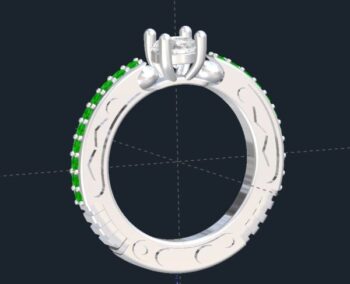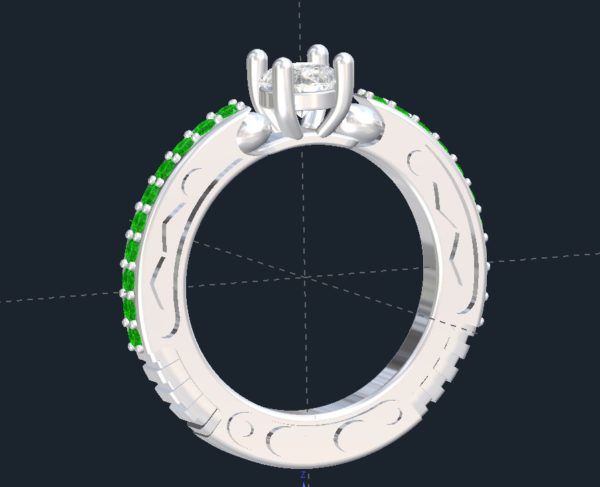 In the years before the Battle of Yavin, Ahsoka Tano used two white lightsabers as her personal weapons. These lightsabers, which were white in color and had somewhat curving hilts, replaced the lightsabers she previously used before leaving the Jedi Order during the Clone Wars and were wielded in the unorthodox reverse-grip of her preferred Shien style.
Why Star Wars Motifs Work Well For A Matching Wedding Set
When it comes to choosing a wedding set, many couples are looking for something unique and meaningful. That's why Star Wars motifs have become increasingly popular. The iconic symbols and themes from the beloved franchise add a touch of excitement and personalization to the special day. From lightsabers to the Millennium Falcon, incorporating these elements into a matching wedding set can create a one-of-a-kind celebration that truly reflects the couple's love for each other and their shared passion for Star Wars.
One reason why Star Wars motifs work well for a matching wedding set is the wide range of options available. From engagement rings adorned with the Rebel Alliance symbol to wedding bands engraved with famous quotes like "I love you" and "I know," there are countless ways to incorporate the beloved franchise into the couple's jewelry. These unique designs allow couples to express their individuality and showcase their love for Star Wars in a subtle yet meaningful way.
Additionally, Star Wars motifs can add an element of fun and excitement to the wedding ceremony and reception. Imagine walking down the aisle to the iconic Star Wars theme song or exchanging vows in front of a backdrop featuring the Death Star. These elements not only create a memorable experience for the couple, but also for their guests. Star Wars fans of all ages will appreciate the attention to detail and the nod to the beloved franchise.
Custom Jewelry Is The Way To Go For A Star Wars Engagement Ring
If you have ever found conventional and chain jewelry stores to be lacking in the creative, unique and unusual pieces you desire, Valeria Custom Jewelry is the perfect place to go. Our portfolio is full of fabulous, unique jewelry pieces unlike any others available. Case in point, our Star Wars Rings. This is because many of the products are custom client requests, designed with inspiration like drawings and pictures. Others are passion-projects from the mind of the artist, Lucas Horton. Whether you need recreations of lost styles, custom name necklaces, or even star wars wedding rings, we can help you out. Our custom jewelry makes excellent and thoughtful gifts for your loved ones. To design an entirely unique piece of your own, reach out to the designer through our site!
Nerd and geek culture has been widely overlooked by the commercial and chain jewelry industry. However, we have made it our specialty. Whether you're a Potterhead, Whovian, or comic book fanatic, we have a product for you and are also happy to create any piece you can dream of! The artist has even created pieces inspired by a mashup of two or more fandoms. We also have an impressive inventory of pieces inspired by that most popular galaxy far, far away like Boba Fett rings, lightsaber rings, and a few Custom Star Wars Engagement Ring designs.
Give Us A Shot
At Valeria Custom Jewelry, we know that there's no one else like your loved one. So why give them a piece of jewelry that hundreds or even thousands of other people may have? Work with us on crafting a Custom Engagement Ring and put your heart and soul into creating a truly thoughtful gift.
Click here to more of our Star Wars Engagement Rings.  Click here to learn more about custom jewelry, view our portfolio, or to contact us about your Custom Star Wars Engagement Ring.  It can cost less than you think to have a special engagement ring made just for you.  Why settle for the lame and overpriced bridal jewelry from the chain stores?  We can make something showing your style and personality.