Custom Star Wars Engagement Rings
Coming to you from a galaxy far, far away….Custom Star Wars Engagement Rings!  May the force be with you…
There's a pretty uncool stereotype out there that Star Wars fans are incapable of finding a spouse.  The reasons can vary from them being too busy collecting action figures to playing video games 24/7  in their parent's attics. Luckily, that is just straight up bantha doodoo.  Star Wars lovers can be just as lovable as any other type of person. Consequently, when they find that perfect someone to share their love with, it is a beautiful thing!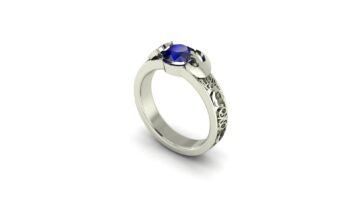 The designs on this Star Wars Ring are the RA logo and shapes taken from princess Leia's outfit in Return of The Jedi.  As long as it fits, we can use other symbols in the band.  The 6mm center stone is held in by rebel alliance logos that are soldered on after the stone is set.  We also have a matching men's wedding band for this.
Star Wars Engagement Rings – Rebel Alliance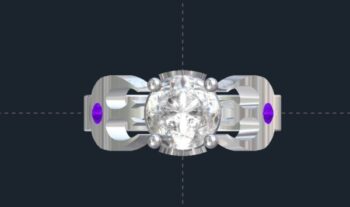 This is another of our Rebel Alliance Custom Star Wars Engagement Ring designs.  It has the Rebel Alliance emblems on the shoulder that are accented with 2.5mm stones.  The center stone is shown as a princess cut, but almost any shape could be used.  Underneath the center stone is the Jedi Order emblem.  And these emblems are interchangeable because these are Custom Engagement Rings!
So what happens when you find yourself in a relationship with a covert rebel spy or a fierce imperial fighter and you want to take things to the next level?  You're going to have to take the plunge! And the best way to do that is with one of our Star Wars Engagement Ring designs to show your beloved what's up!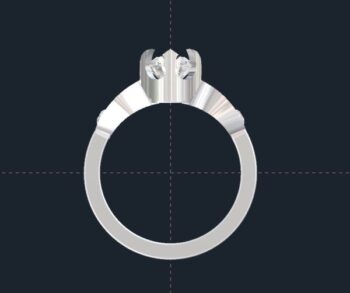 This is one of our newer Rebel Alliance Custom Star Wars Engagement Rings.  Rather than have the stone set in prongs, we have taken 2 of the Rebel Alliance logos and formed a bezel with them.
Why Star Wars Star Wars Engagement Rings Are So Hot
Star Wars engagement rings have become incredibly popular in recent years. The iconic franchise has captured the hearts of fans worldwide, and what better way to show your love for both Star Wars and your partner than with a Star Wars-themed engagement ring? These rings are a unique and meaningful way to incorporate your shared love for the series into your special day.
One of the reasons why Star Wars engagement rings are so hot is their versatility. There are endless design options available, allowing you to choose a ring that perfectly reflects your personal style and preferences. Whether you prefer a subtle nod to the series with a small Star Wars symbol engraved on the band, or a more extravagant design featuring iconic characters like Darth Vader or Princess Leia, there is a ring out there for everyone.
Another factor contributing to the popularity of Star Wars engagement rings is their ability to spark conversation and create a sense of connection. When you wear a Star Wars ring, fellow fans will instantly recognize your shared love for the franchise. It's a great way to connect with others who have the same passion and can lead to interesting conversations and new friendships.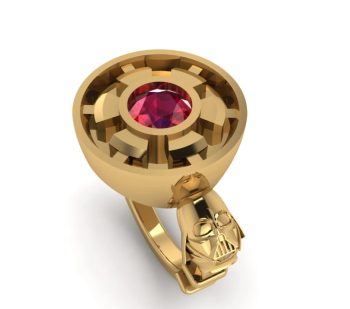 This Darth Vader Empire Engagement Ring is for true fans of dark side of the force and the galactic empire!  The 6mm center stone sits in the center of the empire's emblem.  Always supporting the empire is Darth Vader himself!
Star Wars – a Cultural Phenomenon
It is hard to underestimate the influence Star Wars has had on popular culture around the world and it can be argued that nothing else has had a greater impact. It has been all pervasive for the last 40 years and there is little sign of the phenomenon abating. That is why we created a line of Custom Star Wars Engagement and wedding rings.
At Valeria Custom Jewelry, we believe that no topic or theme is off limits for your bridal rings.  That is why we created our suite of Custom Star Wars Engagement Rings after being asked for our first one many years ago.  If it is physically possible to cast your idea, then we will create your vision!
Are you wanting to memorialize your love of the Force with a Custom Star Wars Engagement Ring? If so, shop our star wars jewelry from a galaxy far, far away or from the comfort of your own home! We have created a few Custom Star Wars Engagement Rings as well as star wars wedding bands.
Our impressive collection of wedding rings inspired by that most popular galaxy far, far away is right here for you.  We have created Boba Fett bounty hunter rings, Ahsoka lightsaber rings, or Rebel Alliance wedding rings. They are the perfect pair for loved ones who share your interest in Star Wars, or couples brought together by a love of everything force.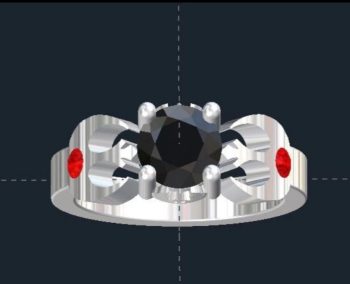 These Rebel Alliance Star Wars Engagement Rings proudly display your allegiance to the Rebel Cause! The center stone has the Jedi Order Emblem underneath it on both sides of the ring and the Rebel Alliance logo on the shoulders.
Star Wars Engagement Rings – Ahsoka Lightsaber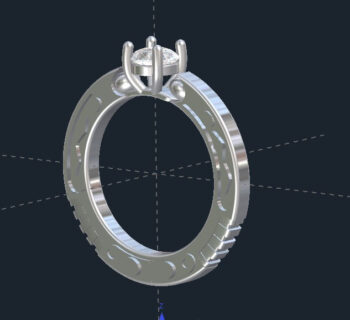 This is one of our Ahsoka lightsaber rings. It was based on the Ahsoka blade hilts.  We also have the ring with stones on the band as well.  If you would like a similar ring, but with a different lightsaber hilt?  Send it over and we will see what we can do for you.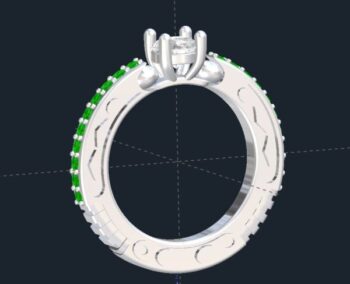 Here is the Ahsoka Lightsaber ring with accents on the band.  We have also created Custom Star Wars Engagement Rings made with other lightsabers.  Browse our portfolio and if you don't find the one you want, we can make one with one what you provide.
Are you are a die hard star wars fan?  Why not have create a Custom Star Wars Ring just for you?  We find that to be a better option than going to the mall for a boring design that thousands of people will have.  And if you are worried about what others think…don't!  This is your ring.  If you love Star Wars and the ring has meaning to you, then it is the ring for you.
At Valeria Custom Jewelry, we know that you want to express your individuality.  So why buy a piece of jewelry that hundreds or thousands of others might have and has no sentimental meaning for either you or your partner? Valeria Custom Jewelry can create Custom Star Wars Engagement Rings designs that put your heart and personality into creating a truly thoughtful bridal piece.  Please shop our inventory or contact us to learn about the process of creating your very own Custom Star Wars Engagement Rings! We also have a few Men's Star Wars Wedding Rings.
What If My Husband Doesn't Like The Idea of A Star Wars Engagement Ring?
When it comes to engagement rings, personal preferences can vary greatly. If your husband doesn't like the idea of a Star Wars engagement ring, it's important to have an open and honest conversation about it. Understand that everyone has different tastes and interests, and it's essential to respect his opinion. Explore alternative options that align with both of your preferences, ensuring that the ring symbolizes your unique love story. Remember, the most important aspect of an engagement ring is the meaning behind it, so find a design that represents your shared values and interests.
The Bottom Line on Custom Star Wars Engagement Rings
We know you can find Star Wars Engagement Rings on etsy that might cost less.  However, the majority of those rings are manufactured in Asia.  If you want a durable, well made ring with high quality stones in it, we recommend avoiding the Asian goods.  Asian rings are thin and lightweight, making them less durable.  They also are notorious for the quality of the gemstones being lower than advertised.
Click here to learn more about custom jewelry, view our portfolio, or to contact us about a custom engagement ring. From rings to pendants, we have all the Star Wars jewelry a true fan could possibly want!  If you would like to see our complete bridal ring portfolio, click on the link.