If you have ever found conventional and chain jewelry stores to be lacking in the creative, unique and unusual pieces you desire, Valeria Custom Jewelry is the perfect place to go. Our inventory is full of fabulous, high-quality wedding bands you won't find anywhere else like our star wars wedding rings. This is because many of our products are custom client requests, designed with inspiration like drawings and pictures.  Others are passion-projects from the mind of the artist, Lucas Horton. Whether you need recreations of lost jewelry, custom name necklaces, or even star wars wedding rings, Valeria can help you out. Our custom jewelry makes excellent and thoughtful gifts for your loved ones. To design a star wars wedding ring of your own, contact us through the contact page!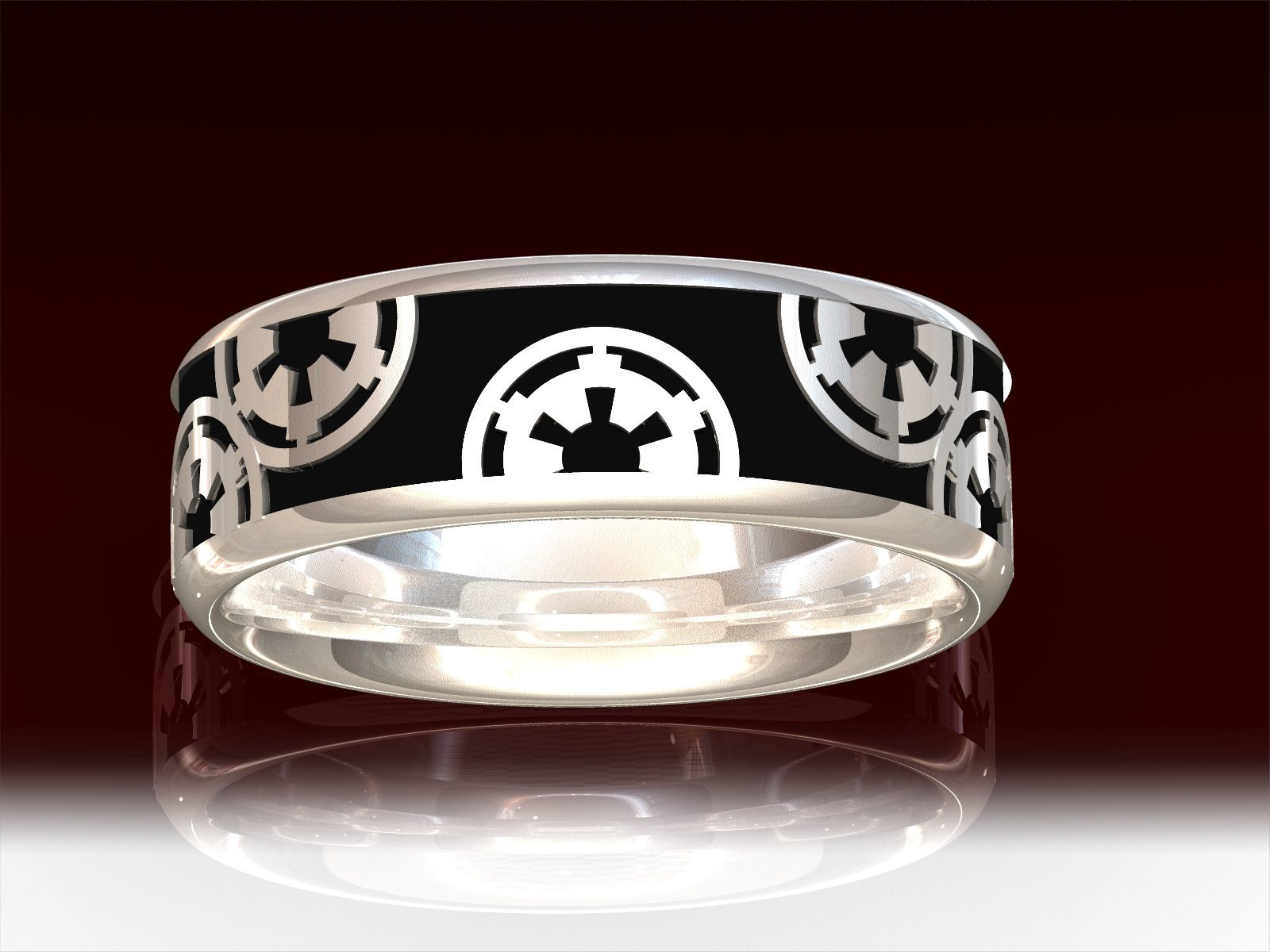 This star wars wedding has the galactic empire logos alternating around the ring.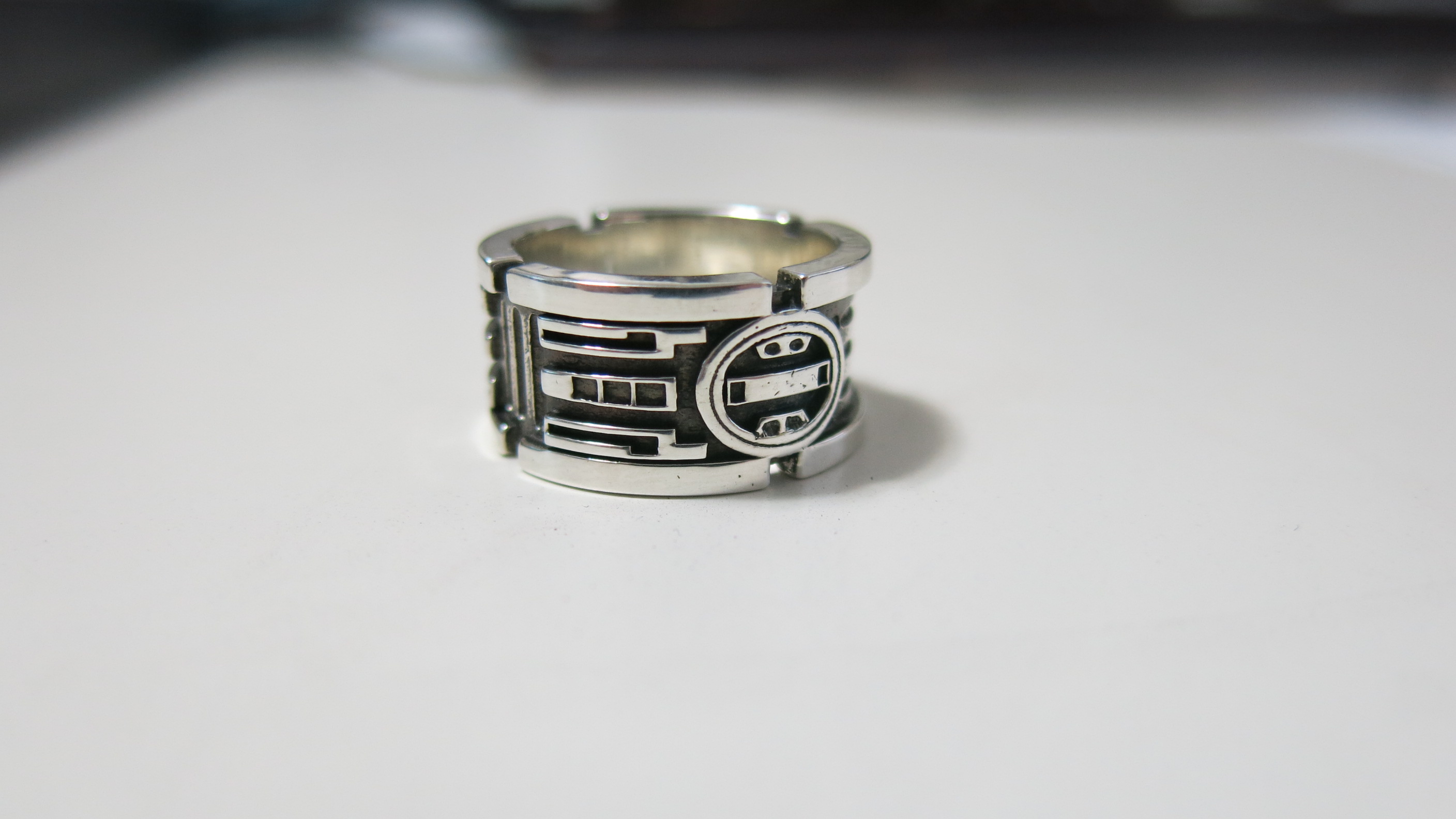 This Star Wars lightsaber ring was based on Luke's Skywalker's lightsaber from The Empire Strike Back.  It has had the base lacquered to give it some contrast, but it pretty basic, just like the real handle.  If you have an idea for your own lightsaber ring, send it over to us and let us show you what we can do.

The Star Wars Boba Fett Ring has the character's iconic visor done in enamel going around the ring.  If you are looking for an understated star wars ring, this is the one for you. Only fans of the bounty hunter will recognize it, and maybe not even all of them!
Star Wars Wedding Rings – Not Just For Nerds!
Nerd and geek culture has been widely overlooked by the commercial and chain jewelry industry; however, at Valeria Custom Jewelry, we have made it our specialty, especially with our star wars wedding rings. Whether you're a Potterhead, Whovian, or comic book fanatic, we have a product for you and are also happy to create any piece you can dream of! The artist has even created pieces inspired by a mashup of two or more fandoms. We also have an impressive portfolio of unique men's wedding band designs inspired by that most popular galaxy far, far away like Boba Fett rings, lightsaber jewelry, and star wars wedding rings. All perfect for loved ones with your shared interest, or couples brought together by a love of everything geek.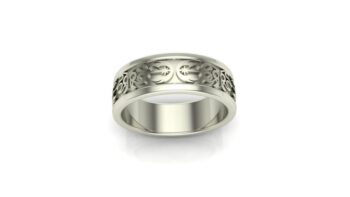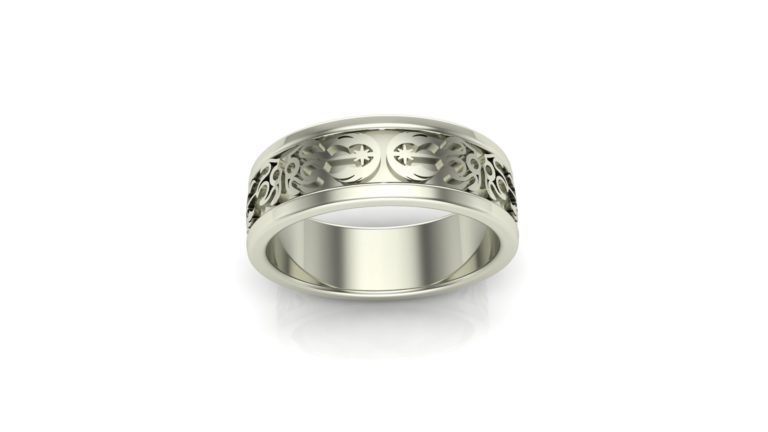 This Rebel Alliance Star Wars Wedding Ring is the matching men's band to a star wars engagement ring we created.   It features the rebel alliance logo mixed in with a few of the shapes from princess Leia's outfit in the the ROJ.  However, other shapes can be used as long as they fit.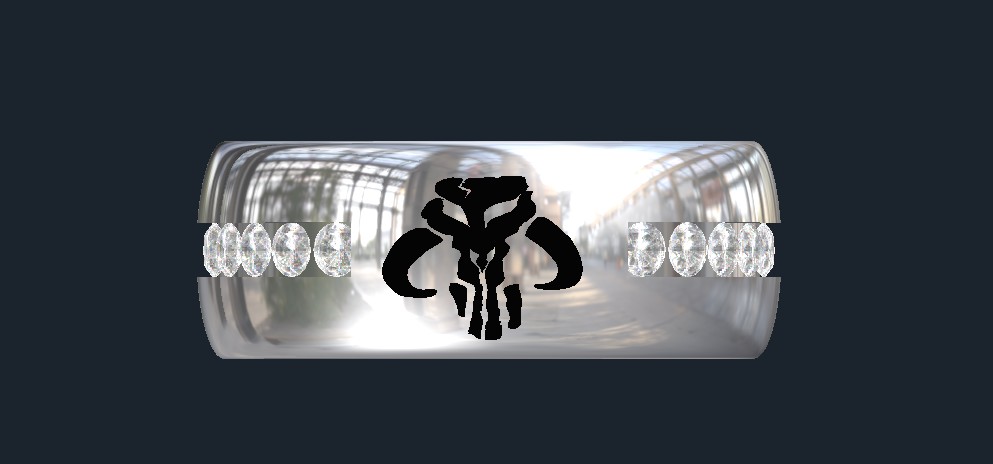 Our Mythosaur Star Wars Wedding Rings can be cast in Sterling or Argentium Silver, white, yellow, or rose Gold, Platinum, or Palladium.  They can be made from 7mm-12mm wide.

This Chewbacca Wedding Ring is made to look like Chewie's bandolier. Unfortunately, the black is a surface treatment that will eventually wear off, so we can leave it plain or have it black at the beginning. Please let us know which way you prefer it.
Why Are Star Wars Wedding Ring So Popular?
Star Wars wedding rings have gained immense popularity for several reasons. Firstly, the Star Wars franchise has a massive fan base that spans across generations. The iconic characters, memorable quotes, and epic battles have captivated the hearts of millions, making Star Wars a beloved and nostalgic part of popular culture.
Secondly, Star Wars wedding rings offer a unique and meaningful way for fans to express their love and commitment. These rings often feature intricate designs inspired by the Star Wars universe, such as the Millennium Falcon, lightsabers, or the Rebel Alliance symbol. By wearing these rings, couples can showcase their shared passion for Star Wars and create a special connection between their love and the epic saga.
Lastly, Star Wars wedding rings serve as a conversation starter and a way to connect with fellow fans. When wearing these rings, couples often receive compliments and engage in conversations about their favorite Star Wars moments. This shared enthusiasm can help forge new friendships and create a sense of belonging within the Star Wars community.
Why Have A Custom Wedding Ring Made Over Buying A Ready Made Ring At The Mall
When it comes to choosing a wedding ring, many couples are faced with the decision of whether to buy a ready-made ring at the mall or have a custom ring made. While both options have their merits, there are several reasons why having a custom wedding ring made can be a more appealing choice.
Firstly, a custom wedding ring allows for personalization and uniqueness. By working with a custom jeweler to design a wedding ring, couples have the opportunity to create a piece of jewelry that is truly one-of-a-kind. From selecting the type of metal and gemstones to choosing the design and engraving. Every aspect of the ring can be tailored to the couple's preferences and style.
Secondly, you will not find star wars wedding rings in the chain jewelry stores. They just do not have enough mass appeal.  You can find a few star wars wedding ring designs on ebay and other online marketplaces.  However, they are  generally cheap and of low quality. And it is hard to find them in precious metals.
Lastly, having a custom wedding ring made can be a more meaningful and sentimental experience. The process of designing and creating a ring together can be a bonding experience for the couple, and the resulting ring becomes a symbol of their love and commitment. Additionally, knowing that the ring was made specifically for them adds a special touch and makes it even more cherished.
What If My Spouse Isn't Happy About The Idea Of Star Wars Wedding Rings?
When it comes to choosing wedding rings, it's important to consider both partners' preferences and happiness. If your spouse isn't thrilled about the idea of Star Wars wedding rings, it's essential to have an open and understanding conversation. Start by expressing your own enthusiasm for the concept and then listen attentively to their concerns. Together, explore alternative options that can incorporate elements of both your interests and create a compromise that leaves both of you satisfied. Remember, the key is to find a solution that celebrates your unique love story while respecting each other's wishes.
When it comes to choosing wedding rings, personal preferences vary. It's important to have an open and respectful conversation with your spouse about your desire for Star Wars wedding rings. Start by explaining the significance of Star Wars in your life and how it holds sentimental value for you. Emphasize that the choice of wedding rings should reflect your shared interests and passions. Offer to compromise by suggesting a design that incorporates elements of both traditional and Star Wars themes. Ultimately, it's essential to prioritize mutual understanding and compromise in order to find a wedding ring that both you and your spouse will cherish.
How To Have Custom Wedding Ring Made
When it comes to having a custom wedding ring made, there are a few steps you can follow to ensure you get the perfect piece. First, start by going online and doing some research.  Find examples of rings and styles that you like. Websites like Pinterest and Google are great for that.
Next, find a reputable jeweler who specializes in custom jewelry design. Check them out online as well.  Make sure they have no red flags like multiple 1 star reviews.  If they do, read the reviews to make sure they are legit and not from crazy people.  Because sometimes people are crazy no matter what the jeweler does. A seasoned custom jeweler will guide you through the process and help bring your vision to life.
Next, convey what it is you want to the jeweler. This includes factors such as metal type, width, type of stones if there are any, ring size and ring style.  Be as clear, concrete, and direct as you can.  If you can't convey what you want effectively, it can lead to delays.
Make sure you approve the design before it is cast. Not doing so can result in a piece you don't want.  Having any changes made before casting will save everyone a lot of headache.
We Can Create Almost Anything You Can Think Of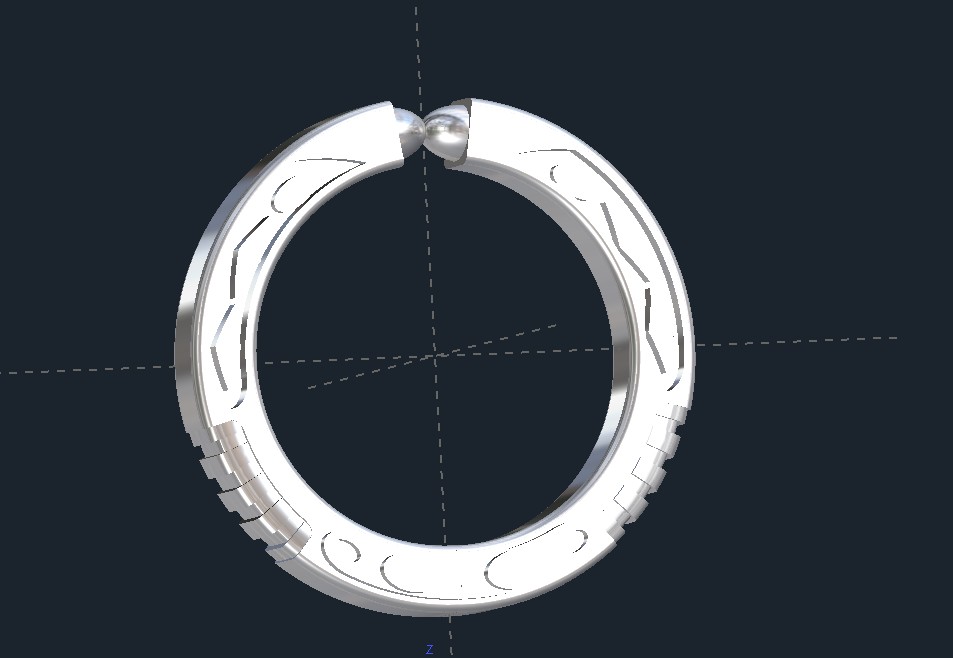 The Ahsoka lightsabers, which were white in color and had somewhat curving hilts, replaced the lightsabers she previously used before leaving the Jedi Order during the Clone Wars and were wielded in the unorthodox reverse-grip of her preferred Shien style.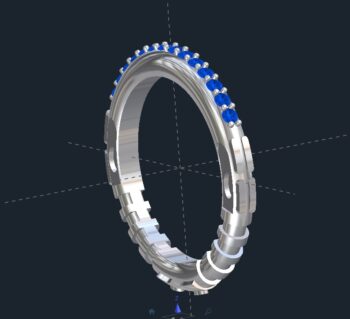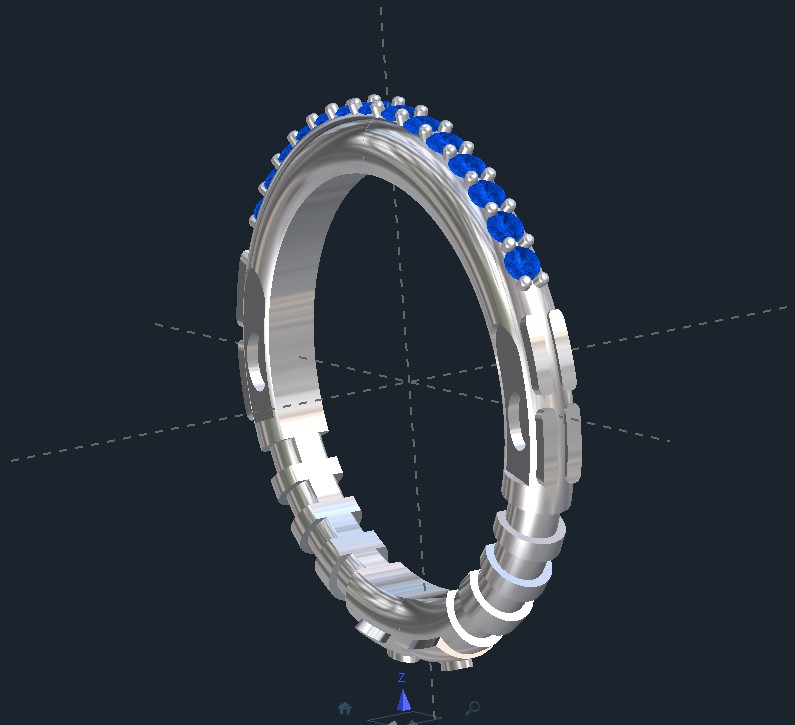 This Star Wars Sapphire Lightsaber Ring was based on a Luke Skywalker's saber from the first films.  It has 1.8mm Sapphires in it, but other, larger and other stones could be used. Do you have a specific lightsaber you like?  Send it over and let's see what we can do for you.
At Valeria Custom Jewelry, we know that there's no one else like your loved one.  So why give them a piece of jewelry that hundreds or even thousands of other people may have? Work with us on crafting a custom piece and put your heart and soul into creating a truly thoughtful gift. You can shop the inventory, connect with the artist, and learn about the process all on our site!

Show your allegiance to the force with our Men's Star Wars Wedding Rings.  Are you loyal to another faction? We can put  that logo on the ring. These can be cast in Sterling Silver, Argentium Silver, white, yellow, or rose Gold, Platinum, or Palladium. It can be made from 6mm-12mm wide at the top and can taper down to as narrow as 2mm. 
Not All Custom Is Created Equal
We also know that there are tons of places making star wars wedding rings.  However, most come from asia and are going to be in a contemporary metal like tungsten or titanium.  While very inexpensive, those metals can be problematic for various reasons that you can see HERE.  We recommend creating your star wars wedding rings out of a better material.  Asian jewelry can be a hassle for other reason as well.  Need custom service?  Good luck.  Need to return the ring to china? With tracking that can cost more than the ring!
We also know that there are plenty of jewelers claiming to make custom star wars wedding rings as well.  The majority of them don't actually create anything.  They farm the design out to someone like us who specializes in custom jewelry.
Click on the link to see more star wars wedding rings.  Click here to learn more about custom jewelry, view our portfolio, or to contact us about a custom wedding ring a custom wedding ring.  It can cost less than you think to have your very own custom wedding ring made just for you. Why hassle with the retail stores for boring and overpriced engagement rings?