Superhero Inspired Wedding Rings
On the hunt for a handcrafted and stylish symbol of your eternal love? Welcome to our a page devoted to custom Superhero Inspired Wedding Rings.
For any Comic or even movie fan, it's common knowledge that the The man of steel fought criminals in Gotham City with the aid of his superpowers.  Although there isn't any crime-fighting magic in our Custom Superhero Inspired Wedding Rings, they might make you able to jump buildings in a single bound.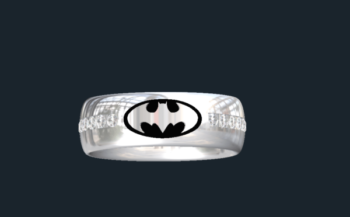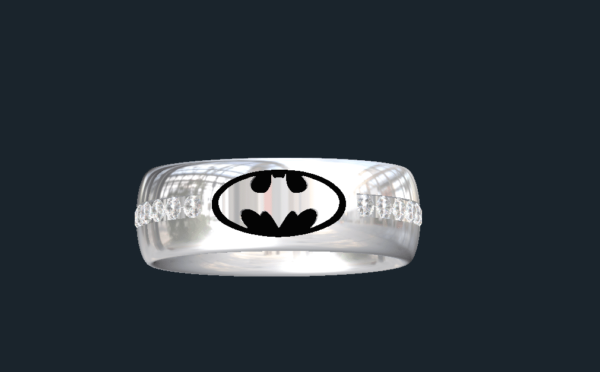 This is the inverse version of our most popular Batman wedding ring.  Whenever we think of "joining two lives as one," of course we imagine a loner like the always smiling Batman. Our custom made wedding rings can comes in gold, sterling or argentium silver, platinum or palladium.  The ring can be set with stones of your choosing, such as black diamonds.
If It Can Be Cast, We Can Create It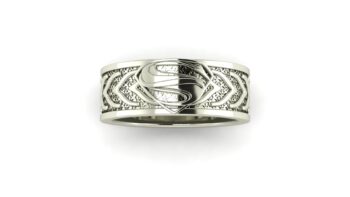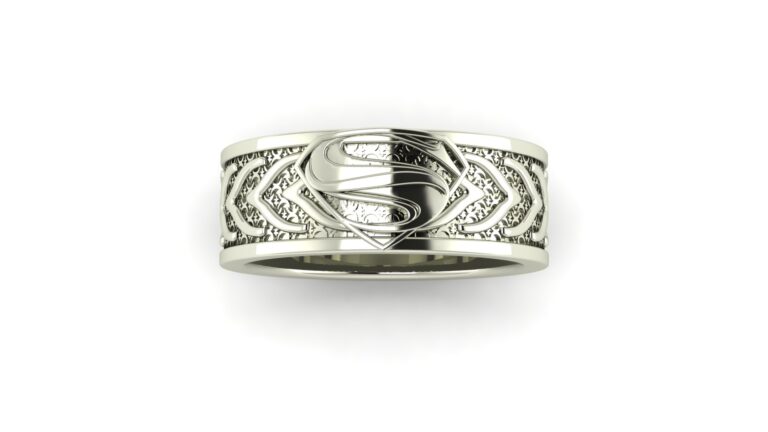 This is one of our White Gold Superman Wedding Ring designs.  However, we can make it in a few different metals.  In this one, we made the S with some swirling to give it motion.  Most of our other superman rings had the S made with enamel.  Then we took the symbols from superman's new suit and put those on the base.  We made this ring for a couple who wanted some kryptonese on the side, but we wanted to do something that clashed less with the background.  So basically, we just thought the wishbone shape looked cool.  If you have an idea for something else, we could make it with that.
Available only at Valeria Custom Jewelry, our Custom Superhero Inspired Wedding Rings can be cast in sterling or argentium silver, platinum, palladium, or white, yellow or rose gold. It features superman symbol filled with black enamel and an optional stone can be placed right in the center of it. Accent stones can also be set into the circumference of the ring for added drama. It can be made between 6mm and 12mm wide, and shaped in sizes 4–15.
We Love Our Superheroes!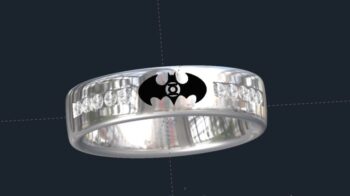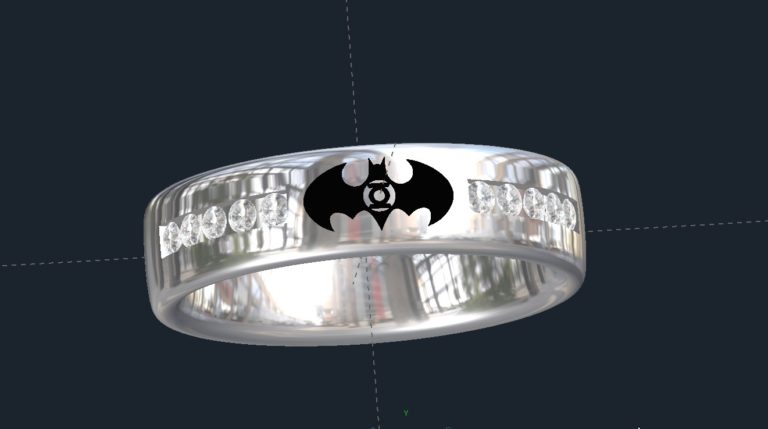 We have created this ultra superhero wedding ring  for those fans who can't choose between the Bat or the man in green.
Although the actual Clark Kent may be funny there's nothing funny about the materials Lucas uses when crafting his one-of-a-kind Custom Superhero Inspired Wedding Rings. His graduate degree in gemology and his personal connections to reputable diamond and gemstone dealers secure precious stones that are up to his high standards. His state of the art CAD program allows him to to perfect his designs and lost wax casting to bring those designs to life.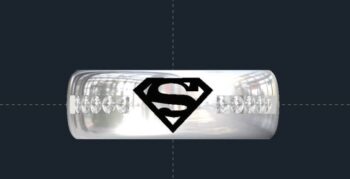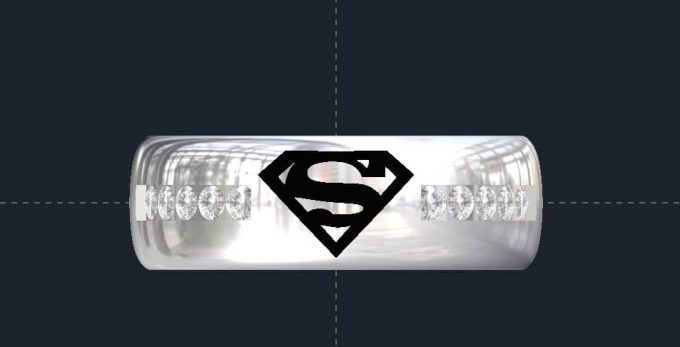 Show your fiancée that your love is invincible  and that you are a "man of steel" with this Superman Wedding Band.  Working on a reporter's salary!  No Problem!   Look no further than our Man Of Steel Wedding Bands.  The symbol for the House of El is made of enamel.  It is as a symbol of hope that your love won't go the way of Krypton.  Our Superman wedding bands will serve as a reminder that "til death do us part" could be much worse.
Why Superhero Inspired Wedding Rings Are All The Rage Right Now
Superhero inspired wedding rings have become incredibly popular in recent times. These unique and stylish rings are all the rage right now, and it's not hard to see why. They offer a fun and creative way for couples to express their love for each other and their favorite superheroes. Whether it's a Batman symbol, a Spider-Man web, or a Superman emblem, these rings allow couples to incorporate their passion for superheroes into their special day.
One of the main reasons why superhero inspired wedding rings are so popular is because they offer a personalized touch. Couples can choose the superhero or symbol that holds a special meaning to them, making their rings truly unique and meaningful. This allows them to showcase their individuality and add a touch of personality to their wedding bands.
Another reason for the rising popularity of superhero inspired wedding rings is the growing influence of superhero movies and comics in popular culture. With the immense success of superhero franchises like Marvel and DC, superheroes have become more than just fictional characters – they have become icons. Many people have developed a deep connection with these characters and incorporating them into their wedding rings is a way to celebrate and honor that connection.
In conclusion, superhero inspired wedding rings have gained immense popularity due to their ability to offer a personalized touch and showcase individuality. These rings allow couples to express their love for each other and their favorite superheroes in a unique and stylish way.
Superhero Inspired Wedding Rings – We Won't Break The Bank!
No matter what your budget is, we will work with each client. Ensuring that they feel special, listened to and ultimately satisfied, we care about each piece we make.  We are not in the business of one-time customers.  Lasting connections with each of our clients is what we are after.  We are committed to creating custom, high quality, and covetable pieces.  However, our main goal is always to exceed his customer's expectations.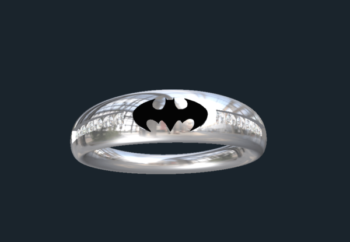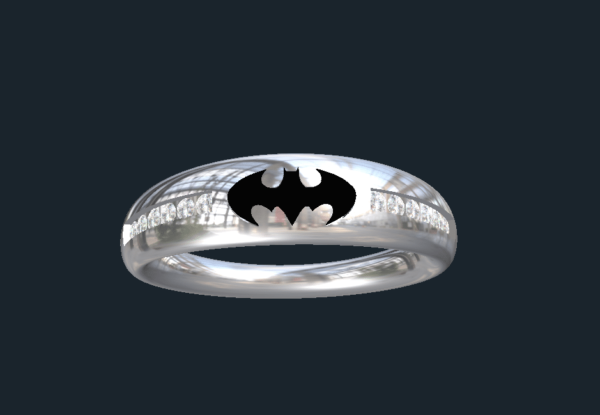 We didn't forget about the ladies when we created our superhero wedding bands!  Here is a women's tapered diamond batman wedding ring.  It is a much more feminine look than our straight band rings.
Superhero Inspired Wedding Rings Can Be Elegant As Well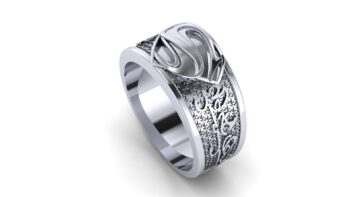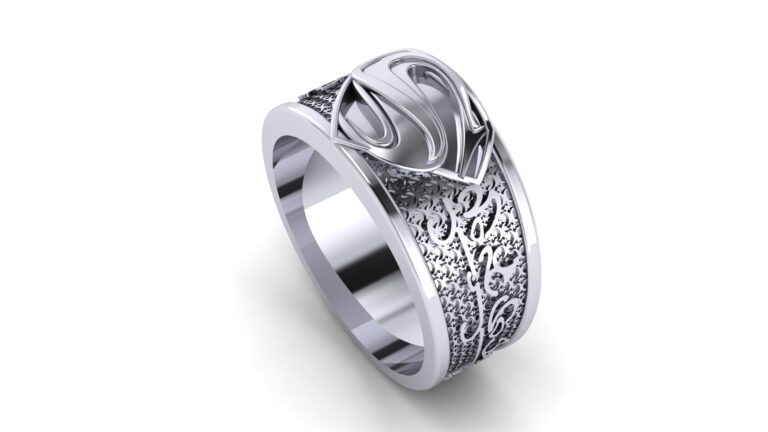 In this Kryptonian Superman Wedding Ring, we started off with a swirling "S" to give it some motion.  Most of our other superman rings had the "S" made with enamel.  Then we took the symbols from superman's new suit and put those on the base.  Crawling up the sides of the ring to the "S" is some kryptonese from the superman's suit.  We know this is kind of personal and maybe not for everyone!  So we created a few variations of this ring. 
Often times, the brides are the recipients of extravagantly crafted and meaningful engagement and wedding rings.  However, Custom Superhero Inspired Wedding Rings give grooms a chance to customize the one piece of jewelry that will last them the rest of their lives.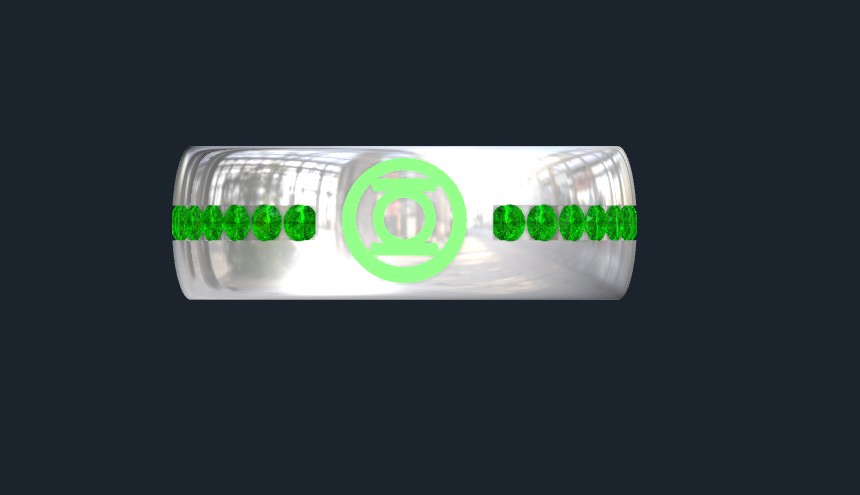 Illuminate your friends & loved ones with this custom Custom Green Lantern Ring.  Whether marrying the love of your life or pledging your life to an intergalactic police force, life is full of commitments. Why not shoot for the stars and propose to your lover with this Green Lantern Wedding Ring? The emeralds will remind you that there is hope in even the darkest of nights.  Additionally, it might make her sigh heavily as you watch Ryan Reynolds in the movie!
Superhero Inspired Wedding Rings – Not Just For Nerds!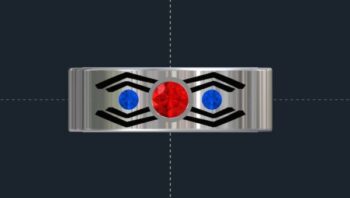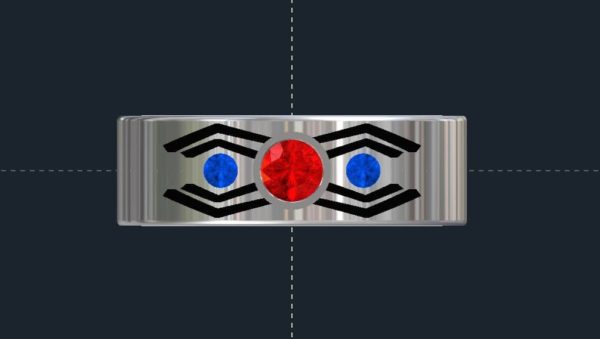 Avoid the Spider Web with our custom Spiderman Wedding Ring.  Using Sapphire, Ruby, and enamel, we have created a superhero wedding ring that you won't find anywhere else.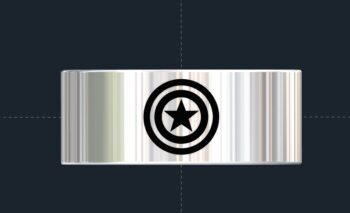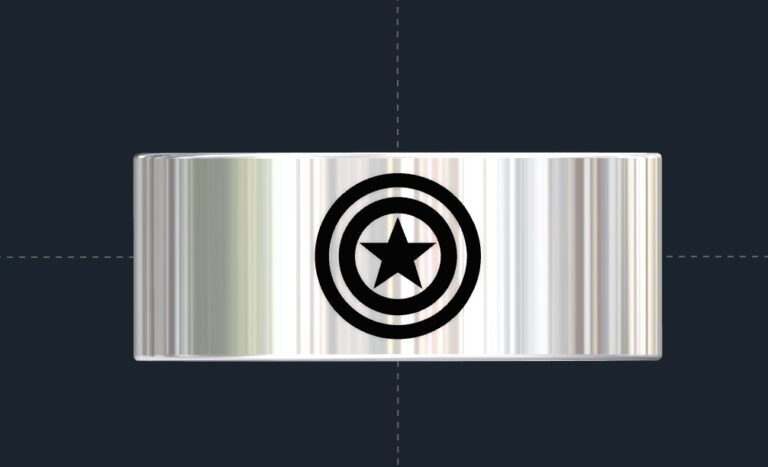 With the Avengers gone, why not show your patriotism, love of comic books, and, devotion to your spouse with this Captain America wedding ring? Just like Captain America himself, the ring is understated. It's only adornment is an enameled emblem of Cap's shield in the ring's center. The ring will let everyone know that while he or she holds your love, you'll dump them when duty to country calls.  So suck it up, babe!
My Fiancé Thinks Superhero Inspired Wedding Rings Are A Dumb Idea.  What Do I do?
When faced with conflicting opinions about wedding rings, it is important to approach the situation with open communication and understanding. Begin by discussing the reasons behind your desire for superhero inspired wedding rings, highlighting the personal significance they hold for you. Listen attentively to your fiancé's concerns and reasons for thinking they are a dumb idea. Find common ground by exploring alternative options that incorporate elements of both your preferences. Ultimately, the decision should be a mutual one that reflects the shared values and vision of your future together.
Superhero Inspired Wedding Rings – Give Us A Shot!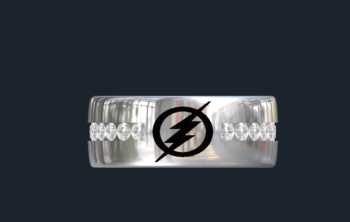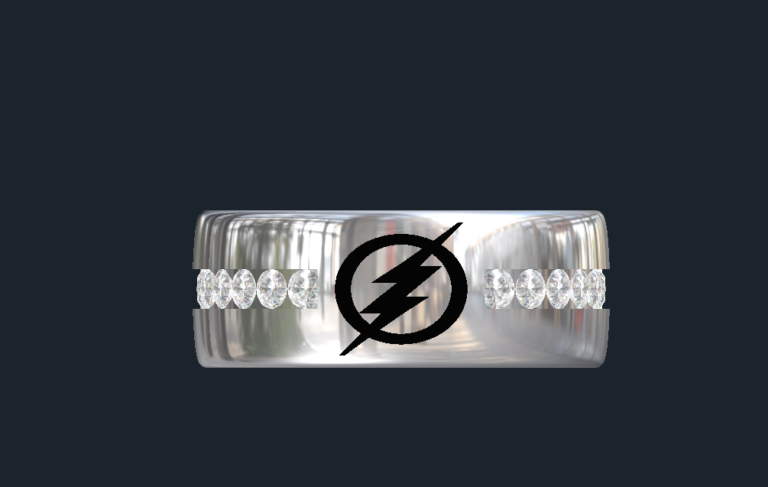 We have this basic Custom Superhero Wedding Ring design for every superhero that will fit.  If you would like something different, send us your idea.
We know there are tons of places to buy geeky wedding rings.  However, we assert that were are one of the best!  If given the chance, our skill will be evident from the start.  And once you receiver the finished ring, our value and quality will also be evident.
Click here to see all of our custom wedding ring designs.  Click on our Homepage to learn more about custom jewelry, to view our entire portfolio, or to contact us about Custom Superhero Inspired Wedding Rings.  It can cost less than you think to have your very own custom wedding ring made just for you.  Why settle for the lame and overpriced wedding bands from the chain stores? We are able to create Superhero Inspired Wedding Rings showing your style and personality.  Give us a shout!