Custom Jewelry Is The Perfect Mother's Day Gift
Custom Jewelry For Mother's Day!!  Having jewelry created exactly to your specs is incredibly versatile.  So it's easy to create something that fits your mother's unique style and personality. Plus, with custom jewelry, you can be sure that your Mom's gift will be her favorite––and something she'll keep and treasure forever.
Pros of giving Custom Jewelry For Mother's Day:
– Extremely thoughtful thanks to personalization.
– Great capacity to inspire and delight.
– Fantastic fit for unique styles and personalities.
– Pretty and chic, with a cute and cool appealer's day gift.
– How custom jewelry allows for more meaningful, unique, and thoughtful gifts.
– The capacity to create an incredibly special piece of jewelry that is perfect for the special mom in your life.
– How custom jewelry allows for more meaningful, unique, and thoughtful gifts.
– Creates an incredibly special piece of jewelry that is perfect for the special mom in your life.
Mother's Day Beginnings In The USA
Mother's Day is a special day to honor and appreciate the most important woman in our lives: Mom! This holiday began centuries ago as a way for families to show their
mothers how much they love and cherish them. However, it wasn't until 1908 that Anna Jarvis officially declared the second Sunday of May each year as Mother's Day.
Today, people often express their gratitude by giving a piece of Custom Jewelry For Mother's Day. Coupled with heartfelt cards and roses, there are endless ways to
celebrate Mothers on their special day.
Advantages of Custom Jewelry For Mother's Day
Are you looking for the perfect gift to show your appreciation this mother's day? Look no further than a stunning piece of custom jewelry. Custom jewelry is an excellent
way to show someone  how much they mean to you, as well as how unique and special they are. Not only that, but it also comes with a plethora of other benefits!
Custom jewelry can be incredibly creative and adventurous – why not pick a new design or have something humorous engraved into it? The possibilities are endless! It's a
great way to inspire the person who receives it, as each piece will be unique to them. Plus, with the latest technologies available today, there's no limit to what kind of
customizations you can make.
Gift-givers will love giving custom jewelry too. Not only does it look great and feel fantastic in their hands, but it holds greater meaning than any store bought item. What
better way to say "I love you" than through personalized jewellery? Your loved one will never forget the feeling of having such a thoughtful gift from you.
For those on a budget, custom jewelry is still an option! You don't need to spend a whopping billion dollars in order to have a special custom jewelry creation made just for
your special mom.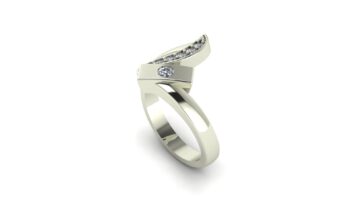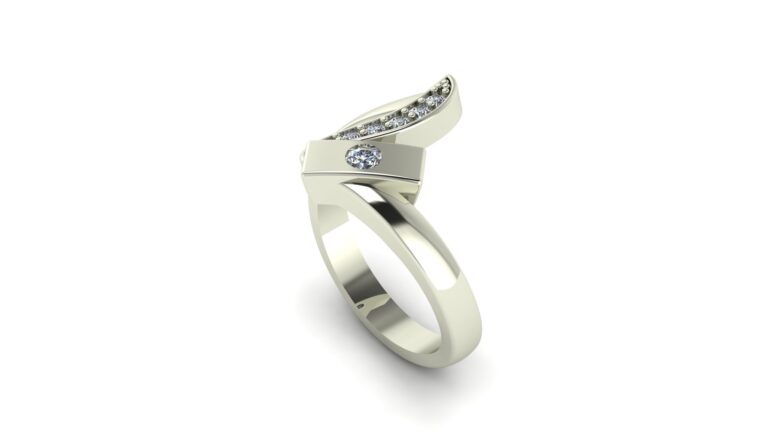 This was made for a customer's mother last year.  We are not sure of the significance of it, but that is what is great about custom jewelry.  There might be a reason for the design and number of stones.  However, it just might have been a doodle the guy liked.  It doesn't matter.  We will make whatever it is you want to gift your mother.
Shopping for Jewelry Gifts Isn't As Difficult As You Think
If Mother's Day is fast approaching, and it's time to start thinking about unique gifts to show mom how much you appreciate her. Shopping for a gift that will make mom
feel special can be daunting, but don't worry- we've got you covered!
A great idea is to pick up some custom jewelry. Whether your mom likes something chic and classic or something cool and creative, there are tons of options out there for
her to choose from. Plus, customizing the piece with an engraving makes it extra thoughtful and gives it a personal touch that she'll love forever.
Jewelry also has the potential to inspire: giving someone an incredibly cute or fantastic new accessory can boost their confidence and help them express themselves in
greater capacity than ever before. And if your mom is feeling adventurous, why not get her something humorous?
Gifting jewelry doesn't have to break the bank either; with so many options available at varying price points, you can find something unique to fit any budget. Start looking
now and soon you'll find the perfect piece that will keep your mom smiling all year round.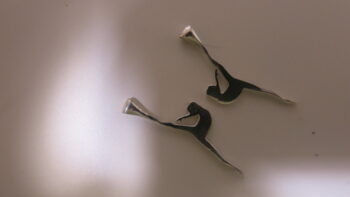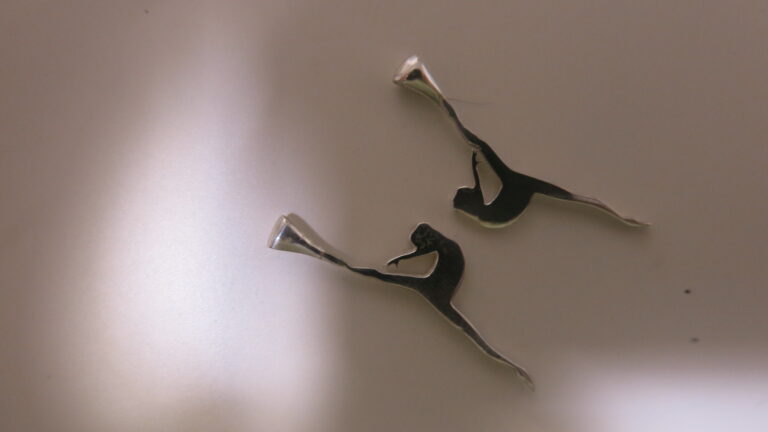 These dancer pendants were made for a daughter.  She wanted to gift one to her mom and then keep one for herself.  They both had been dancers and so these pendants commemorated their love of dance.  Do you have a special bond over something with your mother?  We can turn it into a meaningful keepsake that both you and your mother will cherish.
Why Custom Jewelry Is The Perfect Gift For A Mother
At this point in time, giving jewelry may feel like an old fashioned idea, but when you opt for custom made pieces, you are tapping into all of the latest trends. Not only will
these gifts look fantastic on her, they'll also inspire greater confidence and allow her to hold onto the memory of this wonderful day for years to come. And let's face it –
sometimes the most expensive presents don't always turn out to be the best ones. This year, why not start off 2023 with a whopping dose of appreciation and love!  Make a
stunning piece of Custom Jewelry For Mother's Day.  Her heart will melt knowing that you spent the time and effort to have something created just for her.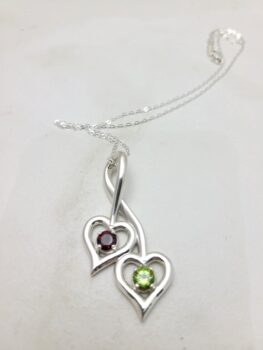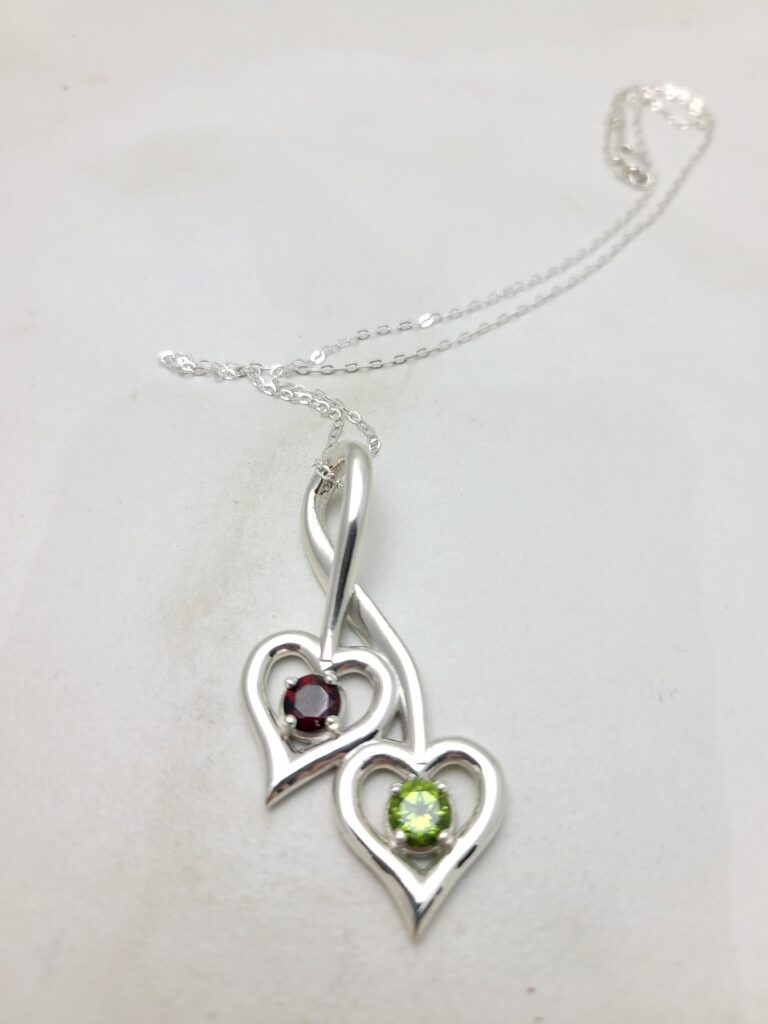 This Double Heart Birthstone Pendant was created by a husband for her father.  The peridot and garnet were the birthstones of their two children.  If you have an idea for a mother's pendant, send it over and lest us see what you can do.
The Best Types Of Mother's Day Gifts
Are you looking for a unique way to show your mom appreciation this mother's day? Look no further than custom jewelry! Custom jewelry makes a great gift because it fits
perfectly into any mother's wardrobe, giving her the chic look she loves. Plus, it shows just how much thought and effort you put into finding that perfect something special
for her.
There are so many different types of custom jewelry to pick from when shopping for mother's day gifts. You can get creative with fun and humorous pieces that fit her
adventurous side or inspire her in new ways. Or keep it classic with favorites like an extra-gripping bangle or necklace that will last forever. There is even an incredibly
whopping billion dollar industry of sleeping beauty themed pieces that make excellent gifts if your mom has a greater capacity for diamonds and jewels.
No matter what type of custom jewelry you choose, there is sure to be one piece that perfectly fits your mom's personality. Start shopping soon so that you can pick out the
latest trends and never miss a beat on May 8th. And if you need help finding that perfect gift to show your thanks, let us help you find the perfect piece to keep your mom
feeling cool and loved.
Popular Custom Jewelry Options For Mother's Day
At the start of 2023, we are seeing a lot of fun, creative and humorous options popping up on the market. From cool necklaces with cute sleeping cats engraved in them, to
amazing bracelets that have a greater grip to hold onto memories even better; there are so many options available! A whopping billion people worldwide have already
started growing their collection of custom jewelry and why shouldn't you join in too?
Custom jewelry also makes for fantastic gifts as they come personalized with whatever design you want – fit for any style. Get some inspiration from the latest trends and
make sure to never miss out on the miraculous pieces that can help add extra chicness to your wardrobe. Whether your recipient is bold and adventurous, or sweet and
nice, you're sure to find something that fits perfectly. With such excellent choices, you'll be able to come up with that perfect gift for your mother.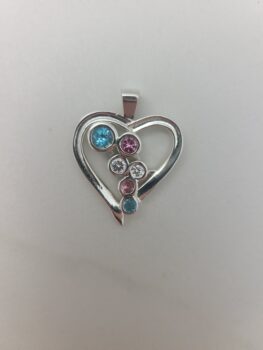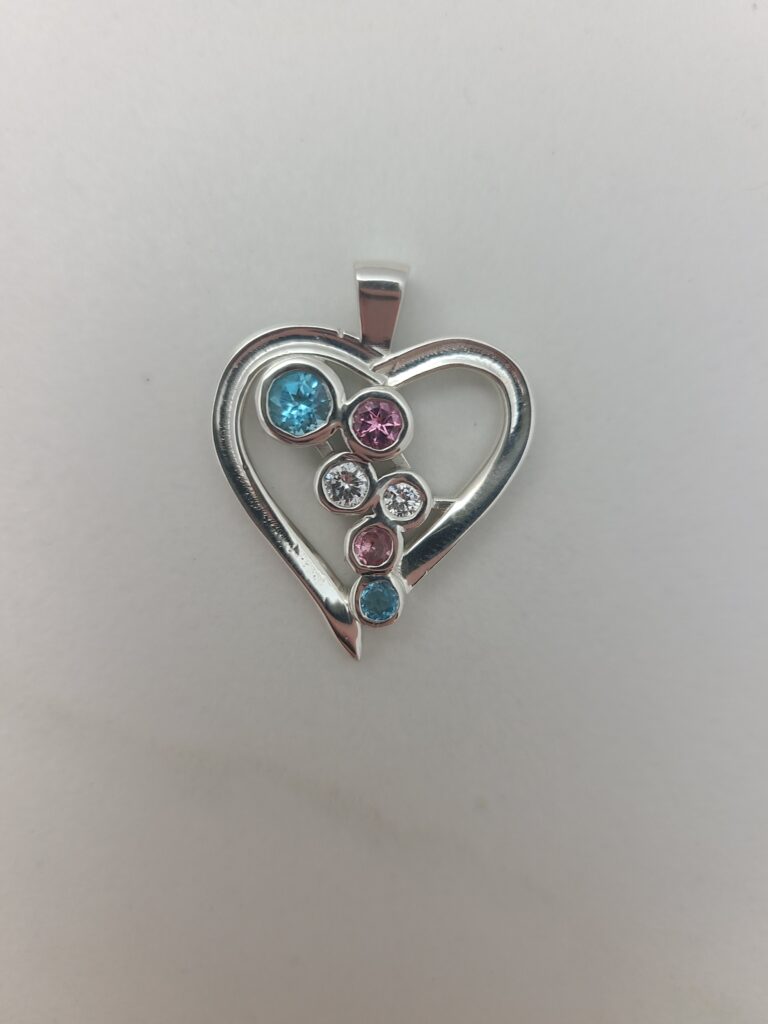 This is another Birthstone Pendant in the shape of a heart.
Here Are Some Ideas
Custom Pendants:   Custom pendants make an excellent choice to show appreciation for the special person in your life. Not only are custom pendants incredibly cool,
but they are also chic, cute and come with a great capacity to hold onto something that is truly meaningful.
Make it extra special by adding a funny quote or phrase, like "Sleeping Beauty" if she loves Disney movies or add her favorite words of inspiration. You can even choose
from a billion amazing designs to create something new and creative. With customization options like this, you'll be able to make your own miracle out of nothing, while
showing off her latest style too!
A custom pendant will never let go of its grip on her heart and keep growing forever! No matter who the lucky recipient may be, you'll be sure to give them something that
is better than any whopping amount of money – which means greater appreciation than ever before. So don't wait any longer – start shopping today and pick up your
favorite customized piece soon!
Custom Mother's Rings:  From the latest designs to timeless classics, we can create anything that you can come up with. Our portfolio is continually growing, so you
can be sure to find something that'll fit your Mom's style perfectly. Plus, with a variety of precious metals and stones to choose from, you can customize the ring to create
something special.
What's more, our Custom Mother's Rings are a great way to keep a forever reminder of your bond. With the perfect combination of fashion and sentimentality, it's an
excellent gift to show your mom your love. So don't wait – contact us for one of our Custom Mother's Rings and give your mom Custom Jewelry For Mother's Day!
It Isn't Just The Type Of Jewelry – Gemstones Matter Too
Birthstone Jewelry:  Perfect for mothers of all ages, these pieces show appreciation and will keep her memory close. You may pick one or multiple stones that represent
each family member – never forget your special loved ones with this creative, fresh idea!
Gift-giving can be tricky sometimes, so why not make it fun? Birthstone jewelry is an excellent way to show your capacity for thoughtfulness in an affordable package.
Whether you choose something funky, humorous, or chic, you'll save money while still giving Mom something extra special. Incredibly, even the most complex designs can
be surprisingly affordable.  This means you can get great value for your money without compromising on quality.
Moms everywhere will appreciate a better grip on their favorite memories when they receive this perfect gift. Show them how much you care with thoughtful gifts like
personalized birthstones that give them something to hold onto forever. They might say that birthstone jewelry is just what they needed to start off May in the best possible
way – greater than ever before!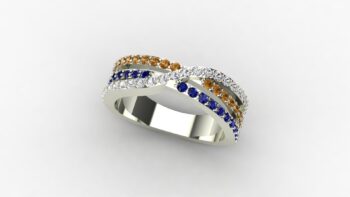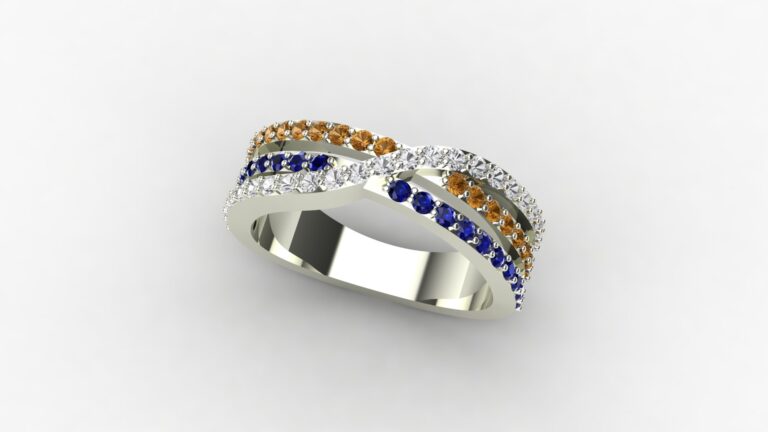 This 3 row crossover ring is another of our mother's rings.  The 3 birthstones of her children were citrine, sapphire, and diamond, so we made a row of stones for each.
We Can Create Custom Jewelry For Any Occasion
There's no better way to show your appreciation and love than with a unique piece of custom jewelry. From mother's day gifts to special occasions like anniversaries, the
latest trends in custom jewelry make it easier than ever to create something cooler than what you can find at the mall. Custom Jewelry For Mother's Day is a gift that will
create an incredibly strong grip on memories forever.
A great gift should inspire.  Whether you want something humorous or thoughtful, chic or cute, there are plenty of options to choose from for Custom Jewelry For Mother's
Day.
No matter what type of jewelry you choose, remember that every single piece has the capacity to be extra special. That's why custom jewelry creations make such great
gifts! Just think: with one simple purchase, you can start off a miracle whose effects will last for years. Plus, with the current booming billion dollar industry of custom
jewelry, it's almost guaranteed you'll find something with a whopping amount of style, beauty, and detail.
Custom Jewelry For Mother's Day – Give Us A Shot!
Are you thinking of gifting Custom Jewelry For Mother's Day?  You are halfway there!  You can view our portfolio of custom engagement rings or custom pendants to look for ideas.  Or you can contact us with your own idea.   If you want to see some of our custom mother's rings, there.  It can cost less than you think to have your very own
custom mother's day gift made just for you.  Why settle for boring, uninspiring mother's day gifts from the mall? We can make exactly what you want. Don't see what you
are envisioning for your Custom Jewelry For Mother's Day Gift Idea? Send us the design you want and we will bring it to life.
Why Custom Jewelry Make The Perfect Mother's Day Gift