Custom Superman Wedding Ring
Superman has been one of the most iconic superheroes around since he caught our imagination over 80 years ago.  You would be hard pressed to find anyone on the planet who doesn't know who superman is. Realizing an underserved demand and to celebrate Superheroes, we have created a suite of Superman Wedding Rings that will leave you feeling like the man of steel after wearing it. Engagement rings and wedding bands are extremely important symbols that are chosen and given with the expectation that that ring will be worn for the rest of your significant other's life. That means a lot of undue pressure for some people that we want to remove from your life.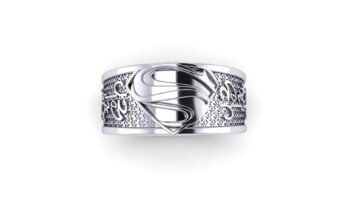 In this Kryptonian Superman Wedding Ring, we started off with a swirling "S" to give it some motion.  Most of our other superman rings had the "S" made with enamel.  Then we took the symbols from superman's new suit and put those on the base.  Crawling up the sides of the ring to the "S" is some kryptonese from the superman's suit.  We know this is kind of personal and maybe not for everyone!  So we created a few variations of this ring.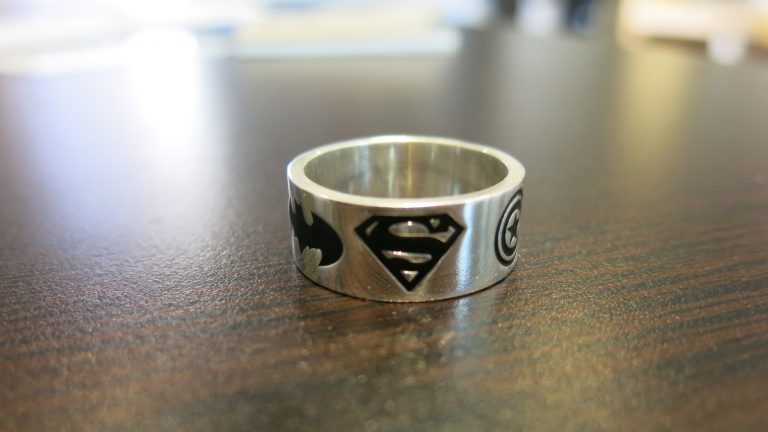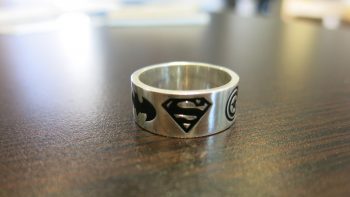 This Superman Wedding Ring had the batman and captain america logos, as well as 3 others on the other side of the ring.  Along with the "S", we can put almost anything there is room for on your Superman Wedding Ring. We do prefer the single "S" with stones going around the ring as it is a cleaner look, but we can make it however you want it made.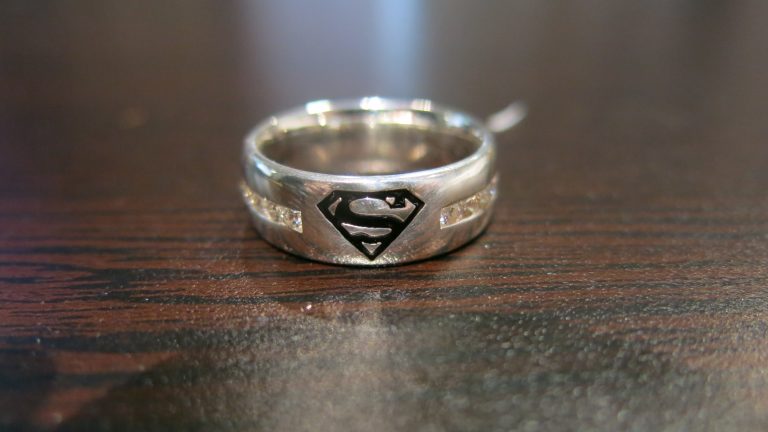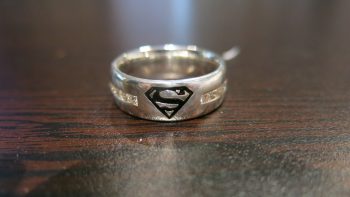 This is our most popular Superman Wedding Ring.  It features a Superman "S" that is accented by channel set stones going around the ring.  If you don't want them going all the way around the ring, we can put 3, 5, or 7 stones on each side of the "S".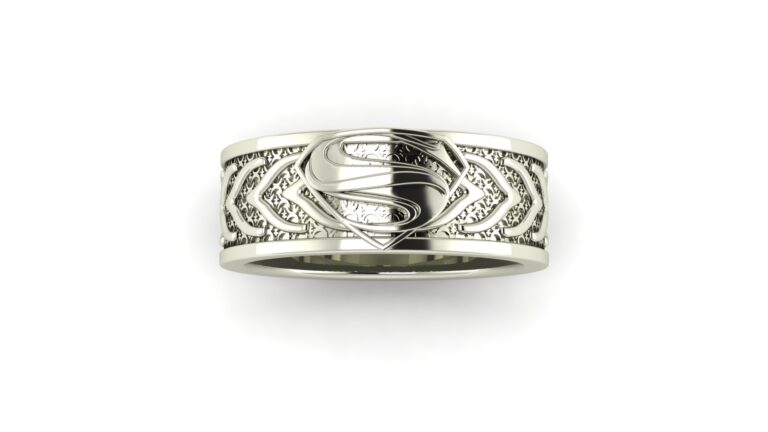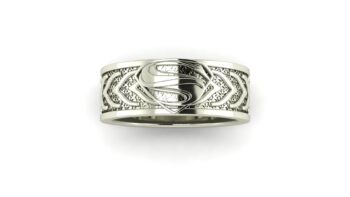 This is one of our White Gold Superman Wedding Ring designs.  However, we can make it in a few different metals.  In this one, we made the S with some swirling to give it motion.  Most of our other superman rings had the S made with enamel.  Then we took the symbols from superman's new suit and put those on the base.  We made this ring for a couple who wanted some kryptonese on the side, but we wanted to do something that clashed less with the background.  So basically, we just thought the wishbone shape looked cool.  If you have an idea for something else, we could make it with that.
Are you a Superman Fan?  Don't Be Afraid to Show It With A Superman Wedding Ring!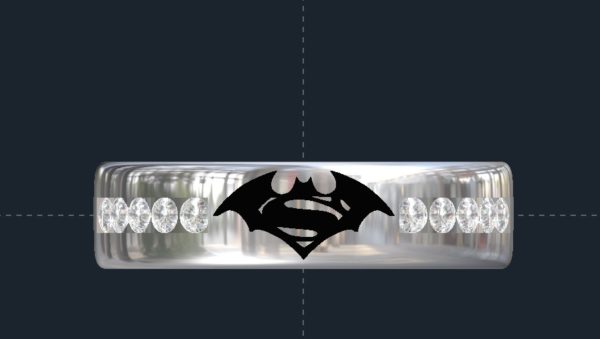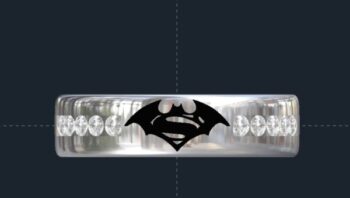 In this Custom Superhero Wedding Ring, we combined the Superman "S"  with an older batman logo.  We think the result is pretty awesome!
If you are in need of a wedding band or engagement ring, but also want to be sure you are giving you special someone something truly meaningful, come to Valeria Custom Jewelry. We will make the process as painless as possible and maybe even save you some money over the chain stores.  Even if a Superman Wedding Ring isn't what you want, you can personally design a jewelry piece by sending inspiration like drawings, pictures and notes to the artist, Lucas Horton, and he will make your vision a reality.
We have worked with countless clients to create beautiful and unusual pieces with personal touches, pop culture references and even styles that have fallen out of popularity. Whether you want a Batman,  Superman Wedding Ring, or Green Lantern Wedding ring, Valeria Custom Jewelry can make it happen. Let us make this whole process as easy and painless as possible; any custom jewelry horror story you have heard won't happen with us!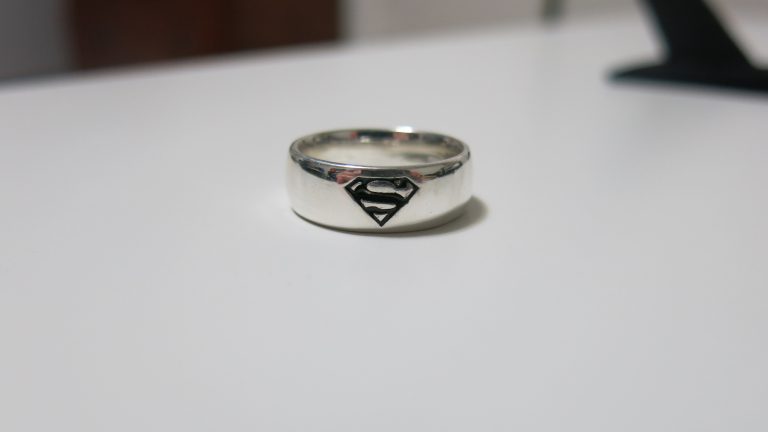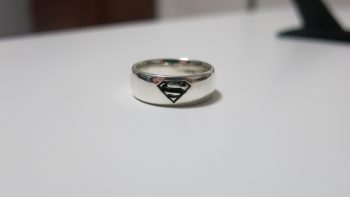 This is just a  plain Superman Wedding Ring.  Simple and easy. It comes in silver, gold, platinum, and palladium.  'Nuff said.
Do want a Contemporary Metal Wedding Ring? No Problem.
These two images are of the same Superman Wedding Ring.  However, one is done in white gold with an enamel "S" and the other is in titanium with the a laser engraved "S" Both metals have their upsides and downsides and if you don't know which metal is right for you, we can help you with that decision.  However, if you wanted to add stones to your Superman Wedding Ring, titanium wouldn't be an option.  Titanium isn't able to have stones set in it.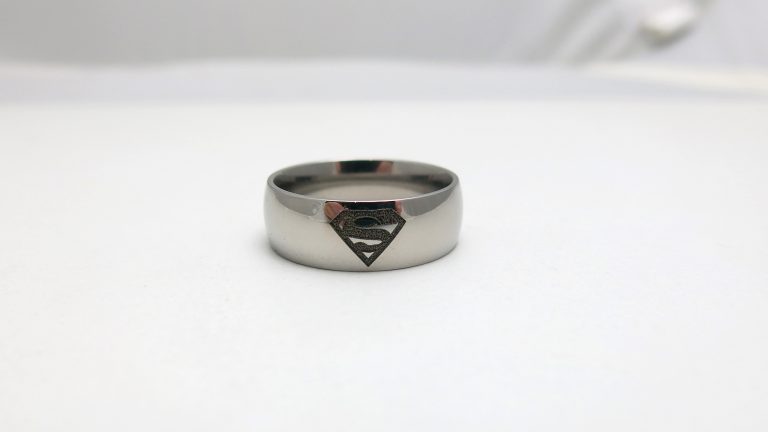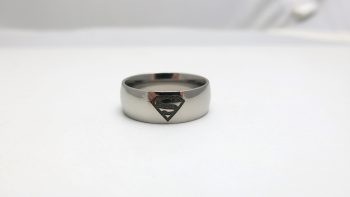 You can find Superman Wedding Ring designs on Ebay and Amazon that might cost you less, but they will come from Asian sweatshop renown for poor quality and craftsmanship.  And if you have a problem?  Good luck with their customer service or returning the ring.  We always say, "Play it safe and go with a US manufacturer, whether us or not"
Custom Superman Wedding Ring – Give Us A Chance!
We know that you can find Superman wedding rings on sites like etsy and ebay.  Unfortunately, jewelry mass produced in Asia leaves a lot to be desired in terms of quality.  Their rings are thin, lightweight, and not very durable.  If you get a ring with diamonds or gemstones in it, they will be of lower quality than advertised. They will also probably be poorly cut.
We manufacture all of our Superman Wedding Ring designs in the US to  the highest quality materials.  Our work is fully guaranteed and will make any problem (although we have few) right.   We also have a warranty for stones falling out from normal wear and tear.  Try getting that kind of service from on overseas manufacturer!
Superhero Wedding Rings – Not Just For Nerds
Valeria Custom Jewelry also has a wide and varied collection of available, already-made custom pieces.  All of which were designed with inspiration from customers or straight from the creative mind of Lucas. They include lots of superhero wedding rings, gothic style rings with skulls, and customized name pendants for necklaces.   We also create Star Wars inspired jewelry along with the many elegant and beautiful designs you can't find anywhere else. Those in need of a comic book inspired superhero wedding band have many options of Superman Wedding Ring designs to choose from. And obviously, you can always create your very own idea.  No matter what you choose to design.  A custom piece created by you with your loved one in mind will always be better than a ring you saw on some billboard that thousands of other people may have.
Click HERE to learn more about custom jewelry, view our portfolio of custom wedding rings, or contact us with your idea for a Superhero wedding ring.  It can cost less than you think to have your very own custom wedding ring made.  Why settle for boring, uninspiring, mass-produced wedding bands?  We can create a custom wedding ring reflecting your style and personality.  And usually at comparable prices to the mall.