Batman Men's Wedding Ring
One of the bigger surprises we have had is the popularity of the Batman Men's Wedding Ring.  We had seen one before we learned CAD  and used it as a learning project in our first class.  We didn't expect anything of it, but when we sold the first ring, we decided to come up with a few more designs.  It was off to the races after that.  Until the Asians got involved that is.  However, we are still blown away by the initial demand for Batman and Superhero wedding rings.  We still sell a few of them, but with the Asians offering them, it is hard to compete.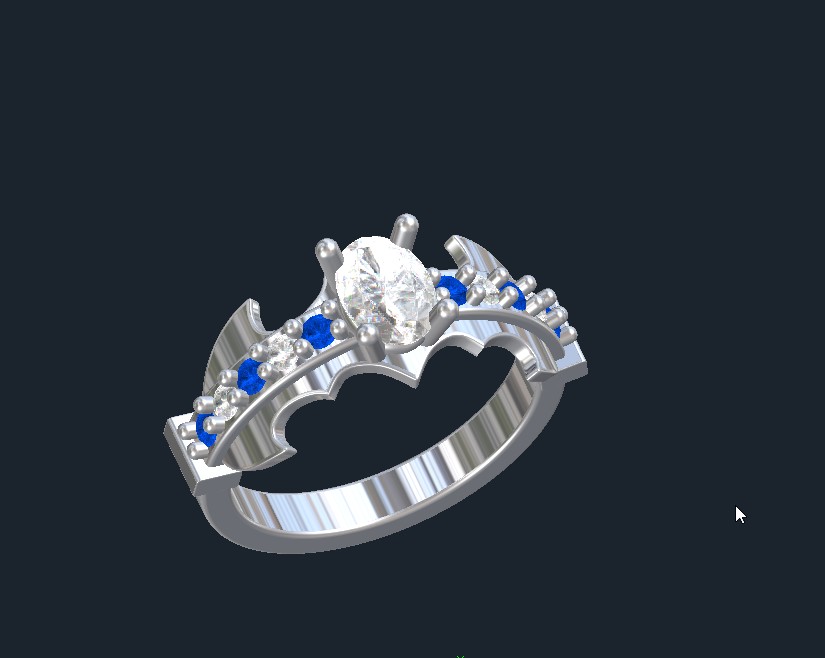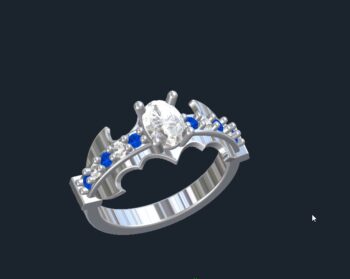 This Batman Bridal Ring is a unisex ring that was actually made for a male.  We could definitely make it a little more feminine if it was for a woman though.  This one had an 8x6mm Diamond in it, but Moissanite or CZ could be used or even a colored gemstone.  The accents were 2mm rounds and is shown with sapphire and diamond, but almost any type of stone could be used. We like the color that the sapphire gives though.  We also think using black diamond in some way would be cool.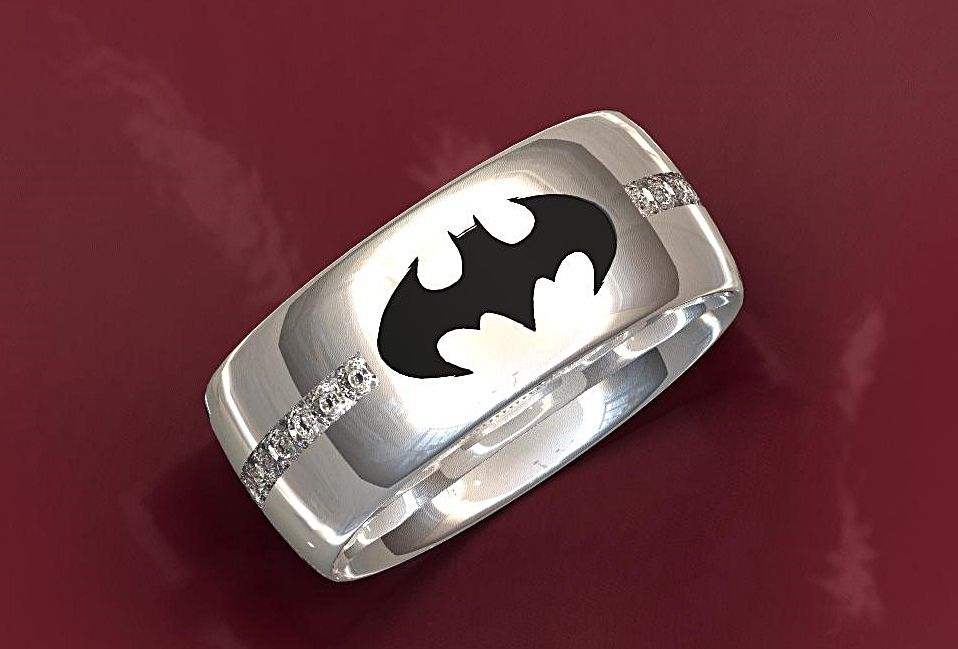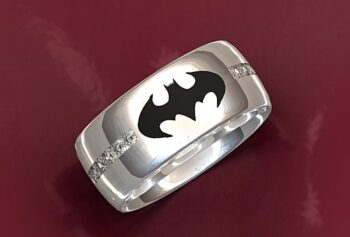 This is out top selling Batman ring. By far.  Until the Asians started copying my batman ring designs, variations of this design were flying out of the wax!  If you want a quality Batman Wedding Ring With Diamond, we will still make these for anyone who wants more than Asian jewelry has to offer.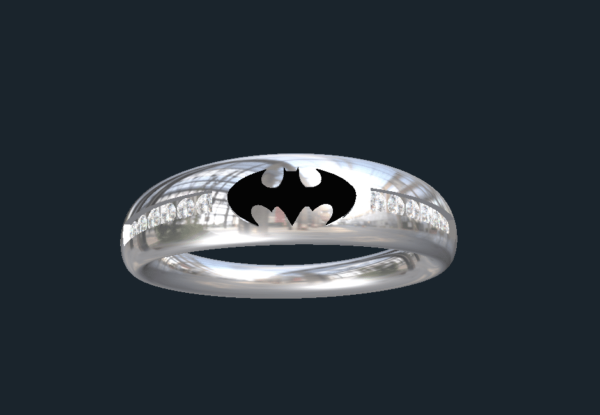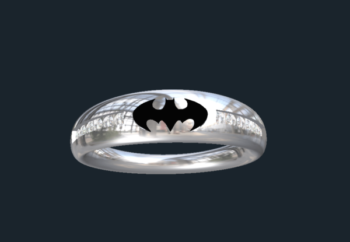 This women's Batman Wedding Ring is tapered for comfort and femininity.  It is also channel set with round diamonds, but princess cuts could be used.  We make it with rounds more often than not, but you can see that if you click on the image above.
Batman Wedding Rings – Not Just For Nerds!
Everyone has heard of Batman, whether it was the Adam West, Ben Affleck or Michael Keaton incarnations.  And whether you grew up with him the 60's or the 90's, Batman has captured both male and female imaginations for over 50 years and the phenomenon isn't showing any appearance of going away.  The Batman Men's Wedding Ring designs we have come up with have become some of our top sellers even when compared to more traditional wedding rings.  And while you might dismiss is as the "younger generation" buying these types of rings, that isn't always the case.  We have made plenty of our Batman Men's Wedding Ring rings for people over 30!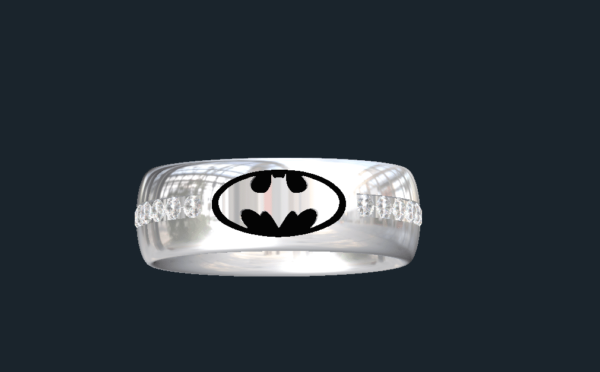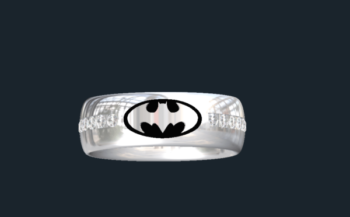 This is the inverse version of our top selling Batman Wedding Ring With Diamond for men.  We can make these with any bat symbol.  Stones are optional as well.
Superhero Wedding Rings Are Fine For Bridal Jewelry!
Don't let your friends or family tell you that Batman isn't a suitable topic for bridal jewelry!  You are the one wearing the ring, so get what you want. If you want a Batman Men's Wedding Ring, then you should have one! We have created hundreds of NERD rings, so someone out there thinks they are ok.  And as CAD designs become more common, you will only see more of the NERD jewelry and Batman Wedding Ring designs proliferating.  Although we have made a ton of Batman Men's Wedding Ring designs.  There is no way we have covered all possible designs.  If you have an idea for a ring that you don't see in your portfolio, send it over to us and we will create it for you.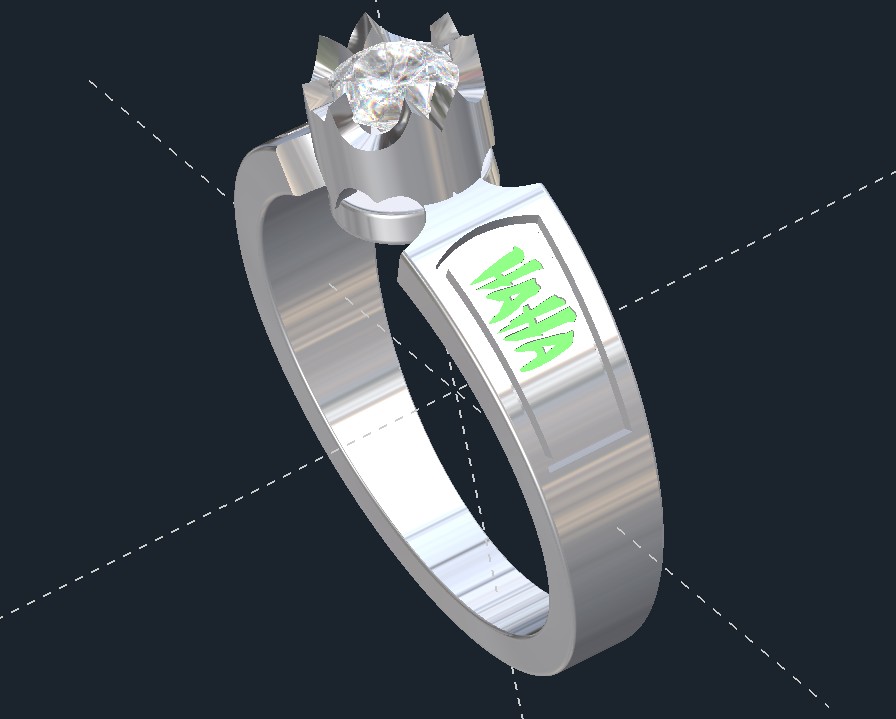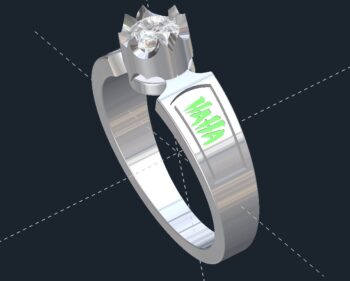 This Batman engagement ring has 2 bats forming the bezel that hold the center stone together.  The shoulders have an enameled HA HA  on one side of the 5mm diamond in the center and enameled Harley Quinn symbols on the other side.  It is also possible to able to put other batman themes on the shoulders.  We have done this ring with the Joker "J", the bat symbol, and even the Harley Quinn Symbols in diamonds and rubies.
We know that picking one superhero as your favorite can be a challenge. But if you go by what Google Trends analytics says, we know one thing is true: Batman is the most popular superhero in the world.
Give Us a Shot For a Custom Batman Men's Wedding Ring!
And it isn't even close!  Batman has racked up more than 3 billion views of more than 71,000 hours of video on Youtube. He is almost a billion views ahead of the next most popular hero—Thor. Coming up close behind Thor is the Man Of Steel, with 1.7 billion views.  Following close behind Superman is Iron Man, the Avengers, and Wolverine. (Google's analysis only looked at the specific name of each character.  So nicknames like Man of Steel and Dark Knight weren't counted in the totals.) This is proof of why our Batman Men's Wedding Ring designs are so popular.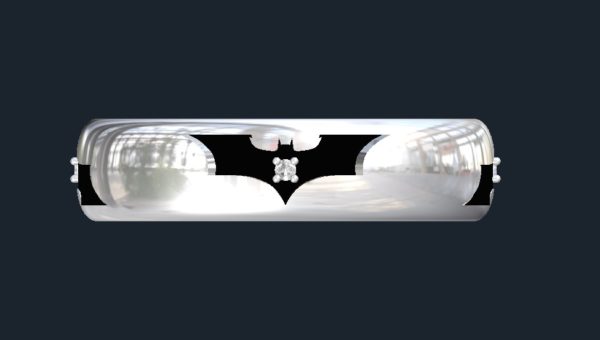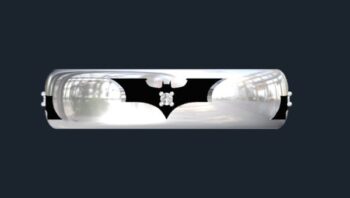 This batman wedding ring has diamond has four bats going around the ring, each with a stone in them.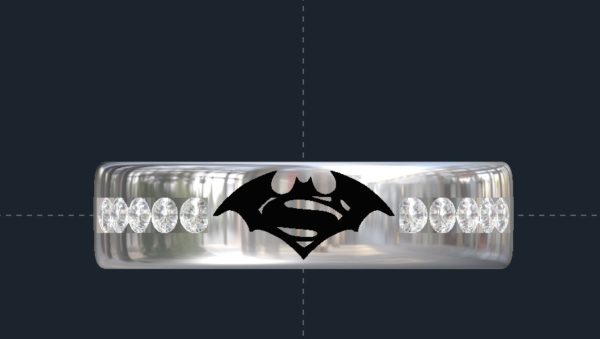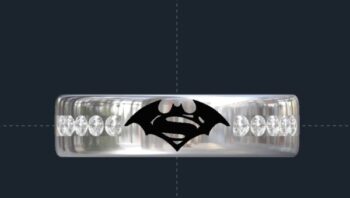 Here we took inspiration from one of the latest Batman films…Batman Vs Superman.  We took a newer bat logo and melded it with the Superman "S".  Stones are optional.
So take this into account when picking your bridal ring.  Like it or not, NERD jewelry is a thing now. And our Batman Men's Wedding Ring designs as well as superhero wedding rings like it appear as if they are here to stay….
The Bottom Line on Batman Men's Wedding Ring
We know you can probably find a Superhero wedding rings on amazon or Ebay.  However, they are mass produced in Asian sweatshops and leave much to be desired in the way of quality.  Most are also cast in one of the contemporary metals like titanium or tungsten.  These metals can't resized or repaired, so don't really provide much value.  You also can't set stones in those metals, so a Batman Wedding Ring With Diamond isn't even possible.
Why not have a Batman Wedding Ring ring made in the US? And why not make them out of materials that have intrinsic value?  Gold, silver, platinum or palladium all have their respective strengths and weaknesses.  And those contemporary metals have their place in jewelry making.  We just don't believe a good one is for wedding bands.
Click HERE to learn more about custom jewelry, to see our custom portfolio, or to contact us about a custom wedding ring.  Click HERE to see more of our custom wedding rings.  It can cost less than you think to have your very own custom wedding ring made just for you. Why hassle with the retail stores for boring and overpriced wedding bands?
Follow us on FACEBOOK and PINTEREST for more up to date designs!