Wear jewelry more meaningful & special with Custom Jewelry from Valeria Custom Jewelry. Our personalized jewelry is the perfect blend of thoughtfulness, beauty, and value. Choose from custom rings, necklaces, bracelets, earrings and charms to create the perfect Custom Jewelry Dallas piece of jewelry.  Customize your jewelry by selecting you or your loved one's favorite or birthstones to make your custom jewelry sparkle with the colors that mean the most.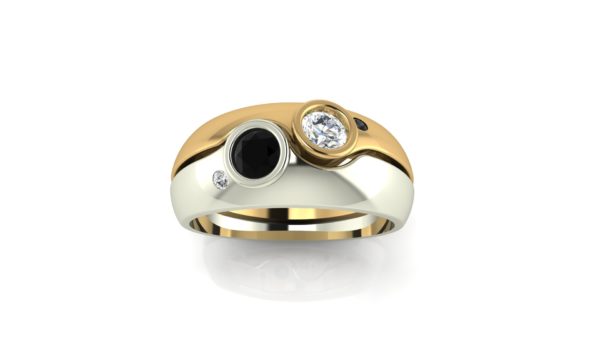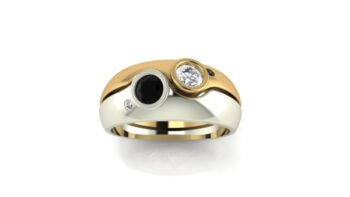 This custom wedding ring was cast separately in yellow and white gold and then assembled.  
Most custom jewelry pieces are also engraveable. Engrave your custom jewelry with a name, date or thoughtful message to add an extra special touch to your piece. Personalize your jewelry by selecting you or your loved one's favorite stone or birthstone to make your custom jewelry sparkle with the colors that mean the most. Enameling is also an option to add color.
Be inspired by our recent Custom Jewelry.  Or, bring us your ideas, drawings, or images.  Our custom design process makes it easy to create a ring like no other.  This includes your input and approval as part of the process.
My name is Lucas Horton and I own and operate Valeria Custom Jewelry in Dallas, Texas.  Custom Jewelry Dallas has been a passion of mine for 20 years now.  Consequently, I wake up every morning feeling blessed that I get to create it.  Whether it's a ring, a bracelet, a pair of earrings, a pair of cufflinks, a pin or a pendant.  We can create jewelry not commercially available anywhere else.
Here is a breakdown of the Custom Jewelry Design process:
STEP 1: Contact us to receive a no obligation quote based on your design concept, precious metal, gemstones, and ring size.
STEP 2: We will take your comments, drawings & Pictures and work together with you to create a CAD design that you will be able to have changes made to. Our GIA Graduate Gemologist can help you select the perfect conflict free Diamonds or Gemstones for your design.
STEP 3: Once your design has been approved, we will use the (CAD) model to "grow" a wax of your piece.
STEP 4: Upon completion of the wax, our manufacturing team will mold and cast your design in the precious metal of your choice. Your gemstones are then meticulously set by our expert craftsmen. The piece will then be polished, and any special finish or enameling will be added.
We are sure that if you give Valeria Custom Jewelry an opportunity.  You will see that my design skill, value, quality, and knowledge make me the best choice to turn your Custom Jewelry Dallas vision and dreams into reality and probably at a price that is less than you are thinking.
Click HERE to learn more about custom jewelry, view our portfolio, or to contact us about your custom jewelry creation.  It can cost less than you think to have a special piece of jewelry made just for you.  Why settle for the lame and overpriced jewelry from the chain stores when we can make something showing your style and personality?
Click HERE for a more detailed break down of the custom jewelry creation process.