The meaning behind the skull and what it symbolizes is what is most appealing to men. Most commonly, the skull symbolizes death and mortality. This can be the death of an enemy, death of a concept, or death of a lifestyle. Thus, the death of one element of life leads to the birth of the next element. In addition, the skull can represent the rebirth of another life. For some, the skull is simply a reminder of the mortality of the human species. Ironically, high quality Custom Skull Engagement Rings will outlive their owners to be owned by the next generation of mortals.
The popularity of Custom Skull Engagement Rings makes them easily accessible in the jewelry market. Skull rings are normally heavy-duty rings with bold designs. They are very durable, meant to last for years and years.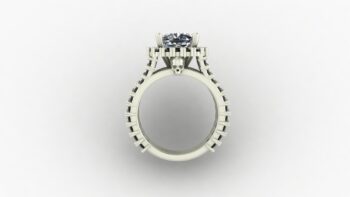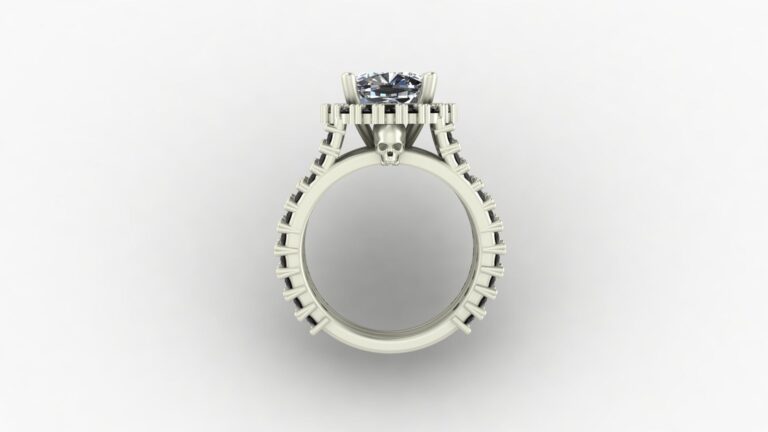 This was actually a skull ring guard that we made 2 of.  They were soldered onto a plain solitaire engagement ring, turning it into a skull halo engagement ring.  So..if you want a skull engagement ring but already have a ring, it is possible to alter your existing ring.
Custom Skull Engagement Ring Materials
Custom Skull Engagement Rings can be found in all kinds of metals. Silver  and gold are the most popular metals for skull rings. However, you will find skull rings made with more expensive metals as well, such as Platinum and Palladium. With the skull ring market, there are many varieties of rings for you to choose from. For example, many skull rings will have stones in the eye sockets. Some Custom Skull Engagement Rings will have stones on the sides of the band. In addition, precious stones such as diamonds have also been used in designer skull jewelry. The Custom Skull Engagement Rings created by Valeria Custom Jewelry are not limited to these stones as a large variety can be used.
This is our art deco smokin' skull engagement ring.  It has skulls on both sides of the ring with wisps of smoke blowing around them. This one holds a 5mm round stone and has 1.3 mm accents in the halo and 1.5mm stones down the sides of the ring.   Larger stones can be used if you want a bolder look.  We also have a taller version of this ring with a larger skull.
Custom Skull Engagement Rings – Skull Types
There are many types of skulls to choose from when it comes to Custom Skull Engagement Rings. Some skulls seem to emit emotion while others are fairly neutral looking. Skulls can also be combined with other symbolism such as warriors, pirates, or animals. In addition, some skull rings utilize more than one skull in their design. Whether you are looking for Custom Skull Engagement Rings without stones or a multiple skull ring with plenty of colorful stones, Valeria Custom Jewelry can make what you are looking for.
For some reason, people like to combine the infinity engagement ring with skulls!  We have made more than a few.  And here is another one.
The rise in popularity of Custom Skull Engagement Rings men has also increased their availability. But don't be fooled by a cheap Asian skull ring.  Skull rings from Asia are thin and cheaply made.  The gemstones or diamonds will also be of lower quality than advertised.  Do you want a quality ring with the stones you are promised?  Get your quality Custom Skull Engagement Rings from Valeria Custom Jewelry!
Skulls Aren't Just For Bikers Anymore
This Black Diamond Skull Engagement Ring is a great one for lovers of skull rings.  Each shoulder has a skull accented with diamond in its eyes.  The skulls are held in place by some bone knobs!  If you would like to use another skull in our Black Diamond Skull Engagement Ring.