Custom Solitaire Engagement Rings
Like so many time honored traditions, the giving of an engagement ring can trace its roots back to Ancient Egypt, where its circular shape was said to symbolize an eternal cycle.  It was worn on the fourth finger of the left hand, where it was believed there was a vein that led straight to the heart.  This began the idea of the ring finger, which is still valid today across many cultures.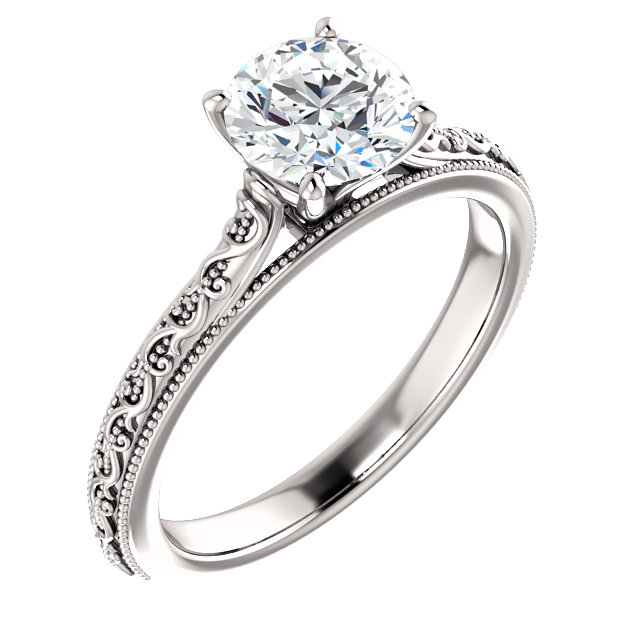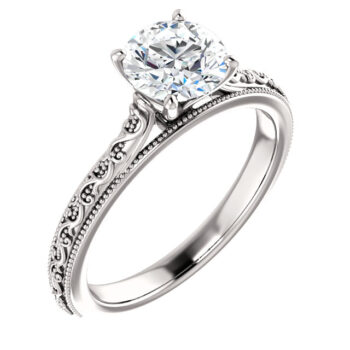 This Cathedral Solitaire Engagement Ring has an interesting milgrain and vine pattern going down the cathedral shanks.  It was inspired by a script in Lord of the Rings, so we can't really say what is it.  But we like it!  There is also milgrain on the edges of the ring.  
Solitaire Engagement Rings – A Short History
In the beginning,  this habit was largely limited to the wealthy. However, the practice gradually became more bourgeois as a result of the discovery of vast diamond mines in South Africa in the mid 1900's.  Thanks to a marketing campaign led by a South African diamond company that was represented in the United States, this practice spread more and more.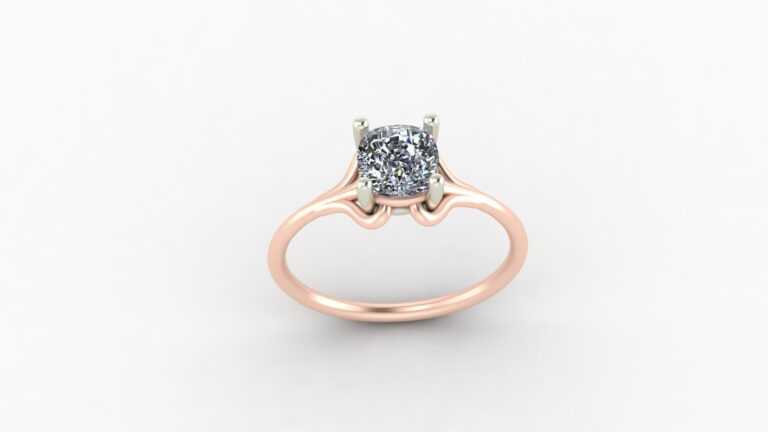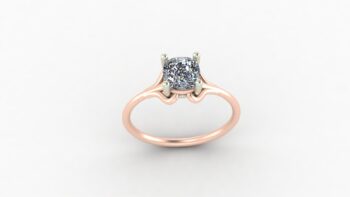 Highlight your beautiful stone with this 2 Tone Solitaire Ring! The shank in the elegant ring splits and loops around the prongs while the head comes up through the loops.  It is shown in white and yellow Gold, but can always be cast in one metal. 
While the tradition of expressing commitment between a couple has varied throughout the ages and across cultures, by the 1930s, the diamond engagement ring had become the go to symbol for the eternal union between a man and a woman.  It was around this time that DeBeers began marketing diamond engagement rings in the US and the "A Diamond is Forever" slogan was born a few years later.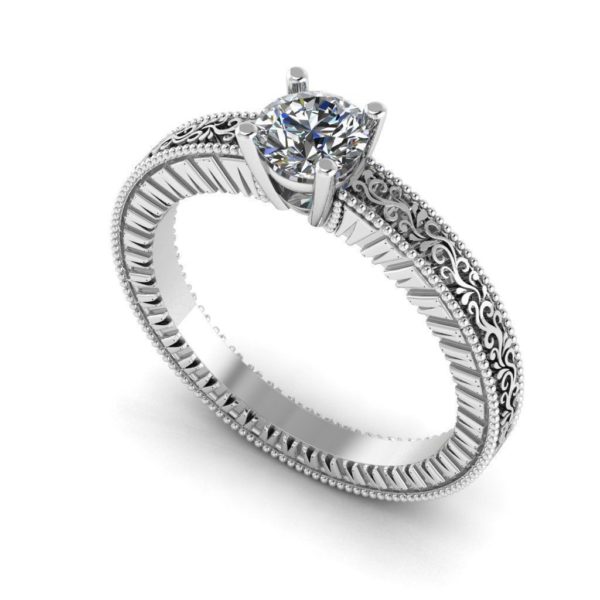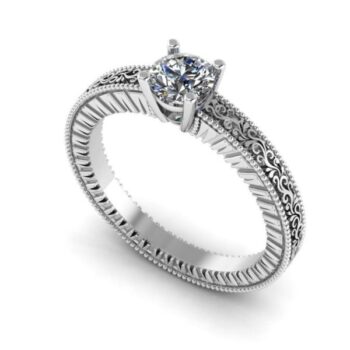 Something like this Scrolled Solitaire Engagement Ring is an great choice for those that want a solitaire, but not with the ubiquitous plain band. The top of the Sband is decorated with beautiful scrollwork that goes all the way around the ring.  On the sides of the ring is a scalloped design that adds another design element. 
The Significance of the Engagement Ring

Going back to the 2nd center BC, the ancient Romans are believed to have started the tradition of betrothal rings in lieu of giving the bride money or a valuable object. But its symbolism wasn't so much about love as it was ownership.   Slaves were also forced to wear items designating them as someone's property.  Initially, these betrothal rings were gold, silver, and and steel as these were the metals of the day.  But today, gold, silver and platinum are used more because steel doesn't lend itself to today's Custom Solitaire Engagement Rings.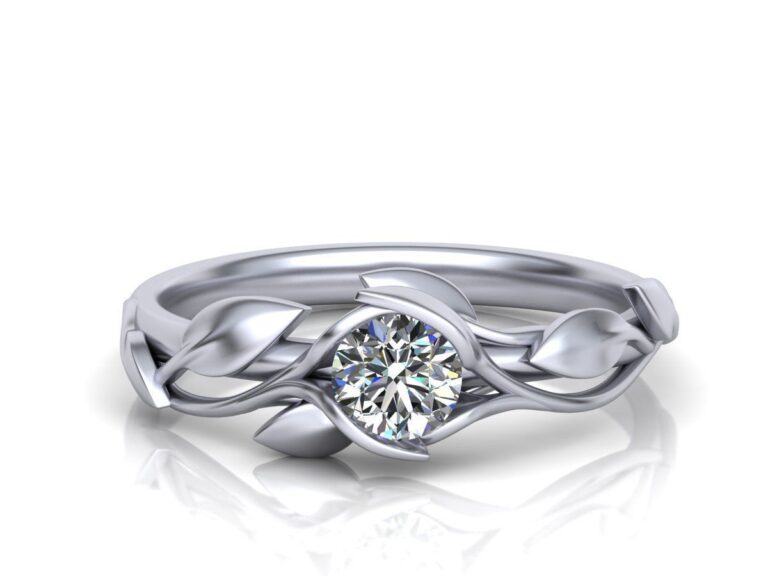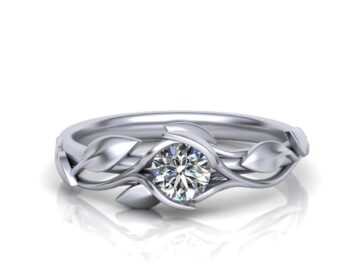 We have created a quite a few Custom Solitaire Engagement Rings and with the floral tension setting, this has become our most successful style of Flower Engagement Rings.
The idea that diamonds are forever makes them an ideal stone to represent the love between a couple.  However, diamonds aren't necessary to create Solitaire Engagement Rings.  Colored gemstones such as Emerald, Tanzanite, or Moissanite make excellent choices for solitaire engagement rings that symbolize the eternal union between lovers.  And obviously stones like Opal or even Moonstone can't be forgotten!
Custom Solitaire Engagement Rings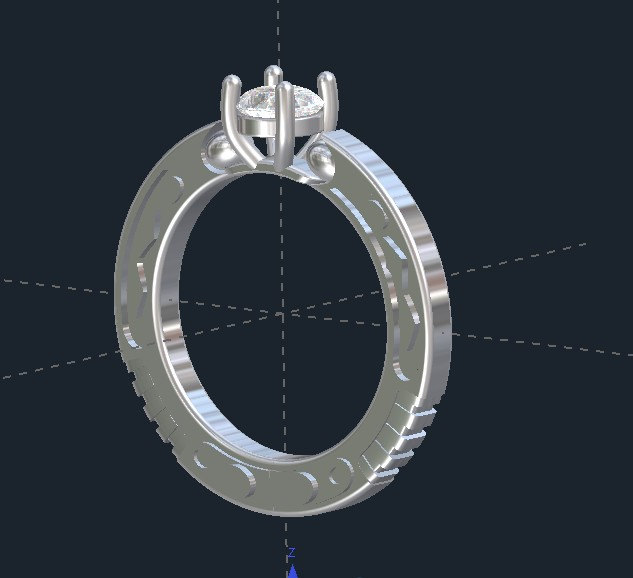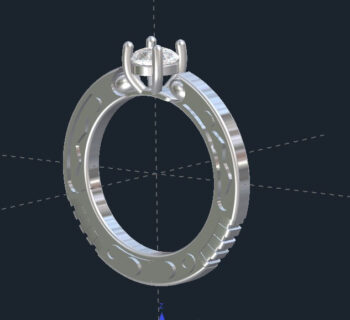 This Ahsoka Lightsaber Ring is for true Jedi fans and one of our favorite Custom Solitaire Engagement Rings.  These lightsabers, which were white in color and had curved hilts,  replaced the lightsabers used before leaving the Jedi Order during the Clone Wars.  We have created a few rings based on these and other lightsabers.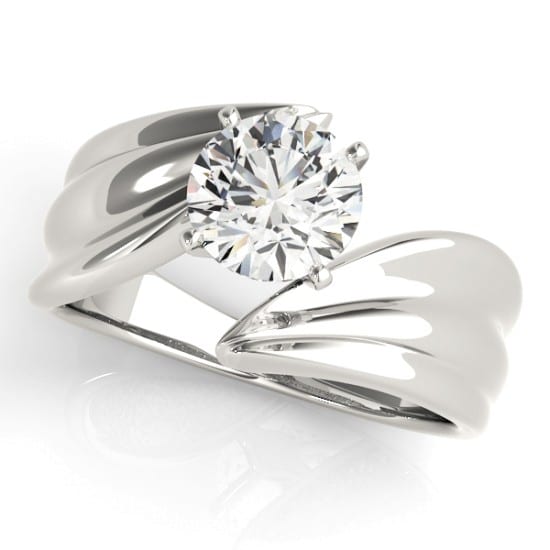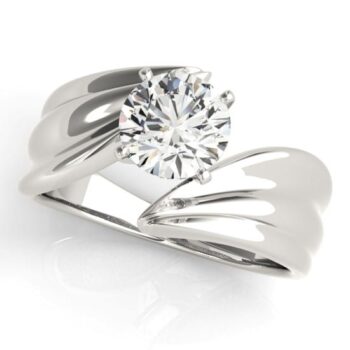 The Bypass Solitaire Ring has definitely made its mark both in recent bridal and fashion style.  They are elegant, understated, and really accent a beautiful center stone while being far more interesting than a Tiffany style setting.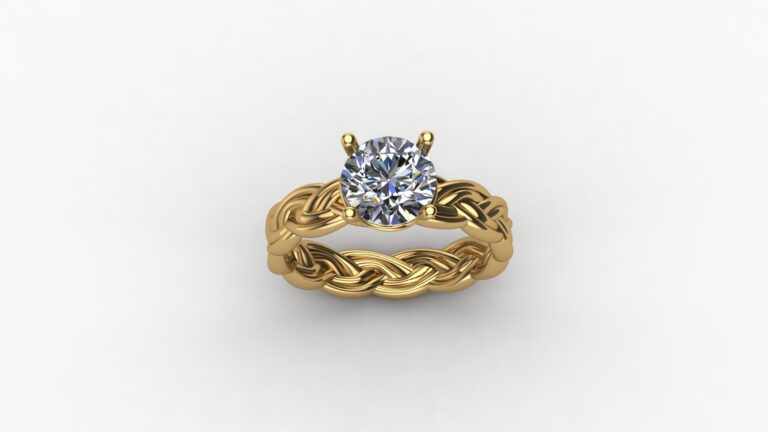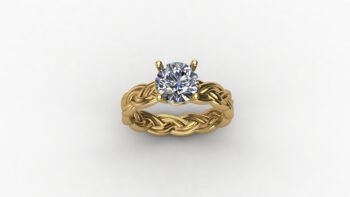 The two strands in one of our woven Custom Solitaire Engagement Rings represent the unification of two people for life.  If you wanted to add a third rope, that would no problem.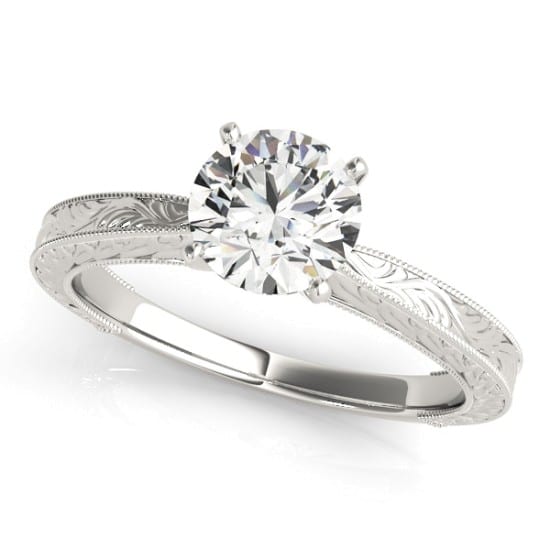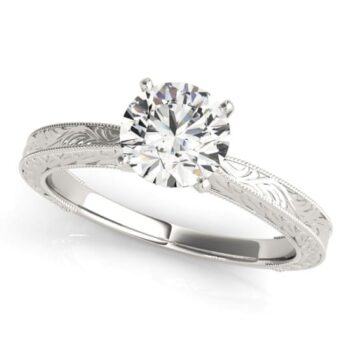 Are you looking for subtle, refined, and gorgeous Custom Solitaire Engagement Rings with expert engraving?  We can help! We can make the kind of vintage or art deco rings like no one else.  Elegant milgrain accents the swirling engravings covering the top and sides. This ring totally looks like it could have been handmade 100 years ago.  Luckily, we have one of the few remaining master engravers local to us. This allows to to engrave any pattern or design you want on your ring, no matter how detailed.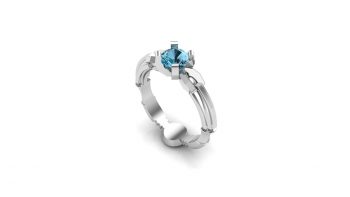 This The Sonic Dr Who Engagement Ring is just one of many Unique Solitaire Engagement Rings that takes inspiration from "NERD culture".  The Doctor wielded The Sonic because it was a highly versatile tool with crazy powers.  Not anymore.  We  took it and turned into a solitaire engagement ring!  We can also black some of the hilt to give it some contrast.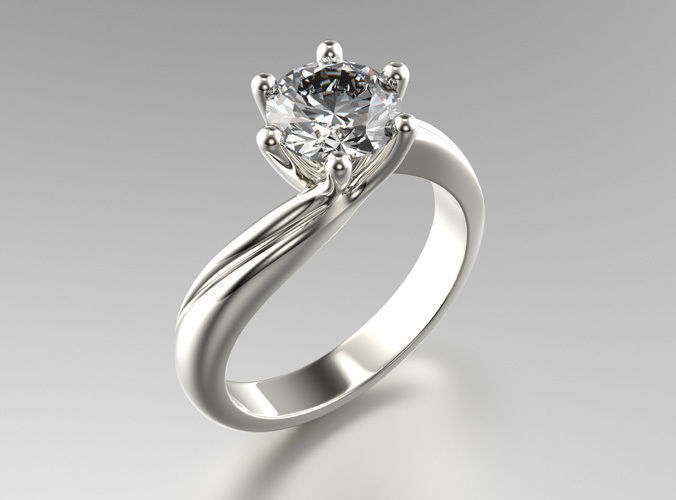 This Sculptural Solitaire Engagement Ring is a type of bypass ring that we just love.  The shank is a wave of motion is it travels from one end of the ring to the opposite.  The 6 prong basket is formed by the grooves in the band and securely holds even the largest stone intact.
The Bottom Line
Does the traditional solitaire engagement ring not quite do it for you? Do you want something different than what is at the mall or on Ebay? Then, one of our Custom Solitaire Engagement Rings is for you.    For brides looking for a versatile, yet still traditional diamond engagement ring, halo rings make an excellent choice.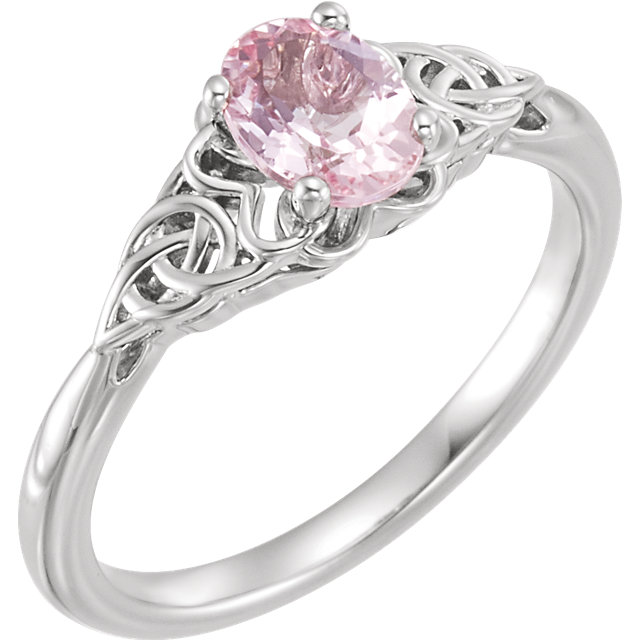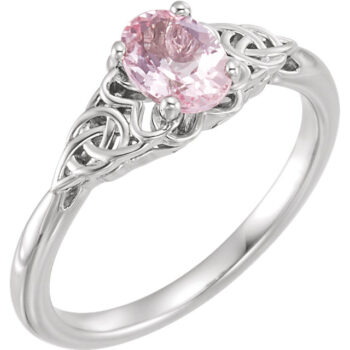 This Oval Marganite was set among a swirling Celtic design that really highlights the stone.  We love celtic designs.  So many of the motifs make perfect design elements for custom solitaire engagement rings.
Custom Solitaire Engagement Rings – Give us a Shot!
As you can see from the images in this post, the solitaire engagement ring can be far more than a plan band with the stone.  The solitaire engagement ring is probably the most traditional of engagement ring styles. However, it is still a versatile one that can be combined with other style and design elements to create Custom Solitaire Engagement Rings no one else has.  We are in love with the solitaire style because of the countless possibilities it provides in terms of customization.
Want to start your own Custom Solitaire Engagement Ring?  Contact us with your idea today…It can cost less than you think to have your very own ring created just for you.
Click HERE to learn more about our custom jewelry or to contact us about Custom Solitaire Engagement Rings.  Click HERE to see our entire portfolio of  Engagement Rings.
Custom Solitaire Engagement Rings