Custom Superhero Wedding Rings
You don't have to look very hard on the Internet or in mass media to see how Superhero Culture has started to become a very large and visible subculture. By most accounts, there are more fans going to comic book conventions wearing cosplay than there ever before. And just as with every other subculture, for several years now many different services and merchants have made a bundle of money tailoring their products to suit the gamer and geek demographics. None of this is actually news though.
What is news is how bespoke fine jewelers are now making jewelry for geek culture. At the request of customers, an increasing number of high-end jewelry designers are taking the symbols and emblems of fiction and games and turning them into beautiful and sometimes quite ornate wedding jewelry.
Custom Superhero Wedding Rings – Superman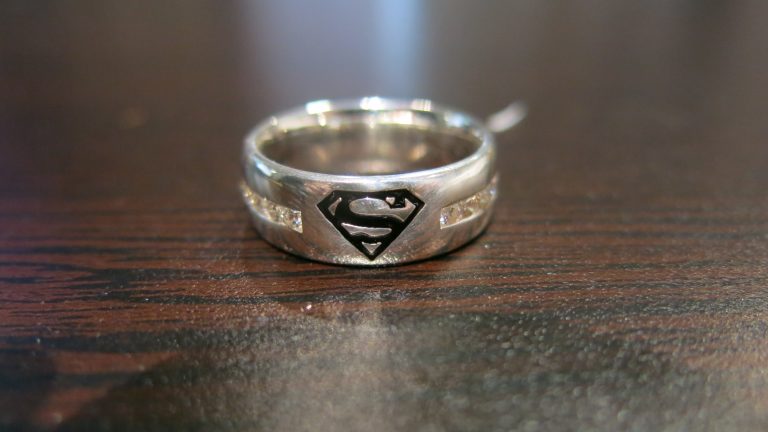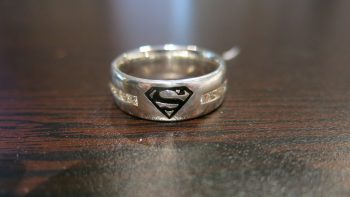 Behind Batman, Superman is the second most popular superhero and the one that started it all. The Superman is one of our favorite Superhero Wedding Ring styles with the thin black lines of the "s" standing out against the white of the Gold. It makes for a dramatic contrast, but we could also do the S in other colors.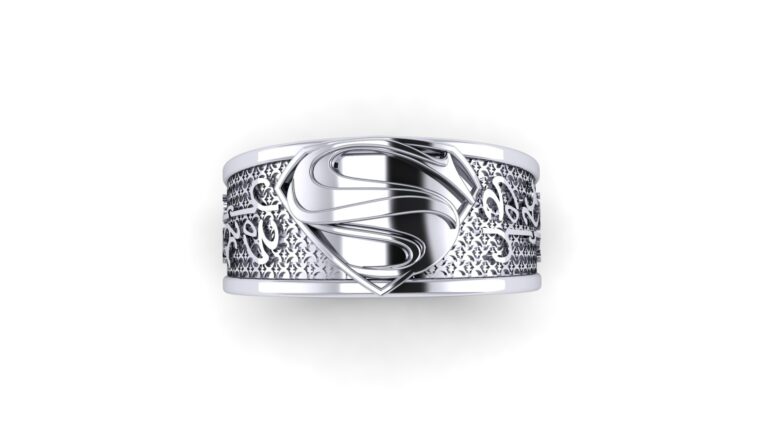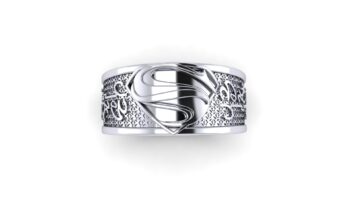 In this Kryptonian Superman Wedding Ring, we started off with a swirling "S" to give it some motion.  Most of our other superman rings had the "S" made with enamel.  Then we took the symbols from superman's new suit and put those on the base.  Crawling up the sides of the ring to the "S" is some krytonese from the superman's suit.  We know this is kind of personal and maybe not for everyone!  So we created a few variations of this ring.  See them HERE and HERE.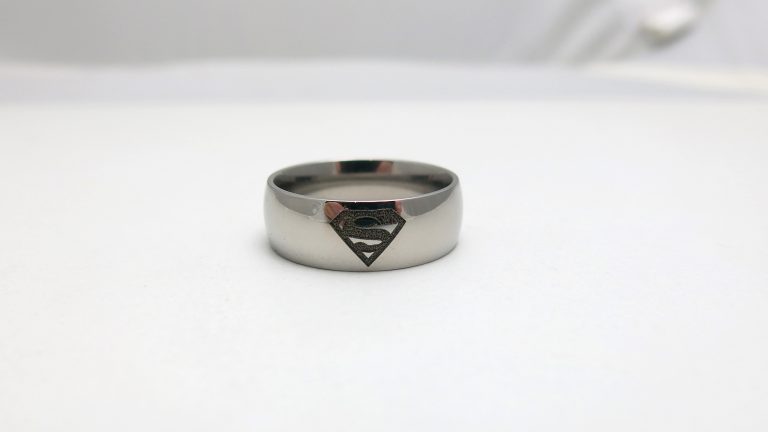 With Titanium, we aren't able to cast the ring with the Superman symbol cut out of the ring.  So we have to use a laser to "burn" the logo in to the ring.  It isn't as black as the enamel and it will fade, but if you want a contemporary metal, this is your only option.
Superhero Wedding Rings – Not Just a Niche Anymore
With the growth and technological advances in CAD computer programs, the available themes for custom jewelry have grown exponentially.  Things like flowers, birds, and human body parts were now able to be added to jewelry using CAD.  This naturally led us to try a batman wedding ring, which was very well received and forced us to look for more ideas.  As a result, we have created numerous Superhero Wedding Rings for hundreds of fans who couldn't find a ring with their favorite superhero on it anywhere.  Or, if they could find one, it was a cheap thing produced in Asia.  We love Superheroes, as evidenced by our large number of Custom Superhero Wedding Rings, and want to continue providing a high quality product that can't be found in the chain or mall stores.
Whether you are a gamer, fantasy fan, comic book connoisseur,  Sci-Fi enthusiast, or Anime lover.  We will design custom Superhero Wedding Rings to reflect who you are and what you love.
Custom Superhero Wedding Rings – Green Lantern
While more under the radar than other superheroes, the Green Lanterns has been around for a long time, fighting evil with the aid of rings that grant them a variety of extraordinary powers.  The Ryan Reynolds reboot has definitely caused a rebirth in Green Lantern's popularity and we expect to create more Custom Superhero Wedding Rings in the near future.


This is kind of our standard, entry level layout for many of our superhero rings.  Logo in the middle and with or without stones on either side.  There are always whats to change this up.


Here is the female version of the same ring.  We have just tapered shank to make it more comfortable and feminine.
Custom Superhero Wedding Rings – The Flash
The Flash is one of DC Comics' most popular characters and a staple of the comic book world.  The Flash has been adapted to numerous films, video games, animated series, and live-action television shows.  Not one of our most popular Custom Superhero Wedding Rings, but the Flash still holds his own against other superheroes.  We think this one looks better with the stones in it, which you can see if you click on the image.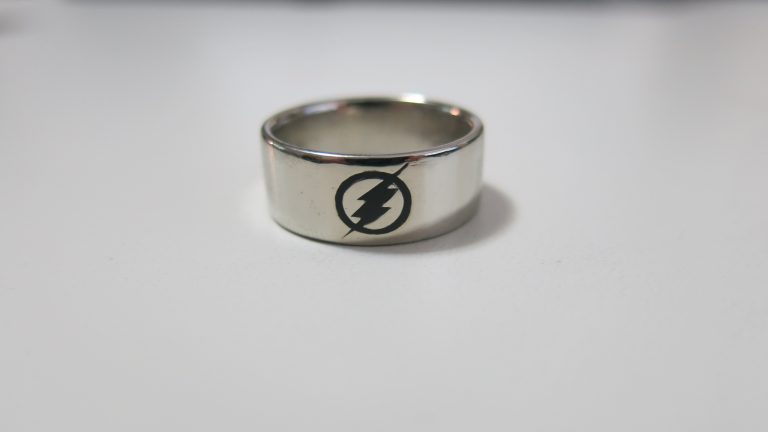 This is just the flash symbol all lonely by itself in the center of the ring..we think it need some sparkle or color from stones!
Custom Superhero Wedding Rings  – Wonder Woman
Wonder Woman is  the third most popular comic book superhero of the publishing company.  She is also widely recognizable in popular culture and various media have adapted her character. Wonder Woman has even been given her own day: June 3. Her logo is harder to incorporate into a Wedding Ring design, but it can be done.  We have another design for her though.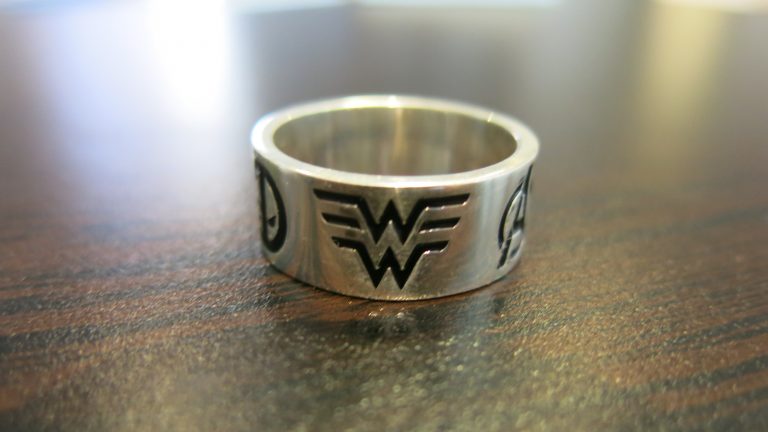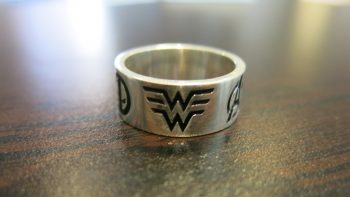 Custom Superhero Wedding Rings – Batman
Our top selling Custom Superhero Wedding Rings are the Batman designs.  The bat is by far the most popular of all superheroes and we have designed more batman rings than all of the other superheroes combined.  I recall the first batman ring I made 8 years ago: all of my friends laughed at me.  But little did they know, we had tapped into a huge demand that got us into the awesome world of geek wedding rings.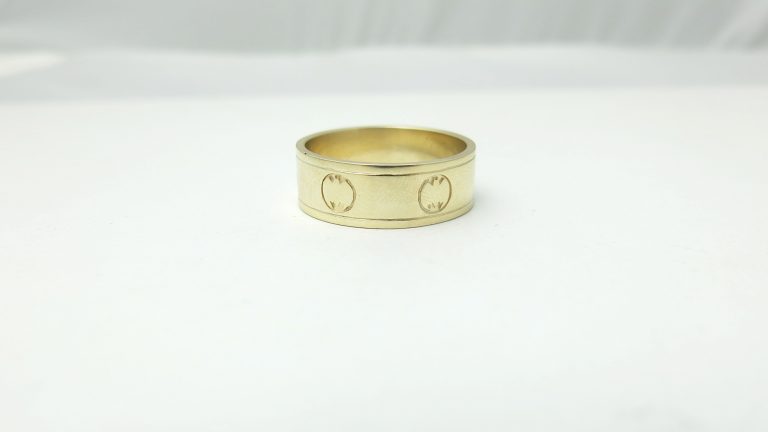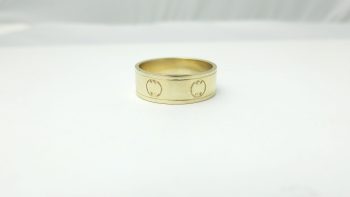 This is out latest batman wedding ring design.  We took an older version of the bat and placed 6 of them around the ring.  We also think it might be cool to put one stone in between each bat, but that is just us.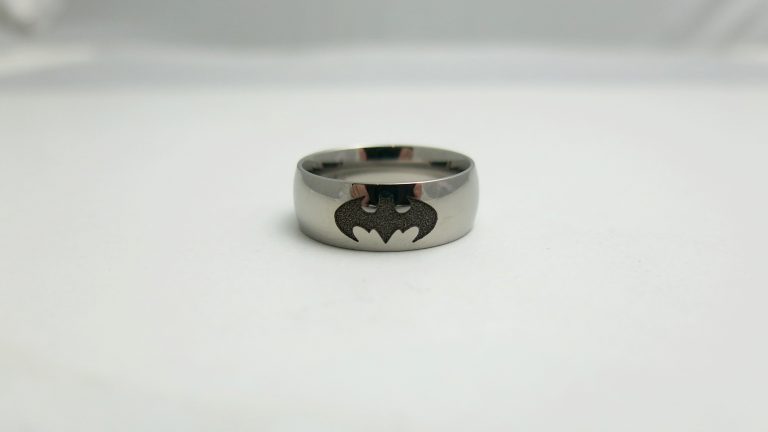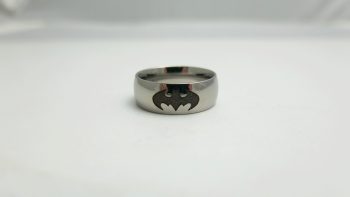 Here is another of our batman rings, except it is in Titanium.  We take mass manufactured titanium wedding bands and laser engrave the logo onto it.  This costs less than have to cast something even in silver and represents a lower price point for people who don't want to spend more than $200 in a wedding ring.
Custom Superhero Wedding Rings – Captain America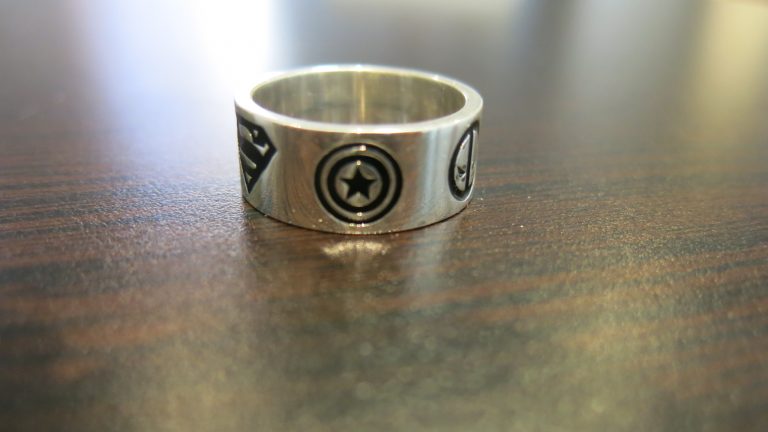 Recipient of the Super-Soldier serum, World War II hero Steve Rogers fights for American ideals as one of the world's mightiest heroes and the leader of the Avengers.  While he might have the least cool powers of the Avengers, Captain America would still kick your ass.
Custom Superhero Wedding Rings – Deadpool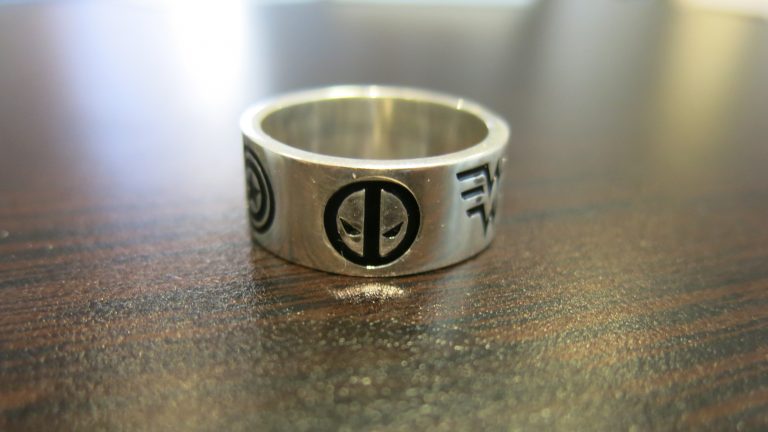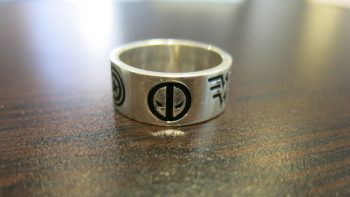 On the same ring as Captain America is a Deadpool logo.  As we have said before, no theme is out-of-bounds as long is it will come out in the casting. And it is legal!
Custom Superhero Wedding Rings – The Avengers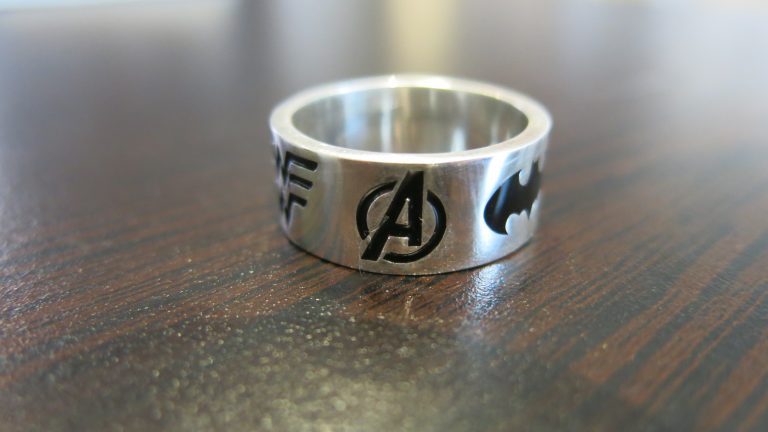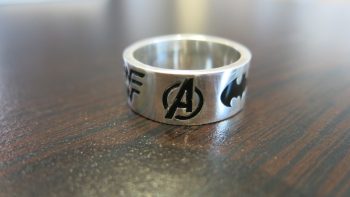 This customer was obviously REALLY into comics and superheroes. As you can see, the Avengers rounded out the superhero logos on this ring.  This ring had 6 logos on it.  So despite the small space, there is enough real estate to get quite a bit on these kinds of rings. But you don't have to take it to the extreme…we are usually asked for 4.  And they are usually the same logo or theme.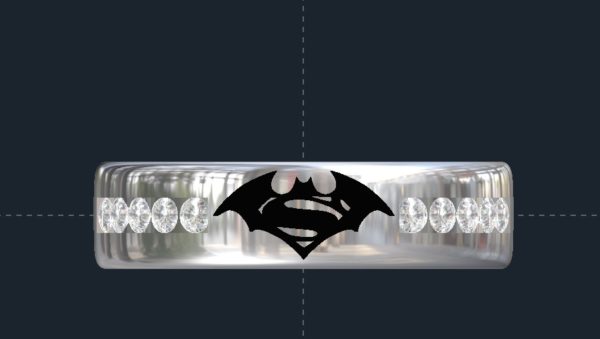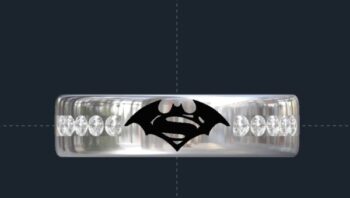 We can also combine your favorite superhero logos into one ring! Here is one with Superman and Batman.  We haven't actually made this for anyone yet, so be the first to own this one!
You might find "Custom" Superhero Wedding Rings for less on Ebay, Etsy, or Amazon.  But rest assured they are made in Asia where quality is low on the list of priorities. In addition to that, any kind of customer service after the fact is impossible. We know first hand!  If you want a Superhero Ring that will last, have it made in the USA by expert jewelry makers.  We guarantee your satisfaction and stand behind the quality of our custom rings.
This is just an idea of the Custom Superhero Wedding Rings we can make.  Do you have an idea for a Superhero Wedding Rings, but don't see it on our site?  Send it over to us and we can almost always make for you.  Unfortunately, there are many topics we haven't tackled.  This is because we either don't have time or don't know that there is a demand.
Click HERE to see more of our Custom Superhero Wedding Rings. Click HERE to learn more about custom jewelry, view our portfolio, or to contact us about  a Superhero Wedding Ring.  It can cost less than you think to have your very own custom wedding ring made just for you.  Why settle for the lame and overpriced wedding bands from the chain stores? We are able to create Superhero Wedding Rings showing your style and personality.  Give us a shout!
Custom Superhero Wedding Rings