Custom Floral Engagement Rings
Thinking about getting engaged?  Looking for that perfect engagement ring to match your girlfriend's style?  If your girlfriend is like most women, she likes flowers, leaves, and trees.  And luckily, jewelry and nature go hand in hand!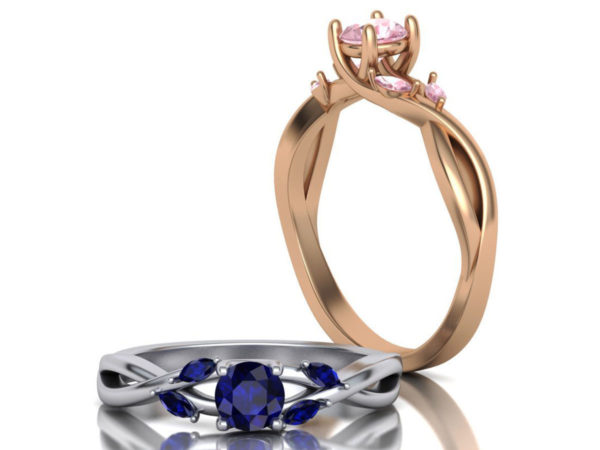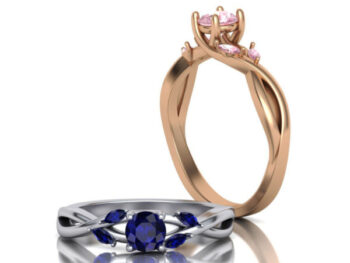 The elegance of  nature translates very well into what women are looking for in their jewelry.  As a result, we have created a ton of Custom Floral Engagement Rings with curving lines, delicate leaves, and flower motifs.  These design elements evoke the earth's beauty in the nature-inspired engagement rings we have created.  We know that nature is a huge subject, so we probably haven't created the custom engagement ring that you are thinking of yet.  No worries…we can design your dream.  Just send it over after checking out come of the flower engagement rings from our portfolio.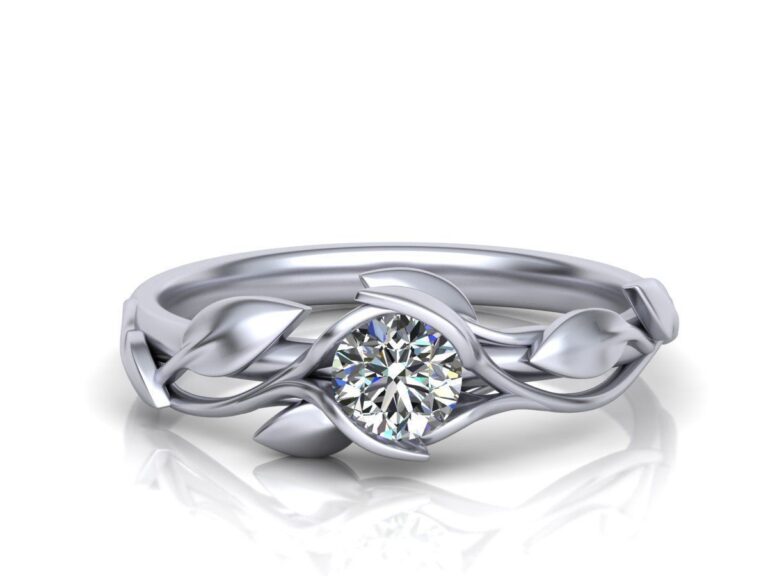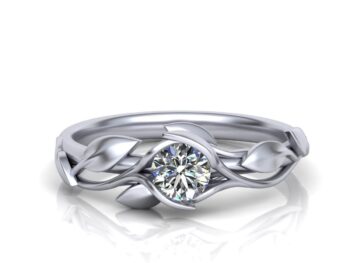 Our Tension set floral engagement ring has leaves crawling up the shank with the final two holding the stone in place.  We would love to see this one with a colored stone!
Floral Engagement Rings Come in Many Forms
The 1940s saw a divergence from the angular lines of the Art Deco era towards more  floral inspired engagement rings.   We think that the ugliness of war forced women to look to the beauty in the world. Ever since then, Custom Floral Engagement Rings have become increasingly popular for various reasons. Nature motifs are timeless, beautiful, and can fit in the spaces provided by the modern engagement ring.  They can also be intensely personal.  Nature can evoke and create powerful memories.  So what is a more perfect vehicle for these memories than a custom wedding or engagement ring?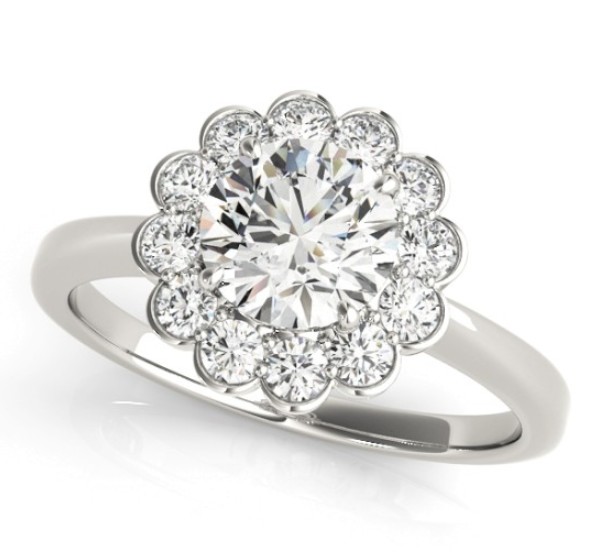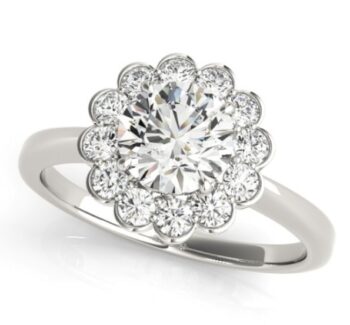 This floral halo engagement ring is pretty simple. The scalloped settings of the accents form the petal of the flower.  This one can really achieve a wide variety of looks with the use of various colored stones.
Some women like the idea that Custom Floral Engagement Rings can have a story behind the flowers chosen for the ring.  And still others like that Custom Engagement Rings can incorporate so many design elements that the possibilities are almost endless.
Custom Floral Engagement Rings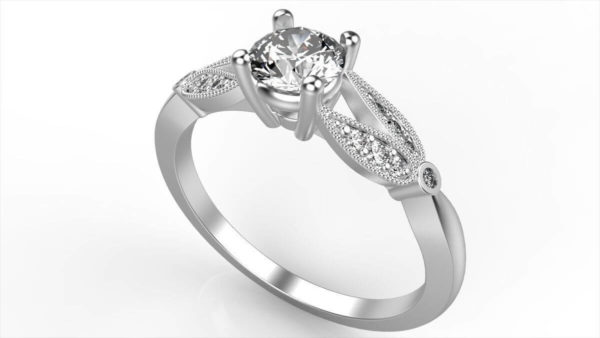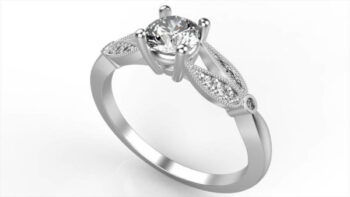 In this Split Shank Engagement Ring, the shank splits from a bezel set stone at 10 & 2 O'clock.  From there, two diamond crusted leaves arch up the center stone.
So, there are a lot of great reasons why Custom Engagement Rings make sense. But, there are a lot of options out there and it we know that is can be a little overwhelming.  In this post, we are going to talk you through the different types of floral rings available, give you some tips on where to find the best ones, and help you out with some pointers on what to look for when shopping for a Custom  Engagement Ring.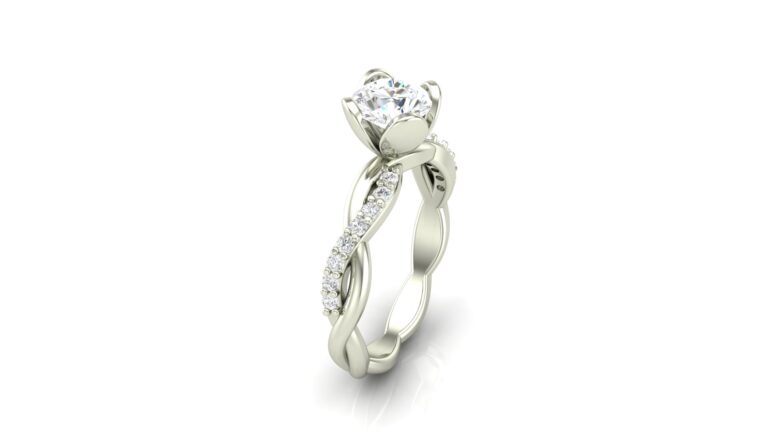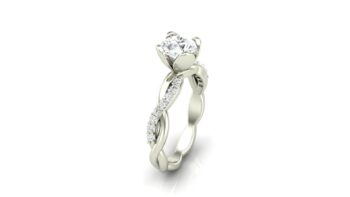 This is one our favorites.  The 4 petals hold the stone in while beneath, the shank split and crossover each other.  One of the shanks is French Pave set with Diamonds.
The Bottom Line on Custom Floral Engagement Rings
Engagement Ring fashions come and go, but Floral Engagement Rings will never go out of style.  With their unique and feminine details pulled from nature, there will always be a demand for Custom Floral Engagement Rings.  For brides looking for a versatile, yet still traditional engagement ring, one of our Custom Floral Engagement Rings make an excellent choice.  They are still in the realm of what is considered normal, but you are able to add your own style and touch it.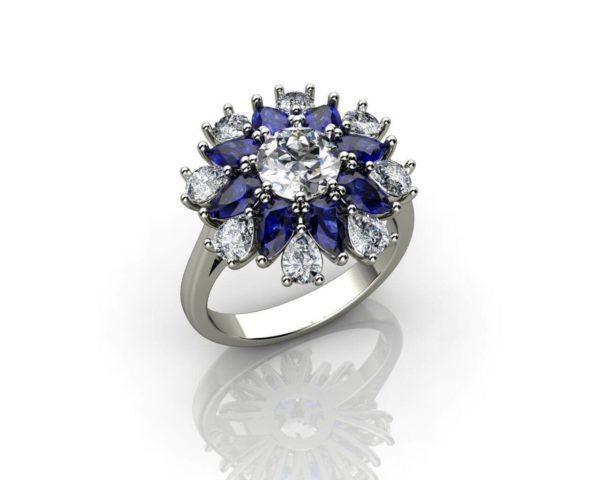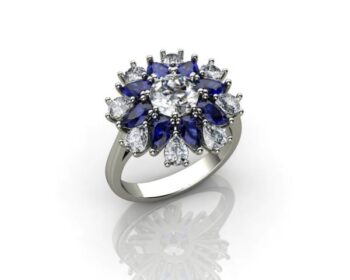 This Vintage Floral Engagement Ring is one of the more interesting engagement rings we have created.  The 5mm center stone is surrounded by both Sapphire and Diamond pear-shaped stones.  The Diamonds are 4x3mm and the Sapphires are 5x3mm, but it is the arrangement that is spectacular.  The  staggered and reversed pattern of the pear shapes forms the leaves of a flower.
Does the ultra traditional solitaire engagement ring leave you with something to be desired? Do you want something different from what is at the mall?  Then one of our Custom Floral Engagement Rings is for you. Whether modern, art deco, vintage, or classic, we can create the perfect custom engagement or wedding for you.
Send Us Your Idea For A Custom Floral Engagement Ring!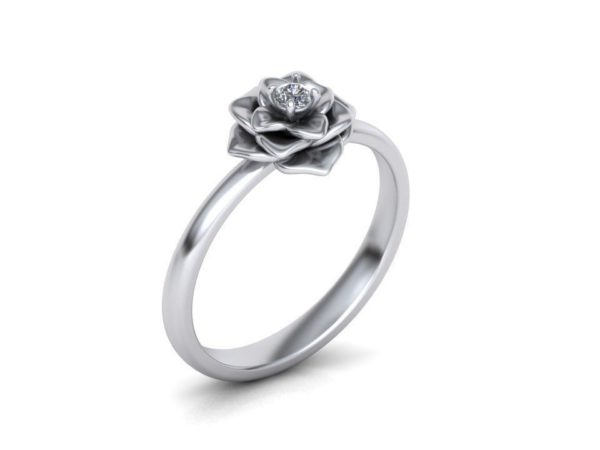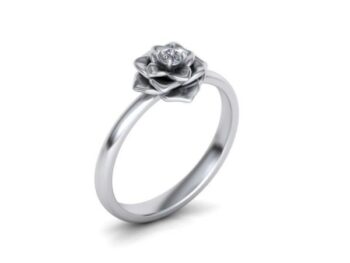 This Rose Promise Ring is about as simple as it gets. Just a lonely rose with a small diamond nestled in the petals.  We could always jazz the ring up and add stones on the band if you liked.
Creating Custom Floral Engagement Rings is all about your dream for the perfect ring.  Luckily, we can help you realize that dream if you aren't 100% sure of what you want.  All we need is a little direction.  Maybe a picture you found online or a crude drawing.  We don't need much to begin creating Custom Floral Engagement Rings.
As you can see from the rings shown in this blog post, our Custom Engagement Rings can entail many different design elements and themes.  When creating our Custom Engagement Rings, we take inspiration not just from the rings made 100 years ago.  We also combine those ideas with new style and design elements, creating something truly unique.  We absolutely adore creating  Custom Floral Engagement Rings.  They can pull from such a huge bank of ideas that the possibilities are almost endless.  You are only limited by the ring itself..
Custom Floral Engagement Rings – give us a chance!
Do you want to create a custom engagement ring that is truly yours? Our Custom Engagement Rings give you an excellent chance to reach that goal.  The alternative is a mass-produced ring from the retail and chain stores.  Do you want something that  than thousands of women could be wearing at the same time? One that was made with nobody particular in mind?  We don't either.
Contact us with your idea for a custom engagement, wedding, or even right hand ring.  We can make anything that is physically possible to create and would  love to bring your idea to life.
Click HERE to learn more about our custom jewelry, view our portfolio, or contact us about our Custom Floral Engagement Rings.  You can see the rest of our engagement ring portfolio HERE.  It can cost less than you think to have a Custom Engagement Rings made just for you.  Why shop the retail and mall stores when Valeria Custom Jewelry can make something matching your style and personality?
Floral Engagement Rings- A "Budding" Trend!