Green Lantern Wedding Ring
For any DC Comic fan, it's common knowledge that the Green Lantern fought criminals in New York City with the aid of a magic ring. Although there isn't any crime-fighting magic in Valeria Custom Jewelry's green lantern wedding ring, it is enchanted with the power to make your friends green with envy.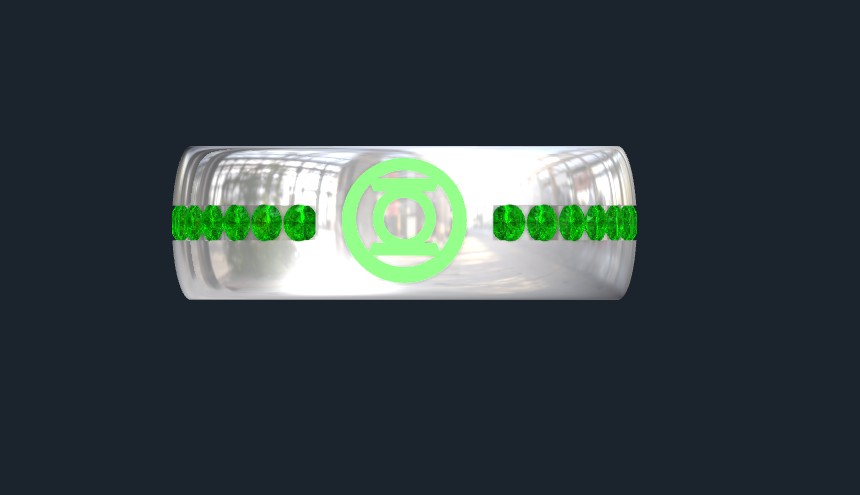 We can add almost any type of stone to these custom rings.  It is also possible to add a stone in the middle of the Green lantern symbol.
Available only at Valeria Custom Jewelry, our Green Lantern wedding bands can be cast in sterling or argentium silver, platinum, palladium, or white, yellow or rose gold. It features a green lantern symbol filled with green enamel and an optional stone can be placed right in the center of it. Accent stones can also be set into the circumference of the green lantern wedding ring for added drama. These stones can be diamond, CZ, moissanite, or colored gemstone.  The ring can be made between 5mm and 12mm wide, and can be cast in sizes 4–15.
Although the actual Green Lantern may be comical, there's nothing funny about the materials used when crafting their one-of-a-kind superhero wedding rings. His graduate degree in gemology and his personal connections to reputable diamond and gemstone dealers secure precious stones that are up to his high standards. He uses comprehensive computer programming to perfect his green lantern wedding ring designs and lost wax casting to bring those designs to life.
We can create both men's and women's superhero rings.  Above you can see a tapered version that is much more feminine.
No matter what your budget is, Lucas works with each client to ensure that they feel special, listened to and ultimately satisfied. He's not in the business of one-time customers; he wants to build lasting connections with each of his clients. Although he's committed to creating custom, high quality, and covetable pieces, his main goal is always to exceed his customer's expectations.
Often times, the brides are the recipients of extravagantly crafted and meaningful engagement and wedding rings. But the green lantern wedding ring gives grooms a chance to customize the one piece of jewelry that will last them the rest of their lives.
Click HERE to see more of our superhero wedding rings.  Click HERE to learn more about custom jewelry, view our portfolio, or to contact us about a green lantern wedding band.  It can cost less than you think to have a custom wedding ring made just for you.  Why settle for the lame and overpriced bridal jewelry from the chain stores when we can make something showing your style and personality?