Custom Skull Rings
At Valeria Custom Jewelry, we strive to create exactly what each client is looking for, which has led us to create a suite of Custom Skull Rings.  We have both men's wedding rings as well as Engagement rings and in different style to match various tastes.  Browse our portfolio for existing Custom Skull Rings and if you don't see what you want, contact us with our idea and we will show you what we can do.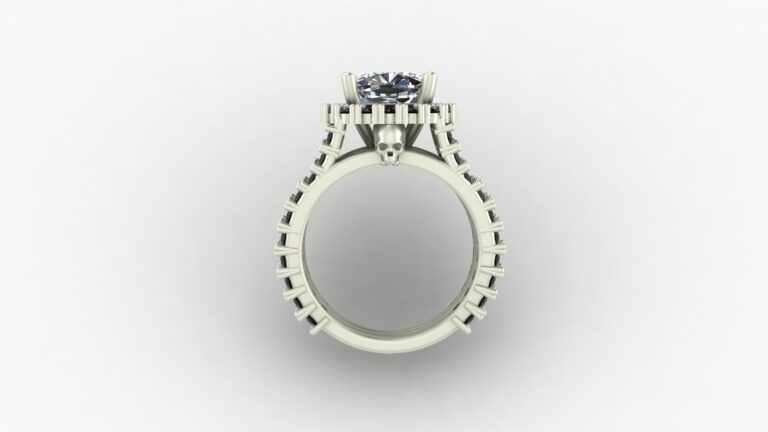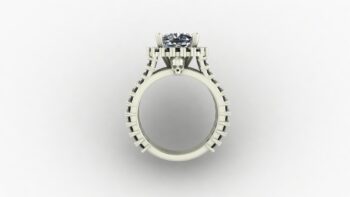 This ring was actually one of two Skull Rings that were created as guards to turn a customer's solitaire ring into a halo ring.  This was a perfect example of being able to take your existing jewelry and re-purpose it.
We Can Make Them All
Both Men and Women's Custom Skull Rings have become wildly popular in the jewelry industry with the recent prevalence of 3D CAD programs. Even men who do not usually wear jewelry at all will shop around for skull jewelry.  CAD programs are now able to create a multitude of style of skulls, ranging from detailed and life-like, to stylized or futuristic.  If these rings were only worn by rockers and bikers in the past, they are now front and center in mainstream pop culture and worn by people you wouldn't expect to wear skull jewelry.  In fact, many big names have been sporting skull rings in the public eye for a while now. Whether you like the look skulls or you are enamored with what they constitute, Valeria Custom Jewelry offers a wide range of skull rings for both women and men.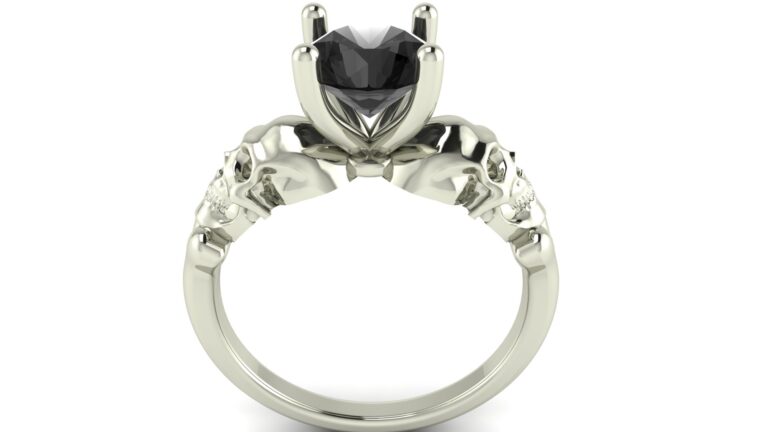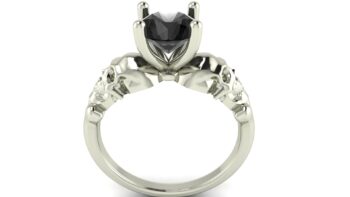 This Black Diamond Skull Engagement Ring is a great one for skull lovers.  Each shoulder has a skull accented with diamond in its eyes.  The skulls are held in place by some bone knobs!  If you would like to use another skull in our Black Diamond Skull Engagement Ring, we could change it to something else.  We could also make this a halo ring if you wanted that as well.
Skull Representations
The meaning behind skulls and what they represent is what is most appealing to seekers of Custom Skull Rings. Most often, a skull represents mortality and death. This can be the death of a foe, death of an idea, or death of a loved one. Thus, the death of one aspect of life leads to the birth of the new aspect. In addition, the skull can represent the rebirth of another life. To many, the skull is mainly a reminder of the mortality that plagues humans.  Then, there are those who just love skulls and how they look.  Why did pirates adopt the skull and crossbones as their emblem?  Because skulls are cool! And the Custom Skull Rings we have created at Valeria Custom Jewelry can be as cool as you want to make them!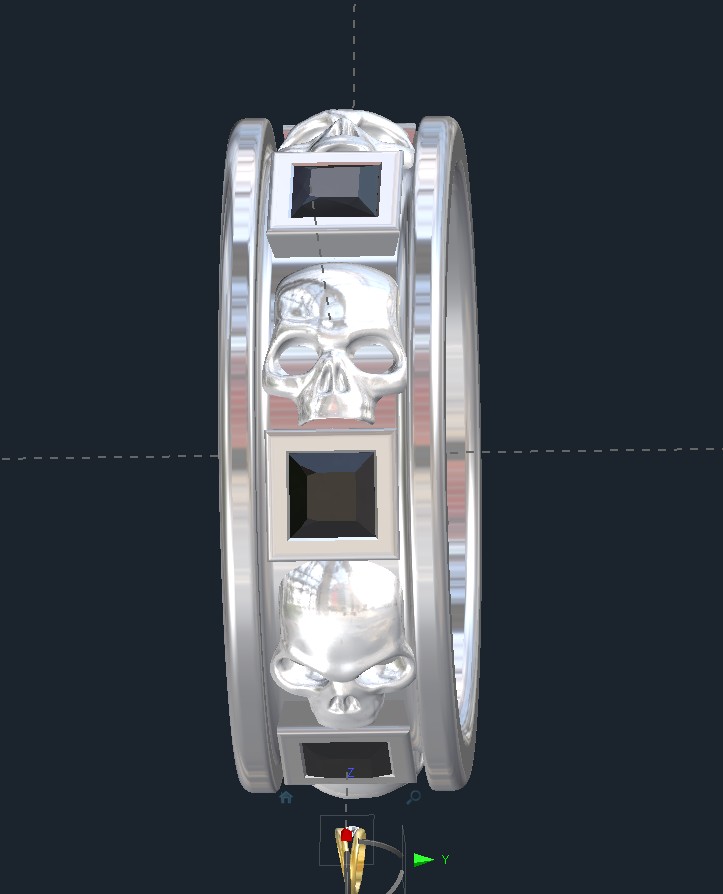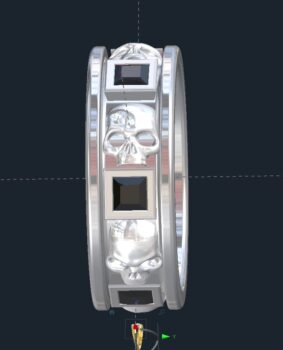 This is a skull wedding band that has bezel set princess cut black diamonds alternating with our "Ancient"skull around the ring.  It was 8mm wide and the stones were 3mm, but those numbers can be played with.
The popularity of Custom Skull jewelry makes it widely available in the jewelry market. Custom Skull Rings rings are normally heavy-duty rings with bold designs. This means Custom Skull Rings are usually pretty durable and should last for decades.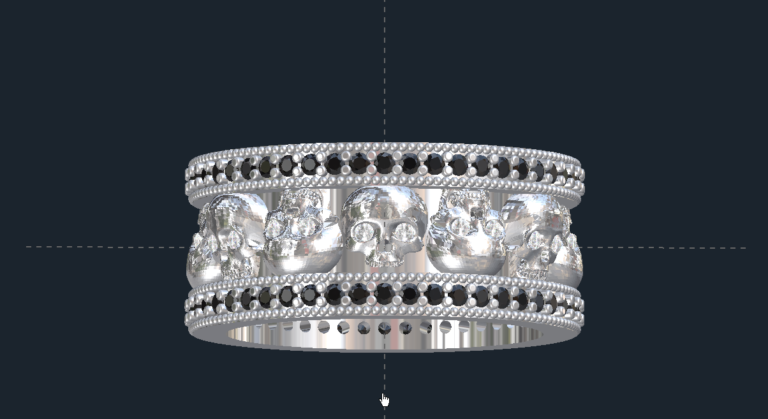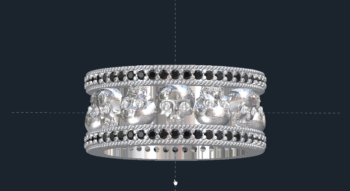 This men's skull wedding band has sparkle coming from all directions!  In addition to the two rows of black diamonds going around the outer rails, there are white diamond  in the eyes of the skulls going around the inside.  These point at angles other than perpendicular to the ring, so it sparkles from more angles.
Variations
Typically, Custom Skull Rings are cast in white or yellow Gold as the metal is more durable, but Sterling Silver is possible as well.  And you will occasionally see them made in premium metals like Platinum or Palladium, but these metals aren't as common as they can become very pricey.  However, they do remain an option.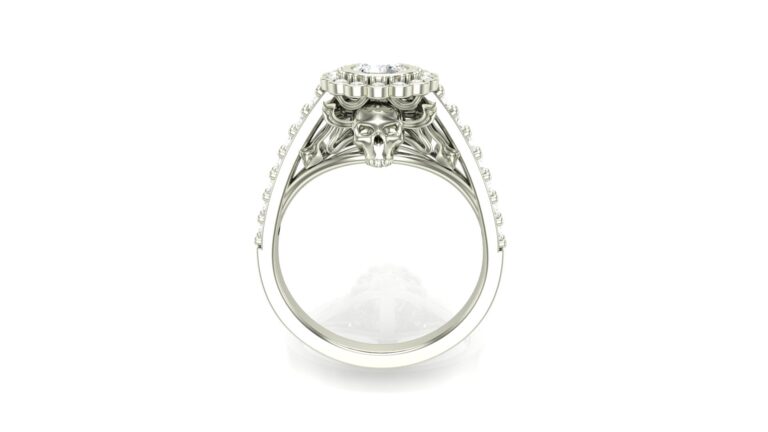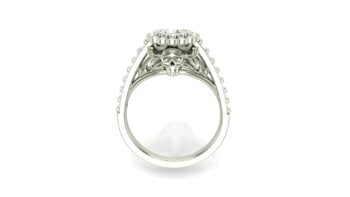 This art deco ring has skulls beneath the halo on both sides of the ring.  Blowing around the skulls are wisps of smoke blowing. We also have a taller version with a larger skull.
With custom jewelry, there are many varieties of ring styles for you to choose from; many rings will have stones in the eye sockets. Some rings will have stones on the sides of the band. For some reason, the most common gemstone used in Custom Skull Rings is Black Diamonds.  They just seem to go well with the white metal.  Rubies are the second most common gemstone used in Skull Rings.  They have the look of blood, which makes them a very good choice.  Are diamonds not in your budget?   More affordable stones such as CZ can be used without sacrificing the sparkle of diamonds.
Skull Versions
There are many versions of skulls to choose from when it comes to skull rings. Some skulls seem to demonstrate emotion while others are fairly plain. Some are more detailed than others while some look ancient versus relatively new.  Skulls can also be combined with other symbols such as fighters, mystical symbols, and animals. Additionally, some rings utilize more than one skull in their design. Whether you are looking for a single skull ring without stones or a multiple skull ring with plenty of colorful stones.   Valeria Custom Jewelry can create Custom Skull Rings with designs not commercially available.
The rise in popularity of Custom Skull jewelry has also increased their availability. But don't be fooled by cheap Asian jewelry.  Get a quality one from Valeria Custom Jewelry!
Let Us Create the Custom Skull Rings for you and your partner
At Valeria Custom Jewelry, we specialize in sharing your vision for a custom piece of jewelry. We do not impose a design on you based on what we want or like.  We want you to have as hands on of a role as you want.  This can be minimal or totally involved.  Our Custom Skull Ring designs demonstrate a creativity and working knowledge of jewelry design unrivaled in the world of custom jewelry. Since each of our custom rings is made to order, no two are exactly alike.
So rest assured that your custom ring will be made as uniquely as you want them to be. With our ethically sourced diamond and precious gem contacts from around the world.  We are able to make sure that the stones and metals used to create your custom jewelry pieces are of the highest quality. We also provide at a good value in terms of price. Why settle for mass-produced rings from big box chain stores? Valeria Custom Jewelry can create showing Skull wedding or engagement rings showing your personality.  And usually for less than a comparable retail ring.
Click HERE to learn more about custom jewelry, browse our portfolio,  or contact us with your idea for a custom engagement ring.  It can cost less than you think to have your very own ring made just for you.