Star Wars Wedding Bands For Men
No matter if you are 10, 30, or even 65:  Star wars has captured our imaginations for decades.  And recently, the old standbys of Luke, Han, Leaia, and Chewi getting old in the tooth, a new group of fighters have come to the forefront. There have also been a wide spate of new offerings in terms of other media that is introducing us to all new sides of the Empire.  It is against this backdrop that we have created our Star Wars Wedding Bands For Men.
Often times, the brides are the recipients of extravagantly crafted and meaningful engagement and wedding rings. But our Star Wars Wedding Bands For Men give grooms a chance to customize the one piece of jewelry that will last them the rest of their lives.  And more than that, it gives a couple something far more special than something bought at the mall and you can see that ring any day of the week on someone else's finger.
Discover the countless reasons why custom jewelry is the ultimate choice when it comes to finding the perfect Star Wars wedding ring. Allow us to guide you through the wonderful world of personalized jewelry.  We will show you why it is the best option for your special day.
Available only at Valeria Custom Jewelry, our suite of Men's Star Wars Wedding Rings designs can be cast in sterling or argentium
silver
, platinum, palladium, or white, yellow or rose gold.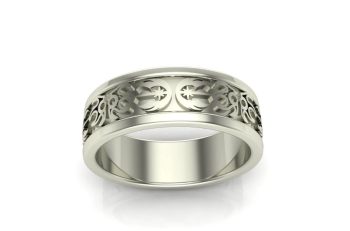 This is our Rebel Alliance Wedding Ring.  We have a couple variations of this ring.
Why Star Wars Wedding Bands For Men Are So Popular Right Now
Star Wars wedding bands for men have become incredibly popular in recent times. These unique rings are inspired by the iconic Star Wars franchise. This makes them the perfect choice for fans of the series. With their intricate designs and attention to detail, Star Wars wedding bands offer a stylish and meaningful way for men to showcase their love for the saga.
One of the reasons why Star Wars wedding rings are so popular is their versatility. These rings come in a variety of designs, allowing grooms to choose the one that best represents their personal style. From subtle engravings of the Millennium Falcon to bold symbols of the Jedi Order, there is a Star Wars wedding band to suit every taste.
In addition to their aesthetic appeal, Star Wars wedding bands for men also hold sentimental value. For many fans, the Star Wars franchise holds a special place in their hearts, representing cherished memories and shared experiences. By wearing a Star Wars wedding band, men can carry a piece of that nostalgia with them, symbolizing their love for both their partner and the beloved saga.
Overall, the popularity of Star Wars wedding rings can be attributed to their unique designs and sentimental value. These rings offer a stylish and meaningful way for fans of the Star Wars franchise to showcase their love and devotion. This makes them a popular choice for grooms who want to add a touch of their favorite galaxy far, far away to their special day.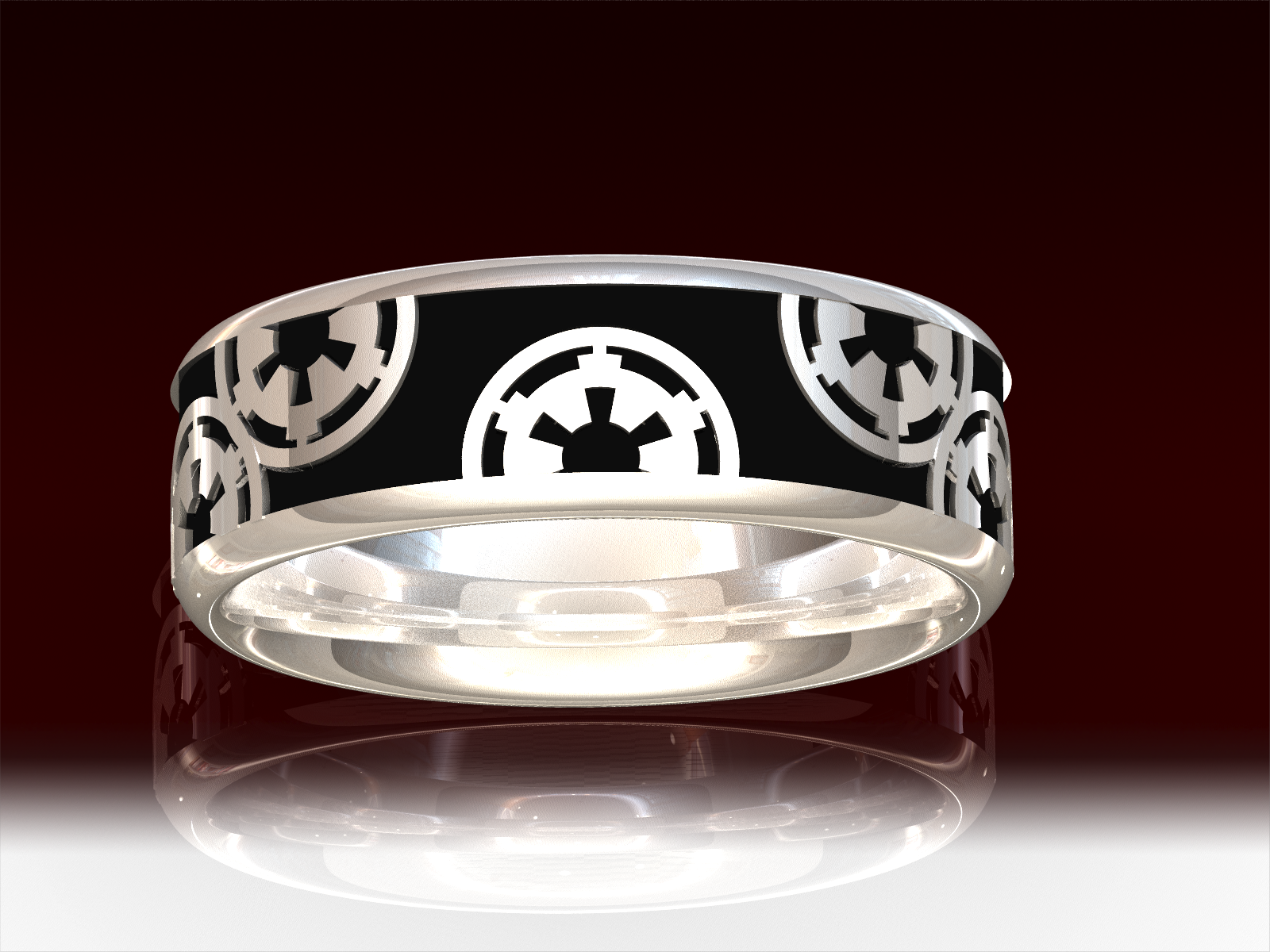 The Galactic Republic Ring pictured features an enameled Galactic Republic emblem that can be filled with colored enamel.
Why Custom Jewelry Is The Best Way To Get Star Wars Wedding Bands For Men
Custom jewelry offers a unique and personalized touch to any special occasion. When when it comes to getting a Star Wars wedding ring, it is the best way to go. With custom jewelry, you have the freedom to design a ring that perfectly captures your love for the iconic Star Wars franchise. Whether you want a ring inspired by the Millennium Falcon or one adorned with the Jedi symbol. The possibilities are endless. Custom jewelry allows you to express your individuality and create a one-of-a-kind piece that will be cherished for a lifetime.
One of the main advantages of choosing custom jewelry for your Star Wars wedding ring is the ability to incorporate meaningful elements into the design. You can include symbols, quotes, or even characters from the Star Wars universe that hold special significance to you and your partner. This personalization adds a sentimental value to the ring. This makes it a truly unique and meaningful representation of your love and shared interests.
Another benefit of opting for custom jewelry is the high level of craftsmanship and attention to detail. Custom jewelers are skilled artisans who take pride in their work and strive to create exquisite pieces of jewelry. They will work closely with you to understand your vision and bring it to life. This will ensure that every detail of your Star Wars wedding ring is meticulously crafted. From the choice of metals and gemstones to the intricate engravings, every aspect of the ring will be tailored to your preferences.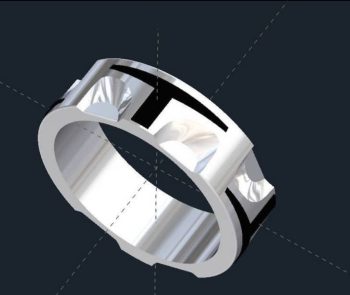 How To Have A Star Wars Wedding Band Custom Made
If you're a Star Wars fan and want to add a touch of the galaxy far, far away to your wedding, a custom-made Star Wars wedding band is the perfect choice. With a custom-made band, you can showcase your love for the iconic franchise in a unique and personal way. Here's a step-by-step guide on how to have a Star Wars wedding band custom made.
1. Find a reputable custom jeweler: Start by researching custom jewelers who specialize in custom-made wedding bands. Look for ones who have experience creating unique and intricate designs. It's important to choose a jeweler who understands your vision and can bring it to life. But if you are here, you have already completed step 1!
2. Decide on the design: Think about what elements of Star Wars you want to incorporate into your wedding band. It could be a symbol, a character, or even a quote from the movies. Work closely with us to create a design that reflects your personal style and love for Star Wars.
3. Choose the materials: Consider the materials you want for your wedding band. Traditional options like gold, silver, and platinum are always popular choices. However, you can also opt for more unconventional materials like tungsten or titanium for a modern twist. Discuss the pros and cons of each material with your jeweler to make an informed decision.
Having a custom-made Star Wars wedding band is a fantastic way to add a personal touch to your special day. By following these steps and working closely with us, you can create a one-of-a-kind piece that will be cherished for a lifetime.
Give Us A Shot!
No matter what your budget is, we work with each client to ensure that they feel special, listened to and ultimately satisfied. We are not in the business of one-time customers. We want to build lasting connections with each of his clients. Although we are committed to creating custom, high quality, and covetable pieces, our main goal is always to exceed the customer's expectations.  And doing this while keeping abreast of the latest trends in custom jewelry and custom jewelry design.
Click on the link to see more star wars wedding rings.  Click here to learn more about custom jewelry, view our portfolio, or to contact us about a custom wedding ring.  Do you have an idea for Star Wars Wedding Bands For Men that you don't see on our site?  Send it over to us and we will see what we can do.  It can cost less than you think to have your very own engagement ring made.