Star Wars Men's Wedding Band
No matter if you are 10, 30, or even 65:  Star wars has captured our imaginations for decades.  And recently, the old standbyes of Luke, Han, Leaia, and Chewi getting old in the tooth, a new group of fighters have come to the forefront. There have also been a wide spate of new offerings in terms of other media that is introducing us to all new sides of the Empire.  It is against this backdrop that we have created our Star Wars Men's Wedding Band designs.
Available only at Valeria Custom Jewelry, our suite of Star Wars Men's Wedding Band designs can be cast in sterling or argentium silver, platinum, palladium, or white, yellow or rose gold.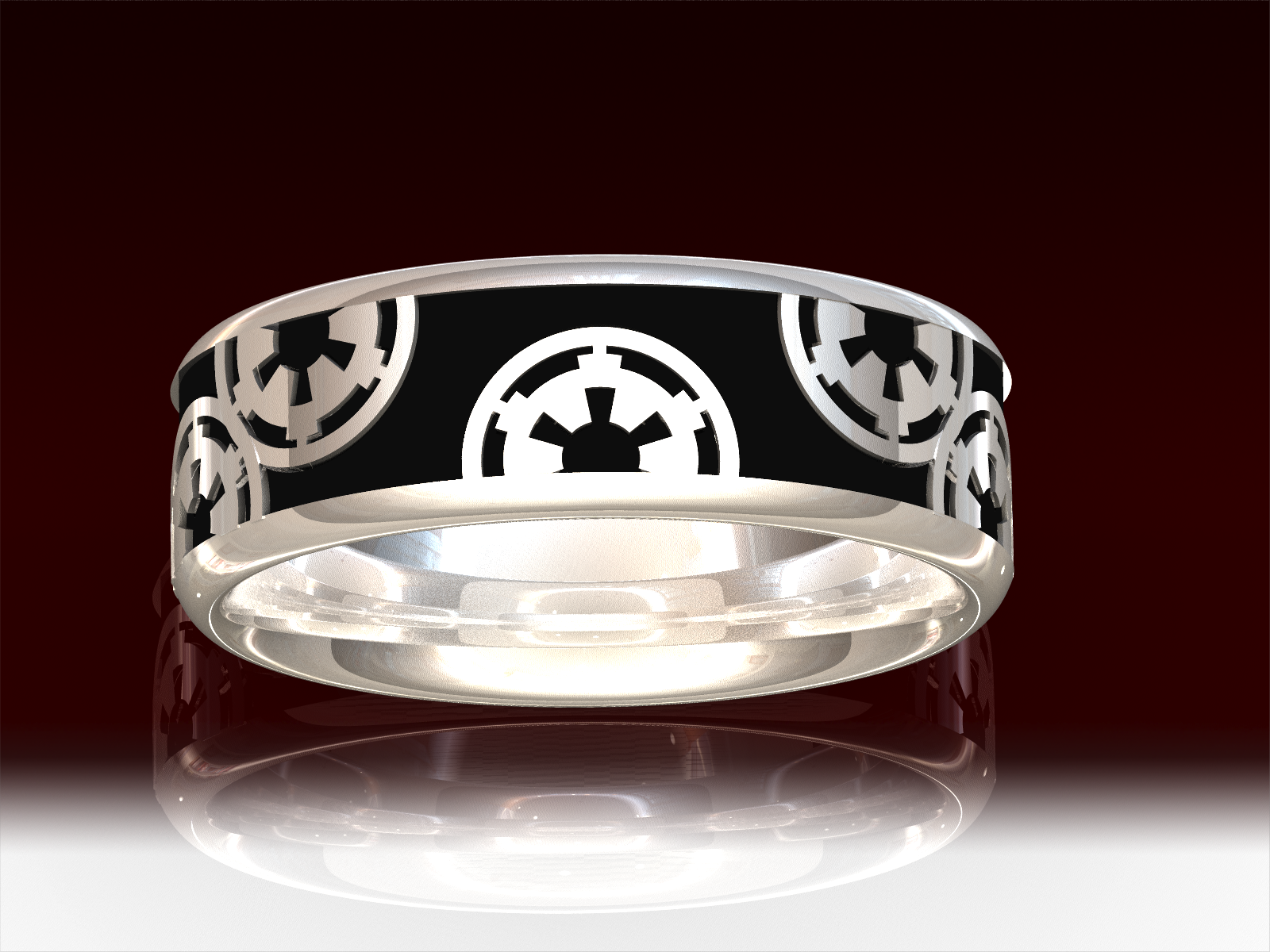 The Galactic Republic Ring pictured features an enameled Galactic Republic emblem that can be filled with colored enamel.
Although it might seem silly to some to have a Star Wars Men's Wedding Band made for an adult wedding, there's nothing silly about the materials Lucas uses when crafting his one-of-a-kind Star Wars Men's Wedding Band designs nor are the customers wanting such a ring.   His GIA Graduate Gemologist Degree as well as his personal connections to reputable diamond and gemstone dealers secure precious stones that are up to his high standards.
To create a Star Wars Men's Wedding Band, we use a CAD program .  After the file is approved by the customer,  the file is grown in wax and cast in your metal.
No matter what your budget is, Lucas works with each client to ensure that they feel special, listened to and ultimately satisfied. He's not in the business of one-time customers; he wants to build lasting connections with each of his clients. Although he's committed to creating custom, high quality, and covetable pieces, his main goal is always to exceed his customer's expectations while keeping abreast of the latest trends in custom jewelry and custom jewelry design.
Often times, the brides are the recipients of extravagantly crafted and meaningful engagement and wedding rings. But our star wars men's wedding rings gives grooms a chance to customize the one piece of jewelry that will last them the rest of their lives.  And more than that, it gives a couple something far more special than something bought at the mall and you can see that ring any day of the week on someone else's finger.
Click HERE to see more star wars wedding rings.  Click HERE to learn more about custom jewelry, to view our portfolio, or to contact us.  Do you have an idea for a Ahsoka lightsaber wedding ring that you don't see on our site?  Send it over to us and we will see what we can do.  It can cost less than you think to have your very own engagement ring made.