Unique Diamond Engagement Rings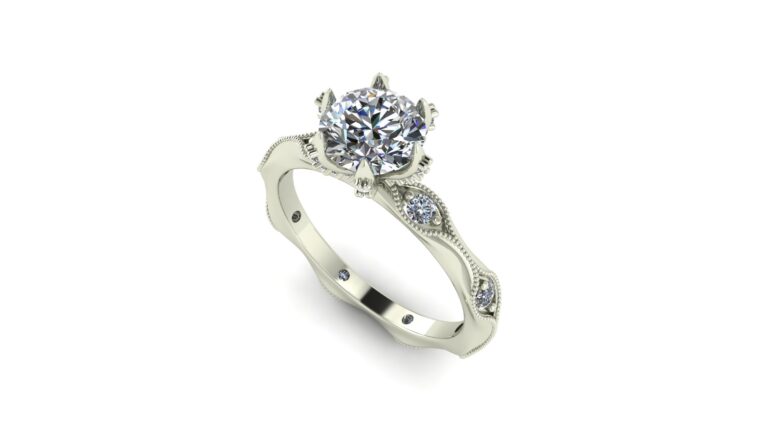 This is one of our Sculptural Engagement Ring designs that we love.  The center stone is secured by 6 prongs that are accented with 1mm stones.  If you don't like 6 prongs, or don't want the accents on the prongs, we can change that.  The shank is an alternation of diamond accents and knife edged milgrain. If you wanted more stones, we could probably add 2-4 more.  We could also remove stones.
When it comes to buying a Unique Diamond Engagement Rings, people can either go with mass-produced items (usually created in Asian sweatshops) or they can create a custom jewelry piece to help their style stand out. If you are going for Unique Diamond Engagement Rings, there are a variety of options to choose from, most of the best locally owned for decades. Whether looking for engagement rings or wedding bands, custom pendants, or anything in else possible, we know there are plenty of quality options to choose from.  We would put Valeria Custom Jewelry at the top of the list for our skill, value and service.  We are confident that if given the chance to create you custom engagement ring, you will be a return customer and recommend us to all of your friends and family.
Unique Diamond Engagement Rings Are What We Do
At Valeria Custom Jewelry, we spend most of our days helping couples select the rings that emulate their love and commitment. This usually entails designing Unique Diamond Engagement Rings that capture their individual styles and personalities.  And many times, that style is dictated by pop culture and the world around us.
Because of this, we are among the very first to notice emerging trends for Unique Diamond Engagement Rings as well as wedding bands.  This is because shoppers looking for something new and untested are forced to go the custom route because what they want isn't at the mall.  Here are a few things we've noticed about the popular engagement rings we are loving now.  Some of these styles will fade, yet some stay strong . These are just a few of our latest Unique Diamond Engagement Rings and a little about their styles.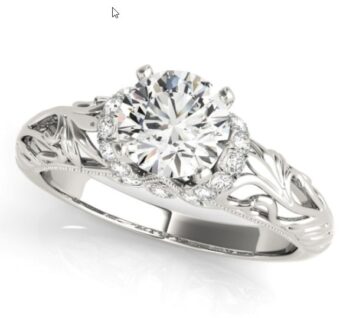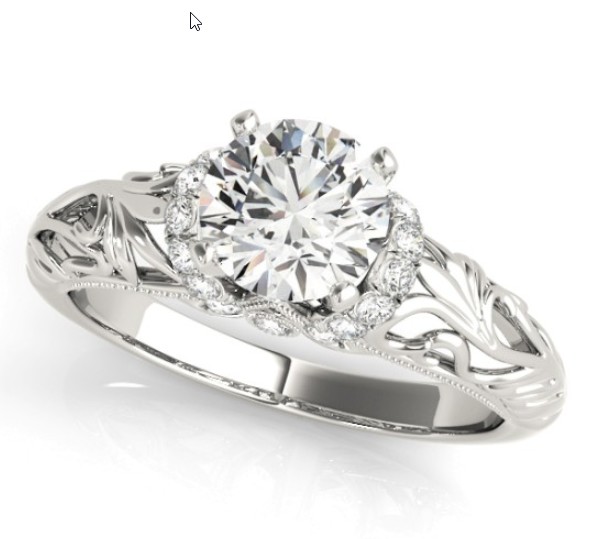 This is a halo engagement ring, but not your typical halo ring.   The center stone is inset into a v shape halo.  However, when looking from the top, it appears to be a standard halo.  The band is elegantly adorned with floral scrollwork with some milgrain thrown in for good measure.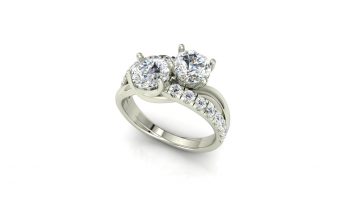 Three Stone Diamond Engagement Rings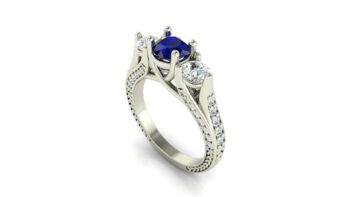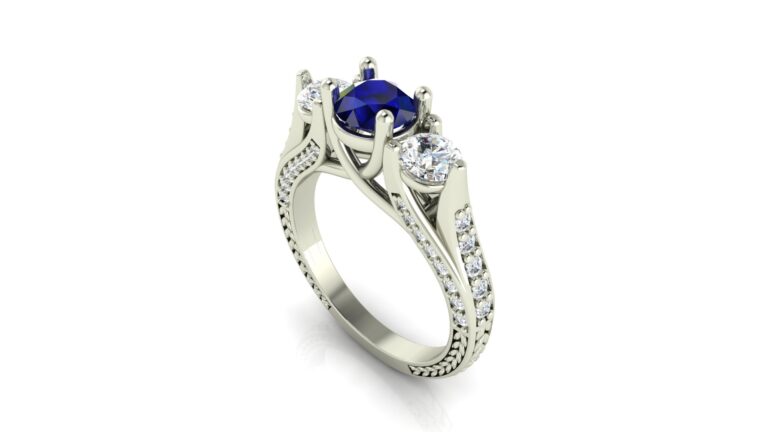 Heralded in by Meghan Markle's royal wedding, the newfangled demand for these dazzling rings is entirely understandable. Ms. Markle's spectacular engagement ring is a cushion cut 3 carat diamond with flanked by two smaller stones, which is a classic version of the style. It's contrasting diamond sizes highlight the 3 carat center stone and allow for a sparkling stream of light to flow through. Equal sized diamonds are just as gorgeous in our opinion. Play around with different shapes and combinations to find what fits your look best.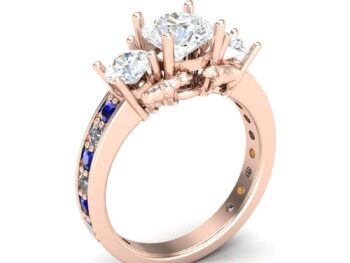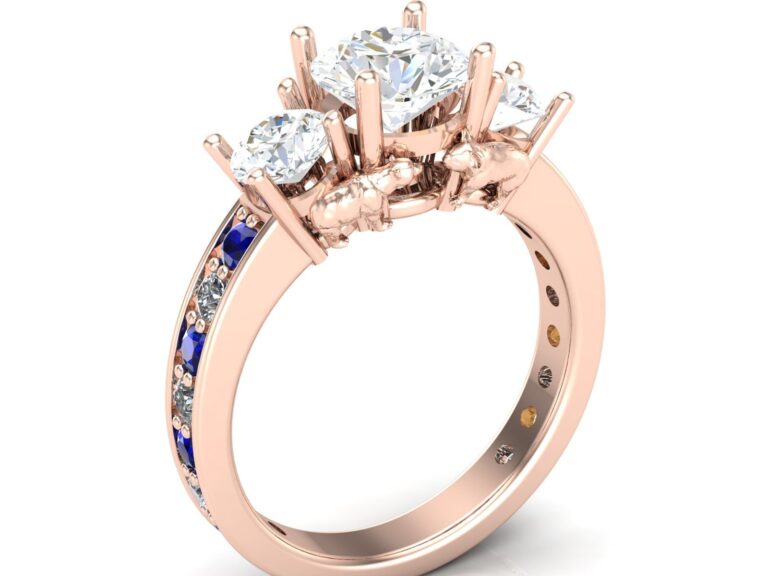 This is one of our nature inspired engagement rings.  It is basically a channel set 3 stone ring, but we added some bears for 2 bear lovers!  We aren't wild about the hybrid channel-prongs setting.  But we are to make the ring that YOU want.  Not what we like.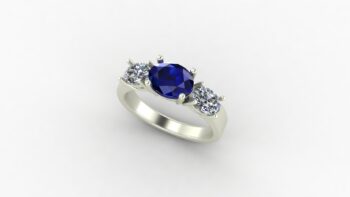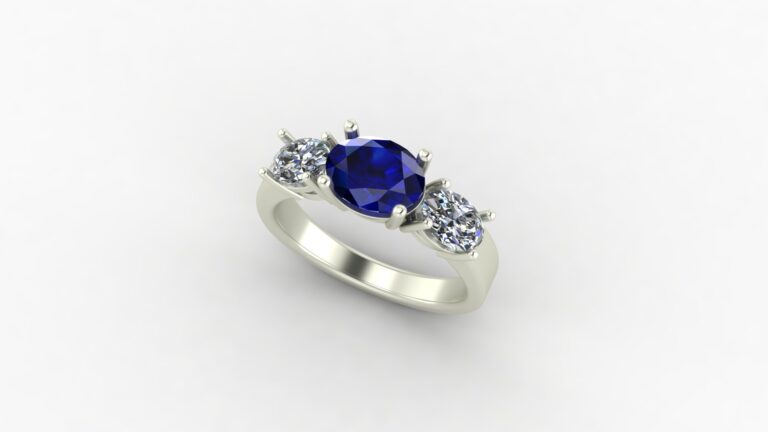 A different take on the traditional 3 stone engagement ring is the east west setting.  An east-west setting refers to when a stone is horizontally oriented on the ring rather than vertically. The effect can be very sleek and modern. The cuts best lending themselves to this style of setting are emerald and oval cuts. However, rectangular cushion, princess, and radiant cuts would work as well.  
Rose Gold Unique Diamond Engagement Rings
The lustrous beauty of rose gold engagement ring settings has been on the rise for a while now.  Once a chic and trendy look, it is now a near-classic and can be seen a lot lately. Rose gold is more subtle than yellow or white gold, especially in the 10K purity. It also looks beautiful with all ranges of skin color, which has contributed to its wide appeal.  Also, as 2 tone engagement rings become more popular, you will see more rose gold engagement rings. It mixes very well with other colors for a ring that is very original.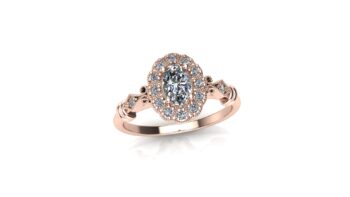 This Oval Vintage Halo Ring is a shout out to the crazy engagement rings created solely by hand in the first part of the 20th century. The stones in both the halo and band are accented with milgrain while the gallery beneath the center stone is artfully cut out with ballpark squares.  There are two bands going around the shoulders for some additional decoration.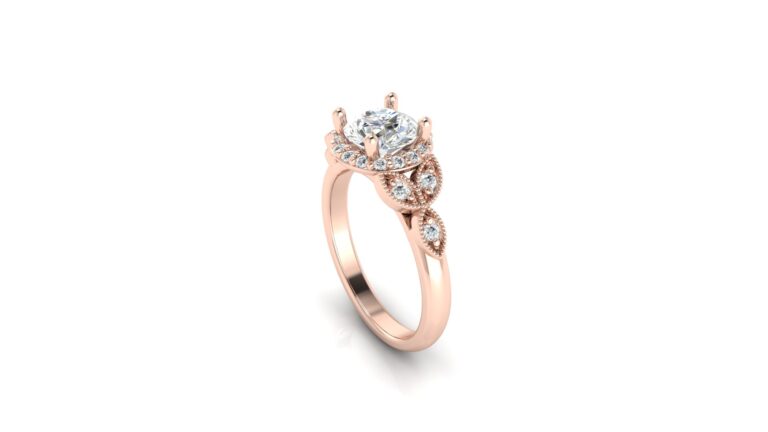 This is one of our Celtic engagement rings done in rose Gold.  The center stone is surrounded by a halo of stones and each shoulder is adorned with diamond accented Triquetras.
Oval Cut Unique Diamond Engagement Rings
While the oval cuts have historically been the most popular diamond cut.  They fell out of favor when cuts like the round brilliant were invented.  However, oval cuts are becoming increasingly popular again. The main reason is obvious, the elongated shape of oval cut diamonds are not only unique, but can make your finger look more slender. The classic length-to-width ratio for oval cuts is 1.4 to 1.6.  However, fatter and skinnier stones can be found, especially with colored gemstones.
Asymmetrical or Non-Traditional Shaped Diamond Engagement Rings
While today's future brides are in love with the tradition of engagement rings.  They don't always want the rings to look traditional.  In fact, many women are opting to make a statement with the diamond engagement rings.  To express their unique personalities or aesthetics, these women are choosing asymmetrical designs that would have looked out of place 5 years ago.  These shoppers usually seek custom designs or non-traditional rings involving distinctive elements like black rhodium, unique silhouettes, and often less traditional colored gemstones such as aquamarines and morganite.
Unique Diamond Engagement Rings – The Bottom Line
Valeria Custom Jewelry has created a wide array of distinct and beautiful already-made jewelry designs. You may find the perfect piece when you search our collection of wonderfully unique, custom-made Unique Diamond Engagement Rings.  Or, you can have something brand new created from the ground up. Whether you design a piece yourself or choose a ready-made design from our inventory.  You are totally able to customize our Diamond Engagement Rings in any way you wish. Engrave your loved one's name or your anniversary, or add a gemstone to our Diamond Engagement Rings. The options are nearly endless!
You can find information on how to begin a project, how the process works, and much more all on our site. Feel free to contact us with any questions you might have regarding Unique Diamond Engagement Rings.  Make sure to visit the site's blog for tips on trends, fun facts about the process and more!   And if you are concerned about ethically sourced diamonds, click HERE to learn more about the Kimberley Process, which ensures that diamonds sold in the US are conflict free.
Unique Diamond Engagement Rings – Not All Custom Is Created Equal
We know there are tons of jewelers out there claiming to create custom jewelry.  However, the majority of these consider engraving, switching out a stone, or adding a different finish to the ring custom jewelry.  We don't.  There are still others who do make custom jewelry, but not on their own.  They will send your design out to a CAD house.  We know because this is what we used to do.  However, it is problematic for various reasons.  First off, think of the operator game you played when you were little.  Stuff gets lost in transmission from one person to the next.  Second, small changes that should take 10 minutes took a day or more. Third, it added to the cost.
At Valeria Custom Jewelry, you will communicate directly with the person designing your custom jewelry creation.  And you are able to be as involved as you like.  You can give us detailed drawings and instructions.  Or, you give us a direction and sit back while the magic happens.  It is up to you.
Click to see more of our custom engagement rings.  Click here to learn more about custom jewelry, view our portfolio, or to contact us about a custom engagement ring.  It can cost less than you think to have your very own custom Diamond Engagement Rings made just for you. Why hassle with the retail stores for boring and overpriced engagement rings?