A Custom Family Crest Ring has become a rich tradition for families who are proud of their ancestry and heritage.  Before CAD, a family crest ring required an expert was carver to get a good result.  That easily cost an arm and a leg.  However, with the advent of CAD, the world of custom family crest ring designs exploded.  We are able to offer different designs, styles, and metal options so you can customize your ring to fit your personality and crest. Each of our Family Crest Ring designs is manufactured and finished by hand.  One at a time.  Because every fine piece of jewelry should be.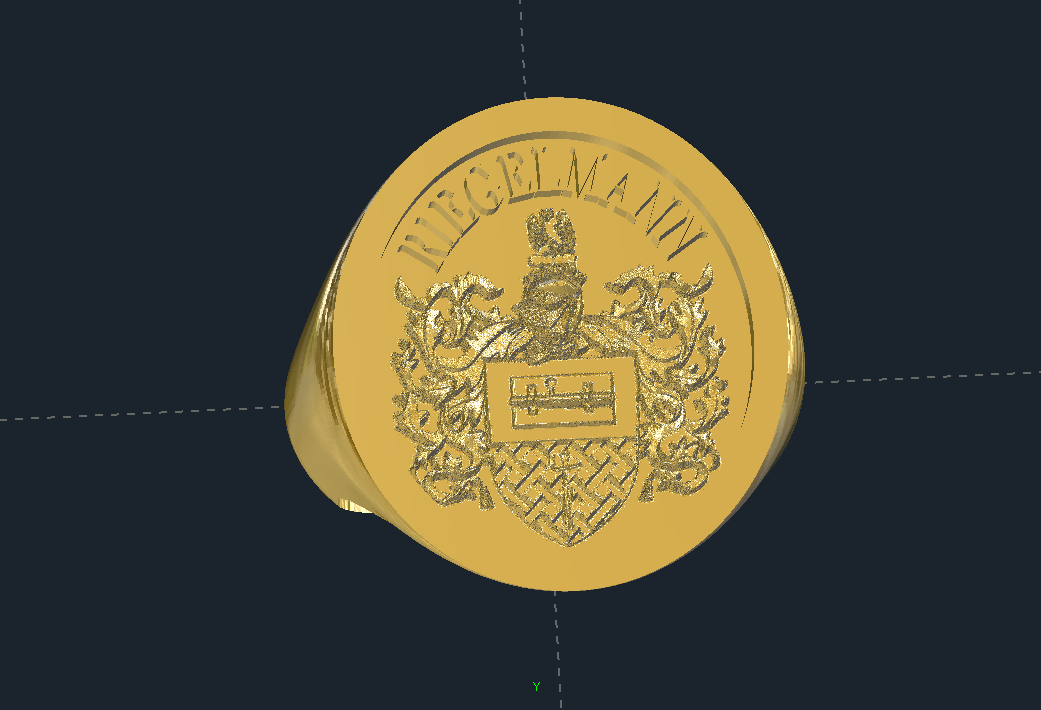 We can create custom family crest rings from almost any family crest! Are you looking to put your family's crest or coat of arms on a ring? If you have a high resolution image, we can turn it into a relief on a signet ring. They have to be pretty large due to the usual detail of these crests; the larger the better. 
Family Crest Rings – On the "In"List At The Moment
Family crest signet rings have really grown in popularity since becoming more available.  They have become a favorite with millennials wanting to show their family pride.  A Custom Family Crest Ring is the perfect mashup of old and new. The old style looks reversed on your ring but it will create a seal with the right orientation. The opposite is true for the New style where the image has the right orientation on your ring but it would stamp a reversed seal.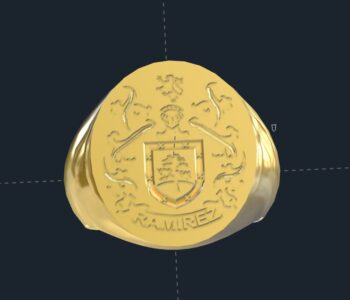 We can take almost coat of arms and turn it into a custom ring design.  However, know that unless you want to remove a lot of the things in your crest, it will probably have to be a very large ring to get the detail that crest signet rings have.
Oval and Antique styles differ in the outer shape. The Oval style is completely oval while the Antique is more rectangular with round corners. We make your Custom Family Crest Ring in any size and shape you want, so you will always get exactly what you are wanting.  It is also possible to add color or sparkle to your custom signet ring.  Using diamonds, gemstones, or enamel, we can further customize your ring and give it even more meaning.
Family Crest Ring – Give Us A Chance!
The crest we created this ring from had a lot of other things around the banners and dragon.  However, this was for a female who didn't want a huge, honking ring. So we are able to modify your family crests to create a design that works for you.
With our customers' absolute satisfaction in mind, a custom coat of arms ring from Valeria Custom Jewelry is made with our dedication to service and is backed by our LIFETIME Warranty against manufacturing defects. Our team  has over 100 years combined experience in the manufacturing of custom jewelry items. We thank you for the opportunity to be part of your experience and hope that we can serve you now and in the future.
All our jewelry items come with a LIFETIME warranty, and are made with pride right here in TEXAS.
Here at Valeria Custom Jewelry, we love waking up each day knowing that we will be having fun at work with jewelry design and that gives us a wonderful start to each and every day.  Do you have a family crest that you want turned into a Seal Ring?  Nothing would make us happier than for you to give us the chance to show you what we can do turning your family's history into a Family Signet Ring.
Once You Go Custom, You Never Go Back….To The Mall!
A custom family seal ring is usually created to become a family heirloom that is passed down from generation to generation, so we take extra care in the creation and completion of your Custom Family Crest or Seal Ring.  A custom signer ring with your family's coat of arms can represent 100's of years of proud history and we want to celebrate that.
We know there are a few other designers who can create custom jewelry as we as we can.  We are fine with you choosing one of those!  But we also know there are tons of retailers parading as custom jewelers that we recommend staying away from.
Whether you're spending $500 or $500K, my goal is to exceed your expectations.  We promise that f you give us the opportunity to custom family seal ring for your family.  You will be ecstatic after the fact.  We make sure every one of our clients feel special and we will do whatever it takes to make you happy. I am looking for lifetime relationships, not one time customers.  I want you to send your kids to me…
We are confident that if you give Valeria Custom Jewelry an opportunity to create your family crest ring,  you will see that the design capabilities, value, quality, and knowledge we collectively possess make us the best choice to turn your custom jewelry ideas and dreams into reality.Click HERE to learn more about custom jewelry, view more of our custom necklaces, or to contact us about a family crest ring.  It can cost less than you think to have your very own custom signet ring with your family crest or seal on it.  Click HERE to see more of our custom signet rings