Custom Made Wedding Ring
Marriage is the sacred bond between a man and a woman. It is the one of the most important and memorable events in a person's life. Everyone wants to make his or her wedding occasion an unforgettable and awesome experience.  After all, it is a very significant decision in one's life.  If you have reached at that moment where you are ready to pull the trigger, help make it the special occasion it is by choosing to have Custom Made Wedding Ring.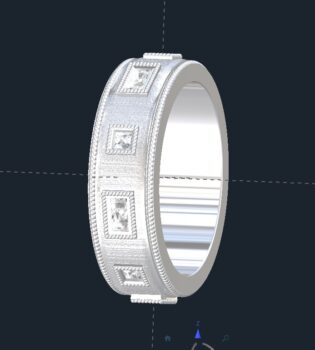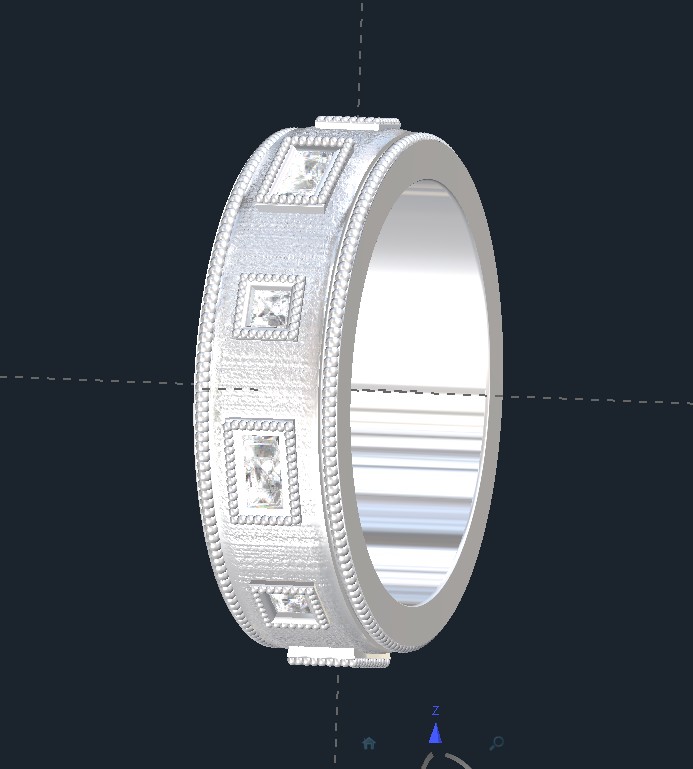 Our Bezel Set Men's Diamond Wedding Ring has a brushed texture that makes the alternating princess and baguette diamonds really pop.  Accenting both the bezels and edges of the stone is an elegant milgrain.  
The Wedding Ring Is More Important Than The Engagement Ring
Out of all the wedding traditions, the wedding ring is the most important symbol of  you and your partner's union.  Exchanging wedding bands is not just a mere tradition to be followed; rather it is an act of love, care, and promise. Even after spending a lot of money on the dress, food, etc, if your custom wedding ring is not up to the mark, the charm of whole event will be ruined.  That is why; one should be very cautious and careful while choosing a traditional wedding band. At Valeria Custom Jewelry, we have created a large portfolio of custom wedding ring designs as precious as our esteemed clients. If you are looking for an awesome custom wedding ring, contact us now!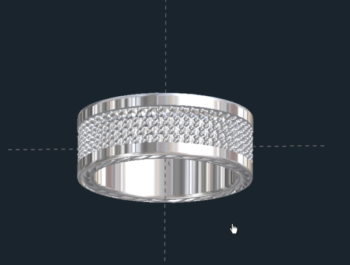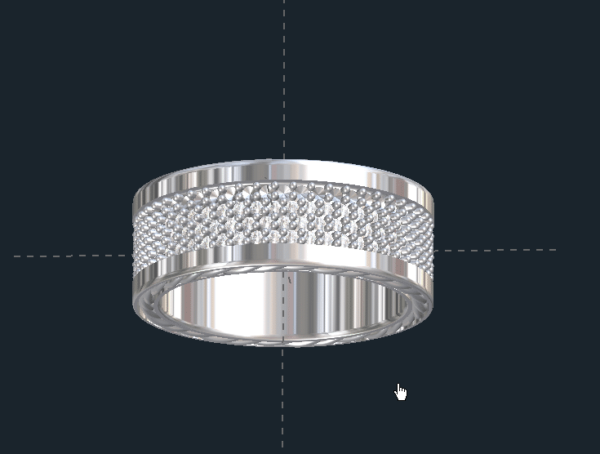 This unique men's wedding ring 4 rows of pave set diamonds.  However, we could go down to as few as two rows if you wanted a narrower ring.  The sides of the ring are decorated with a recessed rope. It is shown with 1.3mm stones, but larger stones could be used.   
History Of  Wedding Rings
The norm of presenting wedding bands to each other is an ancient tradition.  Neanderthals are thought to have to tied twigs, grass and rushes around the bride's wrists or ankles and regarded this not only as a sign of loyalty and friendship.   It was also believed that by doing so the wife's soul would remain intact and that she would live longer. The first evidence of modern wedding rings was found in Egyptian civilization dating back more than 3000 years.  Ancient hierogylphs depict scenes where the bride and groom are offering each other braided rings.  At that time, the woven ring made of reed or hemp served as a custom wedding ring.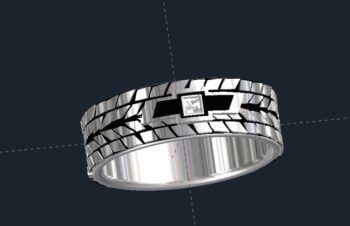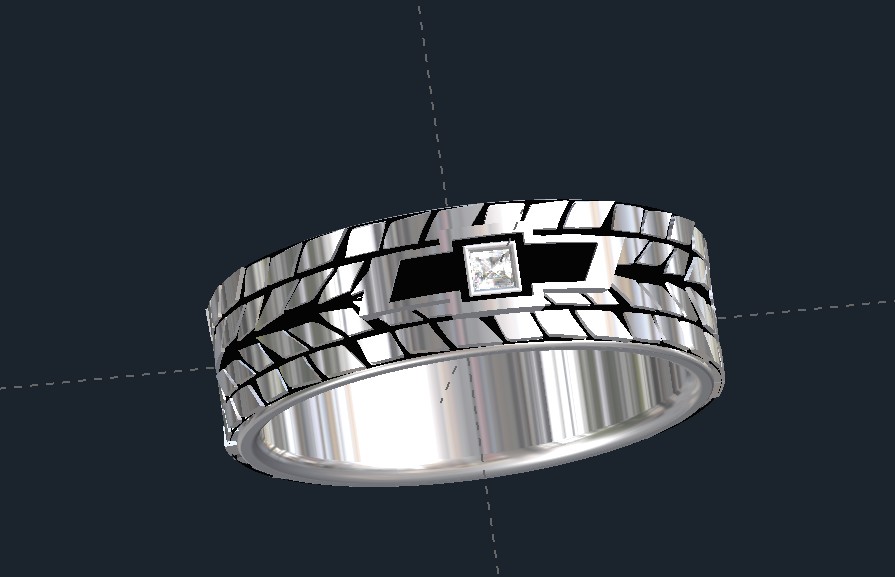 Because such materials were not durable, they were eventually replaced by comparatively longer lasting materials like leather and ivory. All wedding rings were custom back then!  And a custom wedding ring was meant to depict a person's social status as well as love and commitment for the relationship to be established.  Egyptians believed, offering a custom wedding ring to their spouse will make their bond eternal.  That is why, the bands are round in shape. A circle has no end or start and symbolizing the endless love between the bride and groom.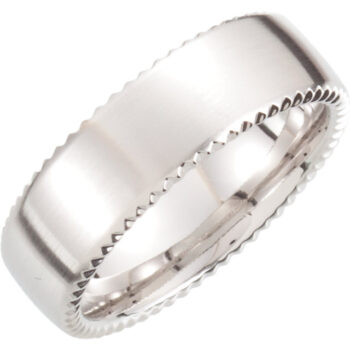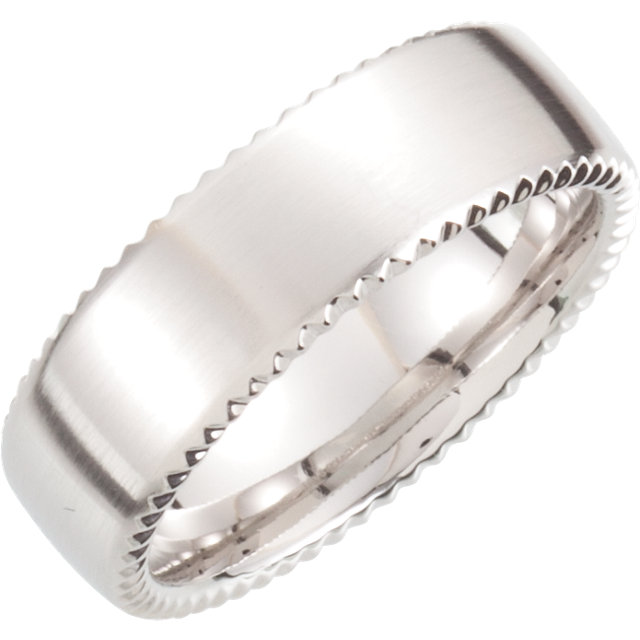 Jewelry Evolves As We Do
As the culture evolved and advanced materials were discovered, the adornments also made a shift. The jewelry progressed from ivory to metals with the invention of metallurgy. The Romans were first to use iron rings which lead to today's modern metal based bands. In roman culture, a bride was presented a custom wedding ring made of iron. Since, iron is a durable metal, it was meant to be a symbol of power and durability for a relationship. They wore their custom wedding ring on the last finger of left hand because it contained the vein of love.
An important progression in the history of the custom wedding ring was Christian marriage ceremony. During the recitation of prayer, the priest used to touch his thumb, forefinger, and middle finger while.  To make a seal of love he would place the ring on adjacent finger while saying "amen".  From 15th to 17th century, the custom wedding ring went through a transformation.  Wedding rings were a thing for the rich at the time and it became the style for the bride and groom to wear fancy rings with interlocking bands.  When the wedding day came, the groom intertwined his band with the bride's ring. This depicted the union of the future husband and wife.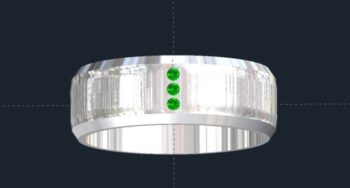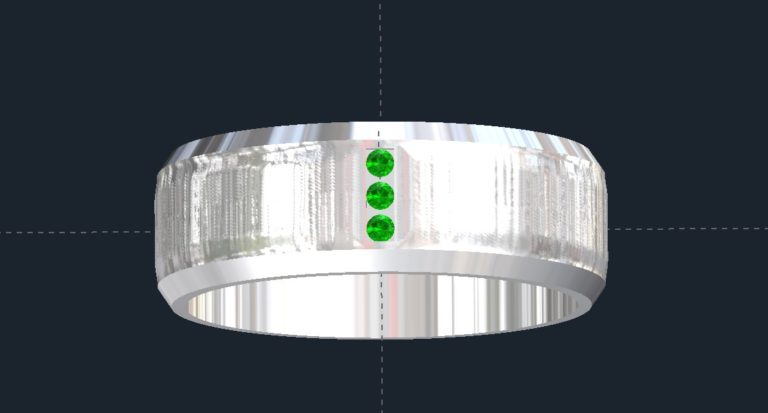 Wedding Rings In Different Cultures
Marriage is something we find in almost every culture around the world. Although the union between two people who love each other is central to each marriage, each culture has its own traditions. In different countries, people have different trends regarding wedding bands. Here are some interesting facts for you.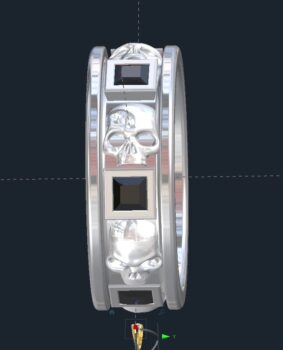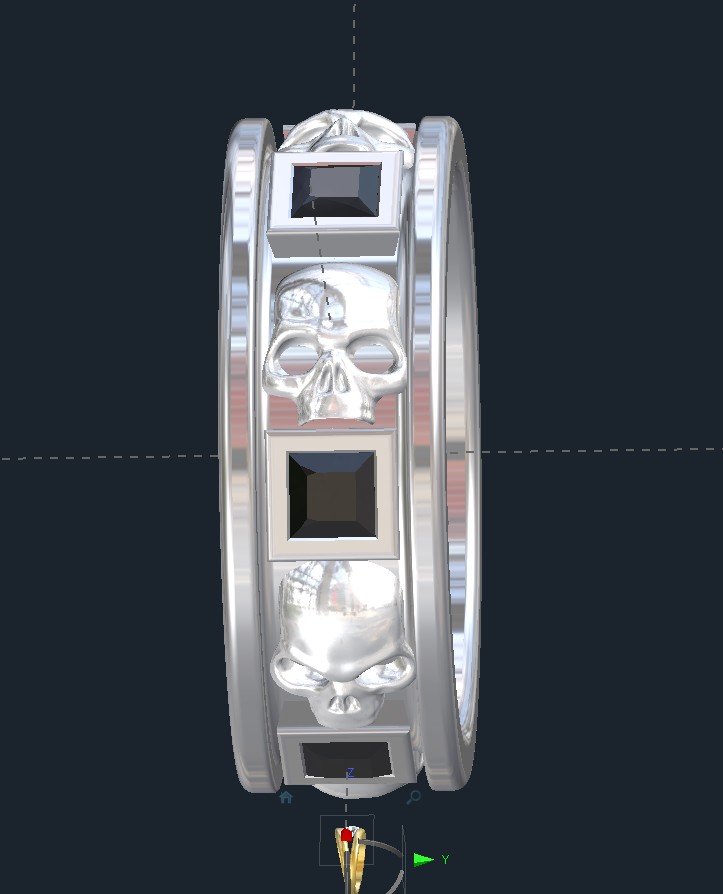 This is one of our favorite Diamond Skull Wedding Ring designs.  It is 8mm wide and has 6 skulls and 3mm Black Diamonds alternating around it.  It can be made as narrow as 6mm and as wide as you wanted it to be.  Almost any stone can be used.
In Asian and Far East countries, gold rings are usually 18 to 22 karat. In India, gold is believed to show dominance, beauty, and charm. According to tradition, the more gold the bride is given, the happier she will be.  Higher gold content is also considered to be an investment.  By investing in more expensive gold jewelry, you are directly investing in a long-lasting marriage.  Some Indian traditions even require that a bride be given a toe ring on top of finger wedding ring.
We Do It A Little Differently Over Here
In Western countries, lower gold purities such as 14 and 10K are used. In Celtic countries, the bands are often engraved with a Claddagh design, as it symbolizes conjugal fidelity. The Native American Tribes use silver rings that are decorated with precious stones or the materials like turquoise, red coral and shells.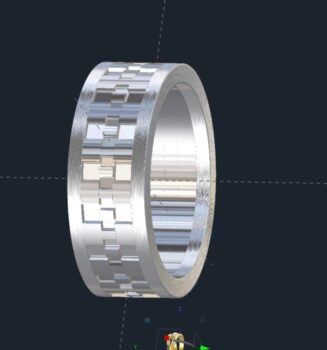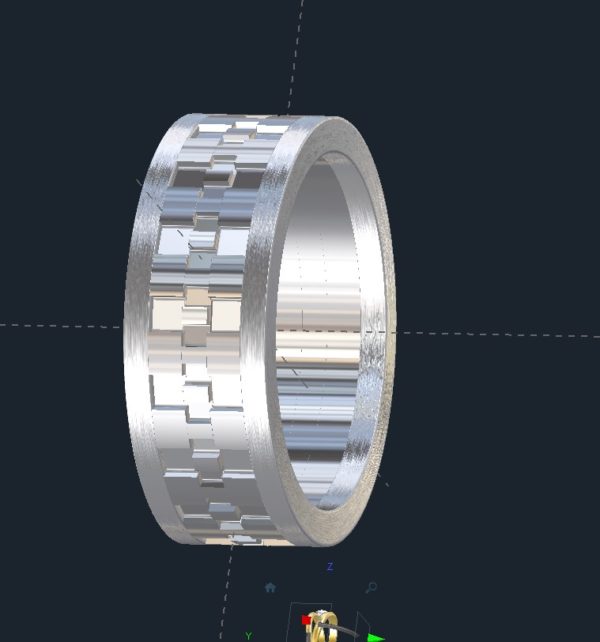 This custom wedding ring was based on a watchband, although we don't remember which one.  If you have a certain design you want, send it over and lest us see what we can do for you.
In England, a set of rings exists. At proposal, engagement ring is worn, then a wedding ring is added at marriage ceremony, finally, an eternity ring is presented at first wedding anniversary or at the birth of first child.  It is a tradition in Romania for couples to exchange silver bands on their 25th anniversary. Both the man and the woman will wear the new bands in addition to the gold ones exchanged at their wedding.
Engagement Ring Vs The  Wedding Ring
There is one main difference between a wedding ring and an engagement ring. An engagement ring is usually selected by just one partner to propose to the other with. Once the proposal is made the female companion wears it.  Usually, the giving of the engagement ring a surprise.  However, for a custom wedding ring, the scenario is totally different. It is not selected by a single spouse.   Both partners are involved in selecting a ring for the other partner. Moreover, rather than surprise, a custom wedding ring is a symbol of ceremony and celebration. After receiving an engagement ring, the future bride will wear it till by itself until the wedding day. After the wedding, the bride then places her wedding band above her engagement ring.
The cost of engagement or wedding bands vary considerably depending upon the material, design, and style.  However, normally an engagement ring costs much more than the wedding band. This is typically because diamond or gemstones in the engagement ring is can be costly.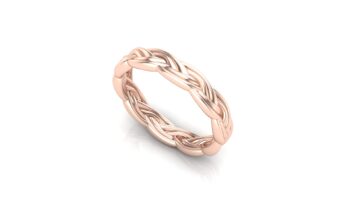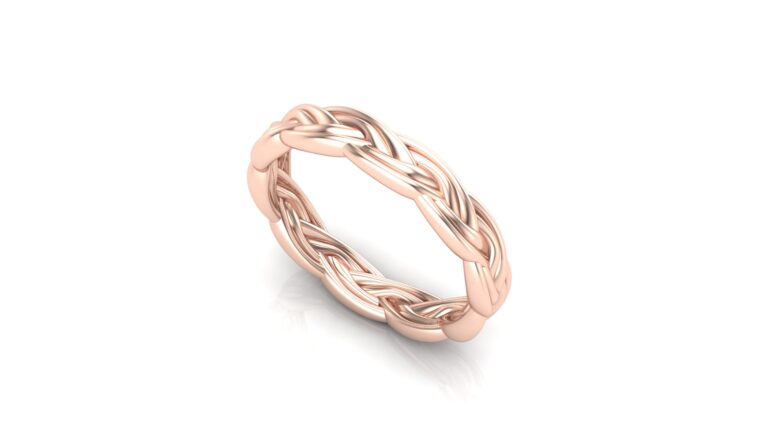 The two strands in this Rope Wedding Band represent the unification of two people for life. It is shown with with both 6mm and 4mm widths, but it can be made wider or narrower.  The rope could also be changed to add strands if you wanted it to represent more than 2 people.
Things To Consider When Shopping For A Custom Wedding Ring
Well, you have come to a decision and going to marry your loved one. That's totally cool. But what have you decided regarding your wedding ring? For the memoir of whole life, you should be as selective as you were for your spouse. Some traditional families make this choice easy by using their inherited grandma's wedding ring. Others simply buy a customized wedding ring. If you are going to buy one for your beautiful partner, must consider following points:
Budget
You should begin by deciding your budget first.  Bridal jewelry can be expensive and creating a custom ring can cost more than an off the shelf band.  With a little smart decision making and planning, you can create a quality ring within your budget.
Style
We know that choosing a style can be overwhelming.  The number of slightly different styles available in retail stores these days is crazy. This is the case when variety similar styles can make difficult to decide one "the one". Therefore, while choosing a particular style keep in mind the personality and style of your fiancé. This will help you decide a perfect custom wedding ring style.
Gemstones
Diamond are the most common  stone.   However, a number of lab or simulated diamonds are also available in market these days.  Since, large, quality diamond can cost an arm and a leg.  A number of couples are opting for moissanite instead of diamond. Lab diamonds have also come down in price quite a bit as well.  If you don't want a white stone, there are hundreds of colored gemstones to choose from to add a little color.
Size
Make sure and get sized at a jewelry store. Measuring with a piece of string or some guide you printed form the internet isn't going to work.  You want to get an accurate sizing so there is no hassle with it after the ring is made.
Metal Color
Do you want a yellow, white, or red metal?  There is also green and purple gold!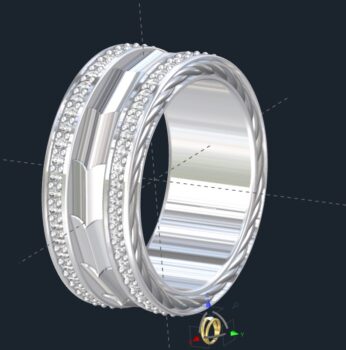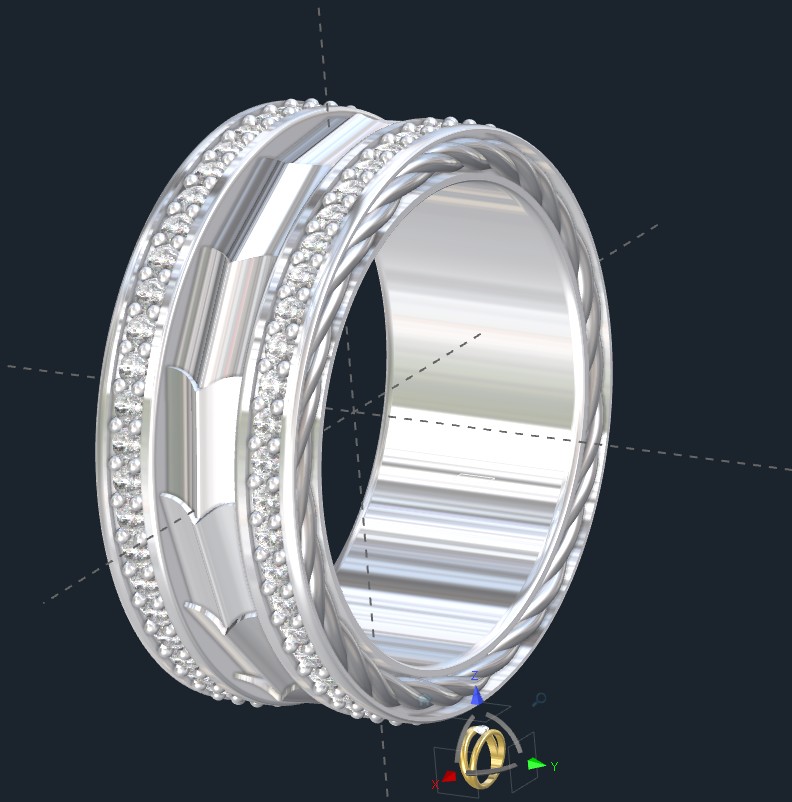 This Unique Men's Wedding Ring has armored plates going around the ring in between two rows of diamonds.  There is a rope inlaid on the sides of the ring rails as well.  This one was 10mm wide and had 2mm stones, but it could be made narrower and with smaller stones. 
Create Your Own Custom Wedding Ring
Choosing a traditional wedding band can becomes a tedious process when it comes to the variety of styles and designs available in mass manufactured jewelry market. If you have spent a lot of time shopping and still can't find the ring you want to wear the rest of your life, try creating a custom wedding ring of your own.  Bypass the hassle of retail shopping for rings that just aren't you. It is far better to have a custom ring created just for you.  Designing your own wedding ring can save you time, money, and the you the agony of dealing with retail salespeople who will say anything to sell you a ring.  With us, you can collaborate with us online and you can do it from the comfort of your own home.  It saves you time and energy, leaving you to focus on other things in your life.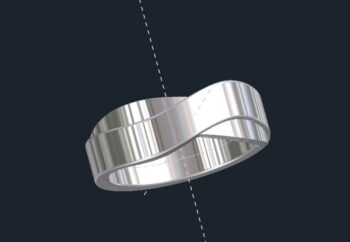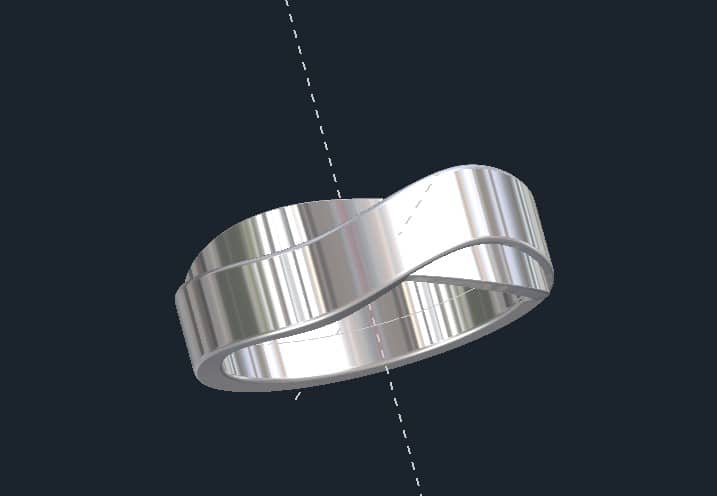 This elegant unisex crossover wedding ring has two sections that crossover each other on the top. We made 4 and 6mm wide versions of this for a his and hers wedding ring set.  They were also given a hammered finish, which you can see if you click on the image.
Custom Jewelry Frees You From Retail Store Constraints
One of the major benefits of designing a custom wedding ring is the creative freedom you will have. With custom custom wedding rings, you are only limited by the amount of space you ring affords you.  The idea is to design and build a ring that reflects your partner's style and personality while also expressing some meaning.  At Valeria Custom Jewelry, we offer the ability to build a ring from the ground up.  It will save you not only time, but can possible save you some money as well.   Another benefit is the love your partner will feel when they find you had a ring made just for them.
Be warned   There are many jewelers who advertise that they create custom wedding rings. However, many times, that just means they all for engraving, or a texture on the metal.  Or maybe a few stone options.   There is a big difference between a customized wedding ring and a custom wedding ring. A custom ring is created from the ground up. It starts with an idea you have in your mind.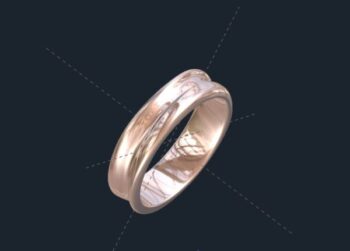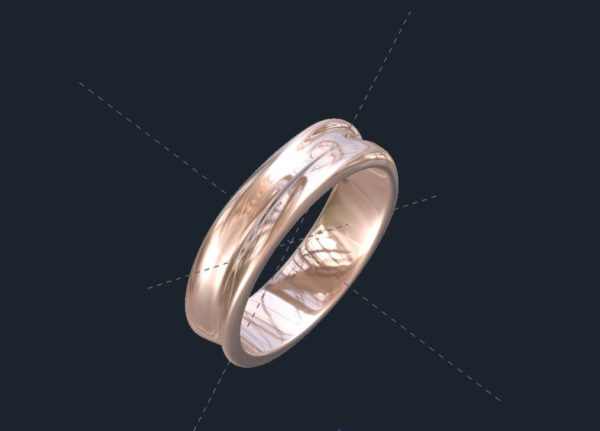 Are you looking for Unisex Wedding Rings that both partners can wear? This elegant unisex wedding band has a wave that travels from one side of the ring to the other as you go around the ring. This one was 6mm wide, but it could be made as narrow as 4mm wide and could always be made wider. 
Wedding Rings For Men
Until World War II, a wedding ring was typically worn only by wives and not by husbands in the US and Europe.  However, the changed this norm. The soldiers sent to far off lands began to miss their spouses and started wearing their wedding bands on their fingers to show their love and commitment with their wives. The new custom went quite viral across the military troops.
In the UK, many British men still choose not to wear a wedding ring at all, so Prince Harry's decision to opt for the smart band was surprising to some.  Though today it's thought to be much more about personal preference than tradition.  We suspect Harry's American wife had a lot to do with that decision!  While his brother Prince William and Grandfather Prince Philip do not wear wedding rings, Prince Charles always wears his, like Harry.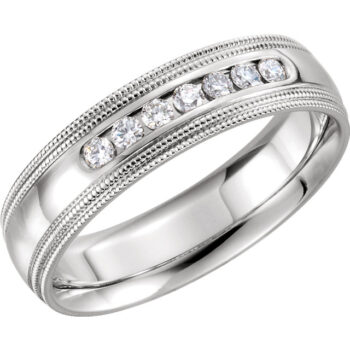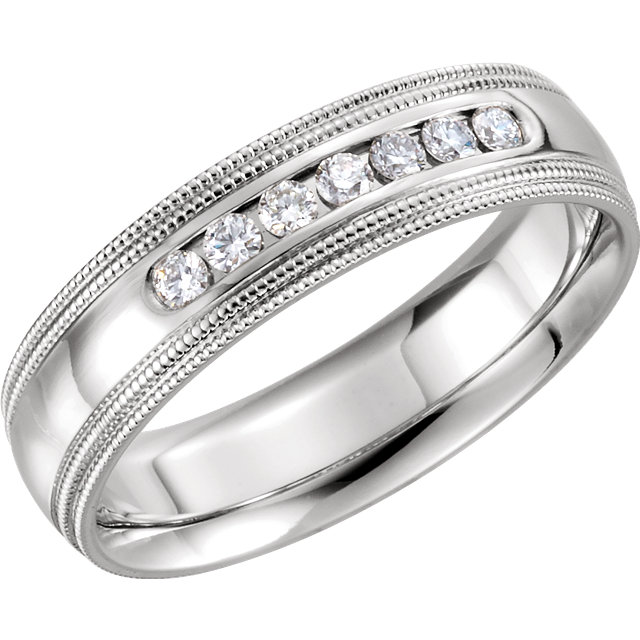 This Diamond Wedding Band is an understated 6mm wide and has 7, 2.3mm diamonds.  However, almost any kind of stone could be used and it could be made slightly wider or even narrower.  It could also be made with fewer or more stones.  It has 2 rows of milgrain on each edge of the ring, but that could be changed to 1 row.
Men's Wedding Rings Aren't Just Plain Bands Anymore!
There are no hard and fast rules when it comes to wedding rings for men.  With the explosion of custom jewelry, more and more men are putting significant thought into their wedding rings.  This is a break from the past, when the typical wedding ring was just thin gold band.  It is very easy to have a custom wedding ring made and we expect to see significant growth in the number of couples opting for custom bridal jewelry.   Going that route allows you to play with engraving, gemstones, fisnishes, etc.
Popular stones in custom wedding rings are black diamonds, sapphires and diamonds.  However, if you want to use some obscure gemstone, we will make it for you.  You can also play around with metal choices for your other half too. While platinum and gold are always desirable, green, rose, and black gold is increasingly popular for men, as are tungsten, zirconium, titanium, and sterling silver.  Then, there are 2 tone rings!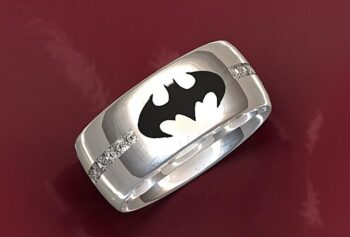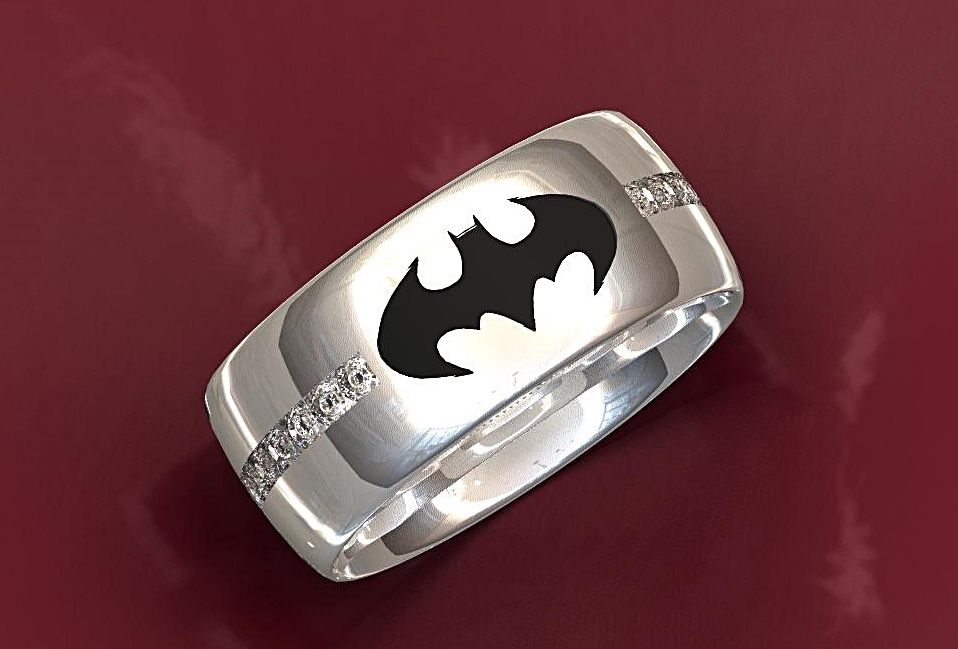 We have created a ton of superhero wedding rings.  From batman to superman to the green lantern.  We also create Geek wedding rings based on star wars and harry potter.  No theme is off limits for us.
Matching Wedding Rings
Many couples are choose matching rings for each other.  Choosing matching wedding bands is an intimate way to connect and match with your spouse. It represents the unity of taste and desire. Moreover, choosing matching rings conveys a message for similar kind of interests and harmony among the couples. If you are one of such couples, we have tremendous options to customize your matching wedding rings.  For those couples, who prefer a more private show of unity, we offer matching ring engravings. A unique phrase or inset matching gemstones are a lovely way to integrate a matching element in your wedding rings. Mixed-metal wedding rings are becoming more popular as well, giving you more options when it comes to designing your rings.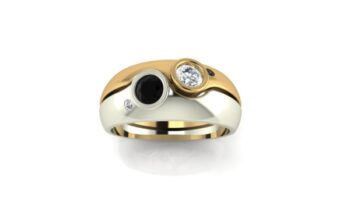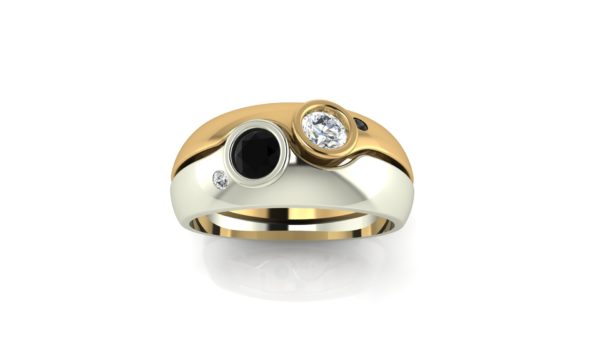 Are you looking for a 2 Tone Wedding Ring, but can't find anyone to make it for you?  We've got you covered!  This one was cast separately in yellow and white gold and then assembled.  Bezel set in each metal is a 4mm diamond.  We made one of these for both the bride and groom.
Valeria Custom Jewelry – ANYTHING IS POSSIBLE!
With the help of Valeria Custom Jewelry, almost anything is possible when it comes to the custom wedding ring.  Check out our latest unique designs as we might have something that you love.  Or, if you have an idea that you know we haven't created, send it over to us. We will create a design exactly according to your specs. From the classic diamond band to Batman wedding rings, our portfolio is full of custom wedding Ring designs that we can create for you.
Whether you are looking for a Ford tire tread or a Celtic inspired wedding ring, we create exactly what you want. We make it simple for you to create the perfect wedding rings for you and your partner.
Give Us A Shot
After 15 years in jewelry industry, we have served plenty of both national and international clients, so don't let location be an obstacle.  We pride ourselves on creating quality custom wedding rings at very affordable prices no matter where you are.  If given the chance, we are quite confident that you will see that our design skill, value, and service are second to none.  We are in the business of earning customers for life, not one time sales.
Click HERE to learn about the custom jewelry process.  Click HERE to learn more about custom jewelry, to see more of our portfolio, or to contact us about custom wedding rings.  It can cost less than you think to have your very own custom wedding band made just for you. Why hassle with the retail stores for boring and overpriced wedding rings?